---
The Day Free Speech Died in Winter Park, Florida – Part 2
By Michele Herzog
See: The Day Free Speech Died in Winter Park, Florida – Part 1
Could it really happen in America? Could three citizens be arrested on the public sidewalk for reading a Bible, having a camera and holding a "Celebrate Life" sign? I want to believe that this could not happen in the country I love so dearly, but yesterday it did.
The city of Winter Park Florida thought that these three American citizens were dangerous enough to call in the city SWAT team to body search, handcuff and arrest fellow pro-life evangelists and friends Jay Rogers, Professor Pat McEwen, and Cheryl Bischoff. They were then taken to the Orange County Jail for booking.
Editor's note: The Winter Park SWAT team is often used on weekends to respond to calls as a matter of routine. We don't know for certain that they thought these peaceful Christians were "dangerous." Or did they? And why did they have to bring a machine gun? Of course, that makes the story more interesting!
Why did this city find it necessary to go to such measures to arrest three Christians on a public sidewalk? Let's go back to last August when a group of peaceful Christians took to the streets and held a public witness in the neighborhood and residence of the newly promoted CEO of Planned Parenthood of Greater Orlando, Jenna Tosh. This particular center performs on an average of over 100 abortions per week!
Almost immediately city commissioners of Winter Park went to the aide of Jenna Tosh and passed a 60-day emergency ban on residential picketing that targets a specific home. Later commissioners approved in a 4-1 vote an ordinance that would make the ban permanent, but not without a packed house of concerned citizens expressing their utter dismay and opposition to this ban that prohibits free speech. Mayor Ken Bradley was the only dissenting vote, expressing his opposition to the ban citing it as unconstitutional.
Since then, pro-lifers have gone back to publicly witness and share the truth of abortion in the neighborhood with police coming, telling the Christians they must leave, but never with the threat of arrest. The police on both occasions seemed to be confused as to what the ordinance really enacted.
This led to yesterday's Awareness Campaign leading to the arrests of my friends, who love the Lord with all their heart, mind and soul. While they sat in the jail, we all stood outside of the jail holding signs, worshiping the Lord and praying that God would protect our brother and sisters in Christ and use them for the time they would be behind bars in jail, and that He did!
This is only the beginning, but I believe with all my heart that this is what Jesus meant when He said to be the salt and light of the earth. Please pray with us down here in Central Florida that God will use these unjust arrests to bring God glory and to challenge this ordinance that bans American citizens from their first amendment rights of free speech!
---
City Attorney Larry Brown and the Winter Park Police try to explain
WINTER PARK, Florida (www.forerunner.com) – On October 22, 2012, Winter Park City Attorney Larry Brown gave details explaining what the city's anti-picketing ordinance actually does.
The city and the city commissioners have been sued for the recently enacted anti-picketing ordinance which simply prohibits picketing within a 50-foot buffer from private residences. Picketing is defined as "standing, milling about, loitering" in front of someone's residence while you're protesting the specific people inside the residence. The ordinance doesn't prohibit marching, parading. It doesn't prohibit general expression. It just prohibits the focus right in front of someone's home. – City Attorney Larry Brown
Now if someone could just explain this to the Winter Park City Police and the City Commissioners!
Compare this with the following explanation on April 13th, 2013 by the Winter Park Police.
See: Tosh 2.0: Retaking Winter Park's "No-Free-Speech" Buffer Zone.
The police got it partly right and partly wrong. The police say in the video that they had been on the phone with the city attorney all morning trying to understand the ordinance. They understood that "protesters" cannot picket inside the buffer zone. They also thought that no one can "loiter" outside the buffer zone. Either City Attorney Larry Brown was not telling the truth or they were confused.
Here is how one pro-life evangelist explained his understanding of the ordinance and how the City Commission responded:
Now fast forward to three weeks ago, April 27th.
Again they get it wrong. But they are less wrong this time. This was the second challenge to the "no-free-speech" buffer zone ordinance. Two weeks prior to this the police understood that we could not picket in side the buffer zone. They also thought that we cannot "loiter" outside the buffer zone.
This time they gave us a little more. They said we can march back and forth inside the buffer zone and camp out outside, but we cannot stand still inside the buffer zone even if we did not have signs targeting the residence.
This got a little confusing for a next door neighbor who thought that we were going to jail because we were outside her home.
It remains to be seen what would happen if someone stood outside the 50 foot buffer zone targeting the Planned Parenthood CEO and another person stood in front of that residence targeting the next door neighbor in the video 50 feet away from her property line.
In conclusion, I don't blame the police or anyone in Winter Park for being confused about this ordinance. It is confusing. The best thing to do with the First Amendment is to just leave it alone. We can't have freedom inside our homes unless we have the freedom to demonstrate our First Amendment rights outside.
Stay tuned for Tosh 4.0.
---
An Update on the July 2011 Malpractice Lawsuit
Pro-life evangelists preach the Gospel outside James Pendergraft's Orlando Women's Center abortion clinic. (Click to enlarge.)
ORLANDO, Florida (www.forerunner.com) – James Scott Pendergraft, owner of five late term abortion clinics in Florida, has had his medical license suspended five times. He has been the target of multiple lawsuits, including a July 2011 judgment of $36.7 million. He stays in business by employing a cadre of abortionists throughout the state of Florida who are willing to do late term abortions at a cost of $2000 and up. These late term abortions continue to take place even while he is under suspension.
Since July 2011, lawyers representing the plaintiff in the Howard v. Pendergraft case have been trying to collect a $36.7 million judgment. Writs of garnishments and motions to effect collection go back to 2011 as well.
Another step in the process began last January when the plaintiff's lawyer wrote the judge explaining that the process of another hearing would only give Pendergraft the unfair advantage of advance warning. An order was then issued on February 14, 2013. At that time, third party garnishees (all of Pendergraft's corporations and business associates) were given the opportunity to appear in court explaining why their assets should not be applied toward the satisfaction of the judgment.
On April 8, 2013, there was an order directing garnishment of a Wells Fargo Bank Account for the amount of $50,000 and the entry into a safety deposit box at the same bank. Also on that date, was an order directing Bank of America to pay an amount of over $30,000 that was not paid after a previous writ of garnishment.
None of this means that anything has actually been collected. Only the plaintiff's lawyers would know that. This only shows that Pendergraft has been trying every means to avoid paying the $36.7 million judgment even when directed to do so by the court.
On Wednesday, April 29th, the court granted the plaintiff's request for several writs of garnishment. Here is an explanation of what a "writ of garnishment" is:
The writ of garnishment enables a creditor to seize money owed to the debtor by third parties. Debts owed to the debtor include, for example, wages and salary owed by an employer, checking and savings accounts, rental income, and money held in the trust account of the debtor's attorney. Checking accounts are 'debts' because they are demand accounts which means that the financial institution owes money on deposit to the debtor upon demand.

Florida Statutes include very detailed garnishment procedures…. Garnishment procedures are strictly construed. The debtor may file a motion to dissolve a garnishment for any of several reasons including an assertion of an exemption or procedural defects in the administration of the Writ.
See more of the definition at alperlaw.com.
These writs of garnishment give the attorneys the ability to seize Pendergraft's property. They can also seize money and assets from a long list of corporations Pendergraft has created over the years.
Interestingly, one of the first writs filed included Sangeeta Pati, Pendergraft's girlfriend. Operation Save America picketed Pati's neighborhood during its 2011 national event in Orlando. Pendergraft often drives a car registered to Pati (see photo below) and has stayed at her home when he is in Orlando. Apparently, the plaintiff's lawyers must believe she is hiding some of his assets.
Abortionist James Pendergraft arrives at Orlando Women's Center in the summer of 2011. Pendergraft owns a chain of five abortion centers in Florida that specialize in late-term abortions. The vehicle on the left with the "PE4CE" license plate belongs to Pendergraft's girlfriend and local physician, Sangeeta Pati. (Click to enlarge.)
Above is a video of one of our Awareness Campaigns at Sangeeta Pati's (and sometimes Pendergraft's) neighborhood. Providentially, this campaign occurred on the first day of Pendergraft's 2011 trial. Local pro-life activists did not know at that time that the lawsuit was being heard, but were tipped off by Randall Whitney, the abortionist on duty at the time the malpractice incident occurred. Whitney had to be in court that day and told a local pro-life sidewalk counselor who often ministers at Pendergraft's Orlando abortion mills. Local activists put two and two together and realized it was the Carol Howard case.
Of course, the plaintiff's lawyers have to prove that these assets belong to Pendergraft, but if they have legal grounds, they can begin seizing his property. This probably would not include include Pati's home or vehicle. Florida's tort laws usually exempt vehicles and homestead properties.
This does not mean Pendergraft is going out of business tomorrow, as has been reported numerous times since last Thursday. It does mean that the plaintiffs have legal grounds to keep seizing his assets until he has nothing left.
John Barros is a local pro-life who is at Pendergraft's Orlando Women's Center (OWC) abortion clinic five days a week. John has a Facebook page that he uses to blog about daily events at OWC. Some of his reports and activities have been picked up buy the national Christian and secular media. A few days ago, one of the plaintiff's lawyers showed up at the abortion mill and told John in effect that he would be able to "take a vacation" because they were seizing Pendergraft's assets and closing down the abortion mill.
The information got garbled and went viral. Blogs and websites repeated the story that Pendergraft's abortion mills were being shut down immediately.
I always warn local pro-life activists not to send off such stories to "national" pro-life media. Of course, most pro-life bloggers are well-intentioned and are just repeating what they have been told. The lesson in this is that local activists ought to do our own research, write our own reports and make sure the information is accurate before we send out press releases. Once these stories go viral, the false information is out there forever because it gets copied.
I spoke with John about this on Friday. John and I agree that if Pendergraft is going out of business due to this lawsuit, then it has nothing to do with us. Even the lawyers suing Pendergraft are "pro-choice" advocates. They are likely motivated by the money and perhaps the particularly horrific nature of Pendergraft's business.
No pro-lifer needs to be congratulated for this turn of events. Only our Sovereign God has all the glory and honor.
List of Garnishees
That being said, here are the writs that were filed on Thursday and Friday. So far these include:
Garnishee EPOC CLINIC LLC
Garnishee EVALON INC
Garnishee INSTITUTE OF WOMEN'S HEALTH OF NORTH AMERICA, INC
Garnishee SANGEETA PATI
Garnishee BANK OF AMERICA NA
There will likely be a longer list of writs filed that will be in the records by next week. John Barros and I will follow up on the activity in the case and keep people posted. I want to believe Pendergraft is going out of business just as much as anyone, but I won't assume anything just yet.
Anyone can see information on Pendergraft's Florida corporations on Sunbiz.org. For a detailed tutorial on how to do corporation searches, see: Behind the Scenes: Corporation Searches.
Here is the coming garnishee list:
Garnishee COLONIAL LIFE AND ACCIDENT
Garnishee EPOC CLINIC LLC
Garnishee EVALON INC
Garnishee FIDELITY INVESTMENTS
Garnishee GUARDIAN LIFE INSURANCE
Garnishee INSTITUTE OF WOMEN'S HEALTH OF NORTH AMERICA, INC
Garnishee ORLANDO WOMEN'S CENTER, INC
Garnishee SANGEETA PATI
Garnishee WELLS FARGO BANK Formerly known as WACHOVIA BANK
Garnishee WILSON MEDICAL MANAGEMENT
Third Party Defendant 108 NW PINE AVENUE CORPORATION
Third Party Defendant 108 NW PINE AVENUE LLC
Third Party Defendant 1103 LUCERNE TERRACE CORPORATION
Third Party Defendant 1103 LUCERNE TERRACE LLC
Third Party Defendant 2001 WEST OAKLAND PARK BOULEVARD CORPORATION
Third Party Defendant 2001 WEST OAKLAND PARK BOULEVARD LLC
Third Party Defendant 502 SOUTH MAGNOLIA AVENUE CORPORATION
Third Party Defendant 502 SOUTH MAGNOLIA AVENUE LLC
Third Party Defendant 609 VIRGINIA DRIVE CORPORATION
Third Party Defendant 609 VIRGINIA DRIVE LLC
Third Party Defendant ABORTION BY PILL INC
Third Party Defendant CENTER OF ORLANDO FOR WOMEN LLC
Third Party Defendant EPOC CLINIC INC
Third Party Defendant EPOC CLINIC LLC
Third Party Defendant FORT LAUDERDALE WOMENS CENTER INC
Third Party Defendant FORT LAUDERDALE WOMENS CENTER LLC
Third Party Defendant GORILLA REALTY MANAGEMENT CORPORATION
Third Party Defendant GORILLA REALTY MANAGEMENT LLC
Third Party Defendant INSTITUTE OF WOMENS HEALTH OF NORTH AMERICA INC
Third Party Defendant OCALA WOMENS CENTER INC
Third Party Defendant OCALA WOMENS CENTER LLC
Third Party Defendant ORLANDO WOMENS CENTER LLC
Third Party Defendant PENDERGRAFT INVESTMENT LLC
Third Party Defendant SUMMIT MEDICAL & SURGICAL SUPPLY INC
Third Party Defendant THE JAMES S PENDERGRAFT IV IRREVOCABLE TRUST
Third Party Defendant WILLIAMS, DENISE
Third Party Defendant WILSON MEDICAL MANAGEMENT CORPORATION
Third Party Defendant WILSON MEDICAL MANAGEMENT LLC
Third Party Defendant WOMENS CENTER OF HYDE PARK INC
Third Party Defendant WOMENS CENTER OF HYDE PARK LLC
---
"Unfortunately, you do have rogue providers that prey on the most vulnerable of women … Gosnell is an extreme outlier when it comes to medical practice or abiding by the law." – Vicki Saporta, president and CEO of the National Abortion Federation (NAF)
ORLANDO, Florida (forerunner.com) – In 2013, the mainstream media is facing a conundrum – whether to report on the gruesome practices of Philadelphia "House of Horrors" abortionist Kermit Gosnell – or to gloss over an important legal case on the basis of this being an "outlier" story. This false dilemma is disingenuous at best. Since when has the mainstream media shied away from gruesome murder stories involving controversial figures?
In fact, the real reason that the liberal media won't touch this story with a ten-foot pole is that Gosnell's practices are a lot more mainstream than abortion rights advocates are willing to admit.
Gosnell is being tried on multiple murder charges stemming from cases of babies born alive and then killed by having their necks snipped with scissors. He also faces a third degree murder charge in the case of a woman who was the victim of a badly botched abortion and dozens of charges related to trafficking in prescriptions for narcotic drugs.
If Gosnell is an "outlier," as the NAF has claimed, then there ought to be no political motivation on whether to cover this story. But as we shall see, abortionists like Gosnell are all too common. (See also: Florida's Abortion Industry.)
James Pendergraft has been involved with some type of legal trouble in every year since he arrived in Florida in 1996. Frequent news stories chronicle the sordid tale of babies born alive and left to die, five suspensions of his medical license, a conviction for extortion that led to time in federal prison, and several lawsuits including a $36.7 million judgment due to a botched abortion in which a baby girl was born alive and survived with massive injuries.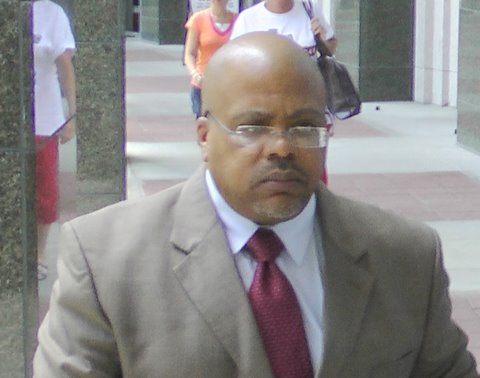 James Scott Pendergraft appears at the Orange County, Florida courthouse in July 2011 awaiting the jury verdict that awarded a plaintiff $36.7 million. The lawsuit stemmed from a 2001 botched abortion in which a baby girl was born alive and has suffered lifelong handicaps. (Photo credit: Ken Scott)
James Pendergraft's criminal activities are so legion that he has generated hundreds of news stories in the local press since he first arrived in Orlando in 1995. Pendergraft is an abortion "doctor" who runs a chain of five late-term killing centers in Ocala, Tampa, Fort Lauderdale and two in Orlando.
Pendergraft has had his license suspended five times for doing illegal late term abortions and for allowing a staff member with a history of drug dependency to write prescriptions for herself and others. In 2011, a former staff member of Orlando Women's Center told a pro-life sidewalk counselor that Pendergraft transports huge bottles of pills in his vehicle.
A staff of killers carried on doing late term abortions at his direction while Pendergraft served his suspensions. These included three abortionists who died of untimely hearts attacks, two who have been convicted of drug trafficking and several more who have left a trail of injured women and botched abortions resulting in frequent lawsuits.
Pendergraft has now exhausted his legal appeals in the $36.7 million lawsuit. Lawyers for the plaintiff have been given court-ordered ability to seize Pendergraft's assets. At this writing, they have already garnished his accounts and are beginning to sell off his buildings and furniture. (See related article tomorrow.)
The weight of this butcher's own sin is beginning to crush him. On the other hand, it is a great travesty that the state of Florida did not prosecute this man criminally many years ago. Due to the politically charged nature of the abortion controversy, the district attorney and the state attorney general have left the regulation of Pendergraft's abortion mills to the Agency for Health Care Administration (AHCA) and the five suspensions of his license to the Department of Health (DOH). Neither state bureaucracy has authority to begin criminal proceedings.
In addition to Pendergraft, I include here as "exhibits" four more abortionists who have worked in Orlando at Pendergraft's abortion mills and a fifth Miami abortionist, Pierre Renelique, whose story is so bizarre and macabre that it defies belief.
Whitney arrives at work at Orlando Women's Center to kill babies with a smile on his face. This photo was taken the day after a plaintiff won a $36.7 million lawsuit against OWC due to a botched abortion by Whitney.
Randall Whitney is a 79-year-old circuit rider abortionist for James Pendergraft's Women's Center mills in Orlando and Ocala specializing in second trimester abortions. His medical license is currently being reviewed by the Florida Board of Medicine in 2010 with regard to a case in which he was charged with battery for slapping a woman on a table while he was injecting her with valium prior to an abortion procedure.
Whitney has had a tumultuous history in central Florida. He began doing abortions full-time in the 1980s when his medical license was suspended after a malpractice incident. In the mid-1990s, Randall Whitney tried to open a second abortion clinic in Melbourne in competition with Aware Woman Center for Choice. When pro-lifers discovered this, they leafleted the five-story river-front office building where Whitney had signed a lease telling all the tenants that Whitney was an abortionist. Discovering that Whitney had lied about the nature of his business, and being very pro-life themselves, the building owners canceled his lease.
The fact that pro-lifers discovered Whitney's plans was not surprising. What is unusual is that the news was actually "leaked" to the pro-lifers by Aware Woman's founder and owner, Patricia Windle. After firing Whitney, Windle made sure Whitney would be met with the opposition of the pro-life community with her carefully timed "leak."
All of Aware Woman's volunteer "escorts" quit when they discovered that Patricia Windle's motivation was to curtail a rival abortion clinic — not to "help women" as she often claimed. After all, wouldn't two abortion clinics "help women" twice as much as one? The volunteer escorts thought so, but Patricia Windle knew it would just hurt her profits. Her actions show her priorities – profits first, "helping women" second.
After 15 years of going to Melbourne twice a week to kill unborn children, Randall Whitney was forced out. Then in September 2006, Whitney closed down his own clinic, Family Planning Center, in Daytona Beach, rather than comply with state regulators. He became a circuit rider abortionist working for James Pendergraft.
Whitney testified to the Florida Department of Health and during a civil lawsuit hearing that babies are sometimes born alive and left to die in James Pendergraft's abortion clinics where he works.
In 2001, a patient of Whitney's delivered a child who lived with massive birth defects after a botched abortion in Orlando. As a result, James Pendergraft and Orlando Women's Center was hit with a $36.7 million judgment. Whitney is also the subject of two malpractice lawsuits that are ongoing.
Whitney served another suspension in the 1980s for a malpractice incident. After that time, he began doing abortions more or less full-time.
Perper is arrested at the "pill mill" he ran at Delray Pain Management.
Harry Perper is currently under indictment on multiple counts of conspiracy and drug trafficking, facing up to 490 years in prison. He most recently worked as a dealer of pain pills for a controversial clinic in Miami that was founded by a convicted drug smuggler.
Perper was the abortionist on duty at EPOC abortion center in Orlando when Baby Rowan was born alive and left to die. Baby Rowan's mother, described him as a very fast-moving, hyperactive type of person.
Perper perforated a woman's uterus at Orlando Woman's Center requiring a hysterectomy for which he was subject to disciplinary action. Amazingly, his medical license was not suspended due to an agreement in which he satisfied the terms of disciplinary action. He is currently clear to practice medicine in the state of Florida.
Above left: Whaley arrives to work at Orlando Women's Center (photo credit: Deanna Waller). Above right: Walker Whaley in the 1980s.
Walker Whaley was convicted for conspiracy to manufacture cocaine in his basement with his brother Jonathan in 1986: (United States of America, Plaintiff-appellee, v. Walker L. Whaley, Defendant-appellant).
The Florida Board of Medical Examiners recommended suspension and probation due to Whaley's 1984 conviction on conspiracy to manufacture cocaine. It ordered his medical license to be suspended for three years or until completion of the federal sentence, whichever was longer, with reinstatement of his license granted only under stipulations. Whaley, his brother, and the brother's female roommate reportedly were discovered by DEA agents in a drug laboratory in Whaley's basement.
Whaley also was disciplined in a case in which an infant was born alive. He attended the birth of Chad Nolan on December 14, 1981. He allowed fetal distress and tachycardia to continue for three hours, administered narcotic drugs, which crossed the placenta to the unborn child, and failed to perform a C-section, resulting in the infant suffering a seizure disorder (DPR Case #0035663; Duval County Circuit Court Case #84-10676; and Florida Times-Union, February 9, 1986).
Whaley died on May 31, 2012, at the age of 64 of a heart attack.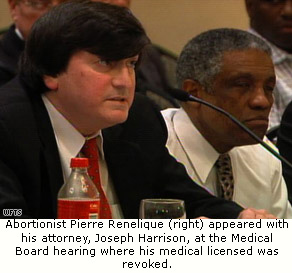 Miami abortionist Pierre Renelique was found guilty in February 2009 of medical malpractice, after he failed to show up for a late-term abortion in July 2006. The mother went into labor (because of drugs given to her by Renelique the day before) and unlicensed staff delivered a live baby girl, according to news reports. The baby was stuffed into a plastic bag and left to die. Police found her body a week later. Renelique moved to New York City later that year, and began working at Clinton Place Medical Center, at 8 Clinton Place, in the Bronx, just west of Jerome Avenue.
Outlier or Mainstream Media Cover-up?
Florida has roughly 7 percent of the U.S. population (over 20 million people) and 10 percent of the nation's abortion clinics (66 state-licensed locations of approximately 660 clinics nationwide). AHCA inspects Florida abortion clinics at least once a year and several times for clinics that have a history of violations. If we consider that many states have even more lax restrictions than Florida, then it is not unlikely that there exist dozens of more "killers" whose abortion mills fit the "House of Horrors" syndrome.
---
See Video Interviews Below
One of the great Americans of our time, Constitution Party founder, Howard Phillips, passed away this past Sunday, April 21, 2013 of complications due to Alzheimer's disease. He was 72.
Howard is survived by his wife and six children, including Doug Phillips, who is a noted homeschooling advocate and teacher. A native of the Boston area, Howard attended Boston Latin school and later Harvard university where he was both student council president and an editor of the Harvard Crimson.
One of my best memories was sitting at long picnic bench in an outdoor barbecue restaurant in Fort Lauderdale across from Howard during his second presidential run and listening to Howard reminisce about his life growing up in Boston and his time at Harvard University.
Howard was a generous supporter of The Forerunner and always had kind words for me whenever I went to hear him speak.
One of the historical oddities of the Constitution Party is that it is the only political party in America that begins the preamble of its platform by acknowledging the Lordship of Jesus Christ.
The Constitution Party gratefully acknowledges the blessing of our Lord and Savior Jesus Christ as Creator, Preserver and Ruler of the Universe and of these United States. We hereby appeal to Him for mercy, aid, comfort, guidance and the protection of His Providence as we work to restore and preserve these United States.
This great nation was founded, not by religionists, but by Christians; not on religions but on a foundation of Christian principles and values. For this very reason peoples of all faiths have been and are afforded asylum, prosperity, and freedom of worship here.
Related Articles
The following is an abridged obituary from the New York Times.

Howard Jay Phillips was born in Boston on Feb. 3, 1941, and grew up in nearby Brighton, Mass. His father, Frederick, ran an insurance agency; his mother, the former Gertrude Goldberg, was a homemaker. Though he was raised Jewish, he became a Christian in the 1970s. He was present at the 1960 conference at the home of William F. Buckley Jr. in Sharon, Conn., that created the conservative organization Young Americans for Freedom. Mr. Phillips graduated from Harvard in 1962.

In the mid-1960s he was chairman of the Boston Republican Committee, and in 1968 he managed the Senate campaign of Richard S. Schweiker, a Pennsylvania Republican congressman who unseated Senator Joseph S. Clark, a Democrat. Mr. Phillips worked in several positions in the Nixon administration before landing at the Office of Economic Opportunity.

Somewhat quixotically, he sought the Democratic nomination for senator from Massachusetts in 1978 in order to oppose the Republican incumbent, Edward W. Brooke III, a defender of Great Society programs. Mr. Phillips lost in a primary to Paul Tsongas, who went on to defeat Senator Brooke. During Richard M. Nixon's administration in early 1973, the president signaled his intention to withhold financing from the Office of Economic Opportunity, an antipoverty agency with roots in President Lyndon B. Johnson's war on poverty. The president named Howard Phillips acting director and charged him with dismantling it.

Nixon was unable to carry out his plans, however, after Democrats successfully sued to prevent him from starving an agency that Congress had authorized. And when Nixon yielded and continued to finance Johnson's Great Society programs, Mr. Phillips considered the president to have broken his word and resigned.

"The thing that changed him was that while he was working for O.E.O., before he became acting director, he went around the country looking at all the grantees," Ms. Bari, his sister, said, and concluded that much of the money was supporting liberal advocacy groups, "not to what the taxpayers thought they were supporting," Ms. Bari said. "That's what radicalized him."

In 1974, Mr. Phillips founded the Conservative Caucus, an advocacy group, based in Warrenton, Va.

Mr. Phillips could be a thorn in the side of presidents, even fellow Republicans. He lobbied against President Ronald Reagan's nomination of Sandra Day O'Connor to the Supreme Court and against the first President George Bush's nomination of David Souter to the court, arguing that they would favor abortion rights.

"Whether he won or lost, he always said that what is right is what he was going to do," Charles Orndorff, the administrative vice president of the Conservative Caucus, said in an interview on Monday. "His honor, as a conservative leader, meant the most to him."

In 1990, believing that neither major party would enact the policies he favored, Mr. Phillips led the formation of the U.S. Taxpayers Party (later renamed the Constitution Party), which declares that its policies are based on the founding documents of the nation and the original intent of the founding fathers. He was its candidate for president in 1992, 1996 and 2000. His best showing was in 1996, when he received one-fifth of 1 percent of the vote. (Howard J. Phillips, Stalwart Conservative, Dies at 72, The New York TImes, April 23, 2013.)

Howard Phillips was chosen by an overwhelming majority of delegates at the National Convention of the Constitution Party to serve as its Presidential candidate in 1992, 1996 and 2000. A 1962 graduate of Harvard College (where he was twice elected president of the Student Council), Phillips served the Republican Party for two decades as precinct worker, election warden, campaign manager, Congressional aide, Boston Republican Chairman, and assistant to the chairman of the Republican National Committee. During the Nixon Administration, Phillips headed two Federal agencies, ending his Executive Branch career as director of the U.S. Office of Economic Opportunity, a position from which he resigned when President Nixon reneged on his commitment to veto further funding for "Great Society" programs. Since 1974, Phillips has been chairman of The Conservative Caucus, a non-partisan, nationwide grass-roots public policy group which has advocated termination of federal subsidies to leftist ideological activist groups, opposition to NAFTA and the World Trade Organization, and efforts to oppose socialized medicine, abortion, and special rights for homosexuals.

The Conservative Caucus
450 Maple Avenue East
Vienna VA 22180
703-938-9626
http://www.conservativeusa.org

---

God's Law and Society (DVD)

Download the Free Study Guide!

God's Law and Society powerfully presents a comprehensive worldview based upon the ethical system found in the Law of God.

Speakers include: R.J. Rushdoony, George Grant, Howard Phillips, R.C. Sproul Jr., Ken Gentry, Gary DeMar, Jay Grimstead, Steven Schlissel, Andrew Sandlin, Eric Holmberg, and more!

Sixteen Christian leaders and scholars answer some of the most common questions and misconceptions related to this volatile issue:

1. Are we under Law or under Grace?
2. Does the Old Testament Law apply today?
3. Can we legislate morality?
4. What are the biblical foundations of government?
5. Was America founded as a Christian nation?
6. What about the separation of Church and State?
7. Is neutrality a myth?
8. What about non-Christians and the Law of God?
9. Would there be "freedom" in a Christian republic?
10. What would a "Christian America" look like?

Perfect for group instruction as well as personal Bible study.

Ten parts, over four hours of instruction!

Running Time: 240 minutes

Watch over 60 on-line video interviews from God's Law and Society.

$19.95 — ORDER NOW!

(We accept all major credit cards and PayPal.)

Click here for more information

---

Question:— How did Christian philosophy influence our form of civil government?

Howard Phillips: Throughout history, there have been three political parties. One is the party that believes in the sovereignty of God, and today I work with such a party, the U.S. Taxpayers Party. The other is a party that believes in the sovereignty of man and man's reason; Libertarians are of that view. The third is every other party that believes in the sovereignty of the state, that the state if God walking on earth. That philosophy came into full flower in the 1960s during the presidency of Lyndon Johnson. During that presidency, every perverse cause from which America now suffers, received federal funding. We saw the federal government become the provisioner of the forces of cultural disintegration and social chaos in our country.

The federal government has no role as an instrument of salvation. Salvation is by the blood of Christ and faith in Him by God's grace. But government should stop being an instrument of moral degradation. I had the opportunity to be a "fly on the wall" during a period of extraordinary change in America. During the Johnson administration when they were launching the Great Society, I was chairman of the Republican Party in Boston. I spent a lot of time in the black community in Boston. I saw how federal funds were being used to destabilize the black family, to promote the notion of welfare rights, to promote abortion, homosexuality, the idea of quotas, forced busing. I saw how the black churches were destabilized with federal funds. I saw federal funds going to radicals of very left wing beliefs.

As director of the U.S. Office of Economic Opportunity, I came to see exactly how that was being done. I worked very hard to persuade President Nixon to veto the continuation of that funding. Tragically, President Nixon, like all of his successors, not only signed into law additional appropriations, he in fact created new entities that did more harm. So did his successors. As we see the federal government's budget grow year after year, more and more of this money is being used to fund people who are evangelists for ideas which are antithetical to the founding Christian premises of the United States of America.

Congress has the right and duty to set policy in areas which are assigned to Congress in the Constitution (especially in Art.1, Sect. 8). But the federal government does not have any power to act beyond its delegated enumerated powers. What I particularly object to is Congress giving money to private organizations which use tax dollars for cultural, ideological, economic political advocacy, whether it's for the National Endowment for the Arts, the Legal Services Corporation; whether it's to groups such as Gay Men's Health Crisis, in the name of AIDS education; whether it's to "Murder Incorporated," otherwise known as Planned Parenthood, which uses tax dollars to the tune of billions over the years to advance its agenda of promiscuity and liberal abortion. That is not only morally wrong but it is completely unconstitutional.

---

Question:— Were the Declaration of Independence and the Constitution drafted to uphold the moral laws of God — or were they Deistic humanist documents? If they were Christian documents, where have we gone so far off track?

Howard Phillips: The Declaration of Independence is, in effect, the articles of incorporation or the preamble for our federal union and the Constitution of the United States is the bylaws. The Declaration says that "we are endowed by our Creator with certain inalienable rights." It acknowledges that our rights are a gift from God, that we are His creatures. It is a simple statement of fact that if God is "Sovereign," as the framers acknowledged Him to be, that law is inevitably the will of the Sovereign. The laws of God cannot be overturned by a two-thirds vote of Congress or even a unanimous decision of the Supreme Court. Abortion is always illegal in the sight of God. If a civil government chooses to permit it, that doesn't make it legal in His sight. It simply criminalizes the civil government which advances it.

The Declaration goes on to make the point that government derives its just powers from the consent of the governed. There is a theological principle there in that the governed are God's creatures who owe a duty to their Creator to the degree that they delegate policy setting functions and control of resources to civil government. They have an obligation to God to hold civil government accountable to them so that they may be accountable to Him. The link between the Declaration and the Constitution can be seen in the very first sentence of the Constitution after the preamble which says that "all legislative powers shall be vested in a Congress of the United States." "All" … "vested," mean they "can't be surrendered."

One of the problems is that Congress simply is not doing its constitutional duty. Look at the question of impeachment. That's not an independent counsel's responsibility. Under the U.S. Constitution, impeachment is the responsibility of the U.S. House of Representatives. If the House determines to bring charges against the president, then it's the responsibility of the Senate to determine whether he should be convicted and removed from office. The Republican congress pushed for giving the President line item veto authority. It was unconstitutional for them to do so. I am glad the Supreme Court recognized that. The Constitution permits the President, indeed mandate that he shall be, our chief executive. But it does not authorize him to be our chief legislator. Congress cannot delegate legislative functions to the President. Congress has given policy setting functions to regulatory agencies. That violates the letter of the first sentence of the body of the Constitutional law.

---

Question:— What about the "establishment of religion" clause in the U.S. Constitution? Doesn't the U.S. Constitution forbid the display of religion in the civil sphere?

Howard Phillips: The Constitution of the United States guarantees liberty of conscience when it says: "Congress shall make no law respecting the establishment of religion, nor prohibiting the free exercise thereof" in the First Amendment to the Constitution which begins the Bill of Rights. The core principle underlying the First Amendment was found in the writings of Thomas Jefferson and in the Virginia Declaration of Religious Liberty. Jefferson asserted correctly that to compel a man to subsidize with his taxes the propagation of ideas he disbelieves and abhors is sinful and tyrannical. The states which came together to form our federal union each had religious establishments at the time of the Constitution's ratification: a Catholic establishment in Maryland; an Anglican establishment in Virginia; a Congregational establishment in Massachusetts. In all cases, it was understood that the British Common Law was the core of the legal system in all of the states which came together to found the Union. British Common Law had its roots in Holy Scripture which began to take root under King Alfred in Britain.

Everyone has a right to his opinion, but America got underway with a Christian legal system. States were permitted to apply the death penalty for premeditated murder. The individual could worship as he saw fit and the federal government would not interfere with him, nor would it require him to support with his taxes anyone else's form of worship.

What we neglect to appreciate is that religion is not just Christianity, Buddhism, Judaism. Religion is any organized body of ideas about the nature of God and man. Humanism is a religion. Advocacy of homosexual conduct is in many ways a religion. Earth worship, radical environmentalism, one-worldism, all of these are forms of religious faith. They are belief systems which are coherent and comprehensive. People have a right to those opinions, but they don't have a right to require us to subsidize them with our taxes. That is why it is unconstitutional for Congress to turn over our tax dollars or control over our policy to other law systems, such as those at the United Nations, the International Monetary Fund, NAFTA, the World Trade Organization. Under the principle of accountability, which is core to any system of representative republicanism, it's essential that Congress not turn over policy setting functions to private non-profit corporations, to bureaucrats, to any kind of entity which does not have to stand for election in a manner in which the voters can say: "yea or nay."

---

RealPlayer file only:

(No broadband video is available for this section.)

Question:— What about the idea that the government should be neutral and should recognize that we live in a democratic, pluralistic society?

Howard Phillips: Some people mistakenly believe that there is such a thing as neutrality. There is no such thing. Positing that the world was created impersonally by random chance is a religious view. Positing that the state has a right to steal by majority vote is a religious view, one which contradicts God's commandment, "Thou shalt not steal." The very notion that it is okay for the President of the United States to commit adultery represents a religious view, which is antithetical to the Christian view. There is no such thing as neutrality. All views are inevitably and inescapably religious. The idea that people have a right to welfare is religious. The idea that worship of the earth transcends rights of property is a religious view. It's religious to say that any form of sexual conduct is permissible. That's an anti-Christian religious perspective.

The question is: Will the government fund those anti-Christian perspectives? I don't know of any Christians who are asking the government to fund Christian activism, Christian evangelists, Christian ministries, and Christian churches. But the liberals are saying, "We want you to fund our churches. We want you to fund the church of sodomy by giving more money to homosexual organizations which tell people that homosexual conduct is okay. We want you to fund the church of child killing by giving more money to organizations which kill babies. We want you to fund the church of the New World Order by giving more money to organizations which promote the loss of the national independence and security of the United States of America and its law system in favor of other law systems such as those of the UN."

The beliefs of the people who wrote our Declaration of Independence and Constitution, while they may have been theologically diverse, were implicitly Christian and were fundamentally at odds with the Marxist-Leninist beliefs, for example, of Alger Hiss who wrote the charter of the United Nations. He had a religious view which was reflected in the UN charter. Our Founders had a religious view which is reflected in our Constitution and Declaration of Independence. The difference is that under the Constitution there is liberty of conscience. You can believe whatever you want to believe. You are not required to subsidize somebody else's faith. That's the way it should be. It isn't always followed. Under the United Nations, you are consistently required to subsidize the faith of those who run the UN — a faith which requires fewer people; restricts populations; changes cultural and religious policies affecting male headship of families. The UN has an explicit dogma and insists that the money sent to it be used to advance that dogma. The problem is that our congresses and presidents have forgotten that the government of the United States is not supposed to require us to subsidize any private dogma.

---

Question:— In a Christian republic based on biblical law, would non-Christian religions be banned or would they have as much freedom as they have now?

Howard Phillips: Some people think that Christians who have a Constitutional view are moral imperialists. Quite the contrary. We are seeking to defend ourselves against the immoral imperialism of those who are using the power of civil government to advance their religious agenda, which involves environmental extremism, abortion, homosexuality, the destruction of the traditional family. We want the federal government to be limited to its delegated enumerated powers. We do not want to subsidize our perspective by giving money to organizations or individuals who are using the courts, or who are lobbyists, or who are editorial writers, or securing government grants to advance our agenda. We simply want to stop others from requiring us to send our tax money to Washington to advance their agenda.

If you do it our way, instead of supporting a Leviathan government which costs you two trillion dollars a year, you'll be able to keep your own money. You won't have to pay a penny in income tax, sales tax, inheritance tax, capital gains tax, business tax. Social security will be privatized. The federal government will get out of the land business. Federal expenditures will be less than 500 billion dollars a year and the government will support itself the way it did for most of our history, through excises, imposts, duties and apportionment among the states. We think that if people see that they can be free again, that they don't have to have one spouse working to support the government while the other spouse works to support the family, that they will rally behind this kind of approach. This is not moral imperialism; this is liberty.

I would encourage those who believe in ghettoizing their faith to listen carefully as they recite the Lord's prayer which talks about building His kingdom on earth as it is in heaven. Our job is to occupy until He comes. There is nothing in Scripture that can be cited as an excuse for not doing our duty to seek His justice and His glory.

---

The Beast of Revelation: Identified (DVD)

Who is the dreaded beast of Revelation?

Now at last, a plausible candidate for this personification of evil incarnate has been identified (or re-identified). Ken Gentry's insightful analysis of scripture and history is likely to revolutionize your understanding of the book of Revelation — and even more importantly — amplify and energize your entire Christian worldview!

Historical footage and other graphics are used to illustrate the lecture Dr. Gentry presented at the 1999 Ligonier Conference in Orlando, Florida. It is followed by a one-hour question and answer session addressing the key concerns and objections typically raised in response to his position. This presentation also features an introduction that touches on not only the confusion and controversy surrounding this issue — but just why it may well be one of the most significant issues facing the Church today.

Ideal for group meetings, personal Bible study — for anyone who wants to understand the historical context of John's famous letter "… to the seven churches which are in Asia." (Revelation 1:4)

Running Time: 145 minutes

$17.95 — ORDER NOW!

(We accept all major credit cards and PayPal.)

Click here for more information

---

The Real Jesus: A Defense of the Historicity and Divinity of Christ (DVD)

Who is the Real Jesus?

Ever since the dawn of modern rationalism, skeptics have sought to use textual criticism, archeology and historical reconstructions to uncover the "historical Jesus" — a wise teacher who said many wonderful things, but fulfilled no prophecies, performed no miracles and certainly did not rise from the dead in triumph over sin.

Over the past 100 years, however, startling discoveries in biblical archeology and scholarship have all but vanquished the faulty assumptions of these doubting modernists. Regrettably, these discoveries have often been ignored by the skeptics as well as by the popular media. As a result, the liberal view still holds sway in universities and impacts the culture and even much of the church.

The Real Jesus explodes the myths of these critics and the movies, books and television programs that have popularized their views. Presented in ten parts — perfect for individual, family and classroom study — viewers will be challenged to go deeper in their knowledge of Christ in order to be able to defend their faith and present the truth to a skeptical modern world – that the Jesus of the Gospels is the Jesus of history — "the same yesterday, today and forever" (Hebrews 13:8). He is the real Jesus.

Speakers include: George Grant, Ted Baehr, Stephen Mansfield, Raymond Ortlund, Phil Kayser, David Lutzweiler, Jay Grimstead, J.P. Holding, and Eric Holmberg.

Ten parts, over two hours of instruction!

Running Time: 130 minutes

$19.95 — ORDER NOW!

(We accept all major credit cards and PayPal.)

Click here for more information

---

Go Stand Speak (DVD)

With "preaching to the lost" being such a basic foundation of Christianity, why do many in the church seem to be apathetic on this issue of preaching in highways and byways of towns and cities?

Is it biblical to stand in the public places of the world and proclaim the gospel, regardless if people want to hear it or not?

Does the Bible really call church pastors, leaders and evangelists to proclaim the gospel in the public square as part of obedience to the Great Commission, or is public preaching something that is outdated and not applicable for our day and age?

These any many other questions are answered in this documentary.

$19.95 — ORDER NOW!

(We accept all major credit cards and PayPal.)

Click here for more information

---

The Silent Scream (DVD) Eight Languages

"When the lives of the unborn are snuffed out, they often feel pain, pain that is long and agonizing." – President Ronald Reagan to National Religious Broadcasters Convention, January 1981

Ronald Reagan became convinced of this as a result of watching The Silent Scream – a movie he considered so powerful and convicting that he screened it at the White House. More recently, it was by catching just a glimpse of what this film reveals that Planned Parenthood director and abortion advocate Abby Johnson turned and became a strong advocate for the pre-born.

The modern technology of real-time ultrasound now reveals the actual responses of a 12-week old fetus to being aborted. As the unborn child attempts to escape the abortionist's suction curette, her motions can be seen to become desperately agitated and her heart rate doubles. Her mouth opens – as if to scream – but no sound can come out. Her scream doesn't have to remain silent, however … not if you will become her voice. This newly re-mastered version features eight language tracks and two bonus videos.

"…a high technology "Uncle Tom's Cabin" arousing public opinion just as Harriet Beecher Stowe's 1852 antislavery novel ignited the abolitionist movement." – Sen. Gordon Humphrey, Time Magazine

Languages: English, Spanish, French, South Korean, Chinese, Russian, Portuguese, Japanese

Running Time: 28 minutes

$17.95 — ORDER NOW!

(We accept all major credit cards and PayPal.)

Click here for more information

---

God's Law and Society (DVD)

Download the Free Study Guide!

God's Law and Society powerfully presents a comprehensive worldview based upon the ethical system found in the Law of God.

Speakers include: R.J. Rushdoony, George Grant, Howard Phillips, R.C. Sproul Jr., Ken Gentry, Gary DeMar, Jay Grimstead, Steven Schlissel, Andrew Sandlin, Eric Holmberg, and more!

Sixteen Christian leaders and scholars answer some of the most common questions and misconceptions related to this volatile issue:

1. Are we under Law or under Grace?
2. Does the Old Testament Law apply today?
3. Can we legislate morality?
4. What are the biblical foundations of government?
5. Was America founded as a Christian nation?
6. What about the separation of Church and State?
7. Is neutrality a myth?
8. What about non-Christians and the Law of God?
9. Would there be "freedom" in a Christian republic?
10. What would a "Christian America" look like?

Perfect for group instruction as well as personal Bible study.

Ten parts, over four hours of instruction!

Running Time: 240 minutes

Watch over 60 on-line video interviews from God's Law and Society.

$19.95 — ORDER NOW!

(We accept all major credit cards and PayPal.)