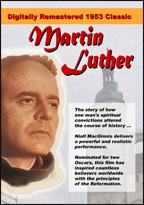 DVD
Martin Luther
Running time: 105 minutes
Special offer: Order 5 or more for $5 each; 10 or more for $4 each; and 100 or more for $2.50 each.
The story of how one man's spiritual convictions altered the course of history
"Here I stand … I can do no other!" – With these immortal words, an unknown German monk sparked a spiritual revolution that changed the world.
The dramatic classic film of Martin Luther's life was released in theaters worldwide in the 1950s and was nominated for two Oscars. A magnificent depiction of Luther and the forces at work in the surrounding society that resulted in his historic reform efforts, this film traces Luther's life from a guilt-burdened monk to his eventual break with the Roman Catholic Church.
In spite of its age, this film continues to be a popular resource to introduce Luther's life. This historical epic captures the life and times of the greatest figure of the Protestant Reformation with depth and clarity, while giving a glimpse at the private man in the eye of the storm.
Luther's protest against the established order of the Church gave birth to one of the largest and cultural movements in history and serves as a prime example of how one man's spiritual convictions can change the course of human events.