By Jay Rogers
Published February 19, 2021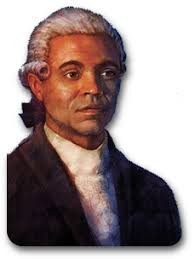 Prince Hall (1735–1807) was held as a slave by William Hall, in Boston until the age of 35, when he was freed. Hall used his freedom to become an advocate for African Americans. Hall made many petitions on behalf of free blacks and successfully petitioned for the release of three Boston African Americans who had been kidnapped into slavery.
While most Americans are familiar with the 18th century abolitionist movement, Abraham Lincoln and the Emancipation Proclamation, few know about the reasons for the abolition of slavery in the northern states in the 1770s. Prince Hall's Petition to the Massachusetts General Assembly (the state Supreme Court at the time) used the argument of the Declaration of Independence that all men are created equal with the right to Life, Liberty and the Pursuit of Happiness to argue for the abolition of slavery.
Prince Hall's Petition became the precedent for the abolition of slavery in Massachusetts and then all the northern states through state courts and state constitutional law.
January 13, 1777

The Petition of a great number of Negroes who are detained in a state of Slavery in the Bowels of a free & Christian Country Humbly Shewing:

That your Petitioners apprehend that they have, in common with all other Men, a natural & unalienable right to that freedom, which the great Parent of the Universe hath bestowed equally on all Mankind, & which they have never forfeited by any compact or agreement whatever—But they were unjustly dragged, by the cruel hand of Power, from their dearest friends, & some of them even torn from the embraces of their tender Parents, from a populous, pleasant and plentiful Country—& in Violation of the Laws of Nature & of Nation & in defiance of all the tender feelings of humanity, brought hither to be sold like Beasts of Burden, & like them condemned to slavery for Life—Among a People professing the mild Religion of Jesus—A People not insensible of the sweets of rational freedom—Nor without spirit to resent the unjust endeavours of others to reduce them to a State of Bondage & Subjection.

Your Honors need not to be informed that a Life of Slavery, like that of your petitioners, deprived of every social privilege, of every thing requisite to render Life even tolerable, is far worse than Non-Existence—In imitation of the laudable example of the good People of these States, your Petitioners have long & patiently waited the event of Petition after Petition by them presented to the legislative Body of this State, & can not but with grief reflect that their success has been but too similar.

They can not but express their astonishment, that it has never been considered, that every principle from which America has acted in the course of her unhappy difficulties with Great-Britain, pleads stronger than a thousand arguments in favor of your Petitioners.

They therefore humbly beseech your Honors, to give this Petition its due weight & consideration, & cause an Act of the Legislature to be passed, whereby they may be restored to the enjoyment of that freedom which is the natural right of all Men—& their Children (who were born in this Land of Liberty) may not be held as Slaves after they arrive at the age of twenty one years.

So may the Inhabitants of this State (no longer chargeable with the inconsistency of acting, themselves, the part which they condemn & oppose in others) be prospered in their present glorious struggles for Liberty; & have those blessings secured to them by Heaven, of which benevolent minds can not wish to deprive their fellow Men.

And your Petitioners, as in Duty Bound shall ever pray.

Lancaster Hill
Peter Bess
Brister Slenten
Prince Hall
Jack Purpont [his mark]
Nero Suneto [his mark]
Newport Symner [his mark]
Job Lock
Prince Hall continued his activism by protesting that African American children did not have public schools. Eventually he started a school of his own for them.
Publications
Books
DVDs & Online Videos
Pro-Life Ministry
Civil Government
The Hall of Church History
---
The Abortion Matrix: Defeating Child Sacrifice and the Culture of Death (DVD)
Download the free Study Guide!
Is there a connection between pagan religion and the abortion industry?
This powerful presentation traces the biblical roots of child sacrifice and then delves into the social, political and cultural fall-out that this sin against God and crime against humanity has produced in our beleaguered society.
Conceived as a sequel and update to the 1988 classic, The Massacre of Innocence, the new title, The Abortion Matrix, is entirely fitting. It not only references abortion's specific target – the sacred matrix where human beings are formed in the womb in the very image of God, but it also implies the existence of a conspiracy, a matrix of seemingly disparate forces that are driving this holocaust.
The occult activity surrounding the abortion industry is exposed with numerous examples. But are these just aberrations, bizarre yet anomalous examples of abortionists who just happen to have ties to modern day witchcraft? Or is this representative of something deeper, more sinister and even endemic to the entire abortion movement?
As the allusion to the film of over a decade ago suggests, the viewer may learn that things are not always as they appear to be. The Abortion Matrix reveals the reality of child-killing and strikes the proper moral chord to move hearts to fulfill the biblical responsibility to rescue those unjustly sentenced to death and to speak for those who cannot speak for themselves (Proverbs 24:11,12; 31:8,9).
Speakers include: George Grant, Peter Hammond, RC Sproul Jr., Paul Jehle, Lou Engle, Rusty Thomas, Flip Benham, Janet Porter and many more.
Ten parts, over three hours of instruction!
Running Time: 195 minutes
(We accept PayPal and all major credit cards.)
Click here for more information
---
Why Creeds and Confessions? (Book)
High Quality Paperback — 219 pages
Foundations in Biblical Orthodoxy
Driving down a country road sometime, you might see a church with a sign proudly proclaiming: "No book but the Bible — No creed but Christ." The problem with this statement is that the word creed (from the Latin: credo) simply means "belief." All Christians have beliefs, regardless of whether they are written.
Yet a single book containing the actual texts of the most important creeds of the early Church will not often be found. Out of the multitude of works on the evangelical Christian book market today, those dealing with the creeds of the Church are scarce.
Why Creeds and Confessions? provides a foundation of biblical orthodoxy as a defense against the false and truly heretical doctrines advanced by the spirit of this age.
(We accept PayPal and all major credit cards.)
Click here for more information
---
The Silent Scream (DVD) Eight Languages
"When the lives of the unborn are snuffed out, they often feel pain, pain that is long and agonizing." – President Ronald Reagan to National Religious Broadcasters Convention, January 1981
Ronald Reagan became convinced of this as a result of watching The Silent Scream – a movie he considered so powerful and convicting that he screened it at the White House.
The modern technology of real-time ultrasound now reveals the actual responses of a 12-week old fetus to being aborted. As the unborn child attempts to escape the abortionist's suction curette, her motions can be seen to become desperately agitated and her heart rate doubles. Her mouth opens – as if to scream – but no sound can come out. Her scream doesn't have to remain silent, however … not if you will become her voice. This newly re-mastered version features eight language tracks and two bonus videos.
"… a high technology "Uncle Tom's Cabin" arousing public opinion just as Harriet Beecher Stowe's 1852 antislavery novel ignited the abolitionist movement." – Sen. Gordon Humphrey, Time Magazine
Languages: English, Spanish, French, South Korean, Chinese, Russian, Portuguese, Japanese
Running Time: 28 minutes
(We accept PayPal and all major credit cards.)
Click here for more information
---
Martin Luther: Digitally Remastered 1953 Classic (DVD)
"Here I stand … I can do no other!"
With these immortal words, an unknown German monk sparked a spiritual revolution that changed the world.
The dramatic classic film of Martin Luther's life was released in theaters worldwide in the 1950s and was nominated for two Oscars. A magnificent depiction of Luther and the forces at work in the surrounding society that resulted in his historic reform efforts, this film traces Luther's life from a guilt-burdened monk to his eventual break with the Roman Catholic Church.
Running time: 105 minutes
Special offer: Order 5 or more for $5 each; 10 or more for $4 each; and 100 or more for $2.50 each.
(We accept PayPal and all major credit cards.)