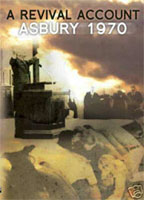 DVD
A Revival Account: Asbury 1970
What is true Revival and Spiritual Awakening?
Discover the answer in this eyewitness account by Dennis Kinlaw, President of Asbury College, Wilmore, Kentucky, who recounts the story of a visitation of the Holy Spirit in 1970. This is the presentation that has continued to spark the flames of Revival in the hearts of people around the world. Contains eyewitness footage from the Revival at Asbury College in 1970 in Wilmore, Kentucky.
Certain to challenge you to greater holiness and a deeper commitment to full-scale revival. Original news and private footage has been included. If you are a student who longs to see a spiritual awakening at your school, you must see this video!
"This simple video does a wonderful job of conveying something of God's heart and power. Everyone we have ever shown this to has received an immediate impartation of faith for revival and the power of prayer."
— Bob and Rose Weiner, Weiner Ministries Int'l