My name is Jay Rogers. I grew up in Framingham, Massachusetts. I attended UMASS/Amherst, where I double majored in English and Psychology. While taking continuing education courses to get my teacher certification at UMASS, I became a Christian at the age of 23. I joined a campus church at UMASS and took part in many evangelistic outreaches.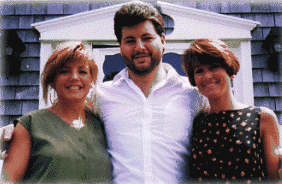 In 2001, I married Kalia Sandoval who is from Venezeula. We moved to Kissimmee, Florida in 2002 where I teach high school English.
How I came to work with The Forerunner
From 1988 to 1989, I worked as a high school English teacher in Beverly, Massachusetts. During that time, I was recommended by my pastor for a full-time writing and management position with The Forerunner, a nationally distributed university campus newspaper published by Maranatha Ministries in Gainesville, Florida. I served as the managing editor from 1989 to 1993.
During this time, I traveled to Russia and Ukraine several times, where I founded a Russian language version of the Forerunner, Predvestnik. This was an exciting time of great changes in a country where Christianity had previously been illegal. I got to make a lot of friends from Ukraine and Russia. I took part in a genuine spiritual awakening which greatly affected my life. This move of God is still going on today.
In 1993, I moved to Melbourne, Florida, a nice beach community just south of Cape Canaveral in Brevard County. There I bought a house across the street from one of America's most notorious abortion clinics. We saw the clinic close by the grace of God. We were elated to finally witness the bulldozing of the abortion clinic in 2000.
In December 1993, I founded Media House International, a ministry founded in order to establish Christian newspapers in foreign countries.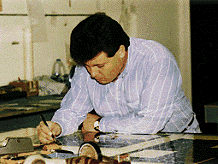 As the director of The Forerunner, my duties have included writing, publishing newsletters and newspapers, video production, raising finances for international missions projects, traveling for two to three months out of the year on short term missions trips to the former USSR and Latin America, and various administrative tasks.
For a while, I was the newsletter editor for the Christian Coalition of Brevard County. I try to stay involved as much as possible in political and pro-life activism. For more on how I got involved with pro-life events, you can read my first article ever published in The Forerunner: Why I Got Arrested In Brookline.
In my spare time, I enjoy golf, softball, fishing, the beach, walking, and exercise. I also spend way too much time on the Internet. I am also the script writer and associate producer of several powerful videos with Reel to Real Ministries (The Apologetics Group) such as The Real Jesus, God's Law and Society and The Beast of Revelation Identified.
My goal for the next few years is to build the base of The Forerunner so that I may obey the Lord Jesus Christ in the great Great Commission. My vision is to have an impact on the nations by training young people in the use of Christian media. I invite you to learn more about The Forerunner. Learn about Predvestnik – and our outreach to Latin America – El Campeón and some of the other missions God called us to in some exciting times!