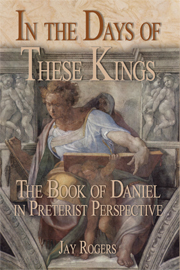 Book
In the Days of These Kings
740 pages
Perfect-bound paperback
The Book of Daniel in Preterist Perspective
"And in the days of these kings shall the God of heaven set up a kingdom, which shall never be destroyed: and the kingdom shall not be left to other people, but it shall break in pieces and consume all these kingdoms, and it shall stand for ever" (Daniel 2:44).
The overarching message of Daniel is that Jesus the Messiah is even now ruling over the nations. He is the King of kings. Daniel tells us that Messiah's kingdom will advance in the whole world from "generation to generation" (Daniel 4:4,34). Christ's dominion is "given to the people of the saints of the most High" (Daniel 7:22). Our purpose then is to see "all people, nations, and languages … serve and obey him" (Daniel 7:14,27).
This comprehensive work offers a fascinating look at the book of Daniel in preterist perspective. Great attention is paid to the writings of ancient and modern historians and scholars to connect the dots and demonstrate the continuity of Daniel's prophecy with all of Scripture.
Related Articles