By Jay Rogers
Published December 29, 2018
I explain more fully the meaning of the term, preterism, in "Part II: Notes on Daniel." By way of disclaimer, I am not what is termed a "Hymenaean," "hyper-preterist" or a "full preterist." This doctrinal error holds that all prophecy in the Bible, including the Second Coming of Jesus, is a past event fulfilled by AD 70. This violates an important foundational tenet of the early Christian creeds – the resurrection of the body, and the life to come, Amen. With all orthodox Christians of all the ages, I believe and confess that Jesus Christ, the Son of God, the Second Person of the Trinity, will yet come again in glory to judge the living and the dead and His kingdom will have no end.
The word orthodox literally means, "right doctrine" or "correct thinking," not Eastern Orthodox. For more information on this, see my book, Why Creeds and Confessions?
Although I do not debate against hyper-preterists, I wrote an article, Epiphanius of Salamis on the Hymenaean Heresy, which shows the Church Fathers viewed this as a Docetic-Gnostic heresy. See also: Against Hymenaeanism – The Charity of Intolerance by Andrew Sandlin.
---
In the Days of These Kings (Book)
Perfect-bound Paperback — 740 pages
The Book of Daniel in Preterist Perspective
"And in the days of these kings shall the God of heaven set up a kingdom, which shall never be destroyed: and the kingdom shall not be left to other people, but it shall break in pieces and consume all these kingdoms, and it shall stand for ever" (Daniel 2:44).
The overarching message of Daniel is that Jesus the Messiah is even now ruling over the nations. He is the King of kings. Daniel tells us that Messiah's kingdom will advance in the whole world from "generation to generation" (Daniel 4:4,34). Christ's dominion is "given to the people of the saints of the most High" (Daniel 7:22). Our purpose then is to see "all people, nations, and languages … serve and obey him" (Daniel 7:14,27).
This comprehensive work offers a fascinating look at the book of Daniel in preterist perspective. Great attention is paid to the writings of ancient and modern historians and scholars to connect the dots and demonstrate the continuity of Daniel's prophecy with all of Scripture.
(We accept PayPal and all major credit cards.)
Click here for more information
---
As you will see in my treatment of 2 Thessalonians 2 and a few other portions of Scripture, I am less preterist even than some other orthodox commentators, such as David Chilton, Kenneth Gentry, Gary DeMar and James Jordan. I do not attempt to pigeonhole every biblical prophecy to fit a preterist hermeneutic. My approach is that Scripture should interpret Scripture. However, I do not use the term "partial preterist" any more than I would call myself a "partial Calvinist" just because of the existence of hyper-Calvinists who have turned Reformed doctrine into heresy. I am just a "preterist."
In 2004, at the time I finished the series of articles that became "Part I: Daniel Explained," I came across John Calvin's Commentary on the Book of Daniel. I was surprised and delighted to find that Calvin had come to many of the same conclusions as I had. Calvin is sometimes classified as a historicist, but he was a solid preterist on the Book of Daniel. I altered a few points of my own interpretation after I determined that Calvin's were superior. Obviously, Calvin was a preterist in respect to his commentary on Daniel. According to a preface by Calvin's translators:
Our readers will remember, that as an expositor of prophecy, Calvin is a Preterist, and that his general system of interpretation is as remote from the year-day theory of Birks, Faber, and others [historicist commentators], as from the futurist speculations of Maitland, Tyso, and Todd. Notwithstanding the disagreement between these Lectures and the writings of Birks, we strongly recommend their perusal by every student who would become thoroughly proficient in the prophecies of Daniel. The first step towards progress, is to surrender all our preconceived notions, and to prepare for the possibility of their vanishing away before the force of sanctified reason and all-pervading truth (Calvin, Commentary on Daniel, translator's preface, emphasis mine).
For many years, I hesitated to put this into a printed book form because I regarded my study of Daniel to be incomplete. However, I constantly came across readers who wanted to know of a book that presented the best argument for a preterist interpretation. There are a few good ones, but I was surprised to see how little was available in comparison to books that discuss Matthew 24 and Revelation from a preterist perspective. I have consulted the other preterist commentaries that are available, but for the most part, I drew these conclusions on my own by researching source materials written by ancient historians and the books of the Bible that also document the period of 700 BC to AD 70.
In this book, I did not want to "reinvent the wheel." Anyone who wants a good preterist commentary on Daniel need look no further than John Calvin. So I have not published a "commentary" on Daniel in the strictest sense as much as a compilation of the sources and resources I have used in my own study of the preterist view of Daniel.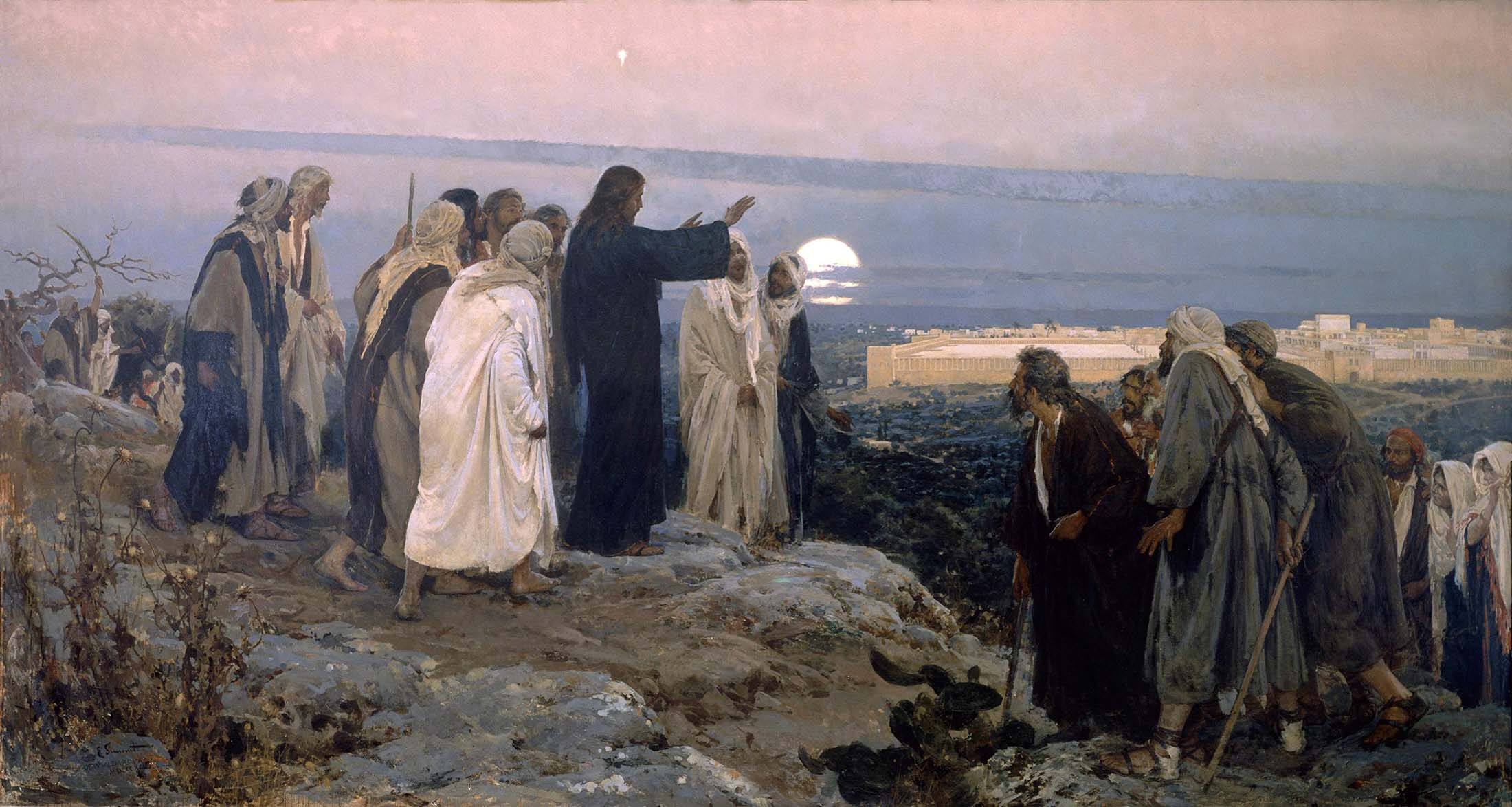 Painting by Enrique Simonet Lombardo — Flevit super illam (1892) — "He wept over it." Click to enlarge
---
»
Your comments are welcome!
---
The United States of America 2.0: The Great Reset (Book)
High Quality Paperback — 40 pages of dynamite!
Revival, Resistance, Reformation, Revolution
An Introduction to the Doctrines of Interposition and Nullification
In 1776, a short time after the Declaration of Independence was adopted, Thomas Jefferson, John Adams and Benjamin Franklin were assigned to design an official seal for the United States of America. Their proposed motto was Rebellion to Tyrants is Obedience to God. America owes its existence to centuries of Christian political philosophy. Our nation provided a model for liberty copied by nations the world over.
By the 21st century, we need a "Puritan Storm" to sweep away the Hegelian notion that the state is "God walking on earth." We need revival and reformation in full force to vanquish the problems that plague us as a nation — from government controlled healthcare — to abortion on demand — to same sex "marriage." This booklet gives a primer on our founders' Christian idea of government and examines how the doctrine of nullification was woven into the Constitution as a safeguard against federal tyranny. It concludes with the history and theology of civil resistance. A Second American Revolution is coming with the Word of God growing mightily and prevailing! (Acts 19:20).
(We accept PayPal and all major credit cards.)
Click here for more information
---
The Beast of Revelation: Identified (DVD)
Who is the dreaded beast of Revelation?
Now at last, a plausible candidate for this personification of evil incarnate has been identified (or re-identified). Ken Gentry's insightful analysis of scripture and history is likely to revolutionize your understanding of the book of Revelation — and even more importantly — amplify and energize your entire Christian worldview!
Historical footage and other graphics are used to illustrate the lecture Dr. Gentry presented at the 1999 Ligonier Conference in Orlando, Florida. It is followed by a one-hour question and answer session addressing the key concerns and objections typically raised in response to his position. This presentation also features an introduction that touches on not only the confusion and controversy surrounding this issue — but just why it may well be one of the most significant issues facing the Church today.
Ideal for group meetings, personal Bible study — for anyone who wants to understand the historical context of John's famous letter "… to the seven churches which are in Asia." (Revelation 1:4)
Running Time: 145 minutes
(We accept PayPal and all major credit cards.)
Click here for more information
---
The Real Jesus: A Defense of the Historicity and Divinity of Christ (DVD)
Who is the Real Jesus?
Ever since the dawn of modern rationalism, skeptics have sought to use textual criticism, archeology and historical reconstructions to uncover the "historical Jesus" — a wise teacher who said many wonderful things, but fulfilled no prophecies, performed no miracles and certainly did not rise from the dead in triumph over sin.
Over the past 100 years, however, startling discoveries in biblical archeology and scholarship have all but vanquished the faulty assumptions of these doubting modernists. Regrettably, these discoveries have often been ignored by the skeptics as well as by the popular media. As a result, the liberal view still holds sway in universities and impacts the culture and even much of the church.
The Real Jesus explodes the myths of these critics and the movies, books and television programs that have popularized their views. Presented in ten parts — perfect for individual, family and classroom study — viewers will be challenged to go deeper in their knowledge of Christ in order to be able to defend their faith and present the truth to a skeptical modern world – that the Jesus of the Gospels is the Jesus of history — "the same yesterday, today and forever" (Hebrews 13:8). He is the real Jesus.
Speakers include: George Grant, Ted Baehr, Stephen Mansfield, Raymond Ortlund, Phil Kayser, David Lutzweiler, Jay Grimstead, J.P. Holding, and Eric Holmberg.
Ten parts, over two hours of instruction!
Running Time: 130 minutes
(We accept PayPal and all major credit cards.)
Click here for more information
---
Dr. Francis Schaeffer - How Should We Then Live? (DVD)
Special Two-Disc Set!
After 40 years of intense study and world-wide ministry, Dr. Francis Schaeffer completed his crowning work of scholarship – to present profound truths in simple film language. Dr. Schaeffer's brilliant analysis of the past and predictions for current trends have proven so uncannily accurate that this amazing series still feels contemporary almost three decades after its initial release. Ultimately, Schaeffer concludes that man's only hope is a return to God's Biblical absolute, the truth revealed in Christ through the Scriptures.
Available for the first time on DVD, this documentary spectacular also includes intimate in-depth conversations with Francis and Edith Schaeffer. With the on-disc study guide, this presentation forms a unique course of comprehensive study. While this series forms an innovative analysis of the past, this outstanding work is more than history. Each episode focuses on a significant era, yet speaks clearly to 21st-century man with answers for modern problems.
(We accept PayPal and all major credit cards.)
Click here for more information
---
A Revival Account: Asbury 1970 (DVD)
What is true Revival and Spiritual Awakening?
Discover the answer in this eyewitness account by Dennis Kinlaw, President of Asbury College, Wilmore, Kentucky, who recounts the story of a visitation of the Holy Spirit in 1970. This is the presentation that has continued to spark the flames of Revival in the hearts of people around the world. Contains eyewitness footage from the Revival at Asbury College in 1970 in Wilmore, Kentucky.
Certain to challenge you to greater holiness and a deeper commitment to full-scale revival. Original news and private footage has been included. If you are a student who longs to see a spiritual awakening at your school, you must see this video!
"This simple video does a wonderful job of conveying something of God's heart and power, Everyone we have ever shown this to has received an immediate impartation of faith for revival and the power of prayer."
— Bob and Rose Weiner, Weiner Ministries Int'l
Running Time: 40 minutes
(We accept PayPal and all major credit cards.)