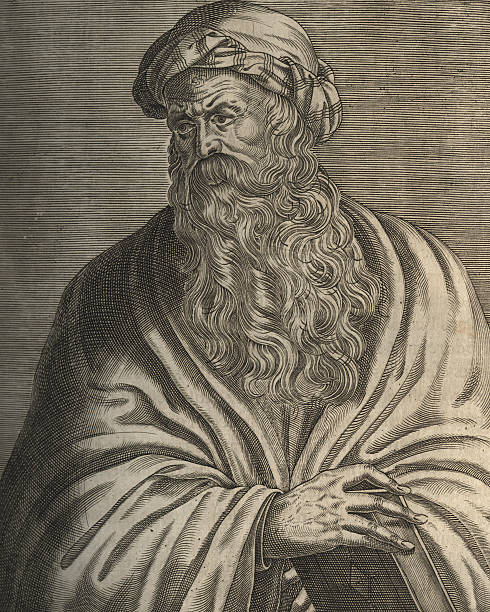 Epiphanius of Salamis (c. AD 320 to 403) was a bishop of Salamis, Cyprus. He gained a reputation as a strong defender of orthodoxy. He is best known for composing the Panarion, a very large compendium of the heresies up to his own time, full of quotations that are often the only surviving fragments of these texts. He was also an early critic against contemporary uses of iconography in the Church.
I post this for those who are interested in Full Preterism (Hyper-Preterism). Some of my Full Preterist acquaintances have objected that Hymenaeanism refers only to the teaching that the "resurrection is past" around the time of Paul's writing of his two Epistles to Timothy in the early to mid-AD 60s. They insist this cannot refer to the resurrection of the saints or the Second Coming of Jesus in AD 70 – which is when many Full Preterists claim these events occurred. Since Paul was writing prior to AD 70, they claim this heresy cannot apply to today's Full Preterists who say the Second Coming and Resurrection occurred in the past.
On the contrary, in Panarion, Epiphanius provides some useful information on how the early Church viewed the Hymenaean heresy as a form of Docetic Gnosticism. The Docetic sect embraced pseudo-spirituality, denying anything good in the material world and held that Christ only appeared to have a real birth, death and resurrection.
Full Preterists are repeating elements of this Docetic Gnostic error – at least in the way that Epiphanius recorded the points of Hymenaeanism.
And again, to hint that there will be a resurrection of the dead, the Son of this God says, "Destroy this temple, and in three days I will raise it up." But by "temple" he meant his own body, which would be "destroyed" by the hands of men — that is, killed. But something which was not a body but an apparition — as these people in their turn say — could not have fallen into someone's hands and been raised the third day, as he promised. By such a provision it is plainly proved that the resurrection of the dead is undeniable, and the soul does not need a speech of defense to give before each authority — this too is a fabrication of theirs, as we have said — but needs the Lord's deed of lovingkindness, sustained by works and faith. So says the most holy Paul, writing to Timothy with these words: "That thou mayest know how thou oughtest to behave thyself in the house of the Lord, which is the church of the living God, the pillar and ground of the truth, which the many having deserted have turned unto fables and words of folly, understanding neither what they say nor whereof they affirm, of whom are Phygelus and Hermogenes."

In his second epistle, moreover, he says that Hymenaeus and Philetus have gone wrong about the truth. They were followers of this sect themselves, proclaiming another God and endless genealogies, implanting fresh error in men by saying that the world was not made by God but by principalities and authorities, and that the resurrection has already come in the children who are begotten by each of their parents, but that there will be no resurrection of the dead. And see the character of the truth, brothers, and the refutation of their disorder! (Epiphanius of Salamis, Panarion 8.1-6).
Note the following points in Epiphaius' summary.
Jesus was bodily raised from the dead. Although this was His glorified body, He was not a ghost or an apparition.
Likewise, the future bodily resurrection of the dead is undeniable (1 Corinthians 10:12-58).
Proto-Gnostics, such as Phygelus and Hermogenes, apparently taught that the souls of the departed need to ascend through a series of Aeons giving a defense of their works and faith before each authority. Followers of this sect have thus departed from the Church as heretics. They have departed from the true Gospel that teaches that the souls of the dead need only the finished work of grace, which was "sustained by" (or affirmed by) their good works and faith (James 2:14-26).
Hymenaeus and Philetus were also part of this Proto-Gnostic sect. They taught "endless genealogies" (1 Timothy 1:4) meaning this chain of authority made up of "lesser gods," or Aeons, that ascend in the spiritual realm.
Like the later Gnostics, Hymenaeus and Philetus proclaimed another God who was the Father of many lesser gods, and that the world itself being evil matter was not created by God, but instead by these principalities and authorities.
The Hymenaeans taught that the resurrection of the dead was a past event and that children born of believing parents have received this spiritual resurrection. There will therefore be no future bodily resurrection of the dead.
Although Full Preterists like to say that the Hymenaean heresy refers only to the resurrection of the dead as past at the time of Paul's writing, Epiphanius' description shows otherwise. The Church Fathers were creedally orthodox. For them, the resurrection was a future event and linked inextricably to the Second Coming of Christ. As the Apostles and Nicene Creeds stated: "He will come again in glory to judge the living and the dead and His kingdom will have no end."
Epiphanius affirms this truth by making the following points:
Jesus' resurrection from the dead was a bodily resurrection and so too the resurrection of the righteous dead "will be" a bodily resurrection in the future.
The Hymanaean heresy is linked to the Gnostic denial that Jesus had a physical body and that His resurrection was spiritual only.
Epiphanius also links the Hymenaean error to the contemporary Gnostic error that said the world was created not by God, but through a chain of Being – with numerous Aeons – or "principalities and authorities" who made the evil material world. Similarly, many modern Full Preterists deny a literal six-day Creation, but God worked through the stages of evolution over numerous ages. They also deny that physical death came into the world through Adam's sin, but death existed as part of the natural order for millions of years.
In contrast, the Nicene Creed states:
We believe in one God, the Father Almighty, Maker of heaven and earth, and of all things visible and invisible. And in one Lord Jesus Christ, the only-begotten Son of God, begotten of the Father before all worlds (aeons), Light of Light, very God of very God, begotten, not made, being of one substance with the Father; by whom all things were made; both in heaven and on earth.
Since the Gnostics taught a spiritual resurrection of Jesus and thus a denial of a bodily Second Coming of Jesus and a denial of a future bodily resurrection of the saints, they in reality believed the world would continue in a state of death and decay until it was destroyed. There will be no New Heavens and New Earth because that too exists in the spiritual realm only.
So we can see that ideas have consequences. Modern Full Preterists commit a heresy very similar to the ancient Hymenaeans. The "New Heavens and the New Earth" (which many moderate preterists, such as me, agree now exists as a spiritual reality) will never become a physical reality in their scheme. On the contrary, the Word of God teaches that death itself, the last enemy of God, will one day be defeated (1 Corinthians 15:24-26).
Your comments are welcome!
---
The Abortion Matrix: Defeating Child Sacrifice and the Culture of Death (DVD)
Download the free Study Guide!
Is there a connection between pagan religion and the abortion industry?
This powerful presentation traces the biblical roots of child sacrifice and then delves into the social, political and cultural fall-out that this sin against God and crime against humanity has produced in our beleaguered society.
Conceived as a sequel and update to the 1988 classic, The Massacre of Innocence, the new title, The Abortion Matrix, is entirely fitting. It not only references abortion's specific target – the sacred matrix where human beings are formed in the womb in the very image of God, but it also implies the existence of a conspiracy, a matrix of seemingly disparate forces that are driving this holocaust.
The occult activity surrounding the abortion industry is exposed with numerous examples. But are these just aberrations, bizarre yet anomalous examples of abortionists who just happen to have ties to modern day witchcraft? Or is this representative of something deeper, more sinister and even endemic to the entire abortion movement?
As the allusion to the film of over a decade ago suggests, the viewer may learn that things are not always as they appear to be. The Abortion Matrix reveals the reality of child-killing and strikes the proper moral chord to move hearts to fulfill the biblical responsibility to rescue those unjustly sentenced to death and to speak for those who cannot speak for themselves (Proverbs 24:11,12; 31:8,9).
Speakers include: George Grant, Peter Hammond, RC Sproul Jr., Paul Jehle, Lou Engle, Rusty Thomas, Flip Benham, Janet Porter and many more.
Ten parts, over three hours of instruction!
Running Time: 195 minutes
$19.95 — ORDER NOW!
(We accept all major credit cards and PayPal.)
Click here for more information
---
Martin Luther: Digitally Remastered 1953 Classic (DVD)
"Here I stand … I can do no other!"
With these immortal words, an unknown German monk sparked a spiritual revolution that changed the world.
The dramatic classic film of Martin Luther's life was released in theaters worldwide in the 1950s and was nominated for two Oscars. A magnificent depiction of Luther and the forces at work in the surrounding society that resulted in his historic reform efforts, this film traces Luther's life from a guilt-burdened monk to his eventual break with the Roman Catholic Church.
Running time: 105 minutes
Special offer: Order 5 or more for $5 each.
Watch a clip from Martin Luther.
$9.95 — ORDER NOW!
(We accept all major credit cards and PayPal.)
Click here for more information
---
Frank Schaeffer Will You Please Shut Up! (Book)
High Quality Paperback — 200 pages
A Reasonable Response to Christian Postmodernism
Includes a response to the book Christian Jihad by Colonel V. Doner
The title of this book is a misnomer. In reality, I am not trying to get anyone to shut up, but rather to provoke a discussion. This book is a warning about the philosophy of "Christian postmodernism" and the threat that it poses not only to Christian orthodoxy, but to the peace and prosperity our culture as well. The purpose is to equip the reader with some basic principles that can be used to refute their arguments.
Part 1 is a response to some of the recent writings by Frank Schaeffer, the son of the late Francis Schaeffer. This was originally written as a defense against Frank's attacks on pro-life street activism – a movement that his father helped bring into being through his books, A Christian Manifesto, How Should We Then Live? and Whatever Happened to the Human Race? These works have impacted literally hundreds of thousands of Christian activists.
Part 2 is a response to Colonel Doner and his book, Christian Jihad: Neo-Fundamentalists and the Polarization of America. Doner was one of the key architects of the Christian Right that emerged in the 1980s, who now represents the disillusionment and defection many Christian activists experienced in the 1990s and 2000s. There is still great hope for America to be reformed according to biblical principles. As a new generation is emerging, it is important to recognize the mistakes that Christian activists have made in the past even while holding to a vision for the future.
$14.95 — ORDER NOW!
(We accept all major credit cards and PayPal.)
Click here for more information
---
Dr. Francis Schaeffer - A Christian Manifesto (DVD)
That Swiss Hermit Strikes Again!
Dr. Schaeffer, who was one of the most influential Christian thinkers in the twentieth century, shows that secular humanism has displaced the Judeo-Christian consensus that once defined our nation's moral boundaries. Law, education, and medicine have all been reshaped for the worse as a consequence. America's dominant worldview changed, Schaeffer charges, when Christians weren't looking.
Schaeffer lists two reasons for evangelical indifference: a false concept of spirituality and fear. He calls on believers to stand against the tyranny and moral chaos that come when humanism reigns-and warns that believers may, at some point, be forced to make the hard choice between obeying God or Caesar. A Christian Manifesto is a thought-provoking and bracing Christian analysis of American culture and the obligation Christians have to engage the culture with the claims of Christ.
$19.95 — ORDER NOW!
(We accept all major credit cards and PayPal.)
Click here for more information
---
Amazing Grace: The History and Theology of Calvinism (DVD)
Download the Free Study Guide!
Just what is Calvinism?
Does this teaching make man a deterministic robot and God the author of sin? What about free will? If the church accepts Calvinism, won't evangelism be stifled, perhaps even extinguished? How can we balance God's sovereignty and man's responsibility? What are the differences between historic Calvinism and hyper-Calvinism? Why did men like Augustine, Luther, Calvin, Spurgeon, Whitefield, Edwards and a host of renowned Protestant evangelists embrace the teaching of predestination and election and deny free will theology?
This is the first video documentary that answers these and other related questions. Hosted by Eric Holmberg, this fascinating three-part, four-hour presentation is detailed enough so as to not gloss over the controversy. At the same time, it is broken up into ten "Sunday-school-sized" sections to make the rich content manageable and accessible for the average viewer.
Running Time: 257 minutes
$19.95 — ORDER NOW!
(We accept all major credit cards and PayPal.)