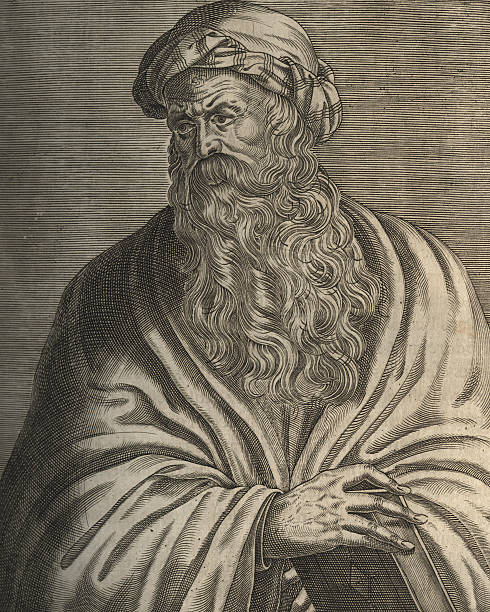 Epiphanius of Salamis (c. AD 320 to 403) was a bishop of Salamis, Cyprus. He gained a reputation as a strong defender of orthodoxy. He is best known for composing the Panarion, a very large compendium of the heresies up to his own time, full of quotations that are often the only surviving fragments of these texts. He was also an early critic against contemporary uses of iconography in the Church.
I post this for those who are interested in Full Preterism (Hyper-Preterism). Some of my Full Preterist acquaintances have objected that Hymenaeanism refers only to the teaching that the "resurrection is past" around the time of Paul's writing of his two Epistles to Timothy in the early to mid-AD 60s. They insist this cannot refer to the resurrection of the saints or the Second Coming of Jesus in AD 70 – which is when many Full Preterists claim these events occurred. Since Paul was writing prior to AD 70, they claim this heresy cannot apply to today's Full Preterists who say the Second Coming and Resurrection occurred in the past.
On the contrary, in Panarion, Epiphanius provides some useful information on how the early Church viewed the Hymenaean heresy as a form of Docetic Gnosticism. The Docetic sect embraced pseudo-spirituality, denying anything good in the material world and held that Christ only appeared to have a real birth, death and resurrection.
Full Preterists are repeating elements of this Docetic Gnostic error – at least in the way that Epiphanius recorded the points of Hymenaeanism.
And again, to hint that there will be a resurrection of the dead, the Son of this God says, "Destroy this temple, and in three days I will raise it up." But by "temple" he meant his own body, which would be "destroyed" by the hands of men — that is, killed. But something which was not a body but an apparition — as these people in their turn say — could not have fallen into someone's hands and been raised the third day, as he promised. By such a provision it is plainly proved that the resurrection of the dead is undeniable, and the soul does not need a speech of defense to give before each authority — this too is a fabrication of theirs, as we have said — but needs the Lord's deed of lovingkindness, sustained by works and faith. So says the most holy Paul, writing to Timothy with these words: "That thou mayest know how thou oughtest to behave thyself in the house of the Lord, which is the church of the living God, the pillar and ground of the truth, which the many having deserted have turned unto fables and words of folly, understanding neither what they say nor whereof they affirm, of whom are Phygelus and Hermogenes."

In his second epistle, moreover, he says that Hymenaeus and Philetus have gone wrong about the truth. They were followers of this sect themselves, proclaiming another God and endless genealogies, implanting fresh error in men by saying that the world was not made by God but by principalities and authorities, and that the resurrection has already come in the children who are begotten by each of their parents, but that there will be no resurrection of the dead. And see the character of the truth, brothers, and the refutation of their disorder! (Epiphanius of Salamis, Panarion 8.1-6).
Note the following points in Epiphaius summary.
Jesus was bodily raised from the dead. Though this was His glorified body, He was not a ghost or an apparition.
Likewise, the future bodily resurrection of the dead is undeniable (1 Corinthians 10:12-58).
Proto-Gnostics, such as Phygelus and Hermogenes, apparently taught that the souls of the departed need to ascend through a series of Aeons giving a defense of their works and faith before each authority. Followers of this sect have thus departed from the Church as heretics. They have departed from the true Gospel that teaches that the souls of the dead need only the finished work of grace, which was "sustained by" (or affirmed by) their good works and faith (James 2:14-26).
Hymenaeus and Philetus were also part of this Proto-Gnostic sect. They taught "endless genealogies" (1 Timothy 1:4) meaning this chain of authority made up of "lesser gods," or Aeons, that ascend in the spiritual realm.
Like the later Gnostics, Hymenaeus and Philetus proclaimed another God who was the Father of many lesser gods, and that the world itself being evil matter was not created by God, but instead by these principalities and authorities.
The Hymenaeans taught that the resurrection of the dead was a past event and that children born of believing parents have received this spiritual resurrection. There will therefore be no future bodily resurrection of the dead.
Although Full Preterists like to say that the Hymenaean heresy refers only to the resurrection of the dead as past at the time of Paul's writing, Epiphanius' description shows otherwise. The Church Fathers were creedally orthodox. For them, the resurrection was a future event and linked inextricably to the Second Coming of Christ. As the Apostles and Nicene Creeds stated: "He will come again in glory to judge the living and the dead and His kingdom will have no end."
Epiphanius affirms this truth by making the following points:
Jesus' resurrection from the dead was a bodily resurrection and so too the resurrection of the righteous dead "will be" a bodily resurrection in the future.
The Hymanaean heresy is linked to the Gnostic denial that Jesus had a physical body and that His resurrection was spiritual only.
Epiphanius also links the Hymenaean error to the contemporary Gnostic error that said the world was created not by God, but through a chain of Being – with numerous Aeons – or "principalities and authorities" who made the evil material world. Similarly, many modern Full Preterists deny a literal six-day Creation, but God worked through the stages of evolution over numerous ages. They also deny that physical death came into the world through Adam's sin, but death existed as part of the natural order for millions of years.
In contrast, the Nicene Creed states:
We believe in one God, the Father Almighty, Maker of heaven and earth, and of all things visible and invisible. And in one Lord Jesus Christ, the only-begotten Son of God, begotten of the Father before all worlds (aeons), Light of Light, very God of very God, begotten, not made, being of one substance with the Father; by whom all things were made; both in heaven and on earth.
Since the Gnostics taught a spiritual resurrection of Jesus and thus a denial of a bodily Second Coming of Jesus and a denial of a future bodily resurrection of the saints, they in reality believed the world would continue in a state of death and decay until it was destroyed. There will be no New Heavens and New Earth because that too exists in the spiritual realm only.
So we can see that ideas have consequences. Modern Full Preterists commit a heresy very similar to the ancient Hymenaeans. The "New Heavens and the New Earth" (which many moderate preterists, such as me, agree now exists as a spiritual reality) will never become a physical reality in their scheme. On the contrary, the Word of God teaches that death itself, the last enemy of God, will one day be defeated (1 Corinthians 15:24-26).
Your comments are welcome!
---
The Four Keys to the Millennium (Book)
Foundations in Biblical Eschatology
By Jay Rogers, Larry Waugh, Rodney Stortz, Joseph Meiring. High quality paperback, 167 pages.
All Christians believe that their great God and Savior, Jesus Christ, will one day return. Although we cannot know the exact time of His return, what exactly did Jesus mean when he spoke of the signs of His coming (Mat. 24)? How are we to interpret the prophecies in Isaiah regarding the time when "the earth will be full of the knowledge of the LORD as the waters cover the sea" (Isa. 11:19)? Should we expect a time of great tribulation and apostasy or revival and reformation before the Lord returns? Is the devil bound now, and are the saints reigning with Christ? Did you know that there are four hermeneutical approaches to the book of Daniel and Revelation?
These and many more questions are dealt with by four authors as they present the four views on the millennium. Each view is then critiqued by the other three authors.
$12.95 — ORDER NOW!
(We accept all major credit cards and PayPal.)
Click here for more information
---
The Silent Scream (DVD) Eight Languages
"When the lives of the unborn are snuffed out, they often feel pain, pain that is long and agonizing." – President Ronald Reagan to National Religious Broadcasters Convention, January 1981
Ronald Reagan became convinced of this as a result of watching The Silent Scream – a movie he considered so powerful and convicting that he screened it at the White House.
The modern technology of real-time ultrasound now reveals the actual responses of a 12-week old fetus to being aborted. As the unborn child attempts to escape the abortionist's suction curette, her motions can be seen to become desperately agitated and her heart rate doubles. Her mouth opens – as if to scream – but no sound can come out. Her scream doesn't have to remain silent, however … not if you will become her voice. This newly re-mastered version features eight language tracks and two bonus videos.
"… a high technology "Uncle Tom's Cabin" arousing public opinion just as Harriet Beecher Stowe's 1852 antislavery novel ignited the abolitionist movement." – Sen. Gordon Humphrey, Time Magazine
Languages: English, Spanish, French, South Korean, Chinese, Russian, Portuguese, Japanese
Running Time: 28 minutes
$17.95 — ORDER NOW!
(We accept all major credit cards and PayPal.)
Click here for more information
---
A Revival Account: Asbury 1970 (DVD)
What is true Revival and Spiritual Awakening?
Discover the answer in this eyewitness account by Dennis Kinlaw, President of Asbury College, Wilmore, Kentucky, who recounts the story of a visitation of the Holy Spirit in 1970. This is the presentation that has continued to spark the flames of Revival in the hearts of people around the world. Contains eyewitness footage from the Revival at Asbury College in 1970 in Wilmore, Kentucky.
Certain to challenge you to greater holiness and a deeper commitment to full-scale revival. Original news and private footage has been included. If you are a student who longs to see a spiritual awakening at your school, you must see this video!
"This simple video does a wonderful job of conveying something of God's heart and power, Everyone we have ever shown this to has received an immediate impartation of faith for revival and the power of prayer."
— Bob and Rose Weiner, Weiner Ministries Int'l
Running Time: 40 minutes
$19.95 — ORDER NOW!
(We accept all major credit cards and PayPal.)
Click here for more information
---
In The Days of These Kings (Book)
Perfect-bound Paperback — 740 pages
The Book of Daniel in Preterist Perspective
"And in the days of these kings shall the God of heaven set up a kingdom, which shall never be destroyed: and the kingdom shall not be left to other people, but it shall break in pieces and consume all these kingdoms, and it shall stand for ever" (Daniel 2:44).
The overarching message of Daniel is that Jesus the Messiah is even now ruling over the nations. He is the King of kings. Daniel tells us that Messiah's kingdom will advance in the whole world from "generation to generation" (Daniel 4:4,34). Christ's dominion is "given to the people of the saints of the most High" (Daniel 7:22). Our purpose then is to see "all people, nations, and languages … serve and obey him" (Daniel 7:14,27).
This comprehensive work offers a fascinating look at the book of Daniel in preterist perspective. Great attention is paid to the writings of ancient and modern historians and scholars to connect the dots and demonstrate the continuity of Daniel's prophecy with all of Scripture.
$19.95 — ORDER NOW!
(We accept all major credit cards and PayPal.)
Click here for more information
---
The Beast of Revelation: Identified (DVD)
Who is the dreaded beast of Revelation?
Now at last, a plausible candidate for this personification of evil incarnate has been identified (or re-identified). Ken Gentry's insightful analysis of scripture and history is likely to revolutionize your understanding of the book of Revelation — and even more importantly — amplify and energize your entire Christian worldview!
Historical footage and other graphics are used to illustrate the lecture Dr. Gentry presented at the 1999 Ligonier Conference in Orlando, Florida. It is followed by a one-hour question and answer session addressing the key concerns and objections typically raised in response to his position. This presentation also features an introduction that touches on not only the confusion and controversy surrounding this issue — but just why it may well be one of the most significant issues facing the Church today.
Ideal for group meetings, personal Bible study — for anyone who wants to understand the historical context of John's famous letter "… to the seven churches which are in Asia." (Revelation 1:4)
Running Time: 145 minutes
$17.95 — ORDER NOW!
(We accept all major credit cards and PayPal.)