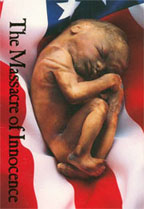 DVD
Massacre of Innocence
Running time: 85 minutes
Packaged in a double DVD case with the updated The Abortion Matrix DVD.
Exposing The Occult Roots of Abortion
This presentation looks at the spiritual roots of abortion and exposes the myths surrounding child killing. Little known historical facts about abortion and how they relate to modern feminism are presented logically and accurately. Has been effective in converting many to a pro-life position.
Massacre of Innocence goes where no pro-life presentation has gone before in "tearing the lid off abortion" to reveal the spiritual realities we must battle if we will bring an end to this crime. The presentation is absorbing, fast-paced, informative and incredibly devastating to any attempt to justify abortion.
"… an extraordinary statement … a powerfully articulate presentation about what abortion really means, and why a great and moral nation like the United States must not allow the slaughter to continue."
— Congressman Robert K. Dornan
"At last, a presentation that ties up the loose ends and looks at the spiritual reality behind abortion. Well done, incisive, and prophetic – every Christian needs to watch The Massacre of Innocence."
— Gary Bergel, Intercessors for America
Related Articles