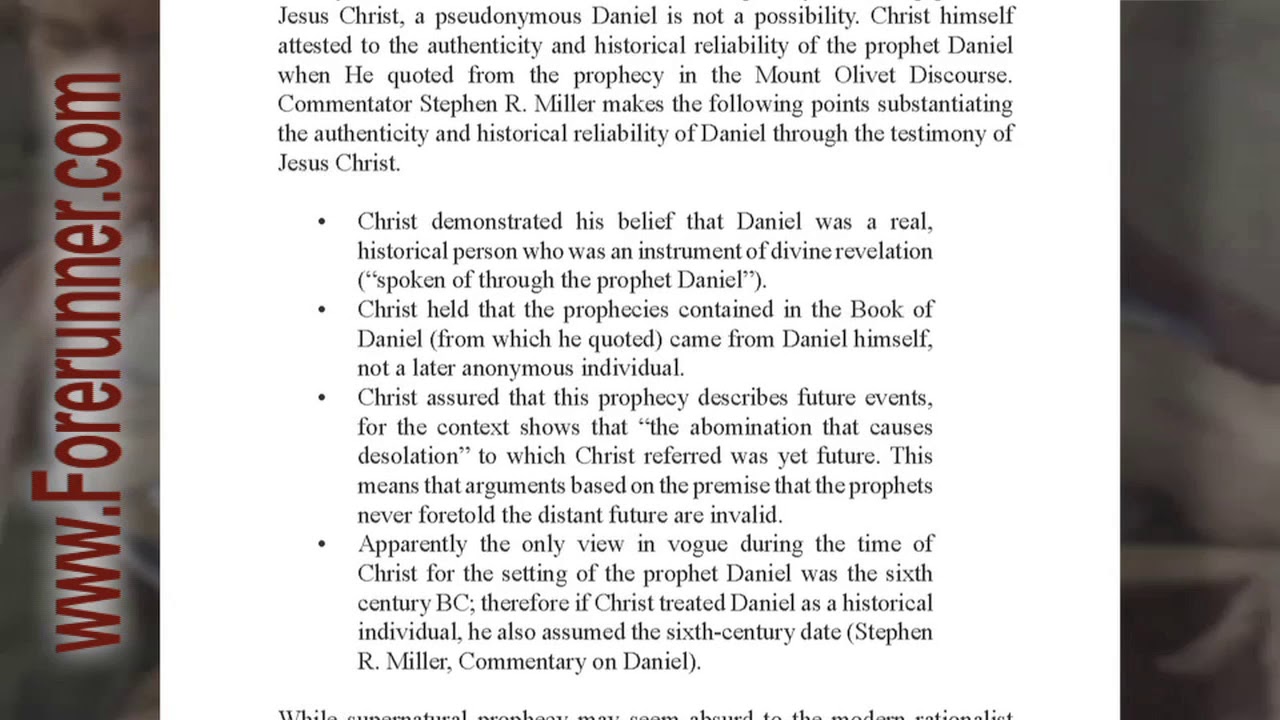 Finally, for the Christian who has been born-again by the saving grace of Jesus Christ, a pseudonymous Daniel is not a possibility. Christ himself attested to the authenticity and historical reliability of the prophet Daniel when He quoted from the prophecy in the Mount Olivet Discourse. Commentator Stephen R. Miller makes the following points substantiating the authenticity and historical reliability of Daniel through the testimony of Jesus Christ.
Christ demonstrated his belief that Daniel was a real, historical person who was an instrument of divine revelation ("spoken of through the prophet Daniel").
Christ held that the prophecies contained in the Book of Daniel (from which he quoted) came from Daniel himself, not a later anonymous individual.
Christ assured that this prophecy describes future events, for the context shows that "the abomination that causes desolation" to which Christ referred was yet future. This means that arguments based on the premise that the prophets never foretold the distant future are invalid.
Apparently the only view in vogue during the time of Christ for the setting of the prophet Daniel was the sixth century BC; therefore if Christ treated Daniel as a historical individual, he also assumed the sixth-century date (Stephen R. Miller, Commentary on Daniel).


While supernatural prophecy may seem absurd to the modern rationalist mindset, the evidence for an early date needs to be scrutinized. The Book of Daniel has strong evidence for its historicity and genuine origin.
---