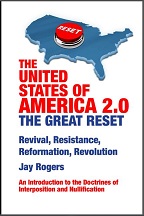 Book
The United States of America 2.0: The Great Reset
40 pages of dynamite!
High-quality paperback
Revival, Resistance, Reformation, Revolution, Interposition and Nullification
In 1776, a short time after the Declaration of Independence was adopted, Thomas Jefferson, John Adams and Benjamin Franklin were assigned to design an official seal for the United States of America. Their proposed motto was Rebellion to Tyrants is Obedience to God. America owes its existence to centuries of Christian political philosophy. Our nation provided a model for liberty copied by nations the world over.
By the 21st century, we need a "Puritan Storm" to sweep away the Hegelian notion that the state is "God walking on earth." We need revival and reformation in full force to vanquish the problems that plague us as a nation — from government controlled healthcare — to abortion on demand — to same sex "marriage." This booklet gives a primer on our founders' Christian idea of government and examines how the doctrine of nullification was woven into the Constitution as a safeguard against federal tyranny. It concludes with the history and theology of civil resistance. A Second American Revolution is coming with the Word of God growing mightily and prevailing! (Acts 19:20).
Note: Sales of this book will help to print bulk copies for distribution to Christian activists.