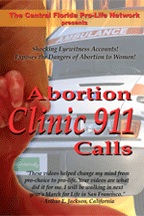 DVD
Abortion Clinic 911 Calls
Exposes the Dangers of Abortion to Women!
These shocking eyewitness accounts expose the dangers of abortion not only to unborn children, but to the health and lives women as well. An antidote to the smokescreens of the liberal media, these short clips show what really happens in and around abortion clinics.
Although the content is emotionally gut-wrenching, these videos have been used in church seminars and small groups to educate Christians on the abortion issue and to lead people toward a pro-life position. Contains 2 hours and 40 minutes of materials that can be shown separately.
Baby Rowan, a prenatal 22-week-old boy, was delivered alive in an Orlando abortion clinic after a botched abortion. The actual 911 calls that resulted from this horrific event tell the story.
Joel and Ariel, a brother and sister pro-life team from Melbourne, Florida, explain the effective work of sidewalk counselors outside of abortion clinics.
Several more 911 emergency calls show the truth: abortion is legal but not safe!
Finally several Florida pro-life counselors, give their eyewitness insights into their vital ministry and the dangers that elective abortion poses to women.
The popularity and impact of these pro-life videos on the Internet, has led us to offer them in a single package. Please note that although the production style is not the same quality as in our other DVDs, the content is as powerful. We are pleased to offer this at a low price!
Watch these pro-life videos on-line.
"These videos helped change my mind from pro-choice to pro-life. Your videos are what did it for me. I will be walking in next year's March For Life in San Francisco." — A. Jackson, California
"I was going to have an abortion until I saw your video. Praise Jesus!"
— M. Drew, YouTube Commenter