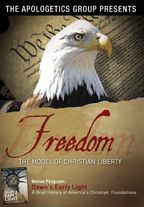 DVD
Freedom
DVD includes "Dawn's Early Light: A Brief History of America's Christian Foundations" and bonus features.">
The Model of Christian Liberty. This DVD includes "Dawn's Early Light: A Brief History of America's Christian Foundations" and bonus features.
"Give me liberty or give me death!" – Patrick Henry's famous declaration not only helped launch the War for Independence, it also perfectly summarized the mindset that gave birth to, and sustained, the unprecedented experiment in Christian liberty that was America.
The freedom our Founders envisioned was not freedom from suffering, want, or hard work. Nor was it freedom to indulge every appetite or whim without restraint—that would merely be servitude to a different master. No, the Founders' passion was to live free before God, unfettered by the chains of autocracy, shackles that slowly but inexorably bind men when the governments they fashion fail to recognize and uphold freedom's singular, foundational truth: that all men are created in the image of God, and are thereby co-equally endowed with the right to "life, liberty, and the pursuit of happiness."
This presentation is a similar call, not to one but many. By reintroducing the principles of freedom that gave birth to America, it is our prayer that Jesus, the true and only ruler over the nations, will once again be our acknowledged Sovereign, that we may again know and exult in the great truth that "where the Spirit of the LORD is, there is liberty" (2 Cor. 3:17).
Welcome to the Second American Revolution!
This DVD features "Liberty: The Model of Christian Liberty" along with "Dawn's Early Light: A Brief History of America's Christian Foundations." Bonus features include a humorous but instructive collection of campaign ads and Eric Holmberg's controversial YouTube challenge concerning Mitt Romney's campaign for president.