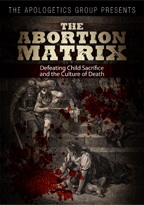 If you are involved with outreach to the unborn, you probably already know that God is accelerating his judgment and mercy on the child killing industry. Many are being converted to the sanctity of life position and God is exposing abortion for what it is – infanticide, pagan idolatry and the shedding of innocent blood.
In late December, I was about one week away from finishing the DVD project, The Abortion Matrix, and I heard about Abigail Seidman, whose testimony greatly added to the force of the presentation. After we released the DVD a few weeks ago, Abigail and her husband were among the first people to receive a copy. This morning, I received some wonderful news from them.
The following is from Abigail Seidman, who appears in chapters seven and eight of The Abortion Matrix DVD.
February 8th, 2011

I just wanted to let you know that my husband and I have nearly finished watching our copy (we keep getting interrupted or tired out by my pro-life events and children's illnesses, and we want to give it our best attention). I've been very interested in his thoughts on it since he comes from a Jewish background, is not yet a Christian (although he is getting closer, so please pray for him!) and has been involved in some New Age activity in the past. He is also politically conservative and pro-life, but not an activist in any way. So I think he is a good representative of what a person who is not "primed" for The Abortion Matrix's message might think of it (i.e. someone who is not the typical evangelical Christian or Catholic pro-lifer, not part of the "movement").

He's been floored. I think more than anything the film has actually been a conversion help for him. He is far, far closer to accepting the truth of Christianity now that he has been confronted with the truth of the spiritual nexus surrounding abortion and feminism. He is starting to see the necessity of taking sides, and being certain that one is on the right side. I have had some people complain to me that this sort of thing, taking the spiritual side of abortion and making it public, is harmful, divisive, or likely to drive non-Christians away. I am seeing the exact opposite with my husband. He has found it to be convicting, and an eye-opener with regard to some of the things he witnessed in his brief involvement with a Native American Spirituality group about 20 years ago.

For my part, I've taken some notes in detail regarding the specific ties of the modern neo-pagan and feminist movements to the modern abortion industry, with regard to what lines up with my experiences, or what jogs my memory. Once we've finished watching (hopefully this week), I'll send a more detailed report, including having my husband write a brief review in his own words. – Abigail Seidman
After reading Abigail's first message, I prayed for her and her husband. As I did I began to visualize him being broken by the sincerity and power of the testimonies in parts nine and ten. I was profoundly touched by God myself as I was praying this. Then this morning I saw the following message.
February 11th, 2011

I don't know if you've seen it on my Facebook or Twitter today, but my husband powerfully accepted Christ at the conclusion of our viewing of The Abortion Matrix. It's an amazing eye-opener for believers or nonbelievers of all stripes! The truth cannot be denied! I'm still in a bit of shock, but I'm sure I'll manage. :-)

Please tell me I can have sale copies ready for the vendor area at the Oregon Right To Life Conference where I'll be speaking in April. I would love to have this video available to impact the maximum number of people, everywhere I go. – Abigail Seidman
I was bowled over by this news and bit shocked too even though I've prayed for an "nuclear bomb in the Spirit." I encourage everyone who reads this to pray for them. Abigail is less than a year from her conversion to Christ, which was last June. She is already being sought out as a pro-life speaker by national groups since her testimony is so powerful. Her husband would appreciate prayer too.
In answer to Abigail's question, anyone can now get bulk copies of The Abortion Matrix. Just email me for the special bulk prices. I have a bulk order link set up for individuals who inquire.
Here is a similar testimony from Pastor Patrick Hines who is using the DVD in a church seminar.
February 2nd, 2011

I've watched The Abortion Matrix all the way through twice now. It is outstanding. I actually compiled 13 pages of notes while playing, stopping and playing the DVD. I thought it was excellent. The connections to witchcraft, covens, and the occult will be taken by some as sensationalistic, but they were thoroughly documented.

We are actually doing an "information night" at our church here in Cincinnati to which we've invited hundreds of local churches. I'll be the primary speaker at this information night. I am going to put together those action items from chapter ten, "Tearing Down Strongholds," into a handout of some kind for the people who come. We are excited about this.

Outstanding video. I have had to stop it and weep bitter tears numerous times. – Patrick Hines
The Origin of The Abortion Matrix
DVD
I got involved in pro-life activism in 1988 partially because I saw a video called The Massacre of Innocence. I know others, such as Rusty Thomas who is now a full-time minister to the preborn, who were affected in the same way. About ten years ago, I approached Eric Holmberg about doing a "quick update" to the material and adding some new research I had uncovered.
We tried several times to start this project, but failed to raise the needed production funds. In the process, we rewrote and rewrote the script. In 2009, I bit the bullet and began the editing process myself in my spare time at my own personal expense. Eric soon got excited about it and helped to greatly expand the scope and quality of the project as the executive producer, senior writer and host. Many others joined in as volunteers in the last few months to help make this a success.
I was literally one week away from finishing the project and I heard about Abigail Seidman, whose testimony greatly added to the force of the presentation. We just released the DVD about three weeks ago. Abigail and her husband were among the first people to receive a copy. You see from the testimony here how it affected her husband who claimed to be an agnostic prior to becoming involved.
We have been praying that this will be a "nuclear bomb in the Spirit" to prevail against the gates of hell. So this is truly "good news." I thank God for what he has done today despite our human weaknesses and failures. I invite you to pray with us for thousands and even millions of others to be led of God to see The Abortion Matrix and for it to have an even greater effect than the original version, Massacre of Innocence, had 23 years ago.
"Behold, I have made you a new, sharp threshing sledge with double edges;
You will thresh the mountains and pulverize them,
And will make the hills like chaff.
You will winnow them, and the wind will carry them away,
And the storm will scatter them;
But you will rejoice in the LORD,
You will glory in the Holy One of Israel" (Isaiah 41:15,16).
Your comments are welcome!
---
God's Law and Society (DVD)
Download the Free Study Guide!
God's Law and Society powerfully presents a comprehensive worldview based upon the ethical system found in the Law of God.
Speakers include: R.J. Rushdoony, George Grant, Howard Phillips, R.C. Sproul Jr., Ken Gentry, Gary DeMar, Jay Grimstead, Steven Schlissel, Andrew Sandlin, Eric Holmberg, and more!
Sixteen Christian leaders and scholars answer some of the most common questions and misconceptions related to this volatile issue:
1. Are we under Law or under Grace?
2. Does the Old Testament Law apply today?
3. Can we legislate morality?
4. What are the biblical foundations of government?
5. Was America founded as a Christian nation?
6. What about the separation of Church and State?
7. Is neutrality a myth?
8. What about non-Christians and the Law of God?
9. Would there be "freedom" in a Christian republic?
10. What would a "Christian America" look like?
Perfect for group instruction as well as personal Bible study.
Ten parts, over four hours of instruction!
Running Time: 240 minutes
Watch over 60 on-line video interviews from God's Law and Society.
$19.95 — ORDER NOW!
(We accept all major credit cards and PayPal.)
Click here for more information
---
Freedom: The Model of Christian Liberty (DVD)
"Give me liberty or give me death!"
Patrick Henry's famous declaration not only helped launch the War for Independence, it also perfectly summarized the mindset that gave birth to, and sustained, the unprecedented experiment in Christian liberty that was America.
The freedom our Founders envisioned was not freedom from suffering, want, or hard work. Nor was it freedom to indulge every appetite or whim without restraint—that would merely be servitude to a different master. No, the Founders' passion was to live free before God, unfettered by the chains of autocracy, shackles that slowly but inexorably bind men when the governments they fashion fail to recognize and uphold freedom's singular, foundational truth: that all men are created in the image of God, and are thereby co-equally endowed with the right to "life, liberty, and the pursuit of happiness."
This presentation is a similar call, not to one but many. By reintroducing the principles of freedom that gave birth to America, it is our prayer that Jesus, the true and only ruler over the nations, will once again be our acknowledged Sovereign, that we may again know and exult in the great truth that "where the Spirit of the LORD is, there is liberty" (2 Cor. 3:17).
Welcome to the Second American Revolution!
This DVD features "Liberty: The Model of Christian Liberty" along with "Dawn's Early Light: A Brief History of America's Christian Foundations." Bonus features include a humorous but instructive collection of campaign ads and Eric Holmberg's controversial YouTube challenge concerning Mitt Romney's campaign for president.
$14.95 — ORDER NOW!
(We accept all major credit cards and PayPal.)
Click here for more information
---
Go Stand Speak (DVD)
With "preaching to the lost" being such a basic foundation of Christianity, why do many in the church seem to be apathetic on this issue of preaching in highways and byways of towns and cities?
Is it biblical to stand in the public places of the world and proclaim the gospel, regardless if people want to hear it or not?
Does the Bible really call church pastors, leaders and evangelists to proclaim the gospel in the public square as part of obedience to the Great Commission, or is public preaching something that is outdated and not applicable for our day and age?
These any many other questions are answered in this documentary.
$19.95 — ORDER NOW!
(We accept all major credit cards and PayPal.)
Click here for more information
---
The Silent Scream (DVD) Eight Languages
"When the lives of the unborn are snuffed out, they often feel pain, pain that is long and agonizing." – President Ronald Reagan to National Religious Broadcasters Convention, January 1981
Ronald Reagan became convinced of this as a result of watching The Silent Scream – a movie he considered so powerful and convicting that he screened it at the White House.
The modern technology of real-time ultrasound now reveals the actual responses of a 12-week old fetus to being aborted. As the unborn child attempts to escape the abortionist's suction curette, her motions can be seen to become desperately agitated and her heart rate doubles. Her mouth opens – as if to scream – but no sound can come out. Her scream doesn't have to remain silent, however … not if you will become her voice. This newly re-mastered version features eight language tracks and two bonus videos.
"… a high technology "Uncle Tom's Cabin" arousing public opinion just as Harriet Beecher Stowe's 1852 antislavery novel ignited the abolitionist movement." – Sen. Gordon Humphrey, Time Magazine
Languages: English, Spanish, French, South Korean, Chinese, Russian, Portuguese, Japanese
Running Time: 28 minutes
$17.95 — ORDER NOW!
(We accept all major credit cards and PayPal.)
Click here for more information
---
Massacre of Innocence (DVD)
Exposing The Occult Roots of Abortion
This presentation looks at the spiritual roots of abortion and exposes the myths surrounding child killing. Little known historical facts about abortion and how they relate to modern feminism are presented logically and accurately. Has been effective in converting many to a pro-life position.
Massacre of Innocence goes where no pro-life presentation has gone before in "tearing the lid off abortion" to reveal the spiritual realities we must battle if we will bring an end to this crime. The presentation is absorbing, fast-paced, informative and incredibly devastating to any attempt to justify abortion.
"… an extraordinary statement … a powerfully articulate presentation about what abortion really means, and why a great and moral nation like the United States must not allow the slaughter to continue."
— Congressman Robert K. Dornan
Running time: 85 minutes
$19.95 — ORDER NOW!
(We accept all major credit cards and PayPal.)