The Abortion Matrix DVD responses are astounding!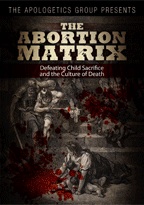 If you are involved with outreach to the unborn, you probably already know that God is accelerating his judgment and mercy on the child killing industry. Many are being converted to the sanctity of life position and God is exposing abortion for what it is – infanticide, pagan idolatry and the shedding of innocent blood.
In late December, I was about one week away from finishing the DVD project, The Abortion Matrix, and I heard about Abigail Seidman, whose testimony greatly added to the force of the presentation. After we released the DVD a few weeks ago, Abigail and her husband were among the first people to receive a copy. This morning, I received some wonderful news from them.
The following is from Abigail Seidman, who appears in chapters seven and eight of The Abortion Matrix DVD.
February 8th, 2011

I just wanted to let you know that my husband and I have nearly finished watching our copy (we keep getting interrupted or tired out by my pro-life events and children's illnesses, and we want to give it our best attention). I've been very interested in his thoughts on it since he comes from a Jewish background, is not yet a Christian (although he is getting closer, so please pray for him!) and has been involved in some New Age activity in the past. He is also politically conservative and pro-life, but not an activist in any way. So I think he is a good representative of what a person who is not "primed" for The Abortion Matrix's message might think of it (i.e. someone who is not the typical evangelical Christian or Catholic pro-lifer, not part of the "movement").

He's been floored. I think more than anything the film has actually been a conversion help for him. He is far, far closer to accepting the truth of Christianity now that he has been confronted with the truth of the spiritual nexus surrounding abortion and feminism. He is starting to see the necessity of taking sides, and being certain that one is on the right side. I have had some people complain to me that this sort of thing, taking the spiritual side of abortion and making it public, is harmful, divisive, or likely to drive non-Christians away. I am seeing the exact opposite with my husband. He has found it to be convicting, and an eye-opener with regard to some of the things he witnessed in his brief involvement with a Native American Spirituality group about 20 years ago.

For my part, I've taken some notes in detail regarding the specific ties of the modern neo-pagan and feminist movements to the modern abortion industry, with regard to what lines up with my experiences, or what jogs my memory. Once we've finished watching (hopefully this week), I'll send a more detailed report, including having my husband write a brief review in his own words. – Abigail Seidman
After reading Abigail's first message, I prayed for her and her husband. As I did I began to visualize him being broken by the sincerity and power of the testimonies in parts nine and ten. I was profoundly touched by God myself as I was praying this. Then this morning I saw the following message.
February 11th, 2011

I don't know if you've seen it on my Facebook or Twitter today, but my husband powerfully accepted Christ at the conclusion of our viewing of The Abortion Matrix. It's an amazing eye-opener for believers or nonbelievers of all stripes! The truth cannot be denied! I'm still in a bit of shock, but I'm sure I'll manage. :-)

Please tell me I can have sale copies ready for the vendor area at the Oregon Right To Life Conference where I'll be speaking in April. I would love to have this video available to impact the maximum number of people, everywhere I go. – Abigail Seidman
I was bowled over by this news and bit shocked too even though I've prayed for an "nuclear bomb in the Spirit." I encourage everyone who reads this to pray for them. Abigail is less than a year from her conversion to Christ, which was last June. She is already being sought out as a pro-life speaker by national groups since her testimony is so powerful. Her husband would appreciate prayer too.
In answer to Abigail's question, anyone can now get bulk copies of The Abortion Matrix. Just email me for the special bulk prices. I have a bulk order link set up for individuals who inquire.
Here is a similar testimony from Pastor Patrick Hines who is using the DVD in a church seminar.
February 2nd, 2011

I've watched The Abortion Matrix all the way through twice now. It is outstanding. I actually compiled 13 pages of notes while playing, stopping and playing the DVD. I thought it was excellent. The connections to witchcraft, covens, and the occult will be taken by some as sensationalistic, but they were thoroughly documented.

We are actually doing an "information night" at our church here in Cincinnati to which we've invited hundreds of local churches. I'll be the primary speaker at this information night. I am going to put together those action items from chapter ten, "Tearing Down Strongholds," into a handout of some kind for the people who come. We are excited about this.

Outstanding video. I have had to stop it and weep bitter tears numerous times. – Patrick Hines
The Origin of The Abortion Matrix
DVD
I got involved in pro-life activism in 1988 partially because I saw a video called The Massacre of Innocence. I know others, such as Rusty Thomas who is now a full-time minister to the preborn, who were affected in the same way. About ten years ago, I approached Eric Holmberg about doing a "quick update" to the material and adding some new research I had uncovered.
We tried several times to start this project, but failed to raise the needed production funds. In the process, we rewrote and rewrote the script. In 2009, I bit the bullet and began the editing process myself in my spare time at my own personal expense. Eric soon got excited about it and helped to greatly expand the scope and quality of the project as the executive producer, senior writer and host. Many others joined in as volunteers in the last few months to help make this a success.
I was literally one week away from finishing the project and I heard about Abigail Seidman, whose testimony greatly added to the force of the presentation. We just released the DVD about three weeks ago. Abigail and her husband were among the first people to receive a copy. You see from the testimony here how it affected her husband who claimed to be an agnostic prior to becoming involved.
We have been praying that this will be a "nuclear bomb in the Spirit" to prevail against the gates of hell. So this is truly "good news." I thank God for what he has done today despite our human weaknesses and failures. I invite you to pray with us for thousands and even millions of others to be led of God to see The Abortion Matrix and for it to have an even greater effect than the original version, Massacre of Innocence, had 23 years ago.
"Behold, I have made you a new, sharp threshing sledge with double edges;
You will thresh the mountains and pulverize them,
And will make the hills like chaff.
You will winnow them, and the wind will carry them away,
And the storm will scatter them;
But you will rejoice in the LORD,
You will glory in the Holy One of Israel" (Isaiah 41:15,16).
---
The Abortion Matrix: Defeating Child Sacrifice and the Culture of Death (DVD)
Download the free Study Guide!
Is there a connection between pagan religion and the abortion industry?
This powerful presentation traces the biblical roots of child sacrifice and then delves into the social, political and cultural fall-out that this sin against God and crime against humanity has produced in our beleaguered society.
Conceived as a sequel and update to the 1988 classic, The Massacre of Innocence, the new title, The Abortion Matrix, is entirely fitting. It not only references abortion's specific target – the sacred matrix where human beings are formed in the womb in the very image of God, but it also implies the existence of a conspiracy, a matrix of seemingly disparate forces that are driving this holocaust.
The occult activity surrounding the abortion industry is exposed with numerous examples. But are these just aberrations, bizarre yet anomalous examples of abortionists who just happen to have ties to modern day witchcraft? Or is this representative of something deeper, more sinister and even endemic to the entire abortion movement?
As the allusion to the film of over a decade ago suggests, the viewer may learn that things are not always as they appear to be. The Abortion Matrix reveals the reality of child-killing and strikes the proper moral chord to move hearts to fulfill the biblical responsibility to rescue those unjustly sentenced to death and to speak for those who cannot speak for themselves (Proverbs 24:11,12; 31:8,9).
Speakers include: George Grant, Peter Hammond, RC Sproul Jr., Paul Jehle, Lou Engle, Rusty Thomas, Flip Benham, Janet Porter and many more.
Ten parts, over three hours of instruction!
Running Time: 195 minutes
(We accept PayPal and all major credit cards.)
Click here for more information
«-
Pro-life Sidewalk Counselor Training Seminar in Orlando
-»
2011 Operation Save America National Event - Orlando
---
Related Articles
---
Your comments are welcome!
---
Frank Schaeffer Will You Please Shut Up! (Book)
High Quality Paperback — 200 pages
A Reasonable Response to Christian Postmodernism
Includes a response to the book Christian Jihad by Colonel V. Doner
The title of this book is a misnomer. In reality, I am not trying to get anyone to shut up, but rather to provoke a discussion. This book is a warning about the philosophy of "Christian postmodernism" and the threat that it poses not only to Christian orthodoxy, but to the peace and prosperity our culture as well. The purpose is to equip the reader with some basic principles that can be used to refute their arguments.
Part 1 is a response to some of the recent writings by Frank Schaeffer, the son of the late Francis Schaeffer. This was originally written as a defense against Frank's attacks on pro-life street activism – a movement that his father helped bring into being through his books, A Christian Manifesto, How Should We Then Live? and Whatever Happened to the Human Race? These works have impacted literally hundreds of thousands of Christian activists.
Part 2 is a response to Colonel Doner and his book, Christian Jihad: Neo-Fundamentalists and the Polarization of America. Doner was one of the key architects of the Christian Right that emerged in the 1980s, who now represents the disillusionment and defection many Christian activists experienced in the 1990s and 2000s. There is still great hope for America to be reformed according to biblical principles. As a new generation is emerging, it is important to recognize the mistakes that Christian activists have made in the past even while holding to a vision for the future.
(We accept PayPal and all major credit cards.)
Click here for more information
---
Dr. Francis Schaeffer - How Should We Then Live? (DVD)
Special Two-Disc Set!
After 40 years of intense study and world-wide ministry, Dr. Francis Schaeffer completed his crowning work of scholarship – to present profound truths in simple film language. Dr. Schaeffer's brilliant analysis of the past and predictions for current trends have proven so uncannily accurate that this amazing series still feels contemporary almost three decades after its initial release. Ultimately, Schaeffer concludes that man's only hope is a return to God's Biblical absolute, the truth revealed in Christ through the Scriptures.
Available for the first time on DVD, this documentary spectacular also includes intimate in-depth conversations with Francis and Edith Schaeffer. With the on-disc study guide, this presentation forms a unique course of comprehensive study. While this series forms an innovative analysis of the past, this outstanding work is more than history. Each episode focuses on a significant era, yet speaks clearly to 21st-century man with answers for modern problems.
(We accept PayPal and all major credit cards.)
Click here for more information
---
The Four Keys to the Millennium (Book)
Foundations in Biblical Eschatology
By Jay Rogers, Larry Waugh, Rodney Stortz, Joseph Meiring. High quality paperback, 167 pages.
All Christians believe that their great God and Savior, Jesus Christ, will one day return. Although we cannot know the exact time of His return, what exactly did Jesus mean when he spoke of the signs of His coming (Mat. 24)? How are we to interpret the prophecies in Isaiah regarding the time when "the earth will be full of the knowledge of the LORD as the waters cover the sea" (Isa. 11:19)? Should we expect a time of great tribulation and apostasy or revival and reformation before the Lord returns? Is the devil bound now, and are the saints reigning with Christ? Did you know that there are four hermeneutical approaches to the book of Daniel and Revelation?
These and many more questions are dealt with by four authors as they present the four views on the millennium. Each view is then critiqued by the other three authors.
(We accept PayPal and all major credit cards.)
Click here for more information
---
Abortion Clinic 911 Calls (DVD)
Exposes the Dangers of Abortion to Women!
These shocking eyewitness accounts expose the dangers of abortion not only to unborn children, but to the health and lives women as well. An antidote to the smokescreens of the liberal media, these short clips show what really happens in and around abortion clinics.
Although the content is emotionally gut-wrenching, these videos have been used in church seminars and small groups to educate Christians on the abortion issue and to lead people toward a pro-life position. Contains 2 hours and 40 minutes of materials that can be shown separately.
Watch these pro-life videos on-line.
"These videos helped change my mind from pro-choice to pro-life. Your videos are what did it for me. I will be walking in next year's March For Life in San Francisco." — A. Jackson, California
"I was going to have an abortion until I saw your video. Praise Jesus!"
— M. Drew, YouTube Commenter
(We accept PayPal and all major credit cards.)
Click here for more information
---
Go Stand Speak (DVD)
With "preaching to the lost" being such a basic foundation of Christianity, why do many in the church seem to be apathetic on this issue of preaching in highways and byways of towns and cities?
Is it biblical to stand in the public places of the world and proclaim the gospel, regardless if people want to hear it or not?
Does the Bible really call church pastors, leaders and evangelists to proclaim the gospel in the public square as part of obedience to the Great Commission, or is public preaching something that is outdated and not applicable for our day and age?
These any many other questions are answered in this documentary.
(We accept PayPal and all major credit cards.)