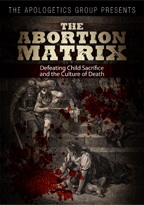 If you are involved with outreach to the unborn, you probably already know that God is accelerating his judgment and mercy on the child killing industry. Many are being converted to the sanctity of life position and God is exposing abortion for what it is – infanticide, pagan idolatry and the shedding of innocent blood.
In late December, I was about one week away from finishing the DVD project, The Abortion Matrix, and I heard about Abigail Seidman, whose testimony greatly added to the force of the presentation. After we released the DVD a few weeks ago, Abigail and her husband were among the first people to receive a copy. This morning, I received some wonderful news from them.
The following is from Abigail Seidman, who appears in chapters seven and eight of The Abortion Matrix DVD.
February 8th, 2011

I just wanted to let you know that my husband and I have nearly finished watching our copy (we keep getting interrupted or tired out by my pro-life events and children's illnesses, and we want to give it our best attention). I've been very interested in his thoughts on it since he comes from a Jewish background, is not yet a Christian (although he is getting closer, so please pray for him!) and has been involved in some New Age activity in the past. He is also politically conservative and pro-life, but not an activist in any way. So I think he is a good representative of what a person who is not "primed" for The Abortion Matrix's message might think of it (i.e. someone who is not the typical evangelical Christian or Catholic pro-lifer, not part of the "movement").

He's been floored. I think more than anything the film has actually been a conversion help for him. He is far, far closer to accepting the truth of Christianity now that he has been confronted with the truth of the spiritual nexus surrounding abortion and feminism. He is starting to see the necessity of taking sides, and being certain that one is on the right side. I have had some people complain to me that this sort of thing, taking the spiritual side of abortion and making it public, is harmful, divisive, or likely to drive non-Christians away. I am seeing the exact opposite with my husband. He has found it to be convicting, and an eye-opener with regard to some of the things he witnessed in his brief involvement with a Native American Spirituality group about 20 years ago.

For my part, I've taken some notes in detail regarding the specific ties of the modern neo-pagan and feminist movements to the modern abortion industry, with regard to what lines up with my experiences, or what jogs my memory. Once we've finished watching (hopefully this week), I'll send a more detailed report, including having my husband write a brief review in his own words. – Abigail Seidman
After reading Abigail's first message, I prayed for her and her husband. As I did I began to visualize him being broken by the sincerity and power of the testimonies in parts nine and ten. I was profoundly touched by God myself as I was praying this. Then this morning I saw the following message.
February 11th, 2011

I don't know if you've seen it on my Facebook or Twitter today, but my husband powerfully accepted Christ at the conclusion of our viewing of The Abortion Matrix. It's an amazing eye-opener for believers or nonbelievers of all stripes! The truth cannot be denied! I'm still in a bit of shock, but I'm sure I'll manage. :-)

Please tell me I can have sale copies ready for the vendor area at the Oregon Right To Life Conference where I'll be speaking in April. I would love to have this video available to impact the maximum number of people, everywhere I go. – Abigail Seidman
I was bowled over by this news and bit shocked too even though I've prayed for an "nuclear bomb in the Spirit." I encourage everyone who reads this to pray for them. Abigail is less than a year from her conversion to Christ, which was last June. She is already being sought out as a pro-life speaker by national groups since her testimony is so powerful. Her husband would appreciate prayer too.
In answer to Abigail's question, anyone can now get bulk copies of The Abortion Matrix. Just email me for the special bulk prices. I have a bulk order link set up for individuals who inquire.
Here is a similar testimony from Pastor Patrick Hines who is using the DVD in a church seminar.
February 2nd, 2011

I've watched The Abortion Matrix all the way through twice now. It is outstanding. I actually compiled 13 pages of notes while playing, stopping and playing the DVD. I thought it was excellent. The connections to witchcraft, covens, and the occult will be taken by some as sensationalistic, but they were thoroughly documented.

We are actually doing an "information night" at our church here in Cincinnati to which we've invited hundreds of local churches. I'll be the primary speaker at this information night. I am going to put together those action items from chapter ten, "Tearing Down Strongholds," into a handout of some kind for the people who come. We are excited about this.

Outstanding video. I have had to stop it and weep bitter tears numerous times. – Patrick Hines
The Origin of The Abortion Matrix
DVD
I got involved in pro-life activism in 1988 partially because I saw a video called The Massacre of Innocence. I know others, such as Rusty Thomas who is now a full-time minister to the preborn, who were affected in the same way. About ten years ago, I approached Eric Holmberg about doing a "quick update" to the material and adding some new research I had uncovered.
We tried several times to start this project, but failed to raise the needed production funds. In the process, we rewrote and rewrote the script. In 2009, I bit the bullet and began the editing process myself in my spare time at my own personal expense. Eric soon got excited about it and helped to greatly expand the scope and quality of the project as the executive producer, senior writer and host. Many others joined in as volunteers in the last few months to help make this a success.
I was literally one week away from finishing the project and I heard about Abigail Seidman, whose testimony greatly added to the force of the presentation. We just released the DVD about three weeks ago. Abigail and her husband were among the first people to receive a copy. You see from the testimony here how it affected her husband who claimed to be an agnostic prior to becoming involved.
We have been praying that this will be a "nuclear bomb in the Spirit" to prevail against the gates of hell. So this is truly "good news." I thank God for what he has done today despite our human weaknesses and failures. I invite you to pray with us for thousands and even millions of others to be led of God to see The Abortion Matrix and for it to have an even greater effect than the original version, Massacre of Innocence, had 23 years ago.
"Behold, I have made you a new, sharp threshing sledge with double edges;
You will thresh the mountains and pulverize them,
And will make the hills like chaff.
You will winnow them, and the wind will carry them away,
And the storm will scatter them;
But you will rejoice in the LORD,
You will glory in the Holy One of Israel" (Isaiah 41:15,16).
Your comments are welcome!
---
Abortion Clinic 911 Calls (DVD)
Exposes the Dangers of Abortion to Women!
These shocking eyewitness accounts expose the dangers of abortion not only to unborn children, but to the health and lives women as well. An antidote to the smokescreens of the liberal media, these short clips show what really happens in and around abortion clinics.
Although the content is emotionally gut-wrenching, these videos have been used in church seminars and small groups to educate Christians on the abortion issue and to lead people toward a pro-life position. Contains 2 hours and 40 minutes of materials that can be shown separately.
Watch these pro-life videos on-line.
"These videos helped change my mind from pro-choice to pro-life. Your videos are what did it for me. I will be walking in next year's March For Life in San Francisco." — A. Jackson, California
"I was going to have an abortion until I saw your video. Praise Jesus!"
— M. Drew, YouTube Commenter
$4.95 — ORDER NOW!
(We accept all major credit cards and PayPal.)
Click here for more information
---
Martin Luther: Digitally Remastered 1953 Classic (DVD)
"Here I stand … I can do no other!"
With these immortal words, an unknown German monk sparked a spiritual revolution that changed the world.
The dramatic classic film of Martin Luther's life was released in theaters worldwide in the 1950s and was nominated for two Oscars. A magnificent depiction of Luther and the forces at work in the surrounding society that resulted in his historic reform efforts, this film traces Luther's life from a guilt-burdened monk to his eventual break with the Roman Catholic Church.
Running time: 105 minutes
Special offer: Order 5 or more for $5 each.
Watch a clip from Martin Luther.
$9.95 — ORDER NOW!
(We accept all major credit cards and PayPal.)
Click here for more information
---
Why Creeds and Confessions? (Book)
High Quality Paperback — 219 pages
Foundations in Biblical Orthodoxy
Driving down a country road sometime, you might see a church with a sign proudly proclaiming: "No book but the Bible — No creed but Christ." The problem with this statement is that the word creed (from the Latin: credo) simply means "belief." All Christians have beliefs, regardless of whether they are written.
Yet a single book containing the actual texts of the most important creeds of the early Church will not often be found. Out of the multitude of works on the evangelical Christian book market today, those dealing with the creeds of the Church are scarce.
Why Creeds and Confessions? provides a foundation of biblical orthodoxy as a defense against the false and truly heretical doctrines advanced by the spirit of this age.
$14.95 — ORDER NOW!
(We accept all major credit cards and PayPal.)
Click here for more information
---
The United States of America 2.0: The Great Reset (Book)
High Quality Paperback — 40 pages of dynamite!
Revival, Resistance, Reformation, Revolution
An Introduction to the Doctrines of Interposition and Nullification
In 1776, a short time after the Declaration of Independence was adopted, Thomas Jefferson, John Adams and Benjamin Franklin were assigned to design an official seal for the United States of America. Their proposed motto was Rebellion to Tyrants is Obedience to God. America owes its existence to centuries of Christian political philosophy. Our nation provided a model for liberty copied by nations the world over.
By the 21st century, we need a "Puritan Storm" to sweep away the Hegelian notion that the state is "God walking on earth." We need revival and reformation in full force to vanquish the problems that plague us as a nation — from government controlled healthcare — to abortion on demand — to same sex "marriage." This booklet gives a primer on our founders' Christian idea of government and examines how the doctrine of nullification was woven into the Constitution as a safeguard against federal tyranny. It concludes with the history and theology of civil resistance. A Second American Revolution is coming with the Word of God growing mightily and prevailing! (Acts 19:20).
$7.95 — ORDER NOW!
(We accept all major credit cards and PayPal.)
Click here for more information
---
Dr. Francis Schaeffer - A Christian Manifesto (DVD)
That Swiss Hermit Strikes Again!
Dr. Schaeffer, who was one of the most influential Christian thinkers in the twentieth century, shows that secular humanism has displaced the Judeo-Christian consensus that once defined our nation's moral boundaries. Law, education, and medicine have all been reshaped for the worse as a consequence. America's dominant worldview changed, Schaeffer charges, when Christians weren't looking.
Schaeffer lists two reasons for evangelical indifference: a false concept of spirituality and fear. He calls on believers to stand against the tyranny and moral chaos that come when humanism reigns-and warns that believers may, at some point, be forced to make the hard choice between obeying God or Caesar. A Christian Manifesto is a thought-provoking and bracing Christian analysis of American culture and the obligation Christians have to engage the culture with the claims of Christ.
$19.95 — ORDER NOW!
(We accept all major credit cards and PayPal.)