Killing Places:
St Petersburg Woman's Health Center
3401 66th St N
St Petersburg, FL 33710
Bread & Roses Woman's Health Center
1560 S Highland Ave
Clearwater, FL 33756
Tampa Woman's Health Center
2010 E Fletcher Ave
Tampa, FL 33612
Sarasota Woman's Health Clinic (closed!)
5025 N Tamiami Trail
Sarasota, FL 34234
(See Property Transaction record below.)
Home: 795 Baldwin Rd, Palm Harbor, FL 34683
DOB: July 2, 1936
Death: April 27, 2007
George Nauert owned four abortion mills. The "Woman's Health Center" abortion chain is now owned by his wife Jodell Lynne Nauert, a singer in a local country band.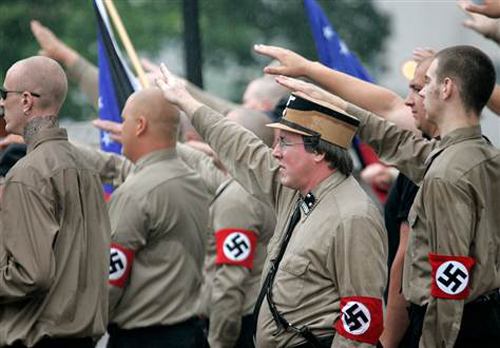 Members of Wisconsin National Socialist Movement gesture during a Nazi rally in 2006 in Madison, Wisconsin.
"If there's one thing I can't stand, it's country-western, neo-Nazi abortionists from Wisconsin." – Jake Blues
Wisconsin State Journal, Thursday, February 25, 1954
MILWAUKEE (IP) — The past existence of a brown-shirted Gestapo-like gang of wealthy teenagers has been revealed in a hearing for two youths in the theft of $4,500 from a suburban home.
MacWilliam Weldon II, 17, suburban Fox Point, pleaded guilty through his attorneys to delinquency in children's court Tuesday.
George Michael Nauert [emphasis added], 17, suburban, Whitefish Bay, pleaded innocent to the charge. He was accused of abetting the theft, from the home, of attorney Sydney C. Charney two days after Christmas.
It was brought out in the hearing late Tuesday that a group of North Shore boys had belonged to the gang called the Royalist Nazi Regime, which patterned itself after the Nazi Gestapo.
The gang met in the Fox Point home of a 19-year-old leader, it was revealed. It later changed its name to the Cavaliers and included in it number several students who attended wealthy private schools.
North Shore police officials said the gang now has disbanded. Weldon admitted taking a safe containing money from Charney's home. Judge John J. Kenney made an immediate finding of delinquency because Weldon will be 18 on Feb. 28 and out of the jurisdiction of children's court.
Kenney continued Nauert's case until Mar. 5 and said he might act on Weldon's case at that time. Nauert was accused of furnishing the floor plan of the Charney home but said he did not know it was to be used in a theft.
---
NOTE: George Michael Nauert is the late husband of Jodell Lynne Nauert. He graduated from the Medical College of Wisconsin in 1965. He founded four abortion corporations in Florida, which run the "Woman's Heath Center" abortion chain in Tampa, St. Petersburg and Clearwater, Florida. Another Nauert-owned abortion center in Sarasota closed a few years ago. Jodell now owns the three remaining mills.
Since he was born in July 1936, this story of Feb. 25th, 1954 would put George Michael Nauert in Wisconsin at the correct age of 17 when this story was published in the Wisconsin State Journal. The more I find out about this family, the stranger it gets. I especially like his excuse to the judge that he only furnished a floor plan of a rich man's house to a group of Neo-Nazi youth, but had no idea it was to be used in a theft.
I happen to love wolves. So do George and Jodell Nauert. In fact, they love wolves so much so that they are listed as donors to the International Wolf Center in their 2004 publication, Advancing a World for Wolves. The United States of America might be remembered in years to come as a nation where the people became so deceived that they worried more about saving wolves, manatees, baby seals and whales, but killed off their own human children by the tens of millions.
In St. Petersburg, Florida, on March 27, 1994, Kawana Ashley fired a bullet into her womb, fatally injuring the fetus, because she could not afford an abortion.
Kawana attempted to procure an abortion at George Nauert's St. Petersburg Women's Health Care Clinic, Inc. She did not have the money that the clinic demanded for the procedure so she chose another option. Ashley told a friend she would "just shoot herself in the stomach". Her friend said she did not take her seriously. At approximately 10:50 a.m. on March 27th, Ashely fired a .22 caliber pistol into the right side of her womb and fatally injured her 24 week-old fetus (Herald Tribune, 9-10-94) … Read more
This apparently marks the selling of the property after the closing of the Sarasota abortion mill.
9/10/2004 – George Michael Nauert and Thomas Canavan have sold the commercial property located at 5025 N. Tamiami Trail to North Trail Investments Inc. for $385,000. Barry Seidel, of American Property Group of Sarasota Inc., handled the transaction.
Related Articles