---
Abortionist James Pendergraft arrives at Orlando Women's Center in the summer of 2011. Pendergraft owns a chain of five abortion centers in Florida that specialize in late-term abortions. (Click to enlarge.)
The legal history of James Pendergraft is complicated enough to make anyone's head spin. Due to the confusing aspect of this tangled web of iniquity, I've compiled a brief biographical sketch and a time-line of the highlights to make sense of it all. After the time-line is a list of over 100 articles detailing James Pendergraft's legal troubles in chronological order.
In future articles, I will summarize the circumstances of Pendergraft's medical license suspensions from more than 1000 pages of legal documents. I'll follow that with another article giving a brief legal history of several other convicted felons who have worked as abortionists in the state of Florida. Finally, I will show evidence that demonstrates that not only have illegal third-trimester abortions taken place routinely at Pendergraft's five abortion mills, but that many of these children were born alive and left to die in violation of the federal Born Alive Infant Protection Act.
A Brief Biography of James Pendergraft
From "About Extortion or Abortion?" Business Week, 10/9/2000
Born – July 4, 1957, in Chapel Hill, North Carolina.
Early years – Grew up in Chapel Hill. Eldest son of a mortician and a nurse.
Education – BA, University of North Carolina, 1978; MD, Meharry Medical College, 1982.
Medical training – U.S. Army, residency at a hospital affiliated with University of Maryland; fellowship in high-risk obstetrics, University of South Florida, an elite credential.
On abortion as a career – "A lot of doctors with my training diagnose fetal abnormalities, but won't perform abortions. I felt it was much more satisfying to work with women through termination."
On money as a motive – Pendergraft likes to boast that he is "a $2000-an-hour man."
Administrative philosophy – "It's easy to keep the doctors who work in my clinics in line because they know I can come in and do the procedures myself."
Known to friends as – "Scott."
Family – Father of four children. Denise Williams is the mother of his two middle children. She holds approximately two-thirds of Pendergraft's assets through Wilson Medical Management, LLC according to 2011 court records.
The Tangled Legal History of Abortionist James Scott Pendergraft IV
James Pendergraft worked at Aware Woman abortion clinic in the early 1990s when he lived in the Tampa area. In 1995, residents of Orlando awoke to the news that a new "doctor" was coming to town. This abortionist proudly proclaimed that he was going to fill a niche left open by other facilities in the area. His specialty would be late-term abortions.
Abortionist James Scott Pendergraft IV on a local news broadcast in Orlando in the 1990s. (Screen capture)
Pendergraft advertises that he performs second and third trimester abortions in five abortion clinics in Florida. In a television interview, Pendergraft openly admitted performing late-term abortions on babies as old as 24 weeks or older if he deems it "necessary." And the late-term abortion business is lucrative. Pendergraft makes no qualms about bragging that he makes "$2000 an hour."
His plan is simple. Set up late-term abortion clinics in areas of the state that are easily accessible to women in Georgia and Alabama where late-term abortion is practically illegal.
1995 – Pendergraft files a lawsuit against the city of Orlando after it blocks the opening of his Orlando Women's Center abortion clinic on Lucerne Terrace on zoning grounds.
1996 – An Orlando hearing officer recommends that Pendergraft ought to be allowed to open his clinic. Then a district judge rules that Pendergraft can perform both first and second trimester abortions.
As Pendergraft seeks a settlement, he predicts the city might lose millions in a legal fight. Pendergraft asks the city for lost wages, plus attorney's fees amounting to almost $1 million. Pendergraft says:
"I'm not going any lower than that offer because I deserve more."
The city of Orlando eventually settles for $325,000.
Abortionists Joe Sanchez, Jr., Paul Shipley and Randall Whitney work with Pendergraft in Orlando.
1998 – Pendergraft opens an abortion clinic in Ocala and accuses city officials of discriminating against him by prohibiting police officers from moonlighting as security guards at his clinic. He recruits Roy Lucas, the legal mind who devised the argument that won Roe v. Wade, to write a lawsuit against the city of Ocala. The lawsuit reads in places like a silly, paranoid, hysterical screed.
Roy Lucas says that providing police protection for abortion clinics in Florida has been more difficult than in other locations.
"There's a Bible Belt problem here. You've got state judges overruling protective injunctions upheld by the Supreme Court."
In March 1998, Pendergraft tells Marion County officials he will "stay away three years for $500,000, five years for $750,000, and forever for $1,000,000."
1999 – As the case proceeds, the FBI begins an investigation of Pendergraft. Wiretaps find that Lucas and Pendergraft falsified information in affadavits in a conspiracy to bankrupt the city of Ocala. In late 1999, Roy Lucas lets all three lawsuits drop and promptly disappears. Pendergraft vows to fight on.
During this time, Pendergraft continues to do illegal third trimester abortions. In the procedure, the patient is injected with a long spinal needle through the abdominal wall with digoxin, a medication that is supposed to stop the baby's heart. The mother has her cervix dilated with laminaria or Cytotec and returns to the clinic the next day for a forced birth while sitting on a toilet. The toilet is not used to dispose of the fetal remains, but to collect them in one place. The water would obviously serve to drown a baby born alive.
Orlando Women's Center advertises "Second and third trimester abortions by induction method." James Pendergraft's website also offers handprints and footprints of aborted babies. Note that this abortionist does not attempt to depersonalize the unborn by calling them "fetal tissue" or "product of conception," but instead terms them, "the baby" and "their child."
At the Women's Centers we are prepared to aid patients and their families in getting through the entire process with our compassionate and caring staff, supporting them from the beginning to the end of the termination procedure. Each patient goes through the procedure process differently. We encourage all patients to at least see the baby minimally as we believe that this is the best way to bring closure for families. We are also prepared to help families have a memory of their child such as having a handprint or a footprint. Some patients want the baby to be cremated and others want a burial to take place.
On November 6th, at 21 weeks of pregnancy, a mother chooses to have her child aborted by Pendergraft. The reason given for the abortion is that the mother is 13-years-old. Sidewalk evangelist Patte Smith describes the scene.
The father didn't want the abortion. He named her Little Mary and talked the clinic staff into letting him take the attached photograph of her inside the clinic. He asked that I use it to honor his daughter's short life by telling her story.
Around this time, a Florida Agency for Health Care Administration report notes the following incident:
Interview with the physician revealed there was an incident … where a patient allegedly went out to get some lunch after starting the procedure, got lost, delivered a viable fetus in the car, and patient and fetus were sent immediately to the hospital. Baby lived 2 days. Policy changed, patients no longer leave after getting medication…. Physician also stated that sometimes an 18 week old fetus may twitter but this is not considered "viable."
Later testimony from Randall Whitney suggests that he is the "physician" interviewed here.
2000 – Former Mickey Mouse Club extra and Britney Spears back-up singer Kelly Clinger has two abortions in November 1999 and February 2000. On duty are James Pendergraft and William Phillip Egherman, a Cincinnati abortionist who has been the subject of a string of complaints and lawsuits due to abortion related injuries. Kelly is injured during the second abortion and experiences cramps and bleeding. After tests in her doctor's office, it is discovered that she has had a incomplete abortion and a perforated uterus. After professing Christian conversion a few years later, she writes about her experience in several blog entries beginning in 2011 and becomes a spokesperson for Silent No More Awareness.
Pendergraft is indicted for extortion. In June, James Pendergraft and his real estate investment associate, Michael Spielvogel, are indicted in federal court. The five-count indictment alleges that the two men conspired to extort millions of dollars from the Marion County government by making false and fraudulent statements. The extortion charges stem from evidence gathered by the FBI that they offered false testimony in the 1998 lawsuit case in a failed attempt to win a big judgment.
In October, a
forensic psychologist
characterizes Spielvogel as "self-aggrandizing," "manipulative," "obnoxious," "ingratiating," "narcissistic," "paranoid" and "almost like the permanent puppy, seeking to get approval." The psychiatric testimony is ruled as irrelevant to the trial by a federal judge.
2001 – In January, a grand jury watches secretly recorded video by the FBI showing Pendergraft and his attorney, Roy Lucas, talk about wrecking the finances of the Marion County government with a lawsuit.
"We're going to go for a verdict of over $100 million, and they better come up with some money or they're gonna get burned," declared Lucas, according to the transcript. "We'll try to bankrupt the county."
Added Pendergraft: "Not try. We will bankrupt the county. And I promise you I'll put a statue of myself in the town square that states that Dr. Pendergraft brought freedom to Ocala" (Businessweek).
James Pendergraft (center), his bodyguard and attorney enter the Golden-Collum Memorial Federal Building and U.S. Courthouse in 2001, in Ocala, Florida. (AP Images/ Ocala Star-Banner, Bruce Ackerman)
Odd events occur during the trial. First the trial is postponed by the death of Pendergraft's grandmother. A juror falls outside the courthouse and is hospitalized with head injuries. Two electrical blackouts occur during playback of the surveillance video and two more occur the next day. One attorney on Pendergraft's defense team, Jacob Rose, falls in the dark during one of the blackouts and reinjures a knee. He reappears the next week walking on crutches.
Pendergraft is convicted of extortion. Both Pendergraft and Spielvogel are found guilty and sentenced to 46 and 41 months respectively. Pendergraft begins serving his sentence in July at a federal prison camp in Atlanta, but vows that all five of his abortion clinics will remain open while he is in prison.
Pendergraft and his attorneys allege racism motivated the trial. Dr. Sangeeta Pati, Pendergraft's long-time girlfriend and spokeswoman for an abortion rights group, comments to the Orlando Sentinel:
"We can see how an innocent person can be convicted in a United States court room. Abortion was an issue. Race was an issue."
In August, pro-life sidewalk evangelist Patte Smith receives a letter from the imprisoned abortionist, who states:
"God says to love thy neighbors as thyself and to love all people including your enemies. That in order to love people you must not have hatred. I go to sleep every night with love and peace in my heart. I hate no one."
On November 11th, Carol Howard goes to Orlando Women's Center, to abort her 22 week old baby girl. The abortionist on duty is Randall Whitney. As a result of mistreatment and gross malpractice, the abortion is botched and a baby girl is born alive in a local hospital. The child survives with massive birth defects.
2002 – In February, Pendergraft is released from federal prison after serving seven months of his 46 month sentence. In July, all but one of Pendergraft's extortion charges are overturned by an appeals court. The charges against Michael Spielvogel, Pendergraft's real estate business associate are also dismissed.
On August 5th, the federal Born Alive Infants Protection Act is enacted. It extends legal protection to an infant born alive after a failed attempt at an induced abortion.
2003 – A complaint investigation at Orlando Women's Center is conducted by the Florida Agency for Health Care Administration. In the case of 11 patients, AHCA notes that
… the facility failed to have two physicians certify in writing to the fact that, to a reasonable degree of medical probability, the termination of pregnancy in third trimester was necessary to save the life or preserve the health of the pregnant woman as required by Florida Statute …
Common reasons cited by Pendergraft for these late term abortions include "depression," "suicidal ideation," mental instability," "alcohol abuse in first trimester," "depressed mental state," "increased risk to the mother due to a young age," "alleged rape," and "fetal anomalies."
The complaint summary alleges that the facility is performing third trimester abortions. A medication called Cytotec is continually given to women until the baby is aborted. Cytotec's only FDA-approved use is treating ulcers. The process takes 6 to 36 hours. The complaint witness also states that in speaking with a nurse who once practiced at this facility that babies are at times born alive and no actions are taken by staff. Many times the physician is not in the building and the abortion is completed by a certified medical assistant.
On November 3rd, Roy Lucas, Pendergraft's lawsuit attorney and infamous Roe v. Wade lawyer, dies at age 61 of a heart attack while vacationing in Europe.
2004 – On May 25th, Carol Howard files a civil lawsuit against Randall Whitney, Pendergraft, and the Orlando Women's Center.
On June 10th, Pendergraft pleads guilty to a final count of accessory in an agreement that allows him not to serve any more time in prison.
According to an AHCA report, Pendergraft determines a pregnant woman to be at 22 weeks' gestation. She is given medication to take at home to initiate uterine contractions and begin the abortion process. But the woman progresses more quickly than expected and aborts the fetus at home before she can return to the clinic. A hospital later evaluates the fetus and estimates its gestational age to be 25 to 27 weeks – putting it in the third trimester.
2005 – On April 2nd, 911 Emergency receives a frantic call from a woman claiming her friend has given birth to a live baby at Pendergraft's EPOC clinic in Orlando. Harry Perper is the abortionist on duty. When the mother alerts medical staff that her baby was born alive, the staff tells her to leave the baby in the toilet. The young mother holds the child and the amniotic sac in her hands as she calls a friend at a nearby hotel who had traveled with her to Orlando from out of state. An ambulance is dispatched, but arrives too late to save the baby. An autopsy report and photos show a perfectly formed baby boy who died from premature birth confirming part of the mother's story. Liberty Counsel begins a lawsuit case on behalf of the mother and Baby Rowan, but later abandons the effort. Meanwhile, the story receives wide coverage by pro-life media.
In July, a third trimester abortion is performed at Orlando Women's Center on a woman who is 28 weeks pregnant according to an AHCA report.
2006 – In April, the state board of medicine drops its disciplinary case considering the revocation of Pendergraft's medical license and affirms a decision by a judge that the extortion case should be dropped.
On July 24, 2006, Carol Howard's motion for summary judgment is granted. The case will eventually be decided for the plaintiff with a judgment of 36.7 million in July 2011.
On July 26, 2006, James Pendergraft changes most of his Florida corporations associated with his five abortion clinics to limited liability companies (LLC) and then converts each of the LLCs to the state of Nevada on the same day.
Pendergraft receives his first suspension. In August, James Pendergraft's license is suspended for the first time on evidence that he did illegal third trimester procedures in 2004 and 2005.
The suspension order temporarily closes all five of Pendergraft's abortion clinics. The clinics in Tampa, Ocala and Fort Lauderdale are allowed to open in late August. The two Orlando clinics are reopened later in the year.
2007 – In February, Orlando sidewalk counselor and evangelist Patte Smith is interviewed for a series of videos about Baby Rowan, which include the taped 911 calls that were placed to the Orlando fire department and emergency.
Pendergraft receives his second suspension. In December, Pendergraft's suspension is extended another year. He is also fined $10,000 and ordered to pay more than $80,000 to cover the state's legal fees. Pro-life evangelist Mary Jo Gardner states:
"He's been killing children through nine months of pregnancy here for a number of years. I have personally met women who have been as far along as eight months and I think he should be thrown in jail."
Medical malpractice attorney Mark Morsch agrees:
"What would be right is for Dr. Pendergraft to never have a medical license in the state of Florida."
2008 – A film on Baby Rowan called 22 Weeks is released in the fall.
2009 – This 30-minute dramatization is shown in churches including a showing in Orlando in early 2009. Filmmaker Ángel Soto, lawyer John Stemberger (Florida Family Policy Council) and sidewalk counselor Patte Smith (Sanctuary Ministries) form a panel to take questions from the audience after the showing.
Pendergraft receives his third suspension. In July, Pendergraft loses his license suspension appeal. Although he argues that he cannot be suspended for violating state statutes regarding late-term abortion since he has never been criminally prosecuted, the state notes that:
Criminal sanctions are available for violation of this subsection as any person who violates this provision is guilty of a second degree misdemeanor…. A violation of [other] sections is punishable as a third degree felony… Although the statutes Dr. Pendergraft is charged with violating may provide penal sanctions, there is no explicit statutory requirement that a licensee be adjudicated guilty of the acts specified in the penal statutes before disciplinary action may be instituted.
On December 19th, abortionist Paul Leslie Sibley dies of complications of a stroke at age 53.
2010 – On March 27th, abortionist Randall Whitney is arrested at Orlando Women's Center for aggravated battery after slapping a patient while she was on the operating table.
On April 3rd, abortionist William Phillip Egherman dies at age 56. The cause of death was not published in his obituary. Egherman is known for leaving a string of botched abortions while he worked as a "circuit rider" abortionist throughout Florida.
Pendergraft receives his fourth suspension. In August, Pendergraft, already serving his third suspension, is suspended again. The state finds evidence that Pendergraft
Allowed a woman employee to administer narcotics to patients although she had no license to do so;
Knew she abused drugs but gave her "free reign" to order drugs under his name;
Prescribed steroids for the woman without medical justification.
On September 22 at 9:20 pm, abortionist Randall Whitney is taken out of the Orlando Women's Center abortion clinic in handcuffs by the police. This time it is on a warrant issued because he did not show up for a court hearing. The police are tipped off by two sidewalk counselors who knew about the warrant and noted that Whitney had been sleeping in his car in the OWC parking lot. This is the second time in six months that Whitney has been arrested while on duty at the abortion clinic.
2011 – Filling in the gaps early in the year at Orlando Women's Center in the absence of James Pendergraft is Walker Whaley who spent time in prison and had his medical license suspended for manufacturing synthetic cocaine in his home.
In January and February, abortionist Vera Stefanac's neighborhood and office is the setting for several pro-life awareness campaigns. A few weeks later, Stefanac officially retires from doing abortions, according to an abortion clinic worker.
In March, Zvi Harry Perper, the abortionist on duty at EPOC when Baby Rowan was born alive and left to die, is charged with multiple counts of racketeering, drug trafficking and conspiracy. The charges carry a possible penalty of 490 years in prison.
Abortionist Zvi Harry Perper is arrested at a Florida "pill mill." He worked here as a dealer of pain pills for a controversial clinic in Miami that was founded by a convicted drug smuggler.
Beginning in March, abortionist Scott Spagnolo-Hye's neighborhood is the setting for several pro-life awareness campaigns.
Other awareness campaigns are held in the neighborhoods of Randall Whitney and Sangeeta Pati, James Pendergraft's long-time girlfriend and abortion rights promoter. Pendergraft sometimes stays at Pati's residence and drives a vehicle registered in her name.
On July 22nd, a Florida jury awards $36,766,000 in damages to Carol Howard, to provide funding for lifetime care of "JH," who was severely harmed as a result of being born alive after a botched abortion that occurred at Orlando Women's Center in 2001.
During the trial, Pendergraft testifies to instances of infants born alive in abortuaries.
"… you can allow a patient to just deliver vaginally by just using Cytotec alone… Anyone over 23 weeks we use digoxin….
Either the medical assistant does it or a physician does it. In a lot of situations, the patient delivers into the toilet by herself. So even though a physician or medical assistant may be present, it actually delivers into the toilet without any help….
Well, usually you don't have to worry about fetal demise, because, again, when you're dealing with a zero possibility of viability [between 17 and 21 weeks], then you don't have to worry about that. But, again even at 22 weeks now, there are – a certain amount of those fetuses may live…. But between 17 and 21 weeks there's not even an issue."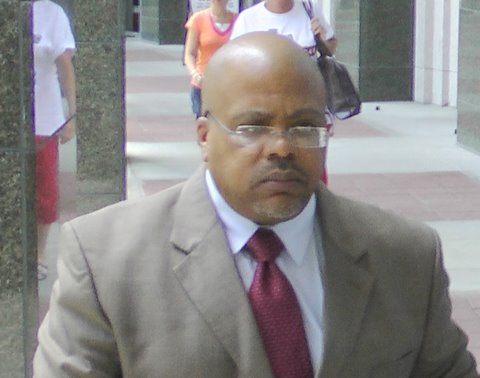 James Scott Pendergraft appears at the Orange County, Florida courthouse in July 2011 awaiting the jury verdict that awarded a plaintiff $36.7 million. The lawsuit stemmed from a 2001 botched abortion in which a baby girl was born alive and has suffered lifelong handicaps. (Photo credit: Ken Scott)
Perhaps the most interesting part of the trial testimony is when Randall Whitney, the abortionist on duty at the time, speaks cavalierly and without being prodded about babies being born alive into the toilet.
Question: Has there ever been a circumstance where you have been contacted by the medical staff that there has been a delivery of a live fetus?

Randall Whitney: They would not have contacted me because of that.

Question: What was the procedure to be followed in that circumstance?

Randall Whitney: Well, usually the fetus was into the toilet. I mean, nearly always they made it to the toilet. It was precipitated into the toilet so …

Question: Okay. Explain to me what you mean by that, I'm kind of confused. Is that how it was disposed of?

Randall Whitney: No…. No. That's how it happened, though, at the time of the expulsion. It was just more convenient to be in the toilet, okay? So I assume that at times there might be some movement, which would suggest life…. But there was no attempt at resuscitation.

Question: Were there any protocols or procedures in place that there should be resuscitation attempts where there was fetal movement?

Randall Whitney: I don't know of any.

Question: And I take from your response when you say "usually it was in the toilet," that had occurred before that you were aware of? The woman has delivered a fetus, there had been movement, and the movement ceased thereafter?

Randall Whitney: Where? In the toilet?

Question: Yeah.

Randall Whitney: I think so.

Question: Was that at the Orlando Women's Center?

Randall Whitney: Yes.

Question: So just that I'm clear, the instances where there may have been signs of a live birth; i.e., movement by the fetus, were instances where the woman was experiencing symptoms within the restroom and delivered the fetus into the toilet – that is what you're saying?

Randall Whitney: Yes.
One of the jurors in Pendergraft's lawsuit trial revealed that Pendergraft's baby momma, Denise Williams, is hiding 64 percent of the assets generated by his late term abortion empire. The anonymous juror wrote:
Pendergraft in fact has upwards of 8 LLC's he funnels money thru. The umbrella company for his 5 clinics, Wilson Management, he put 64% controlling interest in his girlfriend's name and the other 36% is in his. He & his girlfriend refused to divulge the umbrella company's finances as authorized by discovery rules, chosing to instead be charged with contempt. All of the jurors' greatest hope is the plaintiff can recover the money awarded. Unfortunately, we all realize it most likely will be a long hard road fraught with appeals. But that is out of our hands. My disgust with the whole scheme got to me emotionally and I was pushing for $50m, $100m whatever I thought could crush him (in my outrage obviously I wanted this guy bankrupt & his clinics closed).
On September 8th, Denise Williams, the mother of the middle two of Pendergraft's four children, files corporation papers for Latetermabortion.net LLC. Williams is also an officer in two of Pendergraft's corporations and holds about two-thirds of his assets. A website www.latetermabortion.net is launched, which describes Pendergraft's plan to do late term abortions in the Washington, D.C. area.
The procedure is to do an intra-cardiac injection with digoxin, a medication that stops the baby's heart. The mother has her cervix dilated with laminaria or Cytotec in order to force a premature birth. The injection takes place in a doctor's office, but there is no medical clinic involved in the abortion by forced delivery. When the mother begins to deliver her baby, she is instructed to call 911 or go to an emergency room. Several pro-life media groups cover this new twist on late term abortion services in the form of an exposé, but describe what Pendergraft explicitly states on his website.
On September 28th, abortionist Joe Sanchez, Jr. dies of a stroke at age 77.
2012 – On February 17th, Bayview Loan Servicing, Inc. files a commercial foreclosure lawsuit against Pendergraft's EPOC clinic at 609 Virginia Drive, Orlando, Florida. The suit is settled and dismissed later in the year.
Pendergraft's license comes up for review. On April 24th, Pendergraft, who has had his medical license suspended four times, is a respondent in a complaint filed by the Florida Department of Health. The complaint states that Pendergraft still owes a fine of $121,303.21 stemming from the previous suspension of his license in 2010. The complaint concludes:
WHEREFORE, the Petitioner respectfully requests that the Board of Medicine enter an order imposing one or more of the following penalties: permanent revocation or suspension of Respondent's license, restriction of practice, imposition of an administrative fine, issuance of a reprimand, placement of the Respondent on probation, corrective action, refund of fees billed or collected, remedial education and/or any other relief that the Board deems appropriate.
James Pendergraft's medical license status is changed from "suspended" to "probation." Probation is defined by the Florida board of medicine:
The licensing board or department has disciplined the licensed practitioner and placed his/her license in a probationary status. The licensed practitioner may practice his/her profession in the state of Florida under terms specified by Final Order. Practitioner is obligated to update his/her profile data.
In late May, abortionist Scott Spagnolo-Hye announces on video that he is quitting abortions and going into family practice. Pro-life evangelist John Barros writes on his Facebook page:
"I have been speaking to Scott Hye for about two years. I have prayed with him shared God's Word with him. I have even stood in front of his house. I have continued to pray and talk to him. He has said he hated doing abortions, but after so long I wondered. Then today he promised that he is going to quit and said he would meet with me to discuss where he stands with God and repentance. Won't you pray with me?"
On May 31st, abortionist Walker Whaley dies of a heart attack at age 64.
In August, abortionist Harold O. Alexander, one of Pendergraft's on duty abortionists with Latetermabortion.net, is suspended by the Maryland Board of Physicians. The final suspension order includes several legal and ethics violations by Alexander, which include:
sexual boundary violations;
botched abortions;
shoddy or non-existent record keeping;
illegal prescriptions of large amounts of Viagra and other drugs to himself and non-patients.
In late August, the Republican National Committee Platform is ratified. Among other pro-life measures it urges Congress to strengthen the Born Alive Infant Protection Act of 2002 by adding civil and criminal penalties for doctors who don't adequately care for newborn babies.
April 2013 — Pendergraft's license suspended for fifth time
Owes state of Florida more than $120,000 in unpaid fines
June 2013 — Police raid Orlando abortionist James Pendergraft's clinic
An Interview with Sidewalk Evangelist John Barros
"What is nicer than seeing police knock down doors and haul out evidence at Orlando Women's Center abortion mill?" ~ John Barros
August 2013 — Orlando abortionist slaps woman, gets slap on the wrist
Florida Board imposes discipline on notorious abortionist Randall Whitney but does not suspend license
January 2015 — Pendergraft's former associate, abortionist Zvi Harry Perper, receives emergency suspension of medical license
Notorious Orlando and Miami-Fort Lauderdale child killer now serving a one-year sentence for drug trafficking
October 2015 — Pendergraft is arrested in Spartanburg County, SC and charged with operating an illegal "rolling abortion scheme."
May 2016 — Pendergraft is indicted on drug charges and illegal abortion procedures.
October 2016 — First trial date. Postponed due to defendant's health issues and required recuperation period.
January 2017 — Second trial date. Again postponed – no reason given for this further trial delay.
March 27, 2017 — Third trial date. Again postponed, this time the reason given was "because Pendergraft's defense lawyer does not have time for the trial and asked for another postponement.. His defense lawyer, reported to have offices in Columbia, SC, contacted Spartanburg County, SC court officials to say that "his trial docket is filled until sometime in June 2017."
Mid-June 2017 — Fourth trial time frame. No definite June date has been set.
Related Articles
---

Author's note: I am writing this as the director of The Forerunner and president of Personhood Florida Education. This is not an "official" statement from any Personhood group. I do not speak for the national groups, Personhood USA or Personhood Alliance. That being said, I have spent countless hours speaking to the founders of both of these organizations. I believe I am representing their views accurately, although I need to emphasize that I cannot technically speak for them.

Please also see the links for The United States of America 2.0: The Great Reset. This is short primer on doctrine of nullification, which has been one of the foundational tenets of Personhood movement since its beginning. You may either order copies or I have posted all the articles that make up the booklet online for free.

---

The United States of America 2.0: The Great Reset (Book)

High Quality Paperback — 40 pages of dynamite!

Revival, Resistance, Reformation, Revolution
An Introduction to the Doctrines of Interposition and Nullification

In 1776, a short time after the Declaration of Independence was adopted, Thomas Jefferson, John Adams and Benjamin Franklin were assigned to design an official seal for the United States of America. Their proposed motto was Rebellion to Tyrants is Obedience to God. America owes its existence to centuries of Christian political philosophy. Our nation provided a model for liberty copied by nations the world over.

By the 21st century, we need a "Puritan Storm" to sweep away the Hegelian notion that the state is "God walking on earth." We need revival and reformation in full force to vanquish the problems that plague us as a nation — from government controlled healthcare — to abortion on demand — to same sex "marriage." This booklet gives a primer on our founders' Christian idea of government and examines how the doctrine of nullification was woven into the Constitution as a safeguard against federal tyranny. It concludes with the history and theology of civil resistance. A Second American Revolution is coming with the Word of God growing mightily and prevailing! (Acts 19:20).

$7.95 — ORDER NOW!

(We accept all major credit cards and PayPal.)

Click here for more information

What is Personhood?

Personhood stands for the total abolition of abortion with no exceptions.

In fact, we should state at the outset that you cannot stand for Personhood without standing for the complete and immediate abolition of abortion. One naturally flows from the other.

Not only does Personhood embrace the idea of the immediate abolition of abortion, it goes far beyond that to include many other sanctity and dignity of life issues. Personhood advocates ought to endorse any and all bills and amendments to state constitutions that are in line with the goal of recognizing and protecting the God-given right to life of all human beings.

Two Major Objections to Personhood: Timing and Language

In the beginning of the founding of Personhood Florida, we were told by Personhood USA co-founder, Cal Zastrow, that we would hear two common arguments against Personhood coming from other pro-life groups.

1. "We don't think the timing is right for this."
2. "We don't like your initiative language."

In other words, all national, state and local pro-life organizations will say they want to end all abortion. But their strategy to end all abortion is different from ours. The first objection can be handled by asking when would be a good time to end all child murder. If the organization is not currently working a plan to end all abortion, then it begs the question as to why they are not doing so. Many believe that their goal ought to be to overturn Roe v. Wade first and only then work state-by-state toward a Human Life Amendment. I'll show below why that is not Personhood's strategy, although we would agree with seeing Roe overturned.

The second objection can be handled by asking what language have they proposed that would end all abortion with no exceptions or compromise. If they have such a plan, then we will support it. We support all such no compromise initiatives. We will not oppose any bill, citizen's initiative or legal strategy that would end all abortion. But in nearly all cases, they have no such proposed legislation.

Foundational Principles of Personhood

The following propositions represent some foundational principles taught to us by Cal Zastrow, co-founder of Personhood USA; Daniel Backer, founder of Personhood Alliance; as well as other state Personhood affiliate leaders. The founding board members of Personhood Florida have held to these principles for many years, even prior to the Personhood movement gaining team in 2008.

1. Personhood seeks to ignore Roe v. Wade — not reverse it

Some believe that the Personhood strategy was formulated as a result of the terms "person" and "personhood" being used by Justice Harry Andrew Blackmun in section 9 of his opinion in Roe v. Wade. This is incorrect. Although we would welcome the overturning of Roe, this is not a foundational principle of our strategy to legally end abortion.

In the words of Cal Zastrow, one of the founders of the Personhood movement, the goal has always been to encourage the states to "ignore Roe." Here I quote Cal Zastrow in a recent on-line conversation on the topic. I have edited his response for length and clarity.

Judie Brown [American Life League] was involved in the first Personhood efforts since the 1970s. The first ballot-access petition drive for a Personhood Amendment was in Michigan in 2005. We went to pro-life groups, churches, political groups, and politicians with these three questions:

1. Do you have a plan to stop all baby-murdering without exceptions or delays?

2. What is your plan?

3. How can we assist you with that plan?

Nobody had a plan, so we started with: "The term 'person' in Article 2, Section 16 of the Constitution of the State of Michigan shall be defined as a human being beginning at fertilization" – one sentence.

On our website, we called for immediatism; no exceptions; justice via having the laws against murder include the preborn, abortifacient contraceptives, IVF, etc. We also called for using gruesome pictures of murdered pre-natal babies; preaching the Gospel; advocating the need for Michigan to ignore Roe v. Wade and just stop the murdering now. We didn't get enough signatures for ballot access, but folks in other states called and asked for help, so my family and I did so.

After we gained ballot-access in Colorado a year later, one other person and I started a national Personhood group. We got amendments and bills introduced in state legislatures while starting ballot-access petition drives, including two more successful ones within a couple of years….

Personhood began nationally and in Florida by calling upon states to ignore Roe. The Personhood movement did not begin defining "person" because of Roe v. Wade. We defined it because the federal Constitution says, "No person shall be … deprived of life, liberty, or property without due process of law." We went on to define that as "human beings, made in the image of God." I understand, painfully, that not all groups are using our definition now, but some of us still hold to original usage and intent. I understand that some folks nowadays who use "Personhood" won't use "murder" and no longer use "made in the image of God," but some of us still do. (I actually use "murder" instead of the word "abortion.")

To reiterate the above with greater specifics, the Personhood strategy is the extension of what was laid down in the 1970s with Human Life Amendment efforts by some pro-life organizations and politicians. Several versions of a Human Life Amendment were filed in 1973, 1974, 1975 and 1980 following the Roe v. Wade decision.

Personhood made use of some of the same language in the national constitutional amendment proposals. The choice of words was not a reactionary strategy to respond to Harry Blackmun's majority opinion. Every state Personhood Amendment was based on the language of the earlier national amendment language, such as the Hogan and Burke Amendments.

The Hogan Amendment

Introduced by Rep. Lawrence Hogan (R-MD) on January 30, 1973
Section 1. Neither the United States nor any State shall deprive any human being, from the moment of conception, of life without due process of law; nor deny to any human being, from the moment of conception, within its jurisdiction, the equal protection of the laws.
Section 2. Neither the United States nor any State shall deprive any human being of life on account of illness, age, or incapacity.
Section 3. Congress and the several States shall have the power to enforce this article by appropriate legislation.

The Burke Amendment

Introduced by James Burke (D-MA) on September 12, 1973
Section 1. With respect to the right to life, the word 'person,' as used in this article and in the fifth and fourteenth articles of amendment to the Constitution of the United States, applies to all human beings, including their unborn offspring at every stage of their biological development, irrespective of age, health, function, or condition of dependency.

After many years without a hearing for a Human Life Amendment at the federal level, Cal Zastrow introduced a Personhood amendment at the state level in Michigan in 2005. The word "Person" rather than "human being" was chosen for state amendments because every single state constitution without exception speaks of "Persons" or "Natural Persons" having the right to life and liberty. The name "Personhood Amendment" was also chosen to avoid confusion with the national "Human Life Amendment."

Following a meeting with Dan Becker of Georgia Right to Life, who had been using a similar "no exceptions" strategy since the 1980s, Cal Zastrow and Keith Mason went on to found Personhood USA in 2008. Colorado, Mississippi and North Dakota have voted on citizens initiatives and many more citizens initiatives and amendments have been proposed in other states.

Although no Personhood initiative has ever garnered more than 43 percent of the vote in any of the states where this has been tried, we do not see this as a defeat in that it has sparked a paradigm shift in the pro-life movement. More activists and organizations are moving from a strategy in which they "chip away at Roe with incremental laws" to a strategy in which the Personhood of all human beings is recognized and protected by love and by law.

One fact that many Personhood advocates have cited correctly is that when Roe was decided, the writer of the majority opinion, Harry Blackmun, did state that since a Person has the right to life under the U.S. Constitution, then if the Personhood of a preborn child were established law, then Roe's case would have collapsed.

If this suggestion of personhood is established, the appellant's case, of course, collapses, for the fetus' right to life would then be guaranteed specifically by the Amendment (Justice Harry Blackmun, Roe v. Wade).

The fact that Blackmun spoke of the weakness in Roe's argument was correct. However, it does not mean that the Supreme Court can nullify God-given human rights any more than the Third Reich could actually redefine a human being as a "non-Jewish Aryan." The state governors and legislatures never needed to submit to that. It has long been understood that fundamental human rights stated in the U.S. Constitution, the Bill of Rights and the Amendments cannot be reversed by a court decision.

Of course, we would welcome any challenge that might result in the overturning of Roe. However, from the beginning of Personhood Florida in 2009, we have always said that we want the states to use the 5th, 10th and 14th amendments and the doctrine of nullification to counter the Supreme Court.

We do not want to overturn Roe v. Wade. We want to ignore it.

2. Personhood stands for the doctrine of nullification

The best chance Personhood has for success is through the doctrine of nullification, that is, state legislators and governors would declare that abortion is already covered under the state's murder statutes on the basis of the Personhood of the unborn – and then act on that declaration.

Not only do we agree with the strategy of nullification, but as I will show, the Personhood movement was founded on this premise. Furthermore, many of us involved in promoting Personhood initiatives have been advocating the strategy of using state nullification of federal tyranny for 10, 20 and even 30 years.

We must not look to the Supreme Court as the arbiter of "establishing" who is a person. The view of the founders of Personhood is that this is an eternal truth established by God. The right to life is also written as a "self-evident" truth in the Declaration of Independence and repeated several times in the U.S. Constitution. The humanity of the preborn was also recognized by numerous case laws prior to Roe. This case was decided in error and the states never needed to change their laws in subservience to an activist court that has no authority to make laws.

This is evidenced in the rhetoric of some of the most recent Personhood bills now being advanced in several states. One of the strongest Personhood advocates in the state of Alabama, Samuel J. McLure, has launched an initiative called, Proposal 16. Their website proclaims that the states have the power to nullify Roe.

Did you know that every governor since Roe v. Wade has had the power and obligation to defend innocent human life in Alabama and prevent the murder of Alabama babies? Governors haven't stepped in, either because they aren't pro-life or they fear physical or economic reprisal from the Federal government. No more.

Just like former president Obama refused to enforce federal marijuana laws, we believe President Trump will hold back his hand from enforcing the unjust federal abortion rulings in the States.

Now is the time to send the faulty premises of Roe v. Wade to the ash heap of history, end the barbarous practice of abortion, allow women to be the mamas their babies need, and give every human being their God-given and constitutional right to life (www.proposal16.com).

This is exactly the philosophy Personhood has been promoting for years. Judicial supremacy is a myth and courts cannot nullify God-given rights long ago recognized by our laws.

We asked Alaska Right to Life (a.k.a. Personhood Alaska) director, Christopher Kurka, to comment on the doctrine of nullification.

As you know, I have always advocated for state nullification and interposition for Personhood efforts. I first learned about the myth of judicial supremacy, nullification and interposition from Bob Bird (former AKRTL President) during his 2008 campaign for US Senate. Since then I have pushed the ideas, but have never written on them before.

The soon-to-be-published book by Personhood Alliance, Personhood: The Tree of Life, will have a chapter entitled "The Myth of Judicial Supremacy" by Christopher Kurka that will deal with the idea of nullification and interposition by the states. The editor of the book, Dan Becker, has stated on numerous occasions that he has advocated for nullification since 1988 as an alternative to overturning Roe.

Dan Becker's previous book, Personhood, discusses nullification as part of our strategy and denies that the sole reason for the purpose of the Personhood movement is to challenge Roe.

To return the right to ban abortion at a state level would require the reversal or nullification of the 1973 ruling of Roe v. Wade [emphasis mine]…. Government cannot be allowed the prerogative of claiming to define a right that has never been within its rightful jurisdiction. The right to life comes from God, not government. Personhood is the human rights movement of the 21st century, not an attorney's playground" (Dan Becker, Personhood, 33,34).

Personhood has always stood for the nullification by the states if overturning Roe is not possible. It is not an either/or proposition. Personhood is a human rights issue. We do not believe that the states must bow down to the Supreme Court as vassals to a feudal overlord. Regardless of whether Roe can be overturned, nullification is a right guaranteed to the states under the United States Constitution.

Les Riley, the director of another state Personhood affiliate, also testifies to the early promotion of the nullification doctrine by Personhood Mississippi, one of the first states to launch a petition effort.

I advocated for ignoring Roe, challenging judicial supremacy and calling on state and local magistrates to interpose – including arresting abortionists and defying not only usurpations by the federal judiciary, but also by legislative and executive branches, up to and including secession over this issue. I was an advocate for this in word and in published articles, public speeches, sermons as early as 1992, and in lobbying and campaigning as early as 1995.

This very matter, in fact, was foundational to Personhood Mississippi and was the subject of literature, articles featured on our web site, speeches, media interviews, public meetings and private strategy sessions from the very beginning – through the petition drive and campaign – and beyond the vote on the Mississippi Personhood Amendment. Calling the pro-life industry out, calling the church and the civil magistrate to repentance, obedience, keeping their oath of office (civil magistrates) and engaging the death culture with the Gospel was completely and overtly integrated into our efforts.

For more information on the principles of interposition and nullification, I have written a short booklet entitled, The United States of America 2.0: The Great Reset. The booklet may be read on-line for free. Again, this is not a new idea for me, but I wrote the bulk of the material that makes up the book over 20 years ago.

We have also frequently used the example of the Dred Scott v. Sandford Supreme Court decision, which stated in 1957 that a black slave was property and did not have the same right to liberty as an American citizen. Ironically, Dred Scott was never overturned by the Supreme Court. It took a United States' constitutional amendment to reverse the Dred Scott decision. However, Christians should never say that a court decision or a constitutional amendment was the basis for the right to the liberty of all the people born in America. The right to life and liberty is a God-given right. And on that basis, states have the right to nullify Roe.

We will never stop until our courts or legislatures have reversed or nullified [emphasis mine] this misguided ruling. We do not fear a negative ruling from the U.S. Supreme Court. Historically, a bad ruling has in fact served as the very catalyst for change in public policy. Dred Scott v. Sandford, 1858, ruled that a black person could not be a citizen under our law…. This adverse ruling did much to fuel to the abolitionist movement; our country engaged in civil war before the law recognized the full Personhood of Blacks. In point of fact, the ruling per se was never reversed. By the same token, we shouldn't wait on an overturning of Roe v. Wade before engaging in public dialogue. The need for Personhood policy is now, regardless of Roe's final disposition! Ours is a 21st century human rights movement and must not be summarized by a single legal objective! (Dan Becker, Personhood, 76,77).

Personhood has always used the abolition of slavery argument and the corresponding denial of the citizenship (i.e., legal Personhood) of black slaves in the Dred Scott decision as analogous to the Personhood debate. We do not believe that the Supreme Court has the power to decide what is a moral right. Moral rights are based on laws given by God alone as Creation ordinances.

The ultimate problem at the time of Roe v. Wade was not the courts, but the liberal (and even some "conservative") churches that already supported some forms of abortion. If they had been united in opposition against abortion, Roe could have been resisted. From the beginning of the Roe decision, each pro-life group in America has agreed that the ultimate goal is to pass a national Human Life Amendment. If that was not immediately possible, the strategy was to go state-by-state to pass laws and ratify amendments to the state constitutions.

In short, the overturning of Roe as a result of the challenge of a state Personhood Amendment is not the foundational strategy of Personhood. Our primary strategy is to change the culture by getting the majority of our states' citizens to agree that the God-given right to life of all human beings at any

3. The term "Personhood" represents the "Imago Dei"

In many of the current Personhood initiatives, the term, "human being," is used as an accurate expression of the truth that we are made in the image of God.

It has always been understood in constitutional law that the terms, "persons," "natural persons," "human beings" and "men" are exactly synonymous. We must not become guilty of the fallacy of making a distinction without a difference. The important truth here is that we are each made in the image of God. Therefore, the right to life and liberty is inviolable without due process of just laws.

The new book, Personhood: The Tree of Life, edited by Dan Becker of Personhood Alliance, does a good job in establishing the biblical definition and basis for Personhood. In summary, the idea of the Personhood of all human beings is bound up in the idea that God created man in His own image. God is three "Persons" – Father, Son and Holy Spirit – in "One God." This is the doctrine of the Trinity. The way in which God has relationship with man is through the Persons of the Trinity. We are each created in the image of God from the moment of conception – not only as members of the species Homo sapiens – but as a special creation – a unique person made in the image of Jesus Christ, the Son of God, the Second Person of the Trinity. When we experience salvation, we are adopted as children of the Father, the First Person of the Trinity. We are born-again because the Person of the indwelling of Holy Spirit, the Third Person of the Trinity. That is why human beings have a special place in creation and may not be wantonly killed with impunity.

It is also insufficient to argue that human beings as a member of the species, Homo sapiens, have the right to life unless we first recognize that human beings are made in God's own image. Whether they are "persons," "humans" or "men," we still need to begin with the idea of the imago Dei.

Although we believe it is useful to use the word, "Person," due to existing constitutional language, for several years, the Personhood Florida Amendment has used the following language.

The God-given right to life of every human being at any stage of development shall be recognized and protected. This provision shall be deemed to supersede any other inconsistent provisions [emphasis mine].

The second clause refers to the fact that our own liberal activist Florida Supreme Court has found a "right to abortion" in the Florida state constitution (where none exists). Although this was decided in error, it should not be ignored in subsequent constitutional language. The Personhood Florida amendment would nullify this decision.

In short, we use the both the terms "human being" and "person" because the two are synonyms. We appeal to the authority of God's Law rather than the Supreme Court. The Florida Personhood amendment states that there is a "God-given right to life." Although this language is already in our state constitution, ours would be the first amendment to reiterate the name of God in our defense of the preborn and all human beings at any stage of development.

4: The biblical "right to life" is God-given

The word "rights" in civil law has always been synonymous with the word "liberties." Prior to the United States Bill of Rights (1791) was the English Bill of Rights and Liberties (1689). There was also a document called the Massachusetts Body of Liberties (1641). Both of these documents, together with several others, were the basis for the language contained in the United States' Declaration of Independence, Constitution and Bill of Rights.

The English Bill of Rights and Liberties always uses the two terms together. The Massachusetts Body of Liberties only uses the term "liberties," but it was understood that "rights and liberties," were synonymous. Of course, the term liberty is an often-used biblical word that describes both civil liberty and the freedom we have in Christ.

In addition, the Massachusetts Body of Liberties is a good example on how legal prohibitions against infringing on human rights are based on God-given laws contained in the Bible. After listing over 90 "liberties," the document lists the commandments of Scripture – as the basis of the sanctions of the civil law that punish crime.

However, these negative sanctions of God's law are based on the positive commandments God had given from the beginning. These positive laws are otherwise known as the "Creation ordinances" that existed prior to the time that sin entered the world. Murder is prohibited because God made man in His own image (Genesis 1:27; 9:6). Adultery and sexual immorality are prohibited because God ordained marriage from the beginning as one man and one woman (Genesis 2:21-24; Matthew 19:5,6). Theft is prohibited because God from the beginning commanded men as individuals to take dominion of the earth (Genesis 1:28: 9:1; Psalms 8:6), to own and care for the earth and to obtain personal wealth (Genesis 2:5,8; Deuteronomy 8:18). Thus all the negative sanctions of the law flow from the liberties and positive commandments of God that He gave even prior to sin entering the world in the Creation ordinances.

The application of the law prohibiting murder can be applied to abortion because God made man in His image and each of us has the right to life regardless of the stage of development or circumstances of our conception. Among all created beings subject to the law of sin and death, only human beings possess "personhood" because only human beings were created in the image of God. So while the law of God prohibits abuse of His creation, cruelty to animals, the waste of natural resources, etc., the law prohibiting murder applies only to judicially innocent human beings.

We cannot have a negative without a positive. We do not have any basis on which to say child murder; the violation of the dignity of human life; same-sex marriage; perverse sexuality; etc. is criminal unless we first value all life as made in God's image. This was a creation ordinance. It is only when we change our cultural morality to respect the dignity and sanctity of all life will abortion become unthinkable. And only then will it be considered criminal by our judges and lawmakers – although it is already criminal in the sight of God.

All the laws pertaining to these human rights and liberties can be summed up in one term: Personhood.

To summarize, the "right to life" has a solid biblical basis and is perfectly suitable as a description of Christian ethics on abortion and all sanctity and dignity of life issues.

5: There is no such thing as a "magic bullet"

Another idea that needs to be addressed is what some of us call the "magic bullet" fallacy. I have heard people say when presenting Personhood that if we pass an amendment recognizing and protecting all human life, that this will automatically end all abortion.

To quote Personhood USA founder Keith Mason, "That would not be the end of our battle, but a beginning of a new war on all fronts."

First, a Personhood Amendment would need to be backed up by legislation. Even a constitutional amendment that states all abortion is murder needs corresponding legislation that would either repeal state abortion laws that include exceptions and affirm the criminality of abortion using the same criteria as that for homicide and murder.

Second, passing a Personhood Amendment in one state would necessitate passing identical measures in other states. Ultimately, we would need a Human Life Amendment to the Constitution to protect life in all 50 states. That has always been the goal of the pro-life movement. The difference with Personhood advocates and other pro-life groups is that we have a plan to succeed in at least 38 states by passing a state Personhood Amendment with similar or identical language that would then become the model for a national Human Life Amendment. To ratify such an Amendment would require at least 38 states would have to pass it through their legislatures. The goal of Personhood is not to overturn Roe, but to eventually ratify a Human Life Amendment to the United States Constitution that could not be nullified by any liberal abortion law or court decision.

To win the war, we do not need to overturn Roe. As in the case when Dred Scott was nullified by the 13th, 14th and 15th Amendments, we only need to nullify Roe with a national amendment and in the meantime we can nullify it at the state level. However, we cannot be naïve and assume that Christians are ready to support this at the moment. A great work of education and a great degree of unity toward this cause needs to be achieved first. We have made this one of the primary goals of Personhood.

The Position of Personhood Florida on the "Florida Abolish Abortion" Amendment

I was recently asked about Personhood Florida's position on various "abortion abolition" initiatives and bills in several states throughout the country. Our policy in Personhood Florida is that we endorse bills, initiatives and measures that would defend life without exceptions. Therefore, we support the language of the Florida Abolish Abortion amendment as well as all similar measures throughout the country. In fact, I would go as far as to say that you cannot say you are really for Personhood if you oppose such measures. These measures and bills obviously do not need to originate with Personhood groups in order for us to support them.

Of course, we would prefer that people would work together with us on one citizens initiative — the Personhood Amendment — and we have devoted our efforts and resources to that. The policy that we have adopted is that we will share data and resources with any organization that comes alongside us and helps with Personhood petitioning.

The only caveat is that we believe that the Florida Abolish Abortion Amendment ought to go further than it does. It addresses the "abortion" of "unborn human beings," which is good. However, it is silent on other right to life and dignity of life issues. We believe that the Personhood Amendment would do more to recognize and protect the sanctity and dignity of life of all human beings. The Personhood Amendment would address ethical concerns related to end of life issues, emerging bio-technologies, eugenics, cloning, stem cell research, human animal hybrids, ectogenesis (artificial wombs), artificial intelligence, "Personhood rights" for animals, and so on. Therefore, people who want to address these issues should work together to accomplish that.

On the other hand, seeing the great work that is to be done to transform the culture of our state to one that would defend the life of all human beings, we welcome having as many initiatives as people have the energy to try to accomplish. All initiatives are educational, evangelistic and missionary opportunities for those willing to work in the field gathering signatures. As we do this, we must understand that our primary work is to change hearts and minds.

Another possible issue with the constitutionality of the Florida Abolish Abortion amendment is that it imposes criminal sanctions on abortion through constitutional language. While we should obviously support criminal penalties for abortion since it is child murder, it is well-known that constitutional law gives state and federal legislatures the authority to legislate and impose sanctions. In the hundreds of pages comprising the Florida constitutional amendments, there is not one amendment that criminalizes anything. It is understood that the legislature must pass corresponding legislation to uphold constitutional law and repeal laws that are unconstitutional. This includes criminalizing illegal acts in compliance with our state constitution.

Thus the "magic bullet" fallacy applies here too. Any amendment to the Florida Constitution would need to be backed up with legislation originating in the house and senate, and signed by the governor of the state of Florida. An amendment may direct these bodies to pass punitive laws.

We were told by our constitutional lawyer, Mat Staver of Liberty Counsel, whose organization of constitutional law experts helped us pen the current Personhood Florida Amendment language.

The Florida Constitution does not specify a specific criminal punishment for a specific provision. It does authorize the death penalty, but the legislature is the one to assign the death penalty to a specific crime. It does prohibit certain penalties, such as no imprisonment for a debt or that minors may be considered delinquent instead of found guilty of committing a crime. There is nothing to say that the Constitution cannot include a penalty for a violation. Including a penalty does make it unique to the Florida Constitution.

In short, while there is not necessarily anything that would prohibit criminalizing abortion by constitutional amendment, as the Florida Abolish Abortion initiative attempts to do, there is no precedent for it either. Normally, the language of an amendment directs the legislature to enact laws consistent with the amendment.

The last point to be made is that the Personhood Amendment would be different from all human rights amendments in the history of the Florida Constitution in that it is God-centered. It includes language stating that the right to life of all human beings is "God-given." This is the same language used in the preamble to our Florida Constitution's declaration of rights, but is sadly ignored by every single other amendment dealing with human rights. This includes the proposed Florida Abolish Abortion initiative.

Why Personhood?

The best answer to this question that I have heard comes from Michele Herzog, of Pro-life Action Ministries of Central Florida, a friend and long-time advocate for life since the mid-1980s here in Florida and other states.

When Personhood is restored by love and by law to the preborn human being, the preborn will be recognized as a human being and will therefore have the same protection as the born. Thus it would be a crime to harm the preborn. It is all about recognizing and protecting the God-given right to life of all human beings at any stage of development. It is the only hope and way for freedom for the unborn. Abortion will be abolished when Personhood is recognized.

The Personhood Paradigm represents a shift in the pro-life movement toward a Christ-centered, full-orbed Gospel message that includes no exceptions and no compromise. Our goal is to recognize and protect the God-given right to life of all human beings.

It is hoped also that proponents of Personhood reading this will better understand and communicate the goals of Personhood as we move forward to recognize and protect all human life, including abolishing abortion.

---

The following is part of a soon to be published book, In The Days of These Kings: The Prophecy of Daniel in Preterist Perspective. In the book, I argue that people who are looking to find "end-times" prophecies in Daniel miss the purpose and context of the book, which was to point the Jews in captivity — under Babylonian, Persian, Ptolemaic, Seleucid and finally Roman rule — to the time when the Messiah would come into the world.

The False Promise of the Strong Man

Fallen man desires a strong man to rule and reign in the form of what the German philosopher Georg Hegel called "the State" – or – "God walking on earth." In ancient times, this god walking on earth was a literal strong man, a savior figure who would bring order and stability to the whole world. But he always birthed a world order based on paganism and spiritual bondage that robbed individuals of their ability to express the inward spirit of man, the image of God in all of us. This imago Dei exists both the regenerate and the unregenerate. The regenerate will seek the true Savior in the grace and peace of Jesus Christ. The unregenerate will always seek a political solution, but in the end will recoil at the broken promises of human saviors. They will eventually conspire to overthrow the government of their own founding in some manner. Thus the seeds of destruction are always sown into the foundation of every world empire.

From a pagan point of view, the cycle seems to be a dark fate predestined to repeat endlessly in human civilization. The pagan god-king of past history has today become the collectivist state. The battle between the seed of the woman and the seed of the serpent among modernists is still the same, but the despot has become the impersonal "State."

Ironically, in atheistic collectivist societies, such as communist China or the Soviet Union, the founders, Mao and Lenin, were elevated to a god-like status. This paradox has become a common theme in dystopian art and literature. In denying the "god-kings" of ancient times – and religion in general – modern collectivist societies have instituted a state religion.

This was documented in Marx and Satan, a short book by Richard Wurmbrand, a Romanian dissident and underground Christian missionary to the Soviet Union. Most people do not know that Lenin's Tomb in Red Square, Moscow bears strong similarity to a pagan altar unearthed by archaeologists in Pergamos. Wurmbrand believed that this altar is the one referred to in Jesus spoke to the church at Pergamos some peculiar words: "I know your works, and where you dwell, where Satan's throne is" (Revelation 2:13).

Architect Schusev, who built Lenin's tomb, took the Pergamos altar as the project prototype. This was in 1924. It's a known fact that Schusev received all the needed information from Frederic Paulsen – an acknowledged authority in archaeology (Richard Wurmbrand, Marx and Satan, translated from the Russian edition).

A friend of mine from Russia showed me a card given to him when he was a student in Krasnoyarsk, Siberia, when he was a member of the Pioneers. This was a communist youth group similar to our Boy Scouts. This card says that the owner of it is a member of the Pioneers Organization of Lenin of school #35. Inside there is a poem.

In your hearts a big power is growing. Roads, storm, and wind are waiting for you. Live so that you will not be ashamed to look into the eyes of our dear Lenin. Your name is written down in the Book of Honor. And you have the honor to have your picture taken next to the flag, the banner of the Pioneers Organization of school #35.

There is no doubt that the atheistic communists saw the need of the people to worship a savior figure. The mummification of Mao and Lenin in their respective capital cities is reminiscent of the ancient Egyptian Pharaoh god-kings. The Bible was replaced among the Chinese communists with copies of Mao's Little Red Book, which practically elevated the words of Chairman Mao Tse-tung to the level of Scripture.

In America, we erect statues and monuments to our past heads of state – Washington, Jefferson, and Lincoln – basing the architectural style on ancient pagan memorials to their god-kings. While no one seriously worships our past presidents as gods, I submit that we implicitly worship the State when we ascribe to political figures powers that are greater than the authority God reserves for himself.

Dystopian Science Fiction

In our own day, the popularity of apocalyptic literature – a genre that emerged from about 165 BC to AD 200 – has been recapitulated through dystopian science fiction. The themes of dystopia (or "anti-utopia") are all around us in literature, film, art and music. For example, it was put simply in words of Pete Townshend of the rock band, The Who, in the song, "Won't Get Fooled Again."

We'll be fighting in the streets
With our children at our feet
And the morals that they worship will be gone
And the men who spurred us on
Sit in judgment of all wrong
They decide and the shotgun sings the song

I'll tip my hat to the new constitution
Take a bow for the new revolution
Smile and grin at the change all around
Pick up my guitar and play
Just like yesterday
Then I'll get on my knees and pray

We don't get fooled again

The change, it had to come
We knew it all along
We were liberated from the fold, that's all
And the world looks just the same
And history ain't changed
Cause the banners, they are flown in the next war

I'll tip my hat to the new constitution
Take a bow for the new revolution
Smile and grin at the change all around
Pick up my guitar and play
Just like yesterday
Then I'll get on my knees and pray

We don't get fooled again
No, no

I'll move myself and my family aside
If we happen to be left half alive
I'll get all my papers and smile at the sky
Though I know that the hypnotized never lie
(Do ya?)

There's nothing in the streets
Looks any different to me
And the slogans are replaced, by-the-bye
And the parting on the left
Are now parting on the right
And the beards have all grown longer overnight

I'll tip my hat to the new constitution
Take a bow for the new revolution
Smile and grin at the change all around
Pick up my guitar and play
Just like yesterday
Then I'll get on my knees and pray

We don't get fooled again
Don't get fooled again
No, no
Yeah!

Meet the new boss
Same as the old boss

Below: "Won't Get Fooled Again" was a song from the dystopian science fiction concept album, Lifehouse, by The Who, which was abandoned. The song was released instead on the album, Who's Next, in 1971.

This well-known rock anthem was part of a longer cycle of songs by Pete Townshend that was originally meant to tell a story called Lifehouse, one of many dystopian concept albums or "rock operas" that became popular in the 1970s. It has been interpreted in various ways, from being an anti-war protest song to having specific political and religious interpretations. On a basic level, it is a warning against political saviors and collectivist mind control. The irony is that revolutionaries always promise, "We won't get fooled again," but the new political order they fight for never truly brings the change that had to come. "And the world looks just the same / And history ain't changed." Songs like "Won't Get Fooled Again" have since become ingrained in our culture through licensing for commercials and in numerous TV shows and films – showing ironically that life imitates art.

There is a deeper reason for the burgeoning of dystopian themes in modern art, literature and music. The popularity of this genre goes far beyond entertainment and money making. Do a Google search for "List of Dystopian Novels" and you will find a Wikipedia article listing hundreds of books beginning with Thomas More's Utopia, Jonathan Swift's Gulliver's Travels in the 18th century and several 19th century science fiction works, such as H.G. Wells The Time Machine and The Island of Dr. Moreau. I would hesitate to call these earlier books "dystopian science fiction," but they might be considered the prototypes or at least an influence on the later genre.

The first true dystopian novel was We by Yevgeny Zamyatin, a Russian writer who wrote a satire of life in the fledgling Soviet Union in 1924. We is the grandfather of all dystopian science fiction. It was the forerunner of many novels, such as Ayn Rand's Anthem, Aldous Huxley's Brave New World, George Orwell's 1984, and literally hundreds of other books and films. The dystopian science fiction genre has also cropped up as the pattern for scores of album-length rock operas, such as Rush's 2112, which was loosely based on Ayn Rand's works. It has even spawned a young adult dystopian science fiction subgenre that began with The Giver by Lois Lowry in 1993. This in turn begat a billion dollar industry with hundreds of novels and blockbuster films, such as The Hunger Games, and the Divergent, Maze Runner and Legend series.

In fact, there have been more dystopian novels written in the last 20 years than in the previous 100 years. These novels and their adapted film versions strike a deep chord with teenagers with an almost hypnotic effect. The legion of recent dystopian novels and films includes those with post-apocalyptic themes resurrecting the Cold War paranoia of a nuclear holocaust, the result of natural disasters brought on by climate change or the collision of planet earth with asteroids and comets. Numerous video games are also based on dystopian themes. The common basis of these stories can be boiled down into three broad characteristics.
The use of biblical and mythic symbols which reveals that the work may be better understood as the internal spiritual drama of the conflicted modern "Everyman," rather than as the external reality of a failed utopia.
A protagonist who experiences a spiritual awakening at the influence of an eccentric character foil who encourages him to rebel against the world order by embracing his individuality.
The use of symbolic words, numbers, colors and imagery representing political power, cultural alienation and hope.
Common themes appear as the protagonist changes over the course of the story, such as collectivism vs. individualism, with the collective being the dehumanizing strong arm of the state that robs the individual of the spiritual side of his personality. The city vs. the wilderness is a similar theme that also plays off the collectivist/individualist conflict.
There is a common plot line in nearly all dystopian stories. The setting is usually a post-apocalyptic society in which there has been a war that threatened to destroy humanity. The protagonist comes under the influence of an alter ego who awakens him to the spiritual side of his psyche. He encounters this character foil at the same time that he begins to discover a love interest in a female character and/or a love for a forbidden type of art, literature, religion or lost knowledge. The protagonist then comes into conflict with a world ruler or world council that controls the whole society. There is always a turning point, which takes the form of a conversation between the protagonist and the world ruler consisting at first of a deep sympathy for the protagonist's yearnings. There is an admission that these works have not been lost, but actually suppressed because at one time this type of free thinking led to mental and emotional illnesses and eventually wars that threatened to destroy society. The protagonist finally rebels against the world order and the story diverges along one of two paths. Either the protagonist is killed or commits suicide – or he escapes to the wilderness and hope is kindled for a rebirth of the human spirit.
This pattern was first set out by Zamyatin in We in 1924. George Orwell, author of 1984 (1949), critiqued Aldous Huxley's Brave New World (1932) by noticing that it must have been partly derived from We. However, in a letter to Christopher Collins in 1962, Huxley wrote that his novel was written long before he had ever heard of We. Just as ironically, Louis Lowry, author of The Giver, has written on a blog to fans that she had never read the short novel, Anthem by Ayn Rand, when readers noticed that her story bore a strong resemblance.
This begs the question as to why this genre has become so universal and popular. The simple answer is that these authors are writing about the world around them using satire and symbolic references that their contemporary audience understands. Dystopia is a phenomenon of our age. Others have written on this enigma claiming that young people are subjected to pressure brought on by regulations in government, an overemphasis on standardized testing in public schools, politically correct speech, socialistic worldviews and expected behaviors. The pressure to be defined and molded has produced an attraction to break-out characters in stories set in repressive worlds.
It is as if today's young people intuitively know that a changing of the guard is occurring on the world political stage. These paradigm shifts take place every so often, but exactly when they are meant to happen. It is part of God's plan for the progress of the Gospel in history. God brings the collapse of a world order often with the destruction of attending cultural symbols in order to pave the way for His kingdom. God always has His remnant people, like Daniel and the Hebrew children, ready to take advantage of the displacement of those in long held positions of authority. Into such cultural upheavals, Christian awakenings take place.
Another dystopian story is a TV series called Dark Matter, a futuristic space allegory in which corporations control entire planets. In one episode, as the corporations are headed for war with each other, a minor character succinctly explains the concept of the paradigm shift that is similar to that which is currently embroiling western culture.
It's times like these, when longstanding patterns are disrupted, that things become more fluid. That's when a small group of people, or even a single individual, can change the course of history (Dark Matter, "Forever Dreaming," season 2, episode 6).
Barna Donovan, a graduate program director at St. Peter's University, commented on this phenomenon in an article published in Forbes magazine.
"Dystopian novels are merely all speaking to these anxieties of young people today," said Donovan. "In all of these books, young adult protagonists must somehow learn to struggle through and survive in a world that has been exploited and defiled by previous generations and a world that is now ruled by dictatorial regimes that have eradicated all semblance of a democracy. What better metaphor could anyone create for the life of a teenager who knows he or she has no choice but take on a crushing amount of debt to go to college, to gain an education that will make it harder than ever to establish a career, all the while existing in a world of endless foreign wars and watched over by intrusive government bureaucracies and corporations that constantly spy on them on monitor all of their electronic communications?" ("Why Young Adults 'Hunger' For The Hunger Games And Other Post-Apocalyptic Dystopian Fiction," Forbes, 11/20/2014).
The article goes on to describe young people's fascination with heroes who struggle against dystopian societies in a post-apocalyptic future.
Yet the term "post-apocalyptic" in itself is an oxymoron based on a misnomer. "Apocalyptic" comes from the Greek word apokalypsis, which literally means an "unveiling" or a "revelation." Using the word to mean the "end of the world" is a misnomer that has come into popular usage due to a premillennial futurist interpretation of Daniel, Matthew 24 and Revelation. Furthermore, the term "post-apocalyptic" is an oxymoron because it implies that history continues after the end of the world. It is a bleak agnostic view of the destiny of the human race.
The use of the term "apocalypse" to mean the end of the world precisely illustrates the error that the prophecies contained in Daniel, Matthew 24 and Revelation were given to correct. It is exactly because modern Christians lack a covenantal worldview that many do not see Jesus Christ as the presently reigning king over all creation. Unfortunately, many Christians have fallen prey to the twin phenomena of dystopian hysteria and end-times madness. The word "apocalypse" instead means the unveiling or revelation of King Jesus in all His majesty and glory – not in a future dispensation – but in the present.
Jewish Apocalyptic Literature
A similar phenomenon was going on with the Jewish nation in the 200 years prior to the birth of Jesus – and for some time afterward. From about 167 BC to AD 200, there were several dozen apocalyptic works written whose manuscripts have survived to our day. Some experts believe that this genre was represented by perhaps hundreds of books written in this period of messianic fervor. Modern dystopian science fiction shares many of the same characteristics of the ancient apocalyptic genre.
These intertestamental works were influenced by earlier "proto-apocalyptic" passages of the Bible, especially portions of Isaiah, Jeremiah, Ezekiel, Daniel, Joel and Zechariah.
The pseudo-prophecies contained in these books are often delivered or interpreted by an angel or a biblical patriarch seen in a vision by the author.
The visions in the book are often carefully arranged and are usually dependent on sophisticated numbering schemes, colors and other cultural symbols.
The unifying theme of both apocalyptic and dystopian literature is oppression by a world empire. In apocalyptic writings, the oppressor is often symbolized by a beast. In dystopian novels, there is a world ruler or world council that represents the collectivist state.
The liberal view of the Book of Daniel is that that it must have been composed late since it shares so many of the characteristics of this later apocalyptic genre. The prophecies of Daniel are so highly detailed and accurate, that modernists and rationalists do not accept that the book could have been written by a Hebrew prophet in the sixth century BC. Instead they suppose that it is a "prophecy after the fact" – detailing past history as a commentary on current events in Judea around 167 to 165 BC when the Jews were struggling against foreign oppressors and hoping for a warrior king to restore the glory of David's kingdom.
There are some essential differences between apocalyptic literature and biblical prophecies such as the Book of Daniel. The most obvious difference is that biblical prophecy points to the true "apocalypse" or revelation that Jesus is the Christ, the promised Messiah, the Son of God. Although there are some shared characteristics of the later apocalyptic writings with biblical prophecy – such as the admonition to stay faithful in times of crisis and persecution – the message proclaiming the Lordship of Jesus Christ is the central and monumental difference.
The intertestamental apocalyptic writings also miss the mark in teaching Jewish chiliasm, or the idea that the millennium is an earthly kingdom that will be centered on the earthly city of Jerusalem ruled by a warrior king who will bring a full restoration of the glory of the Tabernacle of King David and the Golden Age of Israel. Chiliasm is a synonym for premillennialism and was a term used by the early Church Fathers as they eventually gravitated after the second century to what we now call the amillennial or postmillennial view.
The Apocalypse of John is rightly called the Book of Revelation. The Apostle John was writing a true revelation of the Lord Jesus Christ that rightly interpreted the prophecies of the Old Testament including Daniel and the words of Jesus in the Mount Olivet Discourse. John was no more influenced by the false Jewish apocalyptic writings of his era than Lois Lowry was influenced by Ayn Rand. However, he was using well-known cultural and biblical themes understood by his generation of readers.
Are politics redeemable?
The pagan looks for a strongman in the form of a human dictatorship to bring salvation. The chiliast looks forward an earthly kingdom with a heaven-sent warrior king sitting on an earthly throne at Jerusalem for a literal one thousand year reign someday in the near future, while at present politics are unredeemable because the kingdom of God is "not of this world." The postmillennialist sees the kingdom of God as having its authority from His throne room in heaven, yet working itself out progressively in the earth as Christians advance Christ's victorious kingdom in every area of society.
My friend and co-laborer, Jeff Ziegler, who unfortunately passed away in 2014, said in an interview we did for a video series called, God's Law and Society, that the mandate for Godly dominion as a present task is often missed by contemporary Christians.
The retort you often hear revolves around the time period when Christ is before Pilate's inquisition and says, "My kingdom is not of this world" (John 18:36). Christ was not saying that His kingdom was not manifest in the world. He was saying to Pilate, "My kingdom does not gain its authority from Rome or the Sanhedrin. My authority comes from on high." The irony is that the pagan tyrant Pilate understood this, but Christians today do not.

So the authority of Christ's kingdom is not of this world, but nonetheless, the kingdom has invaded this realm, "the earth is the Lord's and the fullness thereof" (Psalm 24:1; 1 Corinthians 10:26). Every aspect of society is touched by the kingdom of God.… The kingdom is manifest in the world and Christ's Lordship is manifest in the civil realm, in the family, in every aspect of society – economics, science, etc.… Christ's kingdom is comprehensive in scope and absolute in its authority (Jeff Ziegler, God's Law and Society).
Or as Howard Phillips, the founder of the Constitution Party, once noted:
Throughout history, there have been only three political parties. The first is every party that believes in the sovereignty of the state, that the state is a god walking on earth; the Democrats, Republicans and every European party is of that view. The second is a party that believes in the sovereignty of man and man's reason; the Libertarians are of that view. The third are those who believe in the sovereignty of God, and the rule of God's moral law (Howard Phillips, God's Law and Society).
Those who believe in the sovereignty of God over the whole universe are currently the vast minority, but this view was held by many of the Church Fathers, the Reformers, Puritans and is once again growing in popularity among Christians of every stripe.
The natural urge of every fallen human being is to assume autonomy – that we may rule ourselves without reference to God's authority. Modern paranoids who are fearful of the all-powerful state rightly seek to overthrow tyranny. Ironically, in seeking to defeat the "strongman," they substitute the rebellion of tyrants who rage against the Lordship of Jesus Christ for the autonomous rule of the individual who is no less rebellious against the rule of God.
Religious conspiracy theorists, on the other hand, have always looked for a cataclysm that will be ushered in by the Antichrist. The faithful will happily be rescued through a rapture or will persevere until the end. Jewish chiliasts of the intertestamental period committed the error of looking for a Jewish "strongman" to overthrow the oppressive reign of the Romans. Christian premillennialists of our day are looking for a strongman in the form of the Antichrist to arise out of the stormy sea of world dictatorships. They view human political systems as hopelessly corrupt and predestined for God's cataclysmic judgment. Chiliasm or premillennialism is based on a false worldview that presupposes that the present political systems are separate from the rule of God and God's law. They cannot be reformed unless they are crushed by God himself.
Biblical prophecy, on the other hand, teaches us that the earthly expression of David's kingdom, both the Temple and the city of Jerusalem, passed away forever in favor of a heavenly spiritual Temple made up of living stones and a kingdom that was not only preached to Jerusalem, Judea and Samaria, and to the ends of the earth (Acts 1:8). The nations of the world began to stream into the kingdom of God at the first preaching of the Gospel. This kingdom began in the first century and is gradually working itself out as God's people are covenantally faithful to preach the Gospel of salvation by grace through faith and to teach the nations to obey God's law. In time, the blessings of God will overflow and enrich the human personality as each and every ethnic culture becomes part of the kingdom of God.
The postmillennial and preterist view is that the kingdom of God appeared on the earth when Jesus first began to preach, "the kingdom of God is at hand" (Matthew 3:2; 4:17, Mark 1:15). Note that this view is that the "kingdom of God is at hand" in a literal sense. It is not for some future dispensation. However, the kingdom has its outworking in the whole world over a long period of time. We see the "millennium" as a long period of time, not literally 1000 years, when the Gospel is being preached and the kingdom is forcefully advancing against the gates of hell. We see Satan as a defeated foe, one that is alive but not well in the planet earth. Satan no longer has the power to "deceive the nations anymore" (Revelation 20:3). Jesus has provided the antithesis to Satan's deception – the Truth and Light of the Gospel.
Jesus said, "All authority has been given to Me in heaven and on earth." The people of God are not merely to work to save souls, but shall also "make disciples of all the nations … teaching them to observe all things that I have commanded you (Matthew 28:18-20). The kingdoms of this world are passing away – not in the sense that they will be annihilated – but they "have become the kingdoms of our God and of His Christ" (Revelation 11:15).
The natural inclination of our guileful hearts is to resist God's grace. We would rather look to human effort. In politics, we look for a strongman to vanquish evil. We see this in the comparison between the popularity of the early Jewish and Christian apocalyptic writings and modern dystopian fiction. That is, people see the nations being shaken and they fear that their world order is coming to an end.
And they are right!
The premillennialist can have some hope that Jesus will deliver them out of the awful mess that has been wrought by the vain rage of rebellious nations. However, the postmillennialist possesses the hope that the words of Psalm 2 are a present reality.
Why do the nations rage,
And the people plot a vain thing?

The kings of the earth set themselves,
And the rulers take counsel together,
Against the LORD and against His Anointed, saying,
"Let us break Their bonds in pieces
And cast away Their cords from us."

You shall break them with a rod of iron;
You shall dash them to pieces like a potter's vessel.

Now therefore, be wise, O kings;
Be instructed, you judges of the earth.
Serve the LORD with fear,
And rejoice with trembling.
Kiss the Son, lest He be angry,
And you perish in the way,
When His wrath is kindled but a little.
Blessed are all those who put their trust in Him (Psalms 2:1-3; 9-12)
Jesus Christ is pictured here as the present ruling King, the Son of God the Father, who has been given the nations for an inheritance, and the uttermost parts of the earth for His possession. It is important to realize that Jesus Christ is portrayed here as the present King ruling with a rod of iron over the kings of the earth and who – through His death, resurrection, ascension and glorification – is now the locus of all power and authority, both in heaven and on earth (Matthew 28:18).
The good news for the Christian is that although the nations of the earth are being shaken by the sovereign power of our God, what always remains is His kingdom. Recognizing and defending the "Crown Rights of King Jesus" in time and history is how biblical prophecy finds its fulfillment in the Great Commission.
And in the days of these kings shall the God of heaven set up a kingdom, which shall never be destroyed: and the kingdom shall not be left to other people, but it shall break in pieces and consume all these kingdoms, and it shall stand for ever (Daniel 2:44).
---
The following is "Part 1" of the preface of a soon to be published book, In The Days of These Kings: The Prophecy of Daniel in Preterist Perspective. In the book, I argue that people who are looking to find "end-times" prophecies in Daniel miss the purpose and context of the book, which was to point the Jews in captivity — under Babylonian, Persian, Ptolemaic, Seleucid and finally Roman rule — to the time when the Messiah would come into the world.
The Tower of Babel by Gustav Dore
There are stories told by the Jewish rabbis called midrashim (or midrash in the singular). These are interpretations and elaborations on biblical stories. They are meant to teach lessons and unlock applications of the story of God's providence. One such story deals with Nimrod after the time of the Tower of Babel, who was a contemporary of Terah, the father of the Hebrew patriarch Abraham.
Nimrod was one of the sons of Kush [or Cush]. Kush was the son of Ham, the lowest and least important of Noah's three sons. Nimrod came from a line which was cursed by Noah: "Cursed be Canaan, a slave of slaves shall he be unto his brothers."

By birth, Nimrod had no right to be a king or ruler. But he was a mighty strong man, and sly and tricky, and a great hunter and trapper of men and animals. His followers grew in number, and soon Nimrod became the mighty king of Babylon, and his empire extended over other great cities.

As was to be expected, Nimrod did not feel very secure on his throne. He feared that one day there would appear a descendant of Noah's heir and successor, Shem, and would claim the throne. He was determined to have no challenger. Some of Shem's descendants had already been forced to leave that land and build their own cities and empires. There was only one prominent member of the Semitic family left in his country. He was Terah, the son of Nahor.
As you may have guessed by now, Terah, the father of Abraham is the center of conflict in this story. But in the midrash, Terah vows to be loyal to Nimrod after all the other descendants of Shem had left the region.
For although Nimrod had nothing to fear from Terah, he could not be sure if Terah's sons would be as loyal to him as their father. Therefore, he was inwardly very pleased that his servant Terah had no children, and probably would never have any. But he could not be sure and Nimrod was not taking chances. He ordered his stargazers and astrologers to watch the sky for any sign of the appearance of a possible rival.

One night the star-gazers noticed a new star rising in the East. Every night it grew brighter. They informed Nimrod.

Nimrod called together his magicians and astrologers. They all agreed that it meant that a new baby was to be born who might challenge Nimrod's power. It was decided that in order to prevent this, all new-born baby boys would have to die, starting from the king's own palace, down to the humblest slave's hut.
You may have wondered by now, "When was this written?" and noticed the similarities between the infancy stories of Moses and Jesus. Likely, the origin of this midrash is later than the first century. The rabbis created this story through the influence of Moses' Exodus narrative and their familiarity with the nativity story in the Christian Gospel of Matthew.
For three years, little Abraham remained in the cave where he did not know day from night. Then he came out of the cave and saw the bright sun in the sky, and thought that it was G d, who had created the heaven and the earth, and him, too. But in the evening the sun went down, and the moon rose in the sky, surrounded by myriads of stars. "This must be G d," Abraham decided. But the moon, too, disappeared, and the sun reappeared, and Abraham decided that there must be a G d Who rules over the sun and the moon and the stars, and the whole world. And so, from the age of three years and on, Abraham knew that there was only one G d, and he was resolved to pray to Him and worship Him alone ("Nimrod and Abraham, The Two Rivals," Chabad.org).
In the Exodus narrative, the infant Moses is hidden among the bulrushes along the Nile River by his sister, Miriam, and grows up in the very shelter of Pharaoh's court (Exodus 2:1-8). The Gospel According to Matthew tells of Jesus' flight from Herod (Matthew 2:1-23). The Gospel According to Luke tells of his later appearance in the Temple as a wise child debating with the rabbis at the age of twelve (Luke 2:41-49). Likewise, in the midrash, Abraham is hidden in the wilderness in a cave for three years until he experienced a direct revelation of God as a wise young child of three.
I must stress at the outset that the midrashim are at best apocryphal stories meant to illustrate biblical truth. The midrashim are understood by the Jews to be neither inerrant truth, nor factual in detail. They were not meant to be thought of as authoritative, but as imaginative interpretations and instructive elaborations. The rabbis understood that they were weaving stories or romances. The early Christians had similar narratives, such as the Infancy Gospel of James, the Infancy Gospel of Thomas, the Shepherd of Hermas and many others. At no time were they thought to have apostolic or prophetic authority, but were read for edification being illustrative of biblical truth, just as we would use Bible stories for young people or watch Bible-based films today for entertainment.
Of course, in the biblical story of Abraham, God calls for the sacrifice Isaac. Abraham is willing to comply, but Isaac is then rescued by an angel (Genesis 22:1-19). This too points to the Gospel revelation of the Father who gave His only begotten Son as a sacrifice for the sins of the world. The plan of God was to establish a covenantal inheritance through Abraham to the time of Christ. Isaac was a type or a foreshadowing of this promise.
It is important not to miss the point here. The truth illustrated in this particular midrash is powerful. We see it in pagan myths as well. Eternity is written on the hearts of those who are open to divine revelation through nature. Throughout history, pagans have often understood their fallen nature and need for salvation, but never the full truth of the Gospel that was revealed at the coming of Jesus Christ (Ecclesiastes 3:11; Romans 1:20).
Here in seminal form is the principle of spiritual warfare that runs like a scarlet thread throughout the Bible. It is the warfare of the seed of the serpent versus the seed of the woman in the curse that God put on the devil after the fall of man.
"And I will put enmity
Between you and the woman,
And between your seed and her Seed;
He shall bruise your head,
And you shall bruise His heel" (Genesis 3:15).
In pagan histories, we see man forever trying to be his own savior. The strong man always fails to bring salvation and instead births despotism and a worse type of bondage. Often he is overthrown by his own offspring or brothers. A young child is birthed in the shadow of a tyrant who desires world domination. The child grows up not only to usurp the evil king, but to grow in power far beyond that of the uneasy head that wears the crown.
This is the Oedipus myth in which the Greek king of Thebes received an oracle telling that his child would grow up to kill his father and marry his mother. In his fear and insecurity, the king hired a trusted servant to dispatch the child. The servant felt pity on the child and hid him in the wilderness. The child was found by a shepherd who then gave the child to another royal family. The child Oedipus came of age ignorant of his heritage and unknowingly fulfilled the prophecy precisely because of the paranoia of the father.
In the Roman culture, there is the story of Romulus and Remus who are abandoned by a king's daughter, named Numitor.
Before their conception, Numitor's brother Amulius had seized power, killed Numitor's male heirs and forced Rhea Silvia to become a Vestal Virgin, sworn to chastity. Rhea Silvia conceives the twins by the god Mars. Once the twins are born, Amulius has them abandoned to die in the Tiber river. They are saved by a series of miraculous interventions: the river carries them to a place of safety, where a she-wolf finds and suckles them, and a woodpecker feeds them. A shepherd and his wife find them there, and fosters them to manhood as simple shepherds ("Romulus and Remus," Wikipedia).
Upon assuming manhood, Romulus and Remus quarreled over the location of a city they hoped to found. Romulus slew Remus and founded the city of Rome on Palantine Hill. He gathered refugees and orphans, who were mostly unmarried men. He formed a Senate and an army and conquered the region. Eventually, this city-state dominated the world over the course of several centuries.
In pagan history, we find the battle of the seed of the woman and the seed of the serpent in the legends surrounding various world conquerors. The grandfather of the Persian king, Cyrus the Great, was named Astyages.
According to Herodotus, Astyages had a dream about the son of his daughter Mandane and her husband Cambyses, [the child Cyrus], which he took as an evil omen. Therefore, Astyages ordered his courtier Harpagus to kill the young boy, but Harpagus secretly gave it to a herdsman, who was to do the dreadful deed. Fortunately, the herdsman and his wife decided not to kill the baby, but to accept him as their own son. When the boy was ten years old, it became obvious that he was not a herdsman's son. His behavior was too noble, according to Herodotus. Astyages started to suspect what had happened when he interviewed the boy and noticed that his face resembled his own. Cyrus received favorable treatment and was allowed to go to his own parents, Cambyses and Mandane. When Cyrus had come of age … he organized a federation of ten Persian tribes and revolted. The united army of Medes and Persians marched to the Median capital and seized Astyages ("Astyages," Livius.org).
Where does this common story come from? Is it Greek, Roman or Persian? Or does it come from a common source? This is also the story of King Arthur, Snow White and numerous other myths, folklore and fairy tales. The same thematic thread is woven through the origin legends many ancient cultures and differs only in the details. But these stories tell of a deeper truth. These are not myths in the sense that they are untrue.
Far from being a story that is not true, a myth is a story about truth. In fact the words, "myth" and "mythology" come from the Greek word mythos, meaning "word," "tale" or "true narrative," referring not only to the means by which it was transmitted, but also to its being rooted in truth. Mythos was also closely related to the word myo, meaning "to teach," or "to initiate into the mysteries." These stories are mythic in the true sense of the word. They reflect the spiritual beliefs, values and culture of the story tellers.
While I believe that most of these myths are fictional, there is a kernel of truth in each one. In some cases, they are remarkable yet factual pagan stories that are corroborated by ancient histories with verifiable details. History is sometimes stranger than fiction.
His Story in the Prophecy of Daniel
God has only one story – His story. The devil does not have any original stories. The pagan myths and legends are shadows of God's history, which tells the truth about the nature of man and the plan of salvation.
We see the same themes repeated throughout the Bible. God always tells His story over and over again, each time giving layer upon layer of new truth to the story – "precept upon precept, line upon line" (Isaiah 28:13). The Jews were shown shadows and types of Christ throughout history, yet most still didn't recognize Jesus. Of course, some of the Pharisees recognized that Jesus was claiming to be the divine Messiah, but they didn't want to be under His authority. Jesus rebuked them for not understanding that the Scriptures testified of Him.
And the Father Himself, who sent Me, has testified of Me. You have neither heard His voice at any time, nor seen His form. But you do not have His word abiding in you, because whom He sent, Him you do not believe. You search the Scriptures, for in them you think you have eternal life; and these are they which testify of Me. But you are not willing to come to Me that you may have life (John 5:37-40).
To give another example, the story of Esther takes place in Persia during the Restoration period, while the Jews were in Judah rebuilding the city of Jerusalem. Xerxes, the king of Persia held a conference of all his noblemen throughout all his provinces. At a week-long feast, Queen Vashti fell out of favor by refusing to appear in the king's court. As a consequence of her behavior, she was deposed. After King Xerxes conquered all of Asia Minor and parts of Macedonia and Greece, as prophesied in Daniel 11:2, he was finally defeated and forced to retreat. However, Xerxes still controlled all the Middle East and central Asia. He was for all intents and purposes the king of the world. He settled into a lifestyle of excess and multiplying the women of his harem. During this time, the province of Judah was destabilized. Although the Temple at Jerusalem had been rebuilt under Xerxes' father, Darius the Great, the work on the restoration of the city had ceased. To make matters worse, the enemies of Judah sought to annihilate the Jewish people. By God's providence, Xerxes took a second queen, a Jewess, who had been hidden in the foundation of the kingdom.
Each of the characters in Esther is related to the mythic war found in the seed of woman curse. Esther is a type of the woman who later births the Christ child. Xerxes is the king on the throne – a type of God the father. Haman represents the devil. Mordecai represents the intercession of the Holy Spirit in history. History shows us that the Jews not only averted a genocide at the hands of Haman, but also obtained divine favor from Xerxes and his son, Artaxerxes, who decreed the restoration of Jerusalem's streets and walls. Although the name of God is not mentioned one time in the Book of Esther, it is a remarkable prophetic book expressing God's "theater in the streets" that we call history.
Alexander the Great arose 150 years later in Macedonia. After his father Philip's assassination in 336 BC, Alexander succeeded to the throne and inherited a strong kingdom and an experienced army. Later historians have argued that Alexander himself may have had a hand in the intrigue – or at least been privy to it. With his four generals, Seleucus, Ptolemy, Cassander and Lysimachus – he conquered the world – the Balkans, Asia Minor and the Persian Empire extending from Egypt to India.
As a boy, Alexander was trained by Aristotle. He was taught that there was one supreme god who was the prime cause of everything in the universe. Aristotle thought that there must be some eternal and imperishable substance, otherwise all substance would be perishable. He argued that this eternal actual substance must be the single prime mover. Although Aristotle's god did not have a name, Alexander believed that this was Zeus, who ruled over a world of order and laws over all lesser gods, realms and kingdoms. Soon Alexander began to fashion himself the son of Heracles (Hercules) who himself was the son of Zeus. Numerous legends had Alexander being proclaimed as the son of a local god, whom Alexander interpreted as simply being the regional name for Zeus.
The Jewish historian Josephus even relates a legend explaining the reason why Alexander did not destroy the city of Jerusalem and the Temple, even though the Jews were earlier allied with the Persians. It is said that Alexander had a dream that he saw the High Priest of Jerusalem dressed in scarlet robes and the entire city dressed in white. When the High Priest met him at the gates with the whole city following him dressed in white, the color of peace, Alexander was led to the Temple where he offered sacrifice to the God of the Jews. Alexander was shown in the Daniel scroll where the "king of Greece" was prophesied to conquer the Persians. Alexander was so impressed that he spared the city and gave the Jews the same privileges they enjoyed under the Persians. This led to the Hellenization of Judea and a period of relative peace for the Jews under Ptolemaic and later Seleucid rule.
Could this legend of Alexander encountering his person in Daniel's prophecy about the "king of Greece" be true? We are told by various sources that Alexander received a number of similar oracles. This began when he was a youth when the Oracle of Delphi told him he would conquer the world. After he conquered Alexandria, naming the city for himself, he received a prophecy from the Oracle at Siwa saying he was the son of the Egyptian god Amun. He began to believe he was truly a son of Zeus destined to conquer the world. He was encouraged to press into the East conquering the Persian Empire fighting at times against seemingly impossible odds.
Much like the men of Babel who sought to raise their tower to the heavens, and the Babylonians after them, Alexander finally settled in Nebuchadnezzar's palace in Babylon and took a Persian wife named Roxanna, who bore him a child. He then indulged in a life of dissipation "having no more worlds left to conquer." Accounts differ as to the cause of Alexander's death, which came after a bout of drinking and a prolonged fever. His empire was divided up into four regions among Alexander's generals called the Diadochi, or "successors."
Pagan history was often used as a propaganda tool to keep tyrants on the throne. Augustus Caesar also had an "Oedipus Myth" ascribed to him that is recorded in Suetonius' Lives of The Twelve Caesars.
According to Julius Marathus, a public portent warned the Roman people some months before Augustus's birth that Nature was making ready to provide them with a king; and this caused the Senate such consternation that they issued a decree which forbade the rearing of any male child for a whole year. However, a group of senators whose wives were expectant prevented the decree from being filed at the Treasury and thus becoming law — for each of them hoped that the prophesied King would be his own son. (Suetonius, The Twelve Caesars, "Augustus" 94, Robert Graves' translation).
Octavian, later called by the name Julius Caesar Augustus, became the king of the world after defeating Marc Antony and having his adoptive father Julius Caesar's only biological son, Caesarion, killed. But ironically the empire founded by Augustus was overshadowed by the King of kings, who was born among shepherds in Bethlehem.
The Meaning of History
Skeptics and the liberal critics can discount the supernatural in biblical stories – miraculous births and prophecies regarding the Son of God – but they cannot deny the "Golden Chain" of the Gospel story that runs through history. In the 20th century, the Marxists attempted to reinterpret history as a political struggle – a conflict between the proletariat and the bourgeoisie – inevitably leading to a communist worker's paradise. In doing so, the communists have proposed their own secular eschatology. Prior to this revisionist materialist view history, there was a providential interpretation of history in many school textbooks, which was rooted in the Christian worldview.
I have spoken of the meaning of history. Surely it has a meaning, what else are we living for? Whichever way we turn in the material world we find things needful for our use and we think of them as God's forethoughts, and as designed for our welfare. If there is design in the material world, there must be some meaning to history, some ultimate end to be accomplished (Charles Coffin, Old Times in the Colonies, p. 7).
Charles Coffin's analysis of history was the norm in the 19th century and earlier. It stands in marked contrast to the materialist and Marxist view of history that has been taught ever since the early 20th century. But there are signs that this is changing.
We live in a postmodernist age. Postmodernism is an "anti-philosophical" worldview. It is the result of the willful death of humanist, rationalist, materialist and existentialist worldviews. The postmodernist concludes: "We can't go any further without starting over. What is left? It's all been done before and thought of before and we still have not secured our salvation."
A large number of westerners now believe that the socialist policies of the last 100 years have led us only to the unfulfilled promises of a utopia. We have failed to create a perfect world in which human rights are extended to achieve total equality. No attempt at reforming inequality and unfairness using "politics as usual" seems to be working. Many see the political system as being rigged by the power brokers to benefit the elites. There is an urge toward deconstruction – a widely held cultural belief is that since the system is corrupt, it ought to be overthrown and demolished. However, nature abhors a vacuum. Little thought is given to whether the system that will replace it will be any better.
During the 2016 election cycle in America, I was surprised, but not shocked, to witness that for the first time in history, Americans saw fit to elect a commander-in-chief with no former political or military experience. The result of that voter rebellion against the norm will be for future historians to analyze, but the following synopsis (written by an anonymous friend) is appropriate.
Once "middle America" began to see the end result of humanism and materialism, many recoiled, yet felt helpless because the government institutions were already in place to make these philosophies turn into reality. So much seemed to happen so fast (although it was brewing for a very long time), and many wanted a strong man to undo the ravages of collectivism quickly.
The Kingdom of God is always advancing even when it is unnoticeable. However, it is exciting to live in a time when our sovereign Lord moves in a visible way. For example, the book of Hebrews was written at a time when God was about to remove one order, symbolized by the Temple at Jerusalem, and replace it with a kingdom that could not be shaken.
But now He has promised, saying, "Yet once more I shake not only the earth, but also heaven." Now this, "Yet once more," indicates the removal of those things that are being shaken, as of things that are made, that the things which cannot be shaken may remain.

Therefore, since we are receiving a kingdom which cannot be shaken, let us have grace, by which we may serve God acceptably with reverence and godly fear. For our God is a consuming fire (Hebrews 12:26-29).
This is why the prophecy of Daniel is applicable in our day. Understanding the redemptive-historical interpretation of the Bible brings an understanding of why God makes kingdoms rise and fall. His purpose is to prepare a people who will worship Him forever in reverence and awe.
---
Nero (Reign: AD 54 to 68)
The following is a chapter from a soon to be published book, In The Days of These Kings: The Prophecy of Daniel in Preterist Perspective.
Nero Claudius Caesar Augustus Germanicus was the grand-nephew of Claudius Caesar. Nero's father, Gnaeus Domitius Ahenobarbus, died when he was young. He became his great uncle's heir due to the incestuous marriage of Claudius to his mother, Agrippina, the emperor's niece and fourth wife.
The consensus of ancient historians is that Agrippina murdered Claudius by poison contained in a plate of mushrooms. Agrippina had manipulated Claudius to name her son Nero as his heir. When Claudius admitted that had been a mistake, she had her husband poisoned before Claudius' son, Britannicus, could come of age.
Upon the death of Claudius, Nero became the youngest emperor of Rome thus far at the age of 17. In the beginning of his reign, Nero relied on the guidance of his mother, but soon tired of her domineering and manipulative personality. Nero listened to his advisers, Seneca and Burrus, who were competent, but over time they gradually lost their influence.
Once severed from her influence over her son, Agrippina began pushing for Britannicus, Nero's younger step-brother and uncle, to be reinstated as the true heir to Claudius. Nero responded by having the 14-year-old boy poisoned. Nero then set about cutting off the influence of his experienced advisers by falsely accusing them of crimes, such as treason, conspiracy and embezzlement, from which they were eventually acquitted by the Senate.
Coin showing Nero and Agrippina as co-regents. Although the Romans did not have woman rulers, it was generally accepted that Agrippina was in power with her teenage son, guiding him at the beginning of his reign.
In the beginning of his reign, Nero was popular with the lower classes. He reformed the laws of Rome and initiated many building projects. Under his advisors' influence, Nero ruled with moderation, reduced taxes, gave slaves the right to file complaints against their owners and pardoned prisoners arrested for sedition. He often appeared at the games, drove a chariot in races, sang and performed readings of his poetry publicly – often for many hours before a captive audience. Suetonius portrays Nero as neglecting his governing duties for months at a time in order to play in the Olympic Games in which he once emerged as the victor even when he failed to finish a chariot race. Suetonius' account of Nero's conceits is often comical.
He ordered those contests which normally took place only at long intervals to be held during his visit, even if it meant repeating them; and broke tradition at Olympia by introducing a musical competition into the athletic games…. No one was allowed to leave the theatre during his recitals, however pressing the reason, and the gates were kept barred. We read of women in the audience giving birth, and of men being so bored with the music and the applause that they furtively dropped down from the wall at the rear, or shammed dead and were carried away for burial (Suetonius, Lives of the Twelve Caesars, "Nero" 23, Robert Graves translation).
Nero did not come to power with an impressive military resume like the five Caesars before him. Instead he wanted to be known as an artist, actor, poet and athlete. His behavior was always eccentric and erratic, but he became increasingly paranoid, perverse and psychotic as he grew into adulthood.
It is difficult to limit the amount of information showing that Nero is the fulfillment of both Daniel's prophecy and the corresponding passages in John's Revelation. An entire book would be necessary just to contain the amount of reference material showing how closely Nero fits the description of the "little horn" of Daniel 9 and the Beast from Sea, the man with the number of 666, described in Revelation 13 and 17. I will give a historical outline and some references here.
Who was Poppaea Sabina?
A little known footnote of history is that Nero married an older woman named Poppaea Sabina who is thought to have been a Jewish proselyte. Tacitus called her mother, Poppaea Sabina the Elder, "the loveliest woman of her day." Poppaea evidently shared her mother's great beauty. Tacitus also painted her as being scheming and ambitious. She had been married to Rufrius Crispinus when she was 14-years-old. Ancient historians claim she married her second husband, the later Emperor Otho, who was a best friend of Nero, in order to get close to the throne. She then seduced Nero with her beauty.
In AD 58, Poppaea became Nero's mistress while he was married to his first wife, Octavia. Nero's mother, Agrippina, opposed his marriage to Poppaea, seeing her to be an ambitious woman. Sometime later, Nero began to plot to murder his own mother. Tacitus states that Poppaea induced Nero to murder Agrippina in AD 59 so that she could marry him.
The murder was contrived at first to look like an accident in which his mother was crossing a bay along the coast on barge. The boat was set to sink so that she would drown. When Agrippina swam to shore, Nero became frustrated. He had his mother killed by framing her in a botched plot to assassinate him with the aid of a freed slave named Agermus. Nero then claimed his mother committed suicide as a result of the conspiracy being foiled.
For want of a better plan, Nero ordered one of his men to drop a dagger surreptitiously beside Agermus, whom he arrested at once on a charge of attempted murder. After this he arranged for Agrippina to be killed, and made it seem as if she had sent Agermus to assassinate him, but committed suicide on hearing that the plot had miscarried. Other more gruesome details are supplied by reliable authorities: it appears that Nero rushed off to examine Agrippina's corpse, handling her legs and arms critically and, between drinks, discussing their good and bad points. Though encouraged by the congratulations which poured in from the Army, the Senate and the people, he was never thereafter able to free his conscience from the guilt of this crime. He often admitted that the Furies were pursuing him with whips and burning torches; and set Persian mages at work to conjure up the ghost and make her stop haunting him (Suetonius, The Lives of the Twelve Caesars, "Nero" 34).
Seneca wrote a dishonest defense to the Senate explaining the reasons for Agrippina's death and exonerating Nero of the murder. Poppaea then grew jealous of everyone around Nero, including his wife Octavia and his advisers, Seneca and Burrus, and pushed for their removal. Nero did not formally marry Poppaea until his divorce from his first wife Octavia in AD 62. Octavia had not given Nero an heir and the two became estranged. After Nero divorced Octavia citing her infertility, he accused her of adultery and had her killed.
Coins bearing the images of Nero and Poppaea appeared after their marriage in AD 62.
According to Josephus, Poppaea had a more noble character than that of the scheming woman described by Tacitus and Suetonius. Josephus twice uses a Greek word to describe her, theosebeis, which is translated as, "God-fearer," God-worshipper," or "religious woman." This probably means she was either a Jew, a proselyte to Judaism or at least was a sympathetic advocate to the Jews among her friends. The Jews had been expelled from Rome by the decree of Claudius in AD 49, but Nero allowed them to return when he became emperor. Poppaea became the Jews' strongest advocate in Rome. Josephus describes two cases in which Poppaea influenced Nero in his dealings with the Jews.
The first is an event that took place around AD 59, shortly after Festus became the procurator of Judea. King Herod Agrippa II had built an elevated dining room in his palace in Jerusalem from which he could observe the courts of the Temple. The priests considered this a sacrilege and built a wall facing the west to block Agrippa's view.
Map of Jerusalem showing the proximity of Herod Agrippa II's palace to the Temple. Click to enlarge.
At these doings both king Agrippa, and principally Festus the procurator, were much displeased; and Festus ordered them to pull the wall down again: but the Jews petitioned him to give them leave to send an embassage about this matter to Nero; for they said they could not endure to live if any part of the temple should be demolished; and when Festus had given them leave so to do, they sent ten of their principal men to Nero, as also Ismael the high priest, and Helcias, the keeper of the sacred treasure. And when Nero had heard what they had to say, he not only forgave them what they had already done, but also gave them leave to let the wall they had built stand. This was granted them in order to gratify Poppaea, Nero's wife, who was a religious woman, and had requested these favors of Nero, and who gave order to the ten ambassadors to go their way home; but retained Helcias and Ismael as hostages with herself. As soon as the king heard this news, he gave the high priesthood to Joseph, who was called Cabi, the son of Simon, formerly high priest (Josephus, Antiquities XX.8.11).
The fact that Nero kept the high priest and the temple treasurer as "hostages" has been interpreted by Judaic scholar, Louis Feldman, to mean he kept them as expert teachers of the Jewish religion to please Poppaea.
The second event took place around AD 63, when Josephus actually met Poppaea in the flesh. Josephus had come to Rome to plead for the release of some Jewish priests in Jerusalem who had been sent as prisoners by the procurator Felix several years before to appear before Nero in Rome on trumped up charges. Through the friendship of a Jewish comedian actor named Aliturus, a favorite of Nero, Josephus was introduced to Poppaea.
I was introduced to Poppaea, Caesar's wife, and I took the earliest opportunity to ask her to free the priests. Having received large gifts from Poppaea in addition to this favor, I returned to my own country (Josephus, The Life of Flavius Josephus, III.2).
What were the circumstances of Apostle Paul's first imprisonment in Rome?
It was into this royal household of sexual and political intrigue that the Apostle Paul appeared as a captive at Rome. Paul had been the center of a controversy over his preaching of the Gospel with the Jews in Jerusalem. He had been forewarned by the prophet Agabus that he would be bound by the Jews and delivered into the hands of the Gentiles (Acts 21:10,11). The Jews used a false charge of sedition in order to hatch a plot to have Paul murdered as he was being delivered to a council of chief priests and elders. However, Paul knew by revelation that he was to stand before Nero Caesar himself as a witness for the Gospel.
But the following night the Lord stood by him and said, "Be of good cheer, Paul; for as you have testified for Me in Jerusalem, so you must also bear witness at Rome" (Acts 23:11).
As a Roman citizen accused of sedition, he had the right to appeal to Caesar, although the extradition to Rome and the wait for trial would take several years. He appealed first to the Roman procurator Felix at Caesarea, who seemed genuinely interested in hearing more about "the Way" Paul was preaching. Felix found no fault in Paul, but held him for two years until he was replaced by Festus. When Festus heard Paul preach, he wanted to curry favor with the Jews by turning him back over to the council. But Paul maintained his innocence and insisted that his case be heard before Caesar.
Here Paul played his trump card. The law of appeal to Caesar was sacred to the Romans. Under Julian law any magistrate, or any other with Roman authority, who put to death or tortured a Roman citizen who had made an appeal to Caesar, could be condemned themselves with a death sentence. This appeal was generally used as a last defense. Most citizens would not want to appear before the emperor of Rome. But Paul had to go to Rome according to the word of prophecy. This also relieved Festus of his obligation to the Jews, which is what he wanted.
By chance, King Herod Agrippa II of Judea came to visit Festus to pay his respects. Since Agrippa was a Jew, Festus began to tell him about Paul and his testimony of Jesus who was seen alive after being crucified. Festus arranged to have Paul make his case before Agrippa and his sister Berenice. The next day, Agrippa gave Paul the right to speak freely. Agrippa came under conviction and declared that Paul was innocent.
Paul before Festus, Agrippa and Berenice. Trial of the Apostle Paul, 1875, Nikolai K. Bodarevsky.
And Agrippa said to Festus, "This man might have been set free if he had not appealed to Caesar" (Acts 26:32).
Nero was the "Caesar" referred to when Apostle Paul made his appeal.
"I stand at Caesar's judgment seat, where I ought to be judged … I appeal to Caesar" (Acts 24:10,11).
Throughout the narrative, Nero is also called "Augustus," which was the family name and later throne name of all the Caesars.
What was "Caesar's household"?
Nero was also the emperor referred to when Paul wrote the closing greetings to his Epistle to the Church at Philippi.
All the saints greet you, but especially those who are of Caesar's household (Philippians 4:2).
Paul wrote these words from Rome near the end of his first imprisonment around AD 62. This closing greeting, together the account of Acts 28 and the lengthier closing greeting in Romans 16 gives us more information on the progress of the Gospel in the city of Rome.
"Caesar's household" was all the slaves and freemen alike, living in and near the palace of the emperor on Palatine Hill at Rome. This was a vast number of people, easily hundreds if not thousands, since Nero was constantly engaged in building projects in and around the palace. Many of the slaves of city of Rome were Jews and many of them would have been in employed on the palace grounds.
We are not told how many disciples Paul made while he was in Rome. Luke wrote only that as a prisoner Paul was under what would be considered "house arrest" and free to preach the Gospel to everyone he encountered. In fact, Acts 28 notes that they found believers when they first arrived in Italy.
And landing at Syracuse, we stayed three days. From there we circled round and reached Rhegium. And after one day the south wind blew; and the next day we came to Puteoli, where we found brethren, and were invited to stay with them seven days. And so we went toward Rome. And from there, when the brethren heard about us, they came to meet us as far as Appii Forum and Three Inns. When Paul saw them, he thanked God and took courage. Now when we came to Rome, the centurion delivered the prisoners to the captain of the guard; but Paul was permitted to dwell by himself with the soldier who guarded him (Acts 28:12-16).
Paul's first journey to Rome
The narrative then concerns some Jews living in Rome who came to hear Paul preach the Gospel.
Then they said to him, "We neither received letters from Judea concerning you, nor have any of the brethren who came reported or spoken any evil of you. But we desire to hear from you what you think; for concerning this sect, we know that it is spoken against everywhere."

So when they had appointed him a day, many came to him at his lodging, to whom he explained and solemnly testified of the kingdom of God, persuading them concerning Jesus from both the Law of Moses and the Prophets, from morning till evening. And some were persuaded by the things which were spoken, and some disbelieved. (Acts 28:21-24).
Paul then preached words from Isaiah 6:9,10 condemning those who would not believe and resolving that the Gospel was destined to be preached instead to the Gentiles.
Then Paul dwelt two whole years in his own rented house, and received all who came to him, preaching the kingdom of God and teaching the things which concern the Lord Jesus Christ with all confidence, no one forbidding him (Acts 28:30,31).
In Philippians, which was written during Paul's first imprisonment at Rome, Paul corroborates that he was able to preach the Gospel in Nero's palace.
But I want you to know, brethren, that the things which happened to me have actually turned out for the furtherance of the gospel, so that it has become evident to the whole palace guard, and to all the rest, that my chains are in Christ; and most of the brethren in the Lord, having become confident by my chains, are much more bold to speak the word without fear (Philippians 1:12-14).
The eminent Bible commentator, J.B. Lightfoot, did an intriguing dissertation as part of his commentary on Philippians on what was meant by "Caesar's household" (Philippians 4:2).
Some of Lightfoot's suggestions and conjectures on this subject are exceedingly interesting. He reviews the names of the persons to whom Paul sends greeting in Romans 16 and compares them with the names of persons who lived at that time, and which have been found in monumental inscriptions on the columbaria or places of sepulture exhumed on the Appian Way. Many of the occupants of those columbaria were freedmen or slaves of the emperors, and were contemporaries of Paul. The result of Lightfoot's review of the names is that he claims to have established a fair presumption that among the salutations in Romans some members at least of the imperial household are included.

In the household of the emperor there were necessarily many persons of high rank. Perhaps we may find a hint that the gospel had been embraced by some in the higher grades of society, in such strange facts as the execution of Titus Flavius Clemens, a man of consular rank and cousin to the emperor, and also in the fact that Flavia Domitilla, the wife of Flavius Clemens, was banished by Domitian, notwithstanding her near relationship to him, for she was the emperor's niece. Her daughter Portia also shared in the same punishment of exile. The charges brought against all three were atheism and inclination to Jewish customs: surely such charges were sufficiently vague and even self-contradictory. The opinion has been suggested that probably these three persons in the inner circle of the emperor's kinsmen were Christians ("Caesar's Household," International Standard Bible Encyclopedia).
In fact, the "Clement" that Paul mentions in Philippians 4:3, "my fellow laborer" in Christ, is thought by some to be Clement of Rome. Clement was the writer of an Epistle to the Corinthians in about AD 96 that first recorded the martyrdom of Peter and Paul. J.B. Lightfoot wrote an additional dissertation in his commentary discussing evidence for this possibility. Some have suggested that Clement was a slave or a freedman of a member of the royal family, Titus Flavius Clemens, whom the Emperor Domitian had executed for having sympathy for "Jewish customs." During this time, the common charge against both Jews and Christians was "atheism" since according to the Roman worldview they denied the Roman gods.
Why does the account of Acts 28 stop at this point?
After stating that Paul had free reign to preach the Gospel in Caesar's household, the account ends abruptly. This poses a problem for liberals who would late date both the Gospel of Luke and the Acts of the Apostles to the latter part of the first century or even later. The internal evidence suggests that Acts was written by Luke as a traveling companion of Paul. The abrupt ending implies that Paul was released at this point, which would have been around AD 62.
Prior to the 20th century, New Testament chronologies traditionally put Paul's first imprisonment in Rome after AD 62. However, there was an archaeological find in 1905 of an inscription that dates Gallio's proconsulship of Achaia (Acts 18:12). This has had the effect of shifting the traditional dates a couple of years or so earlier. Paul's trial before Gallio places the first imprisonment under Nero about two years earlier, from around AD 60 to 62 AD. These dates also better fit the events of the Book of Acts, which ends abruptly around that time. Luke does not mention the martyrdom of James, the brother of the Lord and a bishop in the church in Jerusalem, which Josephus places during the Jewish unrest caused by the death of Festus in AD 62. Luke does not mention the fire of Rome in AD 64 or the resulting persecution of Christians under Nero later that year.
Since Acts ends abruptly with the account of Paul's preaching in Caesar's household, there is no account of what Paul preached to Nero or the reason why Paul was released. Suetonius, who is otherwise critical of Nero's despotism, records that in the first part of his reign he often pardoned prisoners and was generally affable toward working class Roman citizens, which certainly describes Paul. AD 62 is also the year that Nero officially wed Poppaea. It is possible that if Poppaea had heard Paul preach, that she would have advocated for him to be released.
Paul presented himself as a rabbi and a Pharisee when the need arose in order to connect with Jews and proselytes familiar with Judaism. To the Gentiles, he presented himself as a Roman citizen and free man. He certainly did so in addressing the pagan Roman procurator Festus and the Herodian rulers, Agrippa and Berenice.
Governor Festus retorted, "You are beside yourself! Much learning is driving you mad!" (Acts 26:24), while King Agrippa countered, "You almost persuade me to become a Christian" (v. 28).
One can imagine Paul giving a similar Gospel presentation of the risen Christ and the hope of the resurrection before Nero, Poppaea and the Roman court, no doubt with a similar reaction. We do not know for certain what Paul preached to Nero, but we can imagine he began his defense as he did before.
My manner of life from my youth, which was spent from the beginning among my own nation at Jerusalem, all the Jews know. They knew me from the first, if they were willing to testify, that according to the strictest sect of our religion I lived a Pharisee (Acts 26:4,5).
Paul might have explained that he was a Roman citizen who had always obeyed the civil magistrate's law according to the message in Romans 13:1-6. We might even imagine that Paul used his "athlete" analogy to describe the contest of faith.
Do you not know that those who run in a race all run, but one receives the prize? Run in such a way that you may obtain it. And everyone who competes for the prize is temperate in all things. Now they do it to obtain a perishable crown, but we for an imperishable crown (1 Corinthians 9:24,25).
Paul most likely would have preached that he was "free" as a Roman citizen and "free" from the curse of the Law as an ambassador of Christ. He probably concluded as he had done before Festus and Agrippa.
"I would to God that not only you, but also all who hear me today, might become both almost and altogether such as I am, except for these chains" (Acts 26:29).
In the final reckoning, Paul committed no crime according to Roman law. It must have seemed odd to Nero to have a "prisoner" so highly esteemed by his own household who appeared in the imperial court not to defend himself, but to defend the Gospel of a messianic sect of Jews.
It may have simply been that Nero the self-described "artist and poet" — champion of the Greek Olympics and patron of the Jewish actor Aliturus — found Paul's testimony eloquent and entertaining.
Since the Apostle Paul's imprisonment took place during the years when Poppaea was known for advocating for the Jews on at least two recorded occasions, it is also possible that Nero may have been swayed by Poppaea in this case.
J.B. Lightfoot doubted that Poppaea Sabina would have advocated for Paul, but would have been more inclined to take the side of the synagogue Jews of Rome in favor of punishment. Lightfoot makes the argument that since the Jews of Rome were opposed to Paul, Poppaea would have shared their revulsion to the Gospel.
More plausible is the idea that Poppaea, instigated by the Jews, might have prejudiced the emperor against an offender whom they hated with a bitter hatred. Doubtless she might have done so. But, if she had interfered at all, why should she have been satisfied with delaying his trial or increasing his restraints, when she might have procured his condemnation and death? The hand reeking with the noblest blood of Rome would hardly refuse at her bidding to strike down a poor foreigner, who was almost unknown and would certainly be unavenged. From whatever cause, whether from ignorance or caprice or indifference or disdain, her influence, we may safely conclude, was not exerted to the injury of the Apostle (J.B. Lightfoot, Epistle to the Philippians, "Order of the Epistles of the Captivity").
On the other hand, the account of Acts records that when Paul preached the Gospel to the synagogue Jews of Rome they were not universally opposed to his message. Acts 28 simply states that "some were persuaded … and some disbelieved."
Further, Paul was treated well as a Roman citizen who had appealed to Caesar. He lived "in his own rented house and received all who came to him." The Epistle to the Romans was probably composed from Corinth about a year prior to the time of Paul's arrest in Jerusalem. Romans 16 shows an intimate familiarity with the Christians who were living in Rome, and as Lightfoot and others have argued, some may have been members of the royal family, slaves and freedmen. If Paul was among Caesar's household for two whole years, there is a high degree of likelihood that Poppaea knew of him. With her interest in Judaism, how could she not?
Since Poppaea was a "God-fearer," as Josephus called her, then it is likely she would have been positively affected by Paul's teaching. God-fearers were of great importance to the growth of the early Church. These were Gentiles who shared religious ideas with Jews to some degree. However, they were not converts to Judaism, but a separate community interested in Jewish religious teaching and practices. Conversion to Judaism would require adherence to all of the Law of Moses, which included numerous prohibitions – such as dietary laws, circumcision, Sabbath observances, participation in the festivals at Jerusalem at least two times a year – which would have been difficult for most people of the Greco-Roman world. Paul's message of the Gospel of grace was attractive to God-fearers because it did not necessitate an adherence to dietary and ceremonial laws of the Jews in order to be justified before God. So even if Poppaea was not converted to Christ, she may have seen Paul as a wise rabbi who was spreading the Good News throughout the world.
Since there is no description of this meeting in the Book of Acts, it is likely that Luke was not present or he finished his account shortly before Paul was set free.
It is only evident that Paul had a trial in Rome and that he stood before Nero face to face. In 2 Timothy 4:16, he makes mention of his "first answer," that is, his "first apology" – which was not an apology in the sense of an "excuse" for his conduct – rather the Greek word apologia means a plea or a defense of the faith. This "first answer" may have been his defense in AD 62. However, I think it is more likely that he was referring to another meeting with Nero after his second imprisonment in Rome. We can safely assume that Paul had at least two face to face meetings with Nero.
In any case, the timing of Paul's release in AD 62 was providential, since about 18 months later the Great Fire of Rome occurred – an event which altered the course of history.
What was Nero's Golden House?
On July 19th, AD 64, a fire raged throughout the city of Rome for six full days consuming the greater part of the city. The popular image of Nero "fiddling while Rome burned" is probably without basis. When the fire broke out, Nero was at his summer villa on the coast of Italy at Antium about 35 miles from Rome. Nero immediately returned and began relief measures. However, Nero's popularity had waned by this time and a rumor started that he stood on his rooftop playing his lyre and singing about the destruction of Troy as he watched the city burn.
The Great Fire of Rome lasted six days and consumed the better part of the city.
By the sixth day enormous demolitions had confronted the raging flames with bare ground and open sky, and the fire was finally stamped out.… This new conflagration caused additional ill-feeling because it started on Tigellinus' estate in the Aemilian district. For people believed that Nero was ambitious to found a new city to be called after himself. Of Rome's fourteen districts only four remained intact. Three were leveled to the ground. The other seven were reduced to a few scorched and mangled ruins (Tacitus, Annals XV, 40).
Many people by this time saw Nero as a homicidal maniac who had his own mother killed five years earlier. Some believed he had ordered the fire started, especially after he began to use the land cleared by the fire to build his "Golden House," or Domus Aurea, and the surrounding pleasure gardens in the months following the catastrophe. While the common people were free to enjoy the public gardens at the center of Nero's Golden House, the extravagance of the palace caused consternation.
3D Map of the Domus Aurea. Credit: National Geographic.
The Domus Aurea was designed as a place of entertainment. It was a pleasure palace of 300 rooms without any sleeping quarters, while Nero's own palace remained on the Quirinal Hill. The Domus Aurea covered parts of the slopes of three of the seven hills of Rome, with a man-made lake at the center, the estimated size of the Domus Aurea was over 300 acres, while others estimate its size to have been under 100 acres. Suetonius describes the complex as a countryside in the city. The outside of the palace was covered in gold leaf and the inside rooms were adorned with marble, precious stones and cut gems, with mosaics and many frescoes by the Roman Empire's greatest artists. The artwork of the Golden House inspired later Renaissance artists when it was accidently rediscovered in the 15th century under centuries of landfill.
A giant statue of Nero (artist's conception) greeted visitors to the Golden House.
At the center of the public gardens, Nero also commissioned a colossal 95-foot high bronze statue of himself, the Colossus Neronis, almost as high as the Statue of Liberty. This statue represented Nero as the sun god. The face of the statue was modified after Nero's death during Vespasian's reign to make it truly a statue of the god Sol. The later Roman Emperor Hadrian moved it, with the help of the architect Decrianus and 24 elephants, to a position next to the Flavian Amphitheater. This building may have later taken the name Colosseum after the statue of Nero, and not, as some believe, because of the sheer size of the arena. The construction of the Golden House is believed to have taken several years, and parts were still being finished at the time of Nero's death.
When the edifice was finished in this style and he dedicated it, he deigned to say nothing more in the way of approval than that he was at last beginning to be housed like a human being (Suetonius, The Twelve Caesars, "Nero" 31).
When Nero began to build the Golden House, he had additional land cleared by setting smaller fires. This caused many to suspect Nero had wanted the land for himself all along. As the public consternation grew, so did the rumors that Nero started the fire. Nero looked for a scapegoat to deflect his guilt and settled on the Christians. This began the first Roman persecution of the Church that went on for three-and-a-half years. To take John's "42 months" (Revelation 13:5) exactly literally, we can date the persecution as beginning in December, AD 64 and continuing to Nero's death on June 9th, 68.
Nero also needed a way to finance his Golden House while simultaneously deflecting the accusations of arson away from himself. Perhaps coinciding with the timing of his plan to frame the Christians as the cause of the fire, Nero began to devalue the silver coins in this year. The Roman "tribunician year" traditionally began on December 10th, which nearly coincided with Nero's birthday on December 15th. Metallurgists have determined that Nero began to debase the value of silver coins by adding a significant amount of copper beginning in AD 64. The silver taken from these debased coins was used to finance the building of the Golden House.
Suetonius, who was severely critical of Nero, as one given to the most murderous tendencies and all sorts of unnatural lusts, lists the punishment of the Christians among several of Nero's more admirable accomplishments.
Punishments were also inflicted on the Christians, a sect professing a new and mischievous religious belief (Suetonius, The Twelve Caesars, "Nero" 16).
Tacitus shows more sympathy in describing the horrific tortures the Christians suffered and gives details of how the depraved emperor lit his gardens at night with the burning corpses of Christians tarred with pitch.
But all human efforts, all the lavish gifts of the emperor, and the propitiations of the gods, did not banish the sinister belief that the conflagration was the result of an order. Consequently, to get rid of the report, Nero fastened the guilt and inflicted the most exquisite tortures on a class hated for their abominations, called Christians by the populace. Christus, from whom the name had its origin, suffered the extreme penalty during the reign of Tiberius at the hands of one of our procurators, Pontius Pilatus, and a most mischievous superstition, thus checked for the moment, again broke out not only in Judea, the first source of the evil, but even in Rome, where all things hideous and shameful from every part of the world find their centre and become popular.

Accordingly, an arrest was first made of all who pleaded guilty; then, upon their information, an immense multitude was convicted, not so much of the crime of firing the city, as of hatred against mankind. Mockery of every sort was added to their deaths. Covered with the skins of beasts, they were torn by dogs and perished, or were nailed to crosses, or were doomed to the flames and burnt, to serve as a nightly illumination, when daylight had expired.

Nero offered his gardens for the spectacle, and was exhibiting a show in the circus, while he mingled with the people in the dress of a charioteer or stood aloft on a car. Hence, even for criminals who deserved extreme and exemplary punishment, there arose a feeling of compassion; for it was not, as it seemed, for the public good, but to glut one man's cruelty, that they were being destroyed (Tacitus Annals XV. 44, bold emphasis mine).
Christians were "doomed to the flames and burnt, to serve as a nightly illumination, when daylight had expired. Nero offered his gardens for the spectacle, and was exhibiting a show in the circus, while he mingled with the people in the dress of a charioteer or stood aloft on a car." ~ Tacitus
In the summer of AD 65, about a year after the Great Fire, Poppaea was pregnant with what might have become Nero's only heir. She began to scream at Nero over his spending too much time at the chariot races. Nero kicked her and she began to hemorrhage, or some accounts stated that he repeatedly jumped on her stomach until she was dead. The fact that Poppaea's body was embalmed and not cremated according to Roman custom is often used as evidence that she had embraced Judaism or some foreign religion. Shortly afterward, Nero had her son by her former husband Rufrius put to death. After Poppaea's death, Nero descended into complete madness. He engaged in every type of sexual perversion imaginable including having a young male freedman castrated, dressing him as Poppaea and pretending that she remained alive.
Either it was during the time when the Gospel was being preached in Caesar's household, or a few years after, that Nero became convinced of a prophecy about a king who would rule the whole world from the east – some said from the city of Jerusalem. It is unclear where he first heard this prophecy. It may have come from his own soothsayers and astrologers, Poppaea's knowledge of Judaism, one of Paul's converts in Nero's household, or the preaching of the Apostle Paul himself.
Some preterist writers mention that Nero killed his pregnant wife Poppaea and make note that Nero was the Roman emperor during Paul's stay in Rome from AD 60 to 62. However, no one has advanced the thesis that Nero may have become knowledgeable of the Hebrew Scriptures through either Poppaea or Paul. Evidently, Nero twisted the prophecies of Scripture and deceived himself into thinking that he was the promised Messiah prophesied by Daniel, the king of the world who would rule from Jerusalem.
According to Josephus, as soon as Nero took the throne in AD 54, many false Messiahs entered Jerusalem. Great natural disasters began to take place, famines, pestilence and earthquakes. This set the stage, according to Matthew 24, for a rebellion against Roman rule and the invasion of Judea by Roman forces in AD 66.
According to Suetonius, Nero believed that a prophecy from the East foretold of his coming as a world ruler. This was confirmed by his astrologers, but it is uncertain what is being referred to. Suetonius gives the following information saying that the Jerusalem prophecy came from "astrologers." However, we know that the Romans were aware of the messianic prophecies of the Bible.
Nero's astrologers had told him that he would one day be removed from public office, and were given the famous reply:

"A simple craft will keep a man from want."

This referred doubtless to his lyre-playing which, although it might be only a pastime for an emperor, would have to support him if he were reduced to earning a livelihood. Some astrologers forecast that, if forced to leave Rome, he would find another throne in the East; one or two even particularized that of Jerusalem (Suetonius, Lives of the Twelve Caesars, "Nero" 40).
In recording that Nero had thoughts to move his throne from Rome to Jerusalem, Suetonius reveals that this was a motivation for Nero's war on Judea.
An ancient superstition was current in the East, that out of Judea would come the rulers of the world. This prediction, as it later proved, referred to two Roman Emperors, Vespasian and his son Titus; but the rebellious Jews, who read it as referring to themselves, murdered their Procurator, routed the Governor-general of Syria when he came down to restore order, and captured an Eagle. To crush this uprising, the Romans needed a strong army under an energetic commander, who could be trusted not to his plenary powers. The choice fell on Vespasian. He had given signal proof of energy and nothing, it seemed, need be feared from a man of such modest antecedents. Two legions, with eight cavalry divisions and ten supernumerary battalions, were therefore dispatched to join the forces already in Judea; and Vespasian took his elder son, Titus, to serve on his staff (Suetonius, Lives of the Twelve Caesars, "Vespasian" 4).
Tacitus also relates the prophecy of messianic expectation. It is likely that Tacitus learned this from conferring with Josephus. Both were in Rome at the time they wrote their histories.
The majority [of the Jews] firmly believed that their ancient priestly writings contained the prophecy that this was the very time when the East should grow strong and that men starting from Judea should possess the world. This mysterious prophecy had in reality pointed to Vespasian and Titus, but the common people, as is the way of human ambition, interpreted these great destinies in their own favour, and could not be turned to the truth even by adversity (Tacitus, Histories, V.13).
This begs the question, which "ancient priestly writings" were Suetonius and Tacitus referring to? In all likelihood, it was the prophecy of Daniel 2:44.
And in the days of these kings the God of heaven will set up a kingdom which shall never be destroyed; and the kingdom shall not be left to other people; it shall break in pieces and consume all these kingdoms, and it shall stand forever.
It is possible that Nero knew the Daniel prophecy from his wife, Poppaea, or had even heard of the Mount Olivet Discourse through the Apostle Paul's teaching. Nero had already declared himself to be a god. Now he wanted to move the seat of the capital from Rome to Jerusalem. But after the events that took place from AD 64 to 66, Nero became an enemy of both Christians and Jews.
Nero's reign occurred during a time frame when messianic fervor was at a fever pitch among the Jews. Like most Romans, Nero was probably unable to discern one messianic Jewish sect from another. The blame for the Great Fire of Rome was laid at the feet of Christians, but even Tacitus writing a generation later notes that Christianity was a "superstition" that originated in Judea. Nero likely saw the rebellion of messianic Jews at Jerusalem as part of the same superstition. After Nero killed Poppaea in AD 65, combined with his resulting denial and bitterness over the mishap, the rebellion in Judea in AD 66 must have led him to think that the prophecies of an "eastern king" were a threat to his sovereignty – although he hoped that this applied to himself.
Gessius Florus was the Roman procurator of Judea from 64 until 66. Ironically, he was appointed by the Emperor Nero due to Poppaea's friendship with his wife. He was noted for his public greed and injustice to the Jews, and is blamed by Josephus as being the primary cause of the Great Jewish Revolt of AD 66. Gessius Florus and the Roman general Cestius Gallus failed to put down an uprising that started as a tax revolt. In a short time, this turned into a major war. Nero then sent one of the greatest generals in the Roman Empire, Vespasian, to attack Judea in AD 67.
What is the evidence that 666 equals the number of Nero?
Much has been written by preterists that "Caesar Neron" (Qsr Nron, נרון קסר) adds up to 666 when spelled in Hebrew letters. In ancient cultures, numerals were expressed by certain letters of the alphabet. In fact, our modern numerals are derived from Arabic letters. Since each letter in an ancient language had a numerical value, a person's name could be added up to equal a certain number. Apparently, counting the number of the "Beast" Nero was a popular past-time even among pagans. Suetonius wrote that a piece of graffiti often scrawled on the walls of the empire had the following saying.
Count the numerical values,
Of the letters in Nero's name,
And in "murdered his own mother":
You will find their sum is the same.
The letters of Nero's name in Greek when converted into numerals, had the sum value of 1005; and so had the letters of "murdered his own mother." This shows that it was a well-known practice to use numerical "code" to speak of this dictator.
That Nero was nicknamed the "Beast " is attested to in several ancient sources. There are other instances of cryptograms that were used to refer to the insane emperor, who had killed his mother. The Sibylline Oracles had done this as well calling Nero a "terrible snake" and citing that Nero's name had "fifty as an initial."
One who has fifty as an initial will be commander, a terrible snake, breathing out grievous war, who one day will lay hands on his own family and slay them, and throw every-thing into confusion, athlete, charioteer, murderer, one who dares ten thousand things. He will also cut the mountain between two seas and defile it with gore. But even when he disappears he will be destructive. Then he will return declaring himself equal to God. But he will prove that he is not. Three princes after him will perish at each others' hands.
The Sibylline Oracles, which are Greek language pseudo-prophecies written after the fact, may have drawn on the idea that the name of Nero equaled the number of the Beast. In any case, the Apostle John was not the only writer to use cryptogram as the name of Nero. Criticizing a mad emperor in writing was a dangerous business. So cryptic references were necessary, although some were more obvious than others.
Left: There is a textual variant in some early copies of Revelation that has the reader count the number of the Beast as "616" – "Caesar Nero" – and not the Aramaic "666" – "Caesar Neron." Numerals were indicated by a line drawn over the Greek letters.
In support of this hypothesis, there is also a textual variant in some early copies of Revelation that has the reader count the number of the Beast as "616" – "Caesar Nero" – and not the Aramaic "666" – "Caesar Neron." The difference is in the Latin versus the Aramaic spelling of Nero's name. Dropping the last "N" subtracted the number 50 from the total. This variant has been known from the mid-second century and was mentioned by the Church Father Irenaeus in his writings.
Another attempt to make Nero's name equal the variant "616" is the Liber genealogus, a chronology written in Latin by an unknown North African Donatist Christian in the fifth century. It uses the Latin spelling, not the Hebrew. It also advocates a Nero Redivivus futurist theory, not a preterist interpretation. Literally, "Nero Revived," this was a popular fable among Jews and Christians that Nero would rise from the dead and appear once again as an Antichrist world ruler who would touch off events that would lead to a messianic kingdom.
Citing a portion of Revelation 13:18, paragraphs 614-620 of the version that was written in AD 438 states that the letters of Nero's name are to be used in calculating the number of the Beast (Francis X. Gumerlock, Westminster Seminary Journal 68 (2006):347-360, "Nero Antichrist: Patristic Evidence of the Use of Nero's Name in Calculating the Number of the Beast").
When was Paul's second imprisonment under Nero?
Church tradition has Paul coming a second time to Rome along with Peter at some point after AD 64. Either they were arrested during Nero's persecution from AD 64 to 68 or they had already been in Rome preaching when the persecution of Christians broke out after the Great Fire in AD 64. Since the Book of Acts ends abruptly a few years before the events of AD 64, we have to use the later Epistles of Paul and the writings of the Church Fathers to piece together a chronology of what may have happened in the five years between AD 62 and 67. The following synopsis by William Killen presents the traditional view of the Church Fathers on Paul's activities after his first imprisonment in Rome.
It is probable that Paul, after his release, accomplished his intention of visiting the Spanish Peninsula…. In all likelihood, he now once more visited Jerusalem, travelling by Corinth, Philippi, and Troas, where he left for the use of Carpus the case with the books and parchments which he mentions in his Second Epistle to Timothy (4:13). Passing on then to Colossae, he may have visited Antioch in Pisidia and other cities of Asia Minor, the scenes of his early ministrations; and reached Jerusalem by way of Antioch in Syria. He perhaps returned from Palestine to Rome by sea, leaving Trophimus sick at Miletum in Crete (2 Timothy 4:20). The journey did not probably occupy much time; and, on his return to Italy, he seems to have been immediately incarcerated. His condition was now very different from what it had been during his former confinement; for he was deserted by his friends, and treated as a malefactor.

When he wrote to Timothy he had already been brought before the judgment-seat, and had narrowly escaped martyrdom. "At my first answer," says he, "no man stood with me, but all men forsook me. I pray God that it may not be laid to their charge. Notwithstanding the Lord stood with me and strengthened me, that by me the preaching might be fully known, and that all the Gentiles might hear; and I was delivered out of the mouth of the lion" (2 Timothy 4:16,17). The prospect, however, still continued gloomy; and he had no hope of ultimate escape. In the anticipation of his condemnation, he wrote those words so full of Christian faith and heroism, "I am now ready to be offered, and the time of my departure is at hand. I have fought a good fight – I have finished my course – I have kept the faith. Henceforth there is laid up for me a crown of righteousness, which the Lord, the righteous Judge, shall give me in that day, and not to me only, but unto all them also that love his appearing" (2 Timothy 4:6-8) (William Dool Killen, The Ancient Church, "Paul's Second Imprisonment, and Martyrdom; Peter, his Epistles, his Martyrdom, and the Roman Church").
Traditionally, June 29th, AD 67 is the date of the martyrdom of Peter and Paul at Rome. The account of the deaths of the Apostles at Rome is early and well-attested. Clement of Rome, who wrote his Epistle to the Corinthians, probably written around AD 96, gave the earliest witness – possibly an eyewitness account since Clement was an early bishop in the church at Rome.
But not to dwell upon ancient examples, let us come to the most recent spiritual heroes. Let us take the noble examples furnished in our own generation. Through envy and jealousy, the greatest and most righteous pillars [of the Church] have been persecuted and put to death. Let us set before our eyes the illustrious apostles. Peter, through unrighteous envy, endured not one or two, but numerous labours, and when he had finally suffered martyrdom, departed to the place of glory due to him. Owing to envy, Paul also obtained the reward of patient endurance, after being seven times thrown into captivity, compelled to flee, and stoned. After preaching both in the east and west, he gained the illustrious reputation due to his faith, having taught righteousness to the whole world, and come to the extreme limit of the west, and suffered martyrdom under the prefects. Thus was he removed from the world, and went into the holy place, having proved himself a striking example of patience. To these men who spent their lives in the practice of holiness, there is to be added a great multitude of the elect, who, having through envy endured many indignities and tortures, furnished us with a most excellent example (1 Clement 5,6, bold emphasis mine).
A short apologetic treatise by the Church Father Lactantius, "Of the Manner in Which the Persecutors Died," was written shortly before the Council of Nicea in the early fourth century. It mentions that Nero was in fact called a "beast" and attempts to refute the then popular "Nero Redivivus" theory.
His apostles were at that time eleven in number, to whom were added Matthias, in the room of the traitor Judas, and afterwards Paul. Then were they dispersed throughout all the earth to preach the Gospel, as the Lord their Master had commanded them; and during twenty-five years, and until the beginning of the reign of the Emperor Nero, they occupied themselves in laying the foundations of the Church in every province and city.
Since Nero came to power on October 13, AD 54, "twenty-five years" is exactly right if we assume that Jesus' ascension was in AD 30 and the New Year was counted in the fall in most Roman provinces, usually in September. October AD 54 would have been the beginning of the 25th year since Christ's ascension.
And while Nero reigned, the Apostle Peter came to Rome, and, through the power of God committed unto him, wrought certain miracles, and, by turning many to the true religion, built up a faithful and steadfast temple unto the Lord. When Nero heard of those things, and observed that not only in Rome, but in every other place, a great multitude revolted daily from the worship of idols, and, condemning their old ways, went over to the new religion, he, an execrable and pernicious tyrant, sprung forward to raze the heavenly temple and destroy the true faith. He it was who first persecuted the servants of God; he crucified Peter, and slew Paul: nor did he escape with impunity; for God looked on the affliction of His people; and therefore the tyrant, bereaved of authority, and precipitated from the height of empire, suddenly disappeared, and even the burial-place of that noxious wild beast was nowhere to be seen. This has led some persons of extravagant imagination to suppose that, having been conveyed to a distant region, he is still reserved alive; and to him they apply the Sibylline verses concerning
"The fugitive, who slew his own mother, being to come from the uttermost boundaries of the earth;"
as if he who was the first should also be the last persecutor, and thus prove the forerunner of Antichrist! But we ought not to believe those who, affirming that the two prophets Enoch and Elias have been translated into some remote place that they might attend our Lord when He shall come to judgment, also fancy that Nero is to appear hereafter as the forerunner of the devil, when he shall come to lay waste the earth and overthrow mankind (Lactantius, Divine Institutes, Book IV, bold emphasis mine).
Was the persecution of Christians under Nero localized or empire-wide?
While there is little to go on, many modern Church historians assume that the Neronian persecution was localized to Rome. Therefore, preterists have to make the case to explain why John could have been arrested in Ephesus and exiled to Patmos. However, there is more ancient contemporary testimony for the Neronian persecution than for the persecution under Domitian. Tacitus, Clement of Rome and Lactantius use the words "an immense multitude" and "multitudes" in describing the Christians who were put to death by Nero's persecution.
The oldest testimonies closest to the source record a great number of Christians being martyred. Coupled with the fact that the Apostolic Church was already suffering ongoing persecutions from the Jews, it is not a stretch to imagine the iron claws of Rome stretching into Ephesus to arrest the Apostle John.
Lactantius' purpose in writing on the sixth Roman Caesar was to refute the Nero Redivivus theory. Lactantius was a futurist, but saw the idea that Nero would rise from the dead to be revealed as the future Antichrist as a misguided superstition. Yet he recognized that Nero fit the description of the Beast of Revelation. Nero was the Roman emperor who sent Vespasian to conquer the city of Jerusalem that resulted in the Temple being destroyed. "Not one stone here shall be left upon another, which will not be torn down" (Matthew 24:2). What is interesting about Lactantius' account is that he connects the razing of the Temple with the fact that Nero had also "sprung forward to raze the heavenly temple and destroy the true faith" – meaning he persecuted the Church founded by Christ and killed many Christians including the Apostles Peter and Paul.
Lactantius also has Peter and Paul preaching at Rome reiterating the words of the Daniel and Jesus that the time was at hand for foretold "abomination that causes desolation" to come to pass (Daniel 12:11; Matthew 24:15; Luke 21:20).
But He also opened to them all things which were about to happen, which Peter and Paul preached at Rome; and also said that it was about to come to pass, that after a short time God would send against them a king who would subdue the Jews, and level their cities to the ground, and besiege the people themselves, worn out with hunger and thirst. Then it should come to pass that they should feed on the bodies of their own children, and consume one another. Lastly, that they should be taken captive, and come into the hands of their enemies, and should see their wives most cruelly harassed before their eyes, their virgins ravished and polluted, their sons torn in pieces, their little ones dashed to the ground; and lastly, everything laid waste with fire and sword, the captives banished forever from their own lands, because they had exulted over the well-beloved and most approved Son of God. And so, after their decease, when Nero had put them to death, Vespasian destroyed the name and nation of the Jews, and did all things which they had foretold as about to come to pass (Lactantius, Divine Institutes, Book IV).
Lactantius assumes that in preaching the Gospel, Peter and Paul would have included the Mount Olivet Discourse. There is obviously some embellishment here in an account written a few centuries after the event. However, Lactantius knew that Peter and Paul preached in Rome and were martyred by Nero. He supposed that they had preached the full contents of the Gospel. The prophecy that Rome would send legions to Judea and "level their cities" follows the Mount Olivet Discourse together with other details found in Josephus' History of the Wars of the Jews.
Paul's arrest was probably prior to Nero's departure for Greece in the fall of AD 67, as he called for Timothy and Mark to come to Rome "before winter" in his Second Epistle to Timothy.
Only Luke is with me. Get Mark and bring him with you, for he is useful to me for ministry. And Tychicus I have sent to Ephesus. Bring the cloak that I left with Carpus at Troas when you come – and the books, especially the parchments … Do your utmost to come before winter (2 Timothy 4:11-13,21).
The authorship of the Epistle to the Hebrews is a matter of controversy. I am of the opinion that it was composed by Paul and Luke during the second imprisonment at Rome and polished by Timothy or another scribe, such as Clement of Rome. The purpose of Hebrews is to explain the covenantal shift that had occurred at the coming of Christ and to ready the Hebrew Christians for the soon coming destruction of the Temple at Jerusalem. Since most Christians at this point were ethnic Jews, they were not to put their hopes in the types and shadows represented in Temple worship, but in Christ alone.
Paul does not mention Peter in 2 Timothy, so if the Peter came to Rome, it was after Paul, perhaps to meet up with his disciple Mark, whom he mentions as being with him in 1 Peter 5:13. At Rome, Peter probably wrote his Second Epistle explaining that he was approaching his death and warning about the wrath of God's coming judgment.
But the day of the Lord will come as a thief in the night, in which the heavens will pass away with a great noise, and the elements will melt with fervent heat; both the earth and the works that are in it will be burned up (2 Peter 3:10).
The key to understanding much of the apocalyptic language 2 Peter 3 is to know that the sense of impending judgment is related to the coming destruction of Jerusalem. In fact, the phrase, "the elements will melt with fervent heat," most likely refers to the Temple at Jerusalem and the sacrificial system. Each time the word stoicheion is used in the Pauline epistles, it refers to "elementary principles" related to doctrines or modes of worship that were passing away with the coming of the New Covenant (cf. Galatians 4:3,9; Colossians 2:8,20; Hebrews 5:12). As in his sermon in Acts 2, Peter is characteristically speaking with a sense of urgency for his immediate audience, while also keeping in view "day of the Lord" that will be yet to come – or the Final Judgment.
After Mark came to Rome at the behest of Paul, he probably wrote the Gospel According to Mark. The tradition of the Church Fathers, beginning with Papias of Hierapolis, testifies that Mark wrote down the Gospel preached by the Apostle Peter from memory.
Mark having become the interpreter of Peter, wrote down accurately whatsoever he remembered. It was not, however, in exact order that he related the sayings or deeds of Christ. For he neither heard the Lord nor accompanied Him. But afterwards, as I said, he accompanied Peter, who accommodated his instructions to the necessities [of his hearers], but with no intention of giving a regular narrative of the Lord's sayings. Wherefore Mark made no mistake in thus writing some things as he remembered them. For of one thing he took special care, not to omit anything he had heard, and not to put anything fictitious into the statements (Papias, Fragments).
Most modern scholars concur that Mark probably wrote from Rome and was addressing a Greco-Roman audience. Mark explains Aramaic phrases and customs and uses a number of Latin terms. Although many modern theologians hold to a "Marcan Priority Hypothesis," with Matthew and Luke drawing on materials from Mark, the view for most of Church history was that the four Gospel accounts were written independently. Clement of Alexandria taught that Mark was a later conflation of Matthew and Luke. The internal evidence from the New Testament and testimony from the Church Fathers indicates that this may be true.
Was the Book of Revelation written while Nero was the Emperor?
Another controversy that rages about the issue of preterism is the date when John's Book of Revelation was written. Many suppose it was written late, when John would have been an extremely old man, during the second persecution of the Christians under Domitian that ended in AD 96. Yet John actually gives two strong internal indicators that tell us when he is writing.
First, he never once mentions that the Temple at Jerusalem has been destroyed in the past tense. Every time he mentions the Temple, it is still standing (cf. Revelation 11). Since the Temple was destroyed in 70 AD, he would have had to be writing before then.
Second, the most direct indication of when the Book of Revelation was written, points to a king who "is."
There are also seven kings. Five have fallen, one is, and the other has not yet come. And when he comes, he must continue a short time (Revelation 17:10, bold emphasis mine).
If we use the line of Roman kings given by Suetonius and Josephus, these are:
1. Julius
2. Augustus
3. Tiberius
4. Caligula
5. Claudius
6. Nero
The sixth king who "is" at the time of John's writing was Nero.
There are several traditions that hold to an early date of the writing of Revelation, prior to the death of Nero.
1. The fourth century Church Father, Epiphanius of Salamis, wrote that Revelation was written during the time of "Claudius Caesar." He could have been referring to either Claudius or Nero since Nero's full name upon his adoption was "Nero Claudius Caesar Drussus Germanicus." His throne name was "Nero Claudius Caesar Augustus Germanicus." In either case, this supports an early date for the writing of Revelation.
2. The Muratorian canon, a list of New Testament books compiled in about AD 170, states that the letters of Paul were seven in number and followed John's example of the letters to the seven churches of Asia Minor in Revelation 1-3. This would have put the writing of Revelation prior to the death of Paul, which took place in the reign of Nero.
3. Tertullian of Carthage places John's banishment to Patmos in the immediate context of Nero's persecution.
4. Clement of Alexandria writes that the ministries of Jesus' Apostles "end with Nero."
5. Several early Syriac translations of the Bible all contain a "superscript" or introduction, "The Revelation, which was made by God to John the Evangelist, in the island of Patmos, to which he was banished by Nero the Emperor."
John was probably writing in late AD 64 or 65. Nero's persecution of the Church may have lasted a full 42 months, or the 42 months could be the counted from the time John began to write Revelation, from the end of the year 64 to Nero's death in June 68.
And he was given a mouth speaking great things and blasphemies, and he was given authority to continue for forty-two months. Then he opened his mouth in blasphemy against God, to blaspheme His name, His tabernacle, and those who dwell in heaven. It was granted to him to make war with the saints and to overcome them. And authority was given him over every tribe, tongue, and nation (Revelation 13:5-7, bold emphasis mine).
The Book of Acts, Romans 16, Philippians 4 and several early Church traditions indicate that Nero heard the Gospel preached by the Apostle Paul – or at least knew of a prophecy that the king of the world would come from Jerusalem – prior to the Great Fire of Rome. The Gospel According to Luke, which was thought by the Church Fathers to be Paul's Gospel, contained the Mount Olivet Discourse as did the Gospel According to Mark, which was thought to be Peter's Gospel. Lactantius and others inferred that this drew Nero's ire.
However, the Gospel According to John does not contain the Mount Olivet Discourse passage. It could be inferred that John was merely banished by the Roman authorities and not executed because he did not preach openly about the coming tribulation except in veiled terms. In the Gospel According to John, which may have been written after the deaths of Peter and Paul in AD 67, but prior to the destruction of the Temple at Jerusalem in AD 70, it is inferred that Peter has already died, while John would "remain till I come."
Jesus said to him, "Feed My sheep. Most assuredly, I say to you, when you were younger, you girded yourself and walked where you wished; but when you are old, you will stretch out your hands, and another will gird you and carry you where you do not wish." This He spoke, signifying by what death he would glorify God. And when He had spoken this, He said to him, "Follow Me."

Then Peter, turning around, saw the disciple whom Jesus loved following, who also had leaned on His breast at the supper, and said, "Lord, who is the one who betrays You?" Peter, seeing him, said to Jesus, "But Lord, what about this man?"

Jesus said to him, "If I will that he remain till I come, what is that to you? You follow Me."

Then this saying went out among the brethren that this disciple would not die. Yet Jesus did not say to him that he would not die, but, "If I will that he remain till I come, what is that to you?"

This is the disciple who testifies of these things, and wrote these things; and we know that his testimony is true (John 21:17-24).
This has been interpreted in various ways. According to early Church tradition, Paul was beheaded, which was the mode of execution for a Roman citizen. Peter's mode of execution was to be crucified. Crucifixion was a common form of punishment for slaves and non-Roman citizens, so the crucifixion of Peter is historically likely. The reference that Peter would be crucified in found in Jesus admonition, "you will stretch out your hands, and another will gird you and carry you where you do not wish." The tradition that Peter was crucified upside down because he was too ashamed to have the same manner of death as the Lord is also entirely possible although it could be a later embellishment.
The question, "If I will that he remain till I come, what is that to you?" refers to John. This is confusing as it seems to indicate that John would remain until the Second Coming of the Lord. But this cannot be the case since John indicates that "Jesus did not say to him that he would not die." The preterist view has offered the only solution to this cryptic saying that makes any sense. This is most likely John's reference to the Lord's "coming in judgment on the city of Jerusalem," but not the "Second Coming of Jesus." John may have been the only one of the Twelve Apostles who survived Nero's persecution, the destruction of the Temple in AD 70, and then a second persecution under the Emperor Domitian who was himself assassinated in AD 96.
What happened to end the persecution of the Church?
Although Nero still remained popular among some of the lower classes, he had become a polarizing figure. The aristocrats and the senators began to conspire against him. This only added to Nero's paranoia. In his last years, he began to put to death anyone who aroused his suspicion, including his teacher from childhood, Seneca.
There was no family relationship which Nero did not criminally abuse. When Claudius's daughter Antonia refused to take Poppaea's place, he had her executed on a charge of attempted rebellion; and destroyed every other member of his family, including relatives by marriage, in the same way (Suetonius, Lives of the Twelve Caesars, "Nero" 36,37).
Tacitus and Suetonius record a comet that was observed after the time of the Great Fire. We know from ancient astronomy that comets appeared in AD 64, 65 and 66, the latter being Halley's Comet. Tacitus also states that Nero consulted an astrologer and was advised to kill members of the aristocracy to atone for the comet.
Nero was no less cruel to strangers than to members of his family. A comet, popularly supposed to herald the death of some person of outstanding importance, appeared several nights running and greatly disturbed him. His astrologer Balbillus observed that monarchs usually avoided portents of this kind by executing their most prominent subjects and thus directing the wrath of heaven elsewhere; so Nero resolved on a wholesale massacre of the nobility. What fortified him in this decision, and seemed to justify it, was that he had discovered two plots against his life. The earlier and more important one of the two was Piso's conspiracy in Rome; the other, detected at Beneventum, had been headed by Vinicius. When brought up for trial the conspirators were loaded with three sets of chains. Some, while admitting their guilt, claimed that by destroying a man so thoroughly steeped in evil as Nero, they would have been doing him the greatest possible service. All children of the condemned men were banished from Rome, and then starved to death or poisoned.

After this, nothing could restrain Nero from murdering anyone he pleased, on whatever pretext (Suetonius, Lives of the Twelve Caesars, "Nero" 36,37)
This description indicates that it was likely one of the latter two comets since Suetonius recorded this after the death of Poppaea. At the time of his death, Nero had planned to make over the entire city of Rome renaming it Neropolis.
At last, after nearly fourteen years of Nero's misrule, the earth rid herself of him. The first move was made by the Gauls under Julius Vindex, their pro-Praetor (Seutonius, Lives of the Twelve Caesars, "Nero" 40).
Nero began behaving more and more irrationally and some of the Praetorian Guard decided he had to be assassinated. While fleeing a military coup, Nero committed suicide on June 9 AD 68 by stabbing himself with a sword. Rather than be killed by the coup, he killed himself.
He who kills with the sword must be killed with the sword (Revelation 13:10).
Among his last words were, Qualis artifex pereo. This is translated as, "What an artist perishes!" or "So great an artist – dead!"
Then came a civil war and the next four emperors, all within the space of one year.
7. Galba
8. Otho
9. Vitellius
10. Vespasian
Seven heads. Ten Horns. The Roman world thought the empire was dead with no one in line from the Julio-Claudian line to take sole rulership of Rome. A civil war ensued and the empire was thrown into chaos for a time.
Was Nero really that bad?
In a word, yes. Josephus and Tacitus wrote that the accounts of Nero's depravity by other historians were exaggerated, but they agreed that he was a tyrant. Even the poet Lucanus, who wrote of the peace and prosperity under Nero in contrast to previous war and strife, was later involved in a conspiracy to overthrow Nero and was executed. Seneca, Nero's teacher from the time he was a boy, wrote only positive things about Nero. However, Seneca too was caught up in a plot to assassinate Nero. Although it is questionable whether Seneca was guilty, Nero ordered him to commit suicide – the Roman method of "honor killing."
Despite the murderous reign of Nero, the devotion to the emperor cult remained strong among a minority, especially in the East. Some persisted in the belief that Nero was not dead and at least three imposters claiming to be Nero appeared. Even twenty years later, a Nero imposter in the eastern province of Parthia gained a following and was extradited to Rome to be executed. This gave rise to the "Nero Redivivus" myth among many Christians and Jews – the belief that Nero would rise from the dead with his deadly head wound healed to rule the world once more as the Antichrist.
Nero died at the age of thirty-two, on the anniversary of Octavia's murder. In the widespread general rejoicing, citizens ran through the streets wearing caps of liberty, as though they were freed slaves. But a few faithful friends used to lay spring and summer flowers on his grave for some years, and had statues made of him, wearing his fringed gown, which they put up on the Rostra; they even continued to circulate his edicts, pretending he was still alive and would soon return to confound his enemies. What is more, King Vologaesus of Parthia, on sending ambassadors to ratify his alliance with Rome, particularly requested the Senate to honour Nero's memory. In fact, twenty years later, when I was a young man, a mysterious individual came forward claiming to be Nero; and so magical was the sound of his name in the Parthians' ears that they supported him to the best of their ability, and were most reluctant to concede Roman demands for his extradition (Suetonius, Lives of the Twelve Caesars, "Nero" 57).
The Babylonian Talmud, written in the second century AD, contains an apocryphal story that has Nero coming to Jerusalem after he fled from Rome.
When Nero arrived in Palestine, he shot arrows in the direction of the four principal points of the compass; but all of them flew toward Jerusalem. A boy whom he asked to recite his Biblical lesson (a usual form of oracle) quoted Ezekiel 25:14, "And I shall take my revenge on Edom through My people Israel; and they shall do unto Edom according to My anger and My wrath," on hearing which Nero said: "God wishes to wipe His hands [lay the blame] on me" (i.e., "wishes to make me His tool and then to punish me"). He fled and became a convert to Judaism; and from him Rabbi Meïr was descended. This Talmudical story seems to be an echo of the legend that Nero was still alive and would return to reign. Indeed, some pretenders availed themselves of this legend and claimed to be Nero. Oracles prophesying Nero's return from beyond the Euphrates were current among the Jews; and an apocryphal book of the second century, Ascension of Isaiah, declares that in the last days "Belial shall appear in the form of a man, of the king of unrighteousness, of the matricide." In Christian legends, Nero was personified as Antichrist (Gotthard Deutsch, S. Mannheimer, "Nero," JewishEncyclopedia.com).
Even though the majority of sources paint Nero as an insane despot, still there were those who had a favorable view of him. Dio Chrysostom (c. AD 40–120), the Greek philosopher and historian, wrote that the Roman people longed for Nero once he was gone and embraced imposters whenever they appeared.
Indeed the truth about this has not come out even yet; for so far as the rest of his subjects were concerned, there was nothing to prevent his continuing to be Emperor for all time, seeing that even now everybody wishes he were still alive. And the great majority do believe that he still is, although in a certain sense he has died not once but often along with those who had been firmly convinced that he was still alive (Dio Chrysostom, Discourse XXI, On Beauty).
In the wake of Nero's suicide, it appeared to many that the Roman Empire could not survive after years of misrule and a resulting bitter civil war. Yet in little over a year, the Empire came back with a vengeance under the military strong man, Vespasian. Seemingly, the Great Beast was brought back from the dead.
Nero was the sixth head of the Beast. He was the king referred to as the "little horn" in Daniel 7 and the "sixth" king who "is" at the time John wrote Revelation 13 and 17.
---
The Real Jesus: A Defense of the Historicity and Divinity of Christ (DVD)
Who is the Real Jesus?
Ever since the dawn of modern rationalism, skeptics have sought to use textual criticism, archeology and historical reconstructions to uncover the "historical Jesus" — a wise teacher who said many wonderful things, but fulfilled no prophecies, performed no miracles and certainly did not rise from the dead in triumph over sin.
Over the past 100 years, however, startling discoveries in biblical archeology and scholarship have all but vanquished the faulty assumptions of these doubting modernists. Regrettably, these discoveries have often been ignored by the skeptics as well as by the popular media. As a result, the liberal view still holds sway in universities and impacts the culture and even much of the church.
The Real Jesus explodes the myths of these critics and the movies, books and television programs that have popularized their views. Presented in ten parts — perfect for individual, family and classroom study — viewers will be challenged to go deeper in their knowledge of Christ in order to be able to defend their faith and present the truth to a skeptical modern world – that the Jesus of the Gospels is the Jesus of history — "the same yesterday, today and forever" (Hebrews 13:8). He is the real Jesus.
Speakers include: George Grant, Ted Baehr, Stephen Mansfield, Raymond Ortlund, Phil Kayser, David Lutzweiler, Jay Grimstead, J.P. Holding, and Eric Holmberg.
Ten parts, over two hours of instruction!
Running Time: 130 minutes
$19.95 — ORDER NOW!
(We accept all major credit cards and PayPal.)
Click here for more information
---
The United States of America 2.0: The Great Reset (Book)
High Quality Paperback — 40 pages of dynamite!
Revival, Resistance, Reformation, Revolution
An Introduction to the Doctrines of Interposition and Nullification
In 1776, a short time after the Declaration of Independence was adopted, Thomas Jefferson, John Adams and Benjamin Franklin were assigned to design an official seal for the United States of America. Their proposed motto was Rebellion to Tyrants is Obedience to God. America owes its existence to centuries of Christian political philosophy. Our nation provided a model for liberty copied by nations the world over.
By the 21st century, we need a "Puritan Storm" to sweep away the Hegelian notion that the state is "God walking on earth." We need revival and reformation in full force to vanquish the problems that plague us as a nation — from government controlled healthcare — to abortion on demand — to same sex "marriage." This booklet gives a primer on our founders' Christian idea of government and examines how the doctrine of nullification was woven into the Constitution as a safeguard against federal tyranny. It concludes with the history and theology of civil resistance. A Second American Revolution is coming with the Word of God growing mightily and prevailing! (Acts 19:20).
$7.95 — ORDER NOW!
(We accept all major credit cards and PayPal.)
Click here for more information
---
God's Law and Society (DVD)
Download the Free Study Guide!
God's Law and Society powerfully presents a comprehensive worldview based upon the ethical system found in the Law of God.
Speakers include: R.J. Rushdoony, George Grant, Howard Phillips, R.C. Sproul Jr., Ken Gentry, Gary DeMar, Jay Grimstead, Steven Schlissel, Andrew Sandlin, Eric Holmberg, and more!
Sixteen Christian leaders and scholars answer some of the most common questions and misconceptions related to this volatile issue:
1. Are we under Law or under Grace?
2. Does the Old Testament Law apply today?
3. Can we legislate morality?
4. What are the biblical foundations of government?
5. Was America founded as a Christian nation?
6. What about the separation of Church and State?
7. Is neutrality a myth?
8. What about non-Christians and the Law of God?
9. Would there be "freedom" in a Christian republic?
10. What would a "Christian America" look like?
Perfect for group instruction as well as personal Bible study.
Ten parts, over four hours of instruction!
Running Time: 240 minutes
Watch over 60 on-line video interviews from God's Law and Society.
$19.95 — ORDER NOW!
(We accept all major credit cards and PayPal.)
Click here for more information
---
The Silent Scream (DVD) Eight Languages
"When the lives of the unborn are snuffed out, they often feel pain, pain that is long and agonizing." – President Ronald Reagan to National Religious Broadcasters Convention, January 1981
Ronald Reagan became convinced of this as a result of watching The Silent Scream – a movie he considered so powerful and convicting that he screened it at the White House.
The modern technology of real-time ultrasound now reveals the actual responses of a 12-week old fetus to being aborted. As the unborn child attempts to escape the abortionist's suction curette, her motions can be seen to become desperately agitated and her heart rate doubles. Her mouth opens – as if to scream – but no sound can come out. Her scream doesn't have to remain silent, however … not if you will become her voice. This newly re-mastered version features eight language tracks and two bonus videos.
"… a high technology "Uncle Tom's Cabin" arousing public opinion just as Harriet Beecher Stowe's 1852 antislavery novel ignited the abolitionist movement." – Sen. Gordon Humphrey, Time Magazine
Languages: English, Spanish, French, South Korean, Chinese, Russian, Portuguese, Japanese
Running Time: 28 minutes
$17.95 — ORDER NOW!
(We accept all major credit cards and PayPal.)
Click here for more information
---
The Abortion Matrix: Defeating Child Sacrifice and the Culture of Death (DVD)
Download the free Study Guide!
Is there a connection between pagan religion and the abortion industry?
This powerful presentation traces the biblical roots of child sacrifice and then delves into the social, political and cultural fall-out that this sin against God and crime against humanity has produced in our beleaguered society.
Conceived as a sequel and update to the 1988 classic, The Massacre of Innocence, the new title, The Abortion Matrix, is entirely fitting. It not only references abortion's specific target – the sacred matrix where human beings are formed in the womb in the very image of God, but it also implies the existence of a conspiracy, a matrix of seemingly disparate forces that are driving this holocaust.
The occult activity surrounding the abortion industry is exposed with numerous examples. But are these just aberrations, bizarre yet anomalous examples of abortionists who just happen to have ties to modern day witchcraft? Or is this representative of something deeper, more sinister and even endemic to the entire abortion movement?
As the allusion to the film of over a decade ago suggests, the viewer may learn that things are not always as they appear to be. The Abortion Matrix reveals the reality of child-killing and strikes the proper moral chord to move hearts to fulfill the biblical responsibility to rescue those unjustly sentenced to death and to speak for those who cannot speak for themselves (Proverbs 24:11,12; 31:8,9).
Speakers include: George Grant, Peter Hammond, RC Sproul Jr., Paul Jehle, Lou Engle, Rusty Thomas, Flip Benham, Janet Porter and many more.
Ten parts, over three hours of instruction!
Running Time: 195 minutes
$19.95 — ORDER NOW!
(We accept all major credit cards and PayPal.)