---
I had such a beautiful day. Many times when I was younger, I went to the beach by myself. I loved to go out beyond the wave line where it was just over my head and float for a long time in the salt water far away from any human being. One time, I was stung by jellyfish doing that. Another time, devil rays swarmed around me during their mating season. Another time, a sea turtle popped his head up next to me startling me. Another time, I tripped over a young manatee that was swimming by.
There is always a mystery and danger in the ocean. Most times, I would just be floating in the ocean lost with my thoughts, plans and regrets and I would work things out with God. Today, I just spoke with God and told Him my life story, even though He already knows my story and knows me better than I know myself.
I haven't done that in a long time. Just be in the ocean with God. The sea is so big and so powerful. When I am floating in the waves, I feel like God holds me in His hand and we can have communion together.
---
I was blessed to see Christians in Kentucky earlier today taking their words and backing them up with deeds. Some of my good friends, including Rusty Thomas and Cal Zastrow's family, were among the rescuers.
Some background here is that I lived in a house across the street from an abortion mill for seven years in Melbourne, Florida. The house was originally bought by Operation Rescue National director Keith Tucci. I bought it from Keith when he was planning to move out of Melbourne. The original reason for the purchase was a court ordered "buffer zone" injunction that said Christians couldn't preach, pray or protest on the sidewalk or even 100 feet away. The house provided some legal proximity. Hundreds of us challenged the injunction by risking arrest. One case challenging the injunction went all the way to the Supreme Court where we lost.
Yet we inexplicably won!
How was that possible? The injunction still stood and the Supreme Court had ruled against us. But there is a Supreme Being who alone is sovereign. We kept challenging the unconstitutional and ungodly injunction. Finally, the state prosecutors stopped bringing evidence against us after my roommate cleverly won a case by defending himself in court. The city council decided there was no use in arresting people who weren't being prosecuted and we got the sidewalk back. We elected three city councilmen in Melbourne (all people who had been arrested in front of the abortion mill or had risked arrest). They got to share their testimonies with the other council members.
Eventually, the mill was forced to close. Another one opened, but it was forced to move twice and finally it closed for good in 2005. We didn't end abortion in America, but we ended it in our county. Or rather, God used us to end abortion. For over ten years, no abortion mill has reopened in Brevard County.
This is an example of interposition and nullification on the local level.
When OSA director Rusty Thomas called me to ask what I thought of doing a rescue in Louisville, I explained that the Holy Spirit had brought this memory to my mind just before he had called me. What was accomplished on the local level in Melbourne, Florida can be accomplished state-wide, even nation-wide.
I was arrested three times in Melbourne and prior to that I was arrested in Boston twice in two rescues. Four years ago, I was arrested while video taping a challenge to a similar ordinance in front of a Planned Parenthood CEOs home.
Lots of Christians naysayed what I did — including some good friends. It never bothered me a lot because I knew I was doing the will of God. However, I was certainly disappointed in them for their betrayal and I prayed for them. There is a price to pray when you actually back up your words with acts. It was not like being martyred like the Apostle Paul who was first imprisoned by Nero and then had his best friends desert him.
However, there has been a cost in my professional life. I always have to disclose my arrest record because I am a teacher. But it's ironic that part of our English curriculum is Martin Luther King's Letter From Birmingham Jail! I have taught that almost every year. I know that someday school children will be required to read Rusty Thomas' writings or someone like him.
Over the course of seven years, being at the mill almost every day, I saw lots of Christians do things I disagreed with. I still see that. But one thing I have learned is that you never know how God is going to use someone. God uses crooked sticks to draw straight lines. I am a crooked stick and so are you. And I've known some really crooked sticks that God used to end abortion in their region.
Likewise, I was disappointed, but not surprised by some Christians who chose to immediately opine and even spread false information about what actually happened at the Operation Rescue/OSA event earlier today. The criticism is all about what men should have done or should not have done. But I'd like to encourage you reading this to have an attitude that sees God to be sovereign. We don't know how God will ultimately use this Kentucky rescue. We heard that one baby was saved as a result. It may be nothing more than that. Yet even that is amazing! I know too much of God's faithfulness to doubt. I know a lot of fervent prayer, fasting and seeking of God's will went into this rescue.
See also Rusty's video explaining the purpose of this rescue. We are not looking to return to the paradigm of rescue of 25 to 30 years ago. The emphasis is to awaken the Church and our pro-life lawmakers that we can end abortion without overturning Roe. We can do it through interposition and nullification. I've written a short series of articles here explaining this more fully.
I gave an example of how this worked in Melbourne, Florida. It can work every place in America, if Christians will stand in the gap. The United States Constitution allows for this and more importantly our Lord mandates it.
---
Abortionist James Pendergraft arrives at Orlando Women's Center in the summer of 2011. Pendergraft owns a chain of five abortion centers in Florida that specialize in late-term abortions. (Click to enlarge.)
The legal history of James Pendergraft is complicated enough to make anyone's head spin. Due to the confusing aspect of this tangled web of iniquity, I've compiled a brief biographical sketch and a time-line of the highlights to make sense of it all. After the time-line is a list of over 100 articles detailing James Pendergraft's legal troubles in chronological order.
In future articles, I will summarize the circumstances of Pendergraft's medical license suspensions from more than 1000 pages of legal documents. I'll follow that with another article giving a brief legal history of several other convicted felons who have worked as abortionists in the state of Florida. Finally, I will show evidence that demonstrates that not only have illegal third-trimester abortions taken place routinely at Pendergraft's five abortion mills, but that many of these children were born alive and left to die in violation of the federal Born Alive Infant Protection Act.
A Brief Biography of James Pendergraft
From "About Extortion or Abortion?" Business Week, 10/9/2000
Born – July 4, 1957, in Chapel Hill, North Carolina.
Early years – Grew up in Chapel Hill. Eldest son of a mortician and a nurse.
Education – BA, University of North Carolina, 1978; MD, Meharry Medical College, 1982.
Medical training – U.S. Army, residency at a hospital affiliated with University of Maryland; fellowship in high-risk obstetrics, University of South Florida, an elite credential.
On abortion as a career – "A lot of doctors with my training diagnose fetal abnormalities, but won't perform abortions. I felt it was much more satisfying to work with women through termination."
On money as a motive – Pendergraft likes to boast that he is "a $2000-an-hour man."
Administrative philosophy – "It's easy to keep the doctors who work in my clinics in line because they know I can come in and do the procedures myself."
Known to friends as – "Scott."
Family – Father of four children. Denise Williams is the mother of his two middle children. She holds approximately two-thirds of Pendergraft's assets through Wilson Medical Management, LLC according to 2011 court records.
The Tangled Legal History of Abortionist James Scott Pendergraft IV
James Pendergraft worked at Aware Woman abortion clinic in the early 1990s when he lived in the Tampa area. In 1995, residents of Orlando awoke to the news that a new "doctor" was coming to town. This abortionist proudly proclaimed that he was going to fill a niche left open by other facilities in the area. His specialty would be late-term abortions.
Abortionist James Scott Pendergraft IV on a local news broadcast in Orlando in the 1990s. (Screen capture)
Pendergraft advertises that he performs second and third trimester abortions in five abortion clinics in Florida. In a television interview, Pendergraft openly admitted performing late-term abortions on babies as old as 24 weeks or older if he deems it "necessary." And the late-term abortion business is lucrative. Pendergraft makes no qualms about bragging that he makes "$2000 an hour."
His plan is simple. Set up late-term abortion clinics in areas of the state that are easily accessible to women in Georgia and Alabama where late-term abortion is practically illegal.
1995 – Pendergraft files a lawsuit against the city of Orlando after it blocks the opening of his Orlando Women's Center abortion clinic on Lucerne Terrace on zoning grounds.
1996 – An Orlando hearing officer recommends that Pendergraft ought to be allowed to open his clinic. Then a district judge rules that Pendergraft can perform both first and second trimester abortions.
As Pendergraft seeks a settlement, he predicts the city might lose millions in a legal fight. Pendergraft asks the city for lost wages, plus attorney's fees amounting to almost $1 million. Pendergraft says:
"I'm not going any lower than that offer because I deserve more."
The city of Orlando eventually settles for $325,000.
Abortionists Joe Sanchez, Jr., Paul Shipley and Randall Whitney work with Pendergraft in Orlando.
1998 – Pendergraft opens an abortion clinic in Ocala and accuses city officials of discriminating against him by prohibiting police officers from moonlighting as security guards at his clinic. He recruits Roy Lucas, the legal mind who devised the argument that won Roe v. Wade, to write a lawsuit against the city of Ocala. The lawsuit reads in places like a silly, paranoid, hysterical screed.
Roy Lucas says that providing police protection for abortion clinics in Florida has been more difficult than in other locations.
"There's a Bible Belt problem here. You've got state judges overruling protective injunctions upheld by the Supreme Court."
In March 1998, Pendergraft tells Marion County officials he will "stay away three years for $500,000, five years for $750,000, and forever for $1,000,000."
1999 – As the case proceeds, the FBI begins an investigation of Pendergraft. Wiretaps find that Lucas and Pendergraft falsified information in affadavits in a conspiracy to bankrupt the city of Ocala. In late 1999, Roy Lucas lets all three lawsuits drop and promptly disappears. Pendergraft vows to fight on.
During this time, Pendergraft continues to do illegal third trimester abortions. In the procedure, the patient is injected with a long spinal needle through the abdominal wall with digoxin, a medication that is supposed to stop the baby's heart. The mother has her cervix dilated with laminaria or Cytotec and returns to the clinic the next day for a forced birth while sitting on a toilet. The toilet is not used to dispose of the fetal remains, but to collect them in one place. The water would obviously serve to drown a baby born alive.
Orlando Women's Center advertises "Second and third trimester abortions by induction method." James Pendergraft's website also offers handprints and footprints of aborted babies. Note that this abortionist does not attempt to depersonalize the unborn by calling them "fetal tissue" or "product of conception," but instead terms them, "the baby" and "their child."
At the Women's Centers we are prepared to aid patients and their families in getting through the entire process with our compassionate and caring staff, supporting them from the beginning to the end of the termination procedure. Each patient goes through the procedure process differently. We encourage all patients to at least see the baby minimally as we believe that this is the best way to bring closure for families. We are also prepared to help families have a memory of their child such as having a handprint or a footprint. Some patients want the baby to be cremated and others want a burial to take place.
On November 6th, at 21 weeks of pregnancy, a mother chooses to have her child aborted by Pendergraft. The reason given for the abortion is that the mother is 13-years-old. Sidewalk evangelist Patte Smith describes the scene.
The father didn't want the abortion. He named her Little Mary and talked the clinic staff into letting him take the attached photograph of her inside the clinic. He asked that I use it to honor his daughter's short life by telling her story.
Around this time, a Florida Agency for Health Care Administration report notes the following incident:
Interview with the physician revealed there was an incident … where a patient allegedly went out to get some lunch after starting the procedure, got lost, delivered a viable fetus in the car, and patient and fetus were sent immediately to the hospital. Baby lived 2 days. Policy changed, patients no longer leave after getting medication…. Physician also stated that sometimes an 18 week old fetus may twitter but this is not considered "viable."
Later testimony from Randall Whitney suggests that he is the "physician" interviewed here.
2000 – Former Mickey Mouse Club extra and Britney Spears back-up singer Kelly Clinger has two abortions in November 1999 and February 2000. On duty are James Pendergraft and William Phillip Egherman, a Cincinnati abortionist who has been the subject of a string of complaints and lawsuits due to abortion related injuries. Kelly is injured during the second abortion and experiences cramps and bleeding. After tests in her doctor's office, it is discovered that she has had a incomplete abortion and a perforated uterus. After professing Christian conversion a few years later, she writes about her experience in several blog entries beginning in 2011 and becomes a spokesperson for Silent No More Awareness.
Pendergraft is indicted for extortion. In June, James Pendergraft and his real estate investment associate, Michael Spielvogel, are indicted in federal court. The five-count indictment alleges that the two men conspired to extort millions of dollars from the Marion County government by making false and fraudulent statements. The extortion charges stem from evidence gathered by the FBI that they offered false testimony in the 1998 lawsuit case in a failed attempt to win a big judgment.
In October, a
forensic psychologist
characterizes Spielvogel as "self-aggrandizing," "manipulative," "obnoxious," "ingratiating," "narcissistic," "paranoid" and "almost like the permanent puppy, seeking to get approval." The psychiatric testimony is ruled as irrelevant to the trial by a federal judge.
2001 – In January, a grand jury watches secretly recorded video by the FBI showing Pendergraft and his attorney, Roy Lucas, talk about wrecking the finances of the Marion County government with a lawsuit.
"We're going to go for a verdict of over $100 million, and they better come up with some money or they're gonna get burned," declared Lucas, according to the transcript. "We'll try to bankrupt the county."
Added Pendergraft: "Not try. We will bankrupt the county. And I promise you I'll put a statue of myself in the town square that states that Dr. Pendergraft brought freedom to Ocala" (Businessweek).
James Pendergraft (center), his bodyguard and attorney enter the Golden-Collum Memorial Federal Building and U.S. Courthouse in 2001, in Ocala, Florida. (AP Images/ Ocala Star-Banner, Bruce Ackerman)
Odd events occur during the trial. First the trial is postponed by the death of Pendergraft's grandmother. A juror falls outside the courthouse and is hospitalized with head injuries. Two electrical blackouts occur during playback of the surveillance video and two more occur the next day. One attorney on Pendergraft's defense team, Jacob Rose, falls in the dark during one of the blackouts and reinjures a knee. He reappears the next week walking on crutches.
Pendergraft is convicted of extortion. Both Pendergraft and Spielvogel are found guilty and sentenced to 46 and 41 months respectively. Pendergraft begins serving his sentence in July at a federal prison camp in Atlanta, but vows that all five of his abortion clinics will remain open while he is in prison.
Pendergraft and his attorneys allege racism motivated the trial. Dr. Sangeeta Pati, Pendergraft's long-time girlfriend and spokeswoman for an abortion rights group, comments to the Orlando Sentinel:
"We can see how an innocent person can be convicted in a United States court room. Abortion was an issue. Race was an issue."
In August, pro-life sidewalk evangelist Patte Smith receives a letter from the imprisoned abortionist, who states:
"God says to love thy neighbors as thyself and to love all people including your enemies. That in order to love people you must not have hatred. I go to sleep every night with love and peace in my heart. I hate no one."
On November 11th, Carol Howard goes to Orlando Women's Center, to abort her 22 week old baby girl. The abortionist on duty is Randall Whitney. As a result of mistreatment and gross malpractice, the abortion is botched and a baby girl is born alive in a local hospital. The child survives with massive birth defects.
2002 – In February, Pendergraft is released from federal prison after serving seven months of his 46 month sentence. In July, all but one of Pendergraft's extortion charges are overturned by an appeals court. The charges against Michael Spielvogel, Pendergraft's real estate business associate are also dismissed.
On August 5th, the federal Born Alive Infants Protection Act is enacted. It extends legal protection to an infant born alive after a failed attempt at an induced abortion.
2003 – A complaint investigation at Orlando Women's Center is conducted by the Florida Agency for Health Care Administration. In the case of 11 patients, AHCA notes that
… the facility failed to have two physicians certify in writing to the fact that, to a reasonable degree of medical probability, the termination of pregnancy in third trimester was necessary to save the life or preserve the health of the pregnant woman as required by Florida Statute …
Common reasons cited by Pendergraft for these late term abortions include "depression," "suicidal ideation," mental instability," "alcohol abuse in first trimester," "depressed mental state," "increased risk to the mother due to a young age," "alleged rape," and "fetal anomalies."
The complaint summary alleges that the facility is performing third trimester abortions. A medication called Cytotec is continually given to women until the baby is aborted. Cytotec's only FDA-approved use is treating ulcers. The process takes 6 to 36 hours. The complaint witness also states that in speaking with a nurse who once practiced at this facility that babies are at times born alive and no actions are taken by staff. Many times the physician is not in the building and the abortion is completed by a certified medical assistant.
On November 3rd, Roy Lucas, Pendergraft's lawsuit attorney and infamous Roe v. Wade lawyer, dies at age 61 of a heart attack while vacationing in Europe.
2004 – On May 25th, Carol Howard files a civil lawsuit against Randall Whitney, Pendergraft, and the Orlando Women's Center.
On June 10th, Pendergraft pleads guilty to a final count of accessory in an agreement that allows him not to serve any more time in prison.
According to an AHCA report, Pendergraft determines a pregnant woman to be at 22 weeks' gestation. She is given medication to take at home to initiate uterine contractions and begin the abortion process. But the woman progresses more quickly than expected and aborts the fetus at home before she can return to the clinic. A hospital later evaluates the fetus and estimates its gestational age to be 25 to 27 weeks – putting it in the third trimester.
2005 – On April 2nd, 911 Emergency receives a frantic call from a woman claiming her friend has given birth to a live baby at Pendergraft's EPOC clinic in Orlando. Harry Perper is the abortionist on duty. When the mother alerts medical staff that her baby was born alive, the staff tells her to leave the baby in the toilet. The young mother holds the child and the amniotic sac in her hands as she calls a friend at a nearby hotel who had traveled with her to Orlando from out of state. An ambulance is dispatched, but arrives too late to save the baby. An autopsy report and photos show a perfectly formed baby boy who died from premature birth confirming part of the mother's story. Liberty Counsel begins a lawsuit case on behalf of the mother and Baby Rowan, but later abandons the effort. Meanwhile, the story receives wide coverage by pro-life media.
In July, a third trimester abortion is performed at Orlando Women's Center on a woman who is 28 weeks pregnant according to an AHCA report.
2006 – In April, the state board of medicine drops its disciplinary case considering the revocation of Pendergraft's medical license and affirms a decision by a judge that the extortion case should be dropped.
On July 24, 2006, Carol Howard's motion for summary judgment is granted. The case will eventually be decided for the plaintiff with a judgment of 36.7 million in July 2011.
On July 26, 2006, James Pendergraft changes most of his Florida corporations associated with his five abortion clinics to limited liability companies (LLC) and then converts each of the LLCs to the state of Nevada on the same day.
Pendergraft receives his first suspension. In August, James Pendergraft's license is suspended for the first time on evidence that he did illegal third trimester procedures in 2004 and 2005.
The suspension order temporarily closes all five of Pendergraft's abortion clinics. The clinics in Tampa, Ocala and Fort Lauderdale are allowed to open in late August. The two Orlando clinics are reopened later in the year.
2007 – In February, Orlando sidewalk counselor and evangelist Patte Smith is interviewed for a series of videos about Baby Rowan, which include the taped 911 calls that were placed to the Orlando fire department and emergency.
Pendergraft receives his second suspension. In December, Pendergraft's suspension is extended another year. He is also fined $10,000 and ordered to pay more than $80,000 to cover the state's legal fees. Pro-life evangelist Mary Jo Gardner states:
"He's been killing children through nine months of pregnancy here for a number of years. I have personally met women who have been as far along as eight months and I think he should be thrown in jail."
Medical malpractice attorney Mark Morsch agrees:
"What would be right is for Dr. Pendergraft to never have a medical license in the state of Florida."
2008 – A film on Baby Rowan called 22 Weeks is released in the fall.
2009 – This 30-minute dramatization is shown in churches including a showing in Orlando in early 2009. Filmmaker Ángel Soto, lawyer John Stemberger (Florida Family Policy Council) and sidewalk counselor Patte Smith (Sanctuary Ministries) form a panel to take questions from the audience after the showing.
Pendergraft receives his third suspension. In July, Pendergraft loses his license suspension appeal. Although he argues that he cannot be suspended for violating state statutes regarding late-term abortion since he has never been criminally prosecuted, the state notes that:
Criminal sanctions are available for violation of this subsection as any person who violates this provision is guilty of a second degree misdemeanor…. A violation of [other] sections is punishable as a third degree felony… Although the statutes Dr. Pendergraft is charged with violating may provide penal sanctions, there is no explicit statutory requirement that a licensee be adjudicated guilty of the acts specified in the penal statutes before disciplinary action may be instituted.
On December 19th, abortionist Paul Leslie Sibley dies of complications of a stroke at age 53.
2010 – On March 27th, abortionist Randall Whitney is arrested at Orlando Women's Center for aggravated battery after slapping a patient while she was on the operating table.
On April 3rd, abortionist William Phillip Egherman dies at age 56. The cause of death was not published in his obituary. Egherman is known for leaving a string of botched abortions while he worked as a "circuit rider" abortionist throughout Florida.
Pendergraft receives his fourth suspension. In August, Pendergraft, already serving his third suspension, is suspended again. The state finds evidence that Pendergraft
Allowed a woman employee to administer narcotics to patients although she had no license to do so;
Knew she abused drugs but gave her "free reign" to order drugs under his name;
Prescribed steroids for the woman without medical justification.
On September 22 at 9:20 pm, abortionist Randall Whitney is taken out of the Orlando Women's Center abortion clinic in handcuffs by the police. This time it is on a warrant issued because he did not show up for a court hearing. The police are tipped off by two sidewalk counselors who knew about the warrant and noted that Whitney had been sleeping in his car in the OWC parking lot. This is the second time in six months that Whitney has been arrested while on duty at the abortion clinic.
2011 – Filling in the gaps early in the year at Orlando Women's Center in the absence of James Pendergraft is Walker Whaley who spent time in prison and had his medical license suspended for manufacturing synthetic cocaine in his home.
In January and February, abortionist Vera Stefanac's neighborhood and office is the setting for several pro-life awareness campaigns. A few weeks later, Stefanac officially retires from doing abortions, according to an abortion clinic worker.
In March, Zvi Harry Perper, the abortionist on duty at EPOC when Baby Rowan was born alive and left to die, is charged with multiple counts of racketeering, drug trafficking and conspiracy. The charges carry a possible penalty of 490 years in prison.
Abortionist Zvi Harry Perper is arrested at a Florida "pill mill." He worked here as a dealer of pain pills for a controversial clinic in Miami that was founded by a convicted drug smuggler.
Beginning in March, abortionist Scott Spagnolo-Hye's neighborhood is the setting for several pro-life awareness campaigns.
Other awareness campaigns are held in the neighborhoods of Randall Whitney and Sangeeta Pati, James Pendergraft's long-time girlfriend and abortion rights promoter. Pendergraft sometimes stays at Pati's residence and drives a vehicle registered in her name.
On July 22nd, a Florida jury awards $36,766,000 in damages to Carol Howard, to provide funding for lifetime care of "JH," who was severely harmed as a result of being born alive after a botched abortion that occurred at Orlando Women's Center in 2001.
During the trial, Pendergraft testifies to instances of infants born alive in abortuaries.
"… you can allow a patient to just deliver vaginally by just using Cytotec alone… Anyone over 23 weeks we use digoxin….
Either the medical assistant does it or a physician does it. In a lot of situations, the patient delivers into the toilet by herself. So even though a physician or medical assistant may be present, it actually delivers into the toilet without any help….
Well, usually you don't have to worry about fetal demise, because, again, when you're dealing with a zero possibility of viability [between 17 and 21 weeks], then you don't have to worry about that. But, again even at 22 weeks now, there are – a certain amount of those fetuses may live…. But between 17 and 21 weeks there's not even an issue."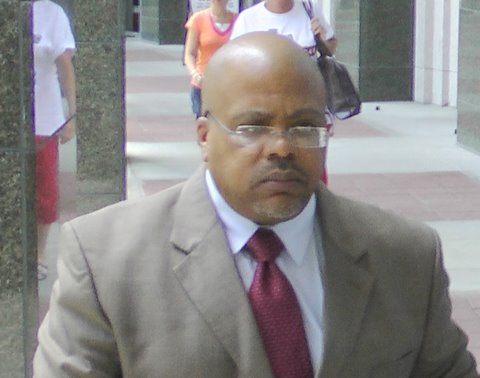 James Scott Pendergraft appears at the Orange County, Florida courthouse in July 2011 awaiting the jury verdict that awarded a plaintiff $36.7 million. The lawsuit stemmed from a 2001 botched abortion in which a baby girl was born alive and has suffered lifelong handicaps. (Photo credit: Ken Scott)
Perhaps the most interesting part of the trial testimony is when Randall Whitney, the abortionist on duty at the time, speaks cavalierly and without being prodded about babies being born alive into the toilet.
Question: Has there ever been a circumstance where you have been contacted by the medical staff that there has been a delivery of a live fetus?

Randall Whitney: They would not have contacted me because of that.

Question: What was the procedure to be followed in that circumstance?

Randall Whitney: Well, usually the fetus was into the toilet. I mean, nearly always they made it to the toilet. It was precipitated into the toilet so …

Question: Okay. Explain to me what you mean by that, I'm kind of confused. Is that how it was disposed of?

Randall Whitney: No…. No. That's how it happened, though, at the time of the expulsion. It was just more convenient to be in the toilet, okay? So I assume that at times there might be some movement, which would suggest life…. But there was no attempt at resuscitation.

Question: Were there any protocols or procedures in place that there should be resuscitation attempts where there was fetal movement?

Randall Whitney: I don't know of any.

Question: And I take from your response when you say "usually it was in the toilet," that had occurred before that you were aware of? The woman has delivered a fetus, there had been movement, and the movement ceased thereafter?

Randall Whitney: Where? In the toilet?

Question: Yeah.

Randall Whitney: I think so.

Question: Was that at the Orlando Women's Center?

Randall Whitney: Yes.

Question: So just that I'm clear, the instances where there may have been signs of a live birth; i.e., movement by the fetus, were instances where the woman was experiencing symptoms within the restroom and delivered the fetus into the toilet – that is what you're saying?

Randall Whitney: Yes.
One of the jurors in Pendergraft's lawsuit trial revealed that Pendergraft's baby momma, Denise Williams, is hiding 64 percent of the assets generated by his late term abortion empire. The anonymous juror wrote:
Pendergraft in fact has upwards of 8 LLC's he funnels money thru. The umbrella company for his 5 clinics, Wilson Management, he put 64% controlling interest in his girlfriend's name and the other 36% is in his. He & his girlfriend refused to divulge the umbrella company's finances as authorized by discovery rules, chosing to instead be charged with contempt. All of the jurors' greatest hope is the plaintiff can recover the money awarded. Unfortunately, we all realize it most likely will be a long hard road fraught with appeals. But that is out of our hands. My disgust with the whole scheme got to me emotionally and I was pushing for $50m, $100m whatever I thought could crush him (in my outrage obviously I wanted this guy bankrupt & his clinics closed).
On September 8th, Denise Williams, the mother of the middle two of Pendergraft's four children, files corporation papers for Latetermabortion.net LLC. Williams is also an officer in two of Pendergraft's corporations and holds about two-thirds of his assets. A website www.latetermabortion.net is launched, which describes Pendergraft's plan to do late term abortions in the Washington, D.C. area.
The procedure is to do an intra-cardiac injection with digoxin, a medication that stops the baby's heart. The mother has her cervix dilated with laminaria or Cytotec in order to force a premature birth. The injection takes place in a doctor's office, but there is no medical clinic involved in the abortion by forced delivery. When the mother begins to deliver her baby, she is instructed to call 911 or go to an emergency room. Several pro-life media groups cover this new twist on late term abortion services in the form of an exposé, but describe what Pendergraft explicitly states on his website.
On September 28th, abortionist Joe Sanchez, Jr. dies of a stroke at age 77.
2012 – On February 17th, Bayview Loan Servicing, Inc. files a commercial foreclosure lawsuit against Pendergraft's EPOC clinic at 609 Virginia Drive, Orlando, Florida. The suit is settled and dismissed later in the year.
Pendergraft's license comes up for review. On April 24th, Pendergraft, who has had his medical license suspended four times, is a respondent in a complaint filed by the Florida Department of Health. The complaint states that Pendergraft still owes a fine of $121,303.21 stemming from the previous suspension of his license in 2010. The complaint concludes:
WHEREFORE, the Petitioner respectfully requests that the Board of Medicine enter an order imposing one or more of the following penalties: permanent revocation or suspension of Respondent's license, restriction of practice, imposition of an administrative fine, issuance of a reprimand, placement of the Respondent on probation, corrective action, refund of fees billed or collected, remedial education and/or any other relief that the Board deems appropriate.
James Pendergraft's medical license status is changed from "suspended" to "probation." Probation is defined by the Florida board of medicine:
The licensing board or department has disciplined the licensed practitioner and placed his/her license in a probationary status. The licensed practitioner may practice his/her profession in the state of Florida under terms specified by Final Order. Practitioner is obligated to update his/her profile data.
In late May, abortionist Scott Spagnolo-Hye announces on video that he is quitting abortions and going into family practice. Pro-life evangelist John Barros writes on his Facebook page:
"I have been speaking to Scott Hye for about two years. I have prayed with him shared God's Word with him. I have even stood in front of his house. I have continued to pray and talk to him. He has said he hated doing abortions, but after so long I wondered. Then today he promised that he is going to quit and said he would meet with me to discuss where he stands with God and repentance. Won't you pray with me?"
On May 31st, abortionist Walker Whaley dies of a heart attack at age 64.
In August, abortionist Harold O. Alexander, one of Pendergraft's on duty abortionists with Latetermabortion.net, is suspended by the Maryland Board of Physicians. The final suspension order includes several legal and ethics violations by Alexander, which include:
sexual boundary violations;
botched abortions;
shoddy or non-existent record keeping;
illegal prescriptions of large amounts of Viagra and other drugs to himself and non-patients.
In late August, the Republican National Committee Platform is ratified. Among other pro-life measures it urges Congress to strengthen the Born Alive Infant Protection Act of 2002 by adding civil and criminal penalties for doctors who don't adequately care for newborn babies.
April 2013 — Pendergraft's license suspended for fifth time
Owes state of Florida more than $120,000 in unpaid fines
June 2013 — Police raid Orlando abortionist James Pendergraft's clinic
An Interview with Sidewalk Evangelist John Barros
"What is nicer than seeing police knock down doors and haul out evidence at Orlando Women's Center abortion mill?" ~ John Barros
August 2013 — Orlando abortionist slaps woman, gets slap on the wrist
Florida Board imposes discipline on notorious abortionist Randall Whitney but does not suspend license
January 2015 — Pendergraft's former associate, abortionist Zvi Harry Perper, receives emergency suspension of medical license
Notorious Orlando and Miami-Fort Lauderdale child killer now serving a one-year sentence for drug trafficking
October 2015 — Pendergraft is arrested in Spartanburg County, SC and charged with operating an illegal "rolling abortion scheme."
May 2016 — Pendergraft is indicted on drug charges and illegal abortion procedures.
October 2016 — First trial date. Postponed due to defendant's health issues and required recuperation period.
January 2017 — Second trial date. Again postponed – no reason given for this further trial delay.
March 27, 2017 — Third trial date. Again postponed, this time the reason given was "because Pendergraft's defense lawyer does not have time for the trial and asked for another postponement.. His defense lawyer, reported to have offices in Columbia, SC, contacted Spartanburg County, SC court officials to say that "his trial docket is filled until sometime in June 2017."
Mid-June 2017 — Fourth trial time frame. No definite June date has been set.
Related Articles
---

Author's note: I am writing this as the director of The Forerunner and president of Personhood Florida Education. This is not an "official" statement from any Personhood group. I do not speak for the national groups, Personhood USA or Personhood Alliance. That being said, I have spent countless hours speaking to the founders of both of these organizations. I believe I am representing their views accurately, although I need to emphasize that I cannot technically speak for them.

Please also see the links for The United States of America 2.0: The Great Reset. This is short primer on doctrine of nullification, which has been one of the foundational tenets of Personhood movement since its beginning. You may either order copies or I have posted all the articles that make up the booklet online for free.

---

The United States of America 2.0: The Great Reset (Book)

High Quality Paperback — 40 pages of dynamite!

Revival, Resistance, Reformation, Revolution
An Introduction to the Doctrines of Interposition and Nullification

In 1776, a short time after the Declaration of Independence was adopted, Thomas Jefferson, John Adams and Benjamin Franklin were assigned to design an official seal for the United States of America. Their proposed motto was Rebellion to Tyrants is Obedience to God. America owes its existence to centuries of Christian political philosophy. Our nation provided a model for liberty copied by nations the world over.

By the 21st century, we need a "Puritan Storm" to sweep away the Hegelian notion that the state is "God walking on earth." We need revival and reformation in full force to vanquish the problems that plague us as a nation — from government controlled healthcare — to abortion on demand — to same sex "marriage." This booklet gives a primer on our founders' Christian idea of government and examines how the doctrine of nullification was woven into the Constitution as a safeguard against federal tyranny. It concludes with the history and theology of civil resistance. A Second American Revolution is coming with the Word of God growing mightily and prevailing! (Acts 19:20).

$7.95 — ORDER NOW!

(We accept all major credit cards and PayPal.)

Click here for more information

What is Personhood?

Personhood stands for the total abolition of abortion with no exceptions.

In fact, we should state at the outset that you cannot stand for Personhood without standing for the complete and immediate abolition of abortion. One naturally flows from the other.

Not only does Personhood embrace the idea of the immediate abolition of abortion, it goes far beyond that to include many other sanctity and dignity of life issues. Personhood advocates ought to endorse any and all bills and amendments to state constitutions that are in line with the goal of recognizing and protecting the God-given right to life of all human beings.

Two Major Objections to Personhood: Timing and Language

In the beginning of the founding of Personhood Florida, we were told by Personhood USA co-founder, Cal Zastrow, that we would hear two common arguments against Personhood coming from other pro-life groups.

1. "We don't think the timing is right for this."
2. "We don't like your initiative language."

In other words, all national, state and local pro-life organizations will say they want to end all abortion. But their strategy to end all abortion is different from ours. The first objection can be handled by asking when would be a good time to end all child murder. If the organization is not currently working a plan to end all abortion, then it begs the question as to why they are not doing so. Many believe that their goal ought to be to overturn Roe v. Wade first and only then work state-by-state toward a Human Life Amendment. I'll show below why that is not Personhood's strategy, although we would agree with seeing Roe overturned.

The second objection can be handled by asking what language have they proposed that would end all abortion with no exceptions or compromise. If they have such a plan, then we will support it. We support all such no compromise initiatives. We will not oppose any bill, citizen's initiative or legal strategy that would end all abortion. But in nearly all cases, they have no such proposed legislation.

Foundational Principles of Personhood

The following propositions represent some foundational principles taught to us by Cal Zastrow, co-founder of Personhood USA; Daniel Backer, founder of Personhood Alliance; as well as other state Personhood affiliate leaders. The founding board members of Personhood Florida have held to these principles for many years, even prior to the Personhood movement gaining team in 2008.

1. Personhood seeks to ignore Roe v. Wade — not reverse it

Some believe that the Personhood strategy was formulated as a result of the terms "person" and "personhood" being used by Justice Harry Andrew Blackmun in section 9 of his opinion in Roe v. Wade. This is incorrect. Although we would welcome the overturning of Roe, this is not a foundational principle of our strategy to legally end abortion.

In the words of Cal Zastrow, one of the founders of the Personhood movement, the goal has always been to encourage the states to "ignore Roe." Here I quote Cal Zastrow in a recent on-line conversation on the topic. I have edited his response for length and clarity.

Judie Brown [American Life League] was involved in the first Personhood efforts since the 1970s. The first ballot-access petition drive for a Personhood Amendment was in Michigan in 2005. We went to pro-life groups, churches, political groups, and politicians with these three questions:

1. Do you have a plan to stop all baby-murdering without exceptions or delays?

2. What is your plan?

3. How can we assist you with that plan?

Nobody had a plan, so we started with: "The term 'person' in Article 2, Section 16 of the Constitution of the State of Michigan shall be defined as a human being beginning at fertilization" – one sentence.

On our website, we called for immediatism; no exceptions; justice via having the laws against murder include the preborn, abortifacient contraceptives, IVF, etc. We also called for using gruesome pictures of murdered pre-natal babies; preaching the Gospel; advocating the need for Michigan to ignore Roe v. Wade and just stop the murdering now. We didn't get enough signatures for ballot access, but folks in other states called and asked for help, so my family and I did so.

After we gained ballot-access in Colorado a year later, one other person and I started a national Personhood group. We got amendments and bills introduced in state legislatures while starting ballot-access petition drives, including two more successful ones within a couple of years….

Personhood began nationally and in Florida by calling upon states to ignore Roe. The Personhood movement did not begin defining "person" because of Roe v. Wade. We defined it because the federal Constitution says, "No person shall be … deprived of life, liberty, or property without due process of law." We went on to define that as "human beings, made in the image of God." I understand, painfully, that not all groups are using our definition now, but some of us still hold to original usage and intent. I understand that some folks nowadays who use "Personhood" won't use "murder" and no longer use "made in the image of God," but some of us still do. (I actually use "murder" instead of the word "abortion.")

To reiterate the above with greater specifics, the Personhood strategy is the extension of what was laid down in the 1970s with Human Life Amendment efforts by some pro-life organizations and politicians. Several versions of a Human Life Amendment were filed in 1973, 1974, 1975 and 1980 following the Roe v. Wade decision.

Personhood made use of some of the same language in the national constitutional amendment proposals. The choice of words was not a reactionary strategy to respond to Harry Blackmun's majority opinion. Every state Personhood Amendment was based on the language of the earlier national amendment language, such as the Hogan and Burke Amendments.

The Hogan Amendment

Introduced by Rep. Lawrence Hogan (R-MD) on January 30, 1973
Section 1. Neither the United States nor any State shall deprive any human being, from the moment of conception, of life without due process of law; nor deny to any human being, from the moment of conception, within its jurisdiction, the equal protection of the laws.
Section 2. Neither the United States nor any State shall deprive any human being of life on account of illness, age, or incapacity.
Section 3. Congress and the several States shall have the power to enforce this article by appropriate legislation.

The Burke Amendment

Introduced by James Burke (D-MA) on September 12, 1973
Section 1. With respect to the right to life, the word 'person,' as used in this article and in the fifth and fourteenth articles of amendment to the Constitution of the United States, applies to all human beings, including their unborn offspring at every stage of their biological development, irrespective of age, health, function, or condition of dependency.

After many years without a hearing for a Human Life Amendment at the federal level, Cal Zastrow introduced a Personhood amendment at the state level in Michigan in 2005. The word "Person" rather than "human being" was chosen for state amendments because every single state constitution without exception speaks of "Persons" or "Natural Persons" having the right to life and liberty. The name "Personhood Amendment" was also chosen to avoid confusion with the national "Human Life Amendment."

Following a meeting with Dan Becker of Georgia Right to Life, who had been using a similar "no exceptions" strategy since the 1980s, Cal Zastrow and Keith Mason went on to found Personhood USA in 2008. Colorado, Mississippi and North Dakota have voted on citizens initiatives and many more citizens initiatives and amendments have been proposed in other states.

Although no Personhood initiative has ever garnered more than 43 percent of the vote in any of the states where this has been tried, we do not see this as a defeat in that it has sparked a paradigm shift in the pro-life movement. More activists and organizations are moving from a strategy in which they "chip away at Roe with incremental laws" to a strategy in which the Personhood of all human beings is recognized and protected by love and by law.

One fact that many Personhood advocates have cited correctly is that when Roe was decided, the writer of the majority opinion, Harry Blackmun, did state that since a Person has the right to life under the U.S. Constitution, then if the Personhood of a preborn child were established law, then Roe's case would have collapsed.

If this suggestion of personhood is established, the appellant's case, of course, collapses, for the fetus' right to life would then be guaranteed specifically by the Amendment (Justice Harry Blackmun, Roe v. Wade).

The fact that Blackmun spoke of the weakness in Roe's argument was correct. However, it does not mean that the Supreme Court can nullify God-given human rights any more than the Third Reich could actually redefine a human being as a "non-Jewish Aryan." The state governors and legislatures never needed to submit to that. It has long been understood that fundamental human rights stated in the U.S. Constitution, the Bill of Rights and the Amendments cannot be reversed by a court decision.

Of course, we would welcome any challenge that might result in the overturning of Roe. However, from the beginning of Personhood Florida in 2009, we have always said that we want the states to use the 5th, 10th and 14th amendments and the doctrine of nullification to counter the Supreme Court.

We do not want to overturn Roe v. Wade. We want to ignore it.

2. Personhood stands for the doctrine of nullification

The best chance Personhood has for success is through the doctrine of nullification, that is, state legislators and governors would declare that abortion is already covered under the state's murder statutes on the basis of the Personhood of the unborn – and then act on that declaration.

Not only do we agree with the strategy of nullification, but as I will show, the Personhood movement was founded on this premise. Furthermore, many of us involved in promoting Personhood initiatives have been advocating the strategy of using state nullification of federal tyranny for 10, 20 and even 30 years.

We must not look to the Supreme Court as the arbiter of "establishing" who is a person. The view of the founders of Personhood is that this is an eternal truth established by God. The right to life is also written as a "self-evident" truth in the Declaration of Independence and repeated several times in the U.S. Constitution. The humanity of the preborn was also recognized by numerous case laws prior to Roe. This case was decided in error and the states never needed to change their laws in subservience to an activist court that has no authority to make laws.

This is evidenced in the rhetoric of some of the most recent Personhood bills now being advanced in several states. One of the strongest Personhood advocates in the state of Alabama, Samuel J. McLure, has launched an initiative called, Proposal 16. Their website proclaims that the states have the power to nullify Roe.

Did you know that every governor since Roe v. Wade has had the power and obligation to defend innocent human life in Alabama and prevent the murder of Alabama babies? Governors haven't stepped in, either because they aren't pro-life or they fear physical or economic reprisal from the Federal government. No more.

Just like former president Obama refused to enforce federal marijuana laws, we believe President Trump will hold back his hand from enforcing the unjust federal abortion rulings in the States.

Now is the time to send the faulty premises of Roe v. Wade to the ash heap of history, end the barbarous practice of abortion, allow women to be the mamas their babies need, and give every human being their God-given and constitutional right to life (www.proposal16.com).

This is exactly the philosophy Personhood has been promoting for years. Judicial supremacy is a myth and courts cannot nullify God-given rights long ago recognized by our laws.

We asked Alaska Right to Life (a.k.a. Personhood Alaska) director, Christopher Kurka, to comment on the doctrine of nullification.

As you know, I have always advocated for state nullification and interposition for Personhood efforts. I first learned about the myth of judicial supremacy, nullification and interposition from Bob Bird (former AKRTL President) during his 2008 campaign for US Senate. Since then I have pushed the ideas, but have never written on them before.

The soon-to-be-published book by Personhood Alliance, Personhood: The Tree of Life, will have a chapter entitled "The Myth of Judicial Supremacy" by Christopher Kurka that will deal with the idea of nullification and interposition by the states. The editor of the book, Dan Becker, has stated on numerous occasions that he has advocated for nullification since 1988 as an alternative to overturning Roe.

Dan Becker's previous book, Personhood, discusses nullification as part of our strategy and denies that the sole reason for the purpose of the Personhood movement is to challenge Roe.

To return the right to ban abortion at a state level would require the reversal or nullification of the 1973 ruling of Roe v. Wade [emphasis mine]…. Government cannot be allowed the prerogative of claiming to define a right that has never been within its rightful jurisdiction. The right to life comes from God, not government. Personhood is the human rights movement of the 21st century, not an attorney's playground" (Dan Becker, Personhood, 33,34).

Personhood has always stood for the nullification by the states if overturning Roe is not possible. It is not an either/or proposition. Personhood is a human rights issue. We do not believe that the states must bow down to the Supreme Court as vassals to a feudal overlord. Regardless of whether Roe can be overturned, nullification is a right guaranteed to the states under the United States Constitution.

Les Riley, the director of another state Personhood affiliate, also testifies to the early promotion of the nullification doctrine by Personhood Mississippi, one of the first states to launch a petition effort.

I advocated for ignoring Roe, challenging judicial supremacy and calling on state and local magistrates to interpose – including arresting abortionists and defying not only usurpations by the federal judiciary, but also by legislative and executive branches, up to and including secession over this issue. I was an advocate for this in word and in published articles, public speeches, sermons as early as 1992, and in lobbying and campaigning as early as 1995.

This very matter, in fact, was foundational to Personhood Mississippi and was the subject of literature, articles featured on our web site, speeches, media interviews, public meetings and private strategy sessions from the very beginning – through the petition drive and campaign – and beyond the vote on the Mississippi Personhood Amendment. Calling the pro-life industry out, calling the church and the civil magistrate to repentance, obedience, keeping their oath of office (civil magistrates) and engaging the death culture with the Gospel was completely and overtly integrated into our efforts.

For more information on the principles of interposition and nullification, I have written a short booklet entitled, The United States of America 2.0: The Great Reset. The booklet may be read on-line for free. Again, this is not a new idea for me, but I wrote the bulk of the material that makes up the book over 20 years ago.

We have also frequently used the example of the Dred Scott v. Sandford Supreme Court decision, which stated in 1957 that a black slave was property and did not have the same right to liberty as an American citizen. Ironically, Dred Scott was never overturned by the Supreme Court. It took a United States' constitutional amendment to reverse the Dred Scott decision. However, Christians should never say that a court decision or a constitutional amendment was the basis for the right to the liberty of all the people born in America. The right to life and liberty is a God-given right. And on that basis, states have the right to nullify Roe.

We will never stop until our courts or legislatures have reversed or nullified [emphasis mine] this misguided ruling. We do not fear a negative ruling from the U.S. Supreme Court. Historically, a bad ruling has in fact served as the very catalyst for change in public policy. Dred Scott v. Sandford, 1858, ruled that a black person could not be a citizen under our law…. This adverse ruling did much to fuel to the abolitionist movement; our country engaged in civil war before the law recognized the full Personhood of Blacks. In point of fact, the ruling per se was never reversed. By the same token, we shouldn't wait on an overturning of Roe v. Wade before engaging in public dialogue. The need for Personhood policy is now, regardless of Roe's final disposition! Ours is a 21st century human rights movement and must not be summarized by a single legal objective! (Dan Becker, Personhood, 76,77).

Personhood has always used the abolition of slavery argument and the corresponding denial of the citizenship (i.e., legal Personhood) of black slaves in the Dred Scott decision as analogous to the Personhood debate. We do not believe that the Supreme Court has the power to decide what is a moral right. Moral rights are based on laws given by God alone as Creation ordinances.

The ultimate problem at the time of Roe v. Wade was not the courts, but the liberal (and even some "conservative") churches that already supported some forms of abortion. If they had been united in opposition against abortion, Roe could have been resisted. From the beginning of the Roe decision, each pro-life group in America has agreed that the ultimate goal is to pass a national Human Life Amendment. If that was not immediately possible, the strategy was to go state-by-state to pass laws and ratify amendments to the state constitutions.

In short, the overturning of Roe as a result of the challenge of a state Personhood Amendment is not the foundational strategy of Personhood. Our primary strategy is to change the culture by getting the majority of our states' citizens to agree that the God-given right to life of all human beings at any

3. The term "Personhood" represents the "Imago Dei"

In many of the current Personhood initiatives, the term, "human being," is used as an accurate expression of the truth that we are made in the image of God.

It has always been understood in constitutional law that the terms, "persons," "natural persons," "human beings" and "men" are exactly synonymous. We must not become guilty of the fallacy of making a distinction without a difference. The important truth here is that we are each made in the image of God. Therefore, the right to life and liberty is inviolable without due process of just laws.

The new book, Personhood: The Tree of Life, edited by Dan Becker of Personhood Alliance, does a good job in establishing the biblical definition and basis for Personhood. In summary, the idea of the Personhood of all human beings is bound up in the idea that God created man in His own image. God is three "Persons" – Father, Son and Holy Spirit – in "One God." This is the doctrine of the Trinity. The way in which God has relationship with man is through the Persons of the Trinity. We are each created in the image of God from the moment of conception – not only as members of the species Homo sapiens – but as a special creation – a unique person made in the image of Jesus Christ, the Son of God, the Second Person of the Trinity. When we experience salvation, we are adopted as children of the Father, the First Person of the Trinity. We are born-again because the Person of the indwelling of Holy Spirit, the Third Person of the Trinity. That is why human beings have a special place in creation and may not be wantonly killed with impunity.

It is also insufficient to argue that human beings as a member of the species, Homo sapiens, have the right to life unless we first recognize that human beings are made in God's own image. Whether they are "persons," "humans" or "men," we still need to begin with the idea of the imago Dei.

Although we believe it is useful to use the word, "Person," due to existing constitutional language, for several years, the Personhood Florida Amendment has used the following language.

The God-given right to life of every human being at any stage of development shall be recognized and protected. This provision shall be deemed to supersede any other inconsistent provisions [emphasis mine].

The second clause refers to the fact that our own liberal activist Florida Supreme Court has found a "right to abortion" in the Florida state constitution (where none exists). Although this was decided in error, it should not be ignored in subsequent constitutional language. The Personhood Florida amendment would nullify this decision.

In short, we use the both the terms "human being" and "person" because the two are synonyms. We appeal to the authority of God's Law rather than the Supreme Court. The Florida Personhood amendment states that there is a "God-given right to life." Although this language is already in our state constitution, ours would be the first amendment to reiterate the name of God in our defense of the preborn and all human beings at any stage of development.

4: The biblical "right to life" is God-given

The word "rights" in civil law has always been synonymous with the word "liberties." Prior to the United States Bill of Rights (1791) was the English Bill of Rights and Liberties (1689). There was also a document called the Massachusetts Body of Liberties (1641). Both of these documents, together with several others, were the basis for the language contained in the United States' Declaration of Independence, Constitution and Bill of Rights.

The English Bill of Rights and Liberties always uses the two terms together. The Massachusetts Body of Liberties only uses the term "liberties," but it was understood that "rights and liberties," were synonymous. Of course, the term liberty is an often-used biblical word that describes both civil liberty and the freedom we have in Christ.

In addition, the Massachusetts Body of Liberties is a good example on how legal prohibitions against infringing on human rights are based on God-given laws contained in the Bible. After listing over 90 "liberties," the document lists the commandments of Scripture – as the basis of the sanctions of the civil law that punish crime.

However, these negative sanctions of God's law are based on the positive commandments God had given from the beginning. These positive laws are otherwise known as the "Creation ordinances" that existed prior to the time that sin entered the world. Murder is prohibited because God made man in His own image (Genesis 1:27; 9:6). Adultery and sexual immorality are prohibited because God ordained marriage from the beginning as one man and one woman (Genesis 2:21-24; Matthew 19:5,6). Theft is prohibited because God from the beginning commanded men as individuals to take dominion of the earth (Genesis 1:28: 9:1; Psalms 8:6), to own and care for the earth and to obtain personal wealth (Genesis 2:5,8; Deuteronomy 8:18). Thus all the negative sanctions of the law flow from the liberties and positive commandments of God that He gave even prior to sin entering the world in the Creation ordinances.

The application of the law prohibiting murder can be applied to abortion because God made man in His image and each of us has the right to life regardless of the stage of development or circumstances of our conception. Among all created beings subject to the law of sin and death, only human beings possess "personhood" because only human beings were created in the image of God. So while the law of God prohibits abuse of His creation, cruelty to animals, the waste of natural resources, etc., the law prohibiting murder applies only to judicially innocent human beings.

We cannot have a negative without a positive. We do not have any basis on which to say child murder; the violation of the dignity of human life; same-sex marriage; perverse sexuality; etc. is criminal unless we first value all life as made in God's image. This was a creation ordinance. It is only when we change our cultural morality to respect the dignity and sanctity of all life will abortion become unthinkable. And only then will it be considered criminal by our judges and lawmakers – although it is already criminal in the sight of God.

All the laws pertaining to these human rights and liberties can be summed up in one term: Personhood.

To summarize, the "right to life" has a solid biblical basis and is perfectly suitable as a description of Christian ethics on abortion and all sanctity and dignity of life issues.

5: There is no such thing as a "magic bullet"

Another idea that needs to be addressed is what some of us call the "magic bullet" fallacy. I have heard people say when presenting Personhood that if we pass an amendment recognizing and protecting all human life, that this will automatically end all abortion.

To quote Personhood USA founder Keith Mason, "That would not be the end of our battle, but a beginning of a new war on all fronts."

First, a Personhood Amendment would need to be backed up by legislation. Even a constitutional amendment that states all abortion is murder needs corresponding legislation that would either repeal state abortion laws that include exceptions and affirm the criminality of abortion using the same criteria as that for homicide and murder.

Second, passing a Personhood Amendment in one state would necessitate passing identical measures in other states. Ultimately, we would need a Human Life Amendment to the Constitution to protect life in all 50 states. That has always been the goal of the pro-life movement. The difference with Personhood advocates and other pro-life groups is that we have a plan to succeed in at least 38 states by passing a state Personhood Amendment with similar or identical language that would then become the model for a national Human Life Amendment. To ratify such an Amendment would require at least 38 states would have to pass it through their legislatures. The goal of Personhood is not to overturn Roe, but to eventually ratify a Human Life Amendment to the United States Constitution that could not be nullified by any liberal abortion law or court decision.

To win the war, we do not need to overturn Roe. As in the case when Dred Scott was nullified by the 13th, 14th and 15th Amendments, we only need to nullify Roe with a national amendment and in the meantime we can nullify it at the state level. However, we cannot be naïve and assume that Christians are ready to support this at the moment. A great work of education and a great degree of unity toward this cause needs to be achieved first. We have made this one of the primary goals of Personhood.

The Position of Personhood Florida on the "Florida Abolish Abortion" Amendment

I was recently asked about Personhood Florida's position on various "abortion abolition" initiatives and bills in several states throughout the country. Our policy in Personhood Florida is that we endorse bills, initiatives and measures that would defend life without exceptions. Therefore, we support the language of the Florida Abolish Abortion amendment as well as all similar measures throughout the country. In fact, I would go as far as to say that you cannot say you are really for Personhood if you oppose such measures. These measures and bills obviously do not need to originate with Personhood groups in order for us to support them.

Of course, we would prefer that people would work together with us on one citizens initiative — the Personhood Amendment — and we have devoted our efforts and resources to that. The policy that we have adopted is that we will share data and resources with any organization that comes alongside us and helps with Personhood petitioning.

The only caveat is that we believe that the Florida Abolish Abortion Amendment ought to go further than it does. It addresses the "abortion" of "unborn human beings," which is good. However, it is silent on other right to life and dignity of life issues. We believe that the Personhood Amendment would do more to recognize and protect the sanctity and dignity of life of all human beings. The Personhood Amendment would address ethical concerns related to end of life issues, emerging bio-technologies, eugenics, cloning, stem cell research, human animal hybrids, ectogenesis (artificial wombs), artificial intelligence, "Personhood rights" for animals, and so on. Therefore, people who want to address these issues should work together to accomplish that.

On the other hand, seeing the great work that is to be done to transform the culture of our state to one that would defend the life of all human beings, we welcome having as many initiatives as people have the energy to try to accomplish. All initiatives are educational, evangelistic and missionary opportunities for those willing to work in the field gathering signatures. As we do this, we must understand that our primary work is to change hearts and minds.

Another possible issue with the constitutionality of the Florida Abolish Abortion amendment is that it imposes criminal sanctions on abortion through constitutional language. While we should obviously support criminal penalties for abortion since it is child murder, it is well-known that constitutional law gives state and federal legislatures the authority to legislate and impose sanctions. In the hundreds of pages comprising the Florida constitutional amendments, there is not one amendment that criminalizes anything. It is understood that the legislature must pass corresponding legislation to uphold constitutional law and repeal laws that are unconstitutional. This includes criminalizing illegal acts in compliance with our state constitution.

Thus the "magic bullet" fallacy applies here too. Any amendment to the Florida Constitution would need to be backed up with legislation originating in the house and senate, and signed by the governor of the state of Florida. An amendment may direct these bodies to pass punitive laws.

We were told by our constitutional lawyer, Mat Staver of Liberty Counsel, whose organization of constitutional law experts helped us pen the current Personhood Florida Amendment language.

The Florida Constitution does not specify a specific criminal punishment for a specific provision. It does authorize the death penalty, but the legislature is the one to assign the death penalty to a specific crime. It does prohibit certain penalties, such as no imprisonment for a debt or that minors may be considered delinquent instead of found guilty of committing a crime. There is nothing to say that the Constitution cannot include a penalty for a violation. Including a penalty does make it unique to the Florida Constitution.

In short, while there is not necessarily anything that would prohibit criminalizing abortion by constitutional amendment, as the Florida Abolish Abortion initiative attempts to do, there is no precedent for it either. Normally, the language of an amendment directs the legislature to enact laws consistent with the amendment.

The last point to be made is that the Personhood Amendment would be different from all human rights amendments in the history of the Florida Constitution in that it is God-centered. It includes language stating that the right to life of all human beings is "God-given." This is the same language used in the preamble to our Florida Constitution's declaration of rights, but is sadly ignored by every single other amendment dealing with human rights. This includes the proposed Florida Abolish Abortion initiative.

Why Personhood?

The best answer to this question that I have heard comes from Michele Herzog, of Pro-life Action Ministries of Central Florida, a friend and long-time advocate for life since the mid-1980s here in Florida and other states.

When Personhood is restored by love and by law to the preborn human being, the preborn will be recognized as a human being and will therefore have the same protection as the born. Thus it would be a crime to harm the preborn. It is all about recognizing and protecting the God-given right to life of all human beings at any stage of development. It is the only hope and way for freedom for the unborn. Abortion will be abolished when Personhood is recognized.

The Personhood Paradigm represents a shift in the pro-life movement toward a Christ-centered, full-orbed Gospel message that includes no exceptions and no compromise. Our goal is to recognize and protect the God-given right to life of all human beings.

It is hoped also that proponents of Personhood reading this will better understand and communicate the goals of Personhood as we move forward to recognize and protect all human life, including abolishing abortion.

---

The following is part of a soon to be published book, In The Days of These Kings: The Prophecy of Daniel in Preterist Perspective. In the book, I argue that people who are looking to find "end-times" prophecies in Daniel miss the purpose and context of the book, which was to point the Jews in captivity — under Babylonian, Persian, Ptolemaic, Seleucid and finally Roman rule — to the time when the Messiah would come into the world.

The False Promise of the Strong Man

Fallen man desires a strong man to rule and reign in the form of what the German philosopher Georg Hegel called "the State" – or – "God walking on earth." In ancient times, this god walking on earth was a literal strong man, a savior figure who would bring order and stability to the whole world. But he always birthed a world order based on paganism and spiritual bondage that robbed individuals of their ability to express the inward spirit of man, the image of God in all of us. This imago Dei exists both the regenerate and the unregenerate. The regenerate will seek the true Savior in the grace and peace of Jesus Christ. The unregenerate will always seek a political solution, but in the end will recoil at the broken promises of human saviors. They will eventually conspire to overthrow the government of their own founding in some manner. Thus the seeds of destruction are always sown into the foundation of every world empire.

From a pagan point of view, the cycle seems to be a dark fate predestined to repeat endlessly in human civilization. The pagan god-king of past history has today become the collectivist state. The battle between the seed of the woman and the seed of the serpent among modernists is still the same, but the despot has become the impersonal "State."

Ironically, in atheistic collectivist societies, such as communist China or the Soviet Union, the founders, Mao and Lenin, were elevated to a god-like status. This paradox has become a common theme in dystopian art and literature. In denying the "god-kings" of ancient times – and religion in general – modern collectivist societies have instituted a state religion.

This was documented in Marx and Satan, a short book by Richard Wurmbrand, a Romanian dissident and underground Christian missionary to the Soviet Union. Most people do not know that Lenin's Tomb in Red Square, Moscow bears strong similarity to a pagan altar unearthed by archaeologists in Pergamos. Wurmbrand believed that this altar is the one referred to in Jesus spoke to the church at Pergamos some peculiar words: "I know your works, and where you dwell, where Satan's throne is" (Revelation 2:13).

Architect Schusev, who built Lenin's tomb, took the Pergamos altar as the project prototype. This was in 1924. It's a known fact that Schusev received all the needed information from Frederic Paulsen – an acknowledged authority in archaeology (Richard Wurmbrand, Marx and Satan, translated from the Russian edition).

A friend of mine from Russia showed me a card given to him when he was a student in Krasnoyarsk, Siberia, when he was a member of the Pioneers. This was a communist youth group similar to our Boy Scouts. This card says that the owner of it is a member of the Pioneers Organization of Lenin of school #35. Inside there is a poem.

In your hearts a big power is growing. Roads, storm, and wind are waiting for you. Live so that you will not be ashamed to look into the eyes of our dear Lenin. Your name is written down in the Book of Honor. And you have the honor to have your picture taken next to the flag, the banner of the Pioneers Organization of school #35.

There is no doubt that the atheistic communists saw the need of the people to worship a savior figure. The mummification of Mao and Lenin in their respective capital cities is reminiscent of the ancient Egyptian Pharaoh god-kings. The Bible was replaced among the Chinese communists with copies of Mao's Little Red Book, which practically elevated the words of Chairman Mao Tse-tung to the level of Scripture.

In America, we erect statues and monuments to our past heads of state – Washington, Jefferson, and Lincoln – basing the architectural style on ancient pagan memorials to their god-kings. While no one seriously worships our past presidents as gods, I submit that we implicitly worship the State when we ascribe to political figures powers that are greater than the authority God reserves for himself.

Dystopian Science Fiction

In our own day, the popularity of apocalyptic literature – a genre that emerged from about 165 BC to AD 200 – has been recapitulated through dystopian science fiction. The themes of dystopia (or "anti-utopia") are all around us in literature, film, art and music. For example, it was put simply in words of Pete Townshend of the rock band, The Who, in the song, "Won't Get Fooled Again."

We'll be fighting in the streets
With our children at our feet
And the morals that they worship will be gone
And the men who spurred us on
Sit in judgment of all wrong
They decide and the shotgun sings the song

I'll tip my hat to the new constitution
Take a bow for the new revolution
Smile and grin at the change all around
Pick up my guitar and play
Just like yesterday
Then I'll get on my knees and pray

We don't get fooled again

The change, it had to come
We knew it all along
We were liberated from the fold, that's all
And the world looks just the same
And history ain't changed
Cause the banners, they are flown in the next war

I'll tip my hat to the new constitution
Take a bow for the new revolution
Smile and grin at the change all around
Pick up my guitar and play
Just like yesterday
Then I'll get on my knees and pray

We don't get fooled again
No, no

I'll move myself and my family aside
If we happen to be left half alive
I'll get all my papers and smile at the sky
Though I know that the hypnotized never lie
(Do ya?)

There's nothing in the streets
Looks any different to me
And the slogans are replaced, by-the-bye
And the parting on the left
Are now parting on the right
And the beards have all grown longer overnight

I'll tip my hat to the new constitution
Take a bow for the new revolution
Smile and grin at the change all around
Pick up my guitar and play
Just like yesterday
Then I'll get on my knees and pray

We don't get fooled again
Don't get fooled again
No, no
Yeah!

Meet the new boss
Same as the old boss

Below: "Won't Get Fooled Again" was a song from the dystopian science fiction concept album, Lifehouse, by The Who, which was abandoned. The song was released instead on the album, Who's Next, in 1971.

This well-known rock anthem was part of a longer cycle of songs by Pete Townshend that was originally meant to tell a story called Lifehouse, one of many dystopian concept albums or "rock operas" that became popular in the 1970s. It has been interpreted in various ways, from being an anti-war protest song to having specific political and religious interpretations. On a basic level, it is a warning against political saviors and collectivist mind control. The irony is that revolutionaries always promise, "We won't get fooled again," but the new political order they fight for never truly brings the change that had to come. "And the world looks just the same / And history ain't changed." Songs like "Won't Get Fooled Again" have since become ingrained in our culture through licensing for commercials and in numerous TV shows and films – showing ironically that life imitates art.

There is a deeper reason for the burgeoning of dystopian themes in modern art, literature and music. The popularity of this genre goes far beyond entertainment and money making. Do a Google search for "List of Dystopian Novels" and you will find a Wikipedia article listing hundreds of books beginning with Thomas More's Utopia, Jonathan Swift's Gulliver's Travels in the 18th century and several 19th century science fiction works, such as H.G. Wells The Time Machine and The Island of Dr. Moreau. I would hesitate to call these earlier books "dystopian science fiction," but they might be considered the prototypes or at least an influence on the later genre.

The first true dystopian novel was We by Yevgeny Zamyatin, a Russian writer who wrote a satire of life in the fledgling Soviet Union in 1924. We is the grandfather of all dystopian science fiction. It was the forerunner of many novels, such as Ayn Rand's Anthem, Aldous Huxley's Brave New World, George Orwell's 1984, and literally hundreds of other books and films. The dystopian science fiction genre has also cropped up as the pattern for scores of album-length rock operas, such as Rush's 2112, which was loosely based on Ayn Rand's works. It has even spawned a young adult dystopian science fiction subgenre that began with The Giver by Lois Lowry in 1993. This in turn begat a billion dollar industry with hundreds of novels and blockbuster films, such as The Hunger Games, and the Divergent, Maze Runner and Legend series.

In fact, there have been more dystopian novels written in the last 20 years than in the previous 100 years. These novels and their adapted film versions strike a deep chord with teenagers with an almost hypnotic effect. The legion of recent dystopian novels and films includes those with post-apocalyptic themes resurrecting the Cold War paranoia of a nuclear holocaust, the result of natural disasters brought on by climate change or the collision of planet earth with asteroids and comets. Numerous video games are also based on dystopian themes. The common basis of these stories can be boiled down into three broad characteristics.
The use of biblical and mythic symbols which reveals that the work may be better understood as the internal spiritual drama of the conflicted modern "Everyman," rather than as the external reality of a failed utopia.
A protagonist who experiences a spiritual awakening at the influence of an eccentric character foil who encourages him to rebel against the world order by embracing his individuality.
The use of symbolic words, numbers, colors and imagery representing political power, cultural alienation and hope.
Common themes appear as the protagonist changes over the course of the story, such as collectivism vs. individualism, with the collective being the dehumanizing strong arm of the state that robs the individual of the spiritual side of his personality. The city vs. the wilderness is a similar theme that also plays off the collectivist/individualist conflict.
There is a common plot line in nearly all dystopian stories. The setting is usually a post-apocalyptic society in which there has been a war that threatened to destroy humanity. The protagonist comes under the influence of an alter ego who awakens him to the spiritual side of his psyche. He encounters this character foil at the same time that he begins to discover a love interest in a female character and/or a love for a forbidden type of art, literature, religion or lost knowledge. The protagonist then comes into conflict with a world ruler or world council that controls the whole society. There is always a turning point, which takes the form of a conversation between the protagonist and the world ruler consisting at first of a deep sympathy for the protagonist's yearnings. There is an admission that these works have not been lost, but actually suppressed because at one time this type of free thinking led to mental and emotional illnesses and eventually wars that threatened to destroy society. The protagonist finally rebels against the world order and the story diverges along one of two paths. Either the protagonist is killed or commits suicide – or he escapes to the wilderness and hope is kindled for a rebirth of the human spirit.
This pattern was first set out by Zamyatin in We in 1924. George Orwell, author of 1984 (1949), critiqued Aldous Huxley's Brave New World (1932) by noticing that it must have been partly derived from We. However, in a letter to Christopher Collins in 1962, Huxley wrote that his novel was written long before he had ever heard of We. Just as ironically, Louis Lowry, author of The Giver, has written on a blog to fans that she had never read the short novel, Anthem by Ayn Rand, when readers noticed that her story bore a strong resemblance.
This begs the question as to why this genre has become so universal and popular. The simple answer is that these authors are writing about the world around them using satire and symbolic references that their contemporary audience understands. Dystopia is a phenomenon of our age. Others have written on this enigma claiming that young people are subjected to pressure brought on by regulations in government, an overemphasis on standardized testing in public schools, politically correct speech, socialistic worldviews and expected behaviors. The pressure to be defined and molded has produced an attraction to break-out characters in stories set in repressive worlds.
It is as if today's young people intuitively know that a changing of the guard is occurring on the world political stage. These paradigm shifts take place every so often, but exactly when they are meant to happen. It is part of God's plan for the progress of the Gospel in history. God brings the collapse of a world order often with the destruction of attending cultural symbols in order to pave the way for His kingdom. God always has His remnant people, like Daniel and the Hebrew children, ready to take advantage of the displacement of those in long held positions of authority. Into such cultural upheavals, Christian awakenings take place.
Another dystopian story is a TV series called Dark Matter, a futuristic space allegory in which corporations control entire planets. In one episode, as the corporations are headed for war with each other, a minor character succinctly explains the concept of the paradigm shift that is similar to that which is currently embroiling western culture.
It's times like these, when longstanding patterns are disrupted, that things become more fluid. That's when a small group of people, or even a single individual, can change the course of history (Dark Matter, "Forever Dreaming," season 2, episode 6).
Barna Donovan, a graduate program director at St. Peter's University, commented on this phenomenon in an article published in Forbes magazine.
"Dystopian novels are merely all speaking to these anxieties of young people today," said Donovan. "In all of these books, young adult protagonists must somehow learn to struggle through and survive in a world that has been exploited and defiled by previous generations and a world that is now ruled by dictatorial regimes that have eradicated all semblance of a democracy. What better metaphor could anyone create for the life of a teenager who knows he or she has no choice but take on a crushing amount of debt to go to college, to gain an education that will make it harder than ever to establish a career, all the while existing in a world of endless foreign wars and watched over by intrusive government bureaucracies and corporations that constantly spy on them on monitor all of their electronic communications?" ("Why Young Adults 'Hunger' For The Hunger Games And Other Post-Apocalyptic Dystopian Fiction," Forbes, 11/20/2014).
The article goes on to describe young people's fascination with heroes who struggle against dystopian societies in a post-apocalyptic future.
Yet the term "post-apocalyptic" in itself is an oxymoron based on a misnomer. "Apocalyptic" comes from the Greek word apokalypsis, which literally means an "unveiling" or a "revelation." Using the word to mean the "end of the world" is a misnomer that has come into popular usage due to a premillennial futurist interpretation of Daniel, Matthew 24 and Revelation. Furthermore, the term "post-apocalyptic" is an oxymoron because it implies that history continues after the end of the world. It is a bleak agnostic view of the destiny of the human race.
The use of the term "apocalypse" to mean the end of the world precisely illustrates the error that the prophecies contained in Daniel, Matthew 24 and Revelation were given to correct. It is exactly because modern Christians lack a covenantal worldview that many do not see Jesus Christ as the presently reigning king over all creation. Unfortunately, many Christians have fallen prey to the twin phenomena of dystopian hysteria and end-times madness. The word "apocalypse" instead means the unveiling or revelation of King Jesus in all His majesty and glory – not in a future dispensation – but in the present.
Jewish Apocalyptic Literature
A similar phenomenon was going on with the Jewish nation in the 200 years prior to the birth of Jesus – and for some time afterward. From about 167 BC to AD 200, there were several dozen apocalyptic works written whose manuscripts have survived to our day. Some experts believe that this genre was represented by perhaps hundreds of books written in this period of messianic fervor. Modern dystopian science fiction shares many of the same characteristics of the ancient apocalyptic genre.
These intertestamental works were influenced by earlier "proto-apocalyptic" passages of the Bible, especially portions of Isaiah, Jeremiah, Ezekiel, Daniel, Joel and Zechariah.
The pseudo-prophecies contained in these books are often delivered or interpreted by an angel or a biblical patriarch seen in a vision by the author.
The visions in the book are often carefully arranged and are usually dependent on sophisticated numbering schemes, colors and other cultural symbols.
The unifying theme of both apocalyptic and dystopian literature is oppression by a world empire. In apocalyptic writings, the oppressor is often symbolized by a beast. In dystopian novels, there is a world ruler or world council that represents the collectivist state.
The liberal view of the Book of Daniel is that that it must have been composed late since it shares so many of the characteristics of this later apocalyptic genre. The prophecies of Daniel are so highly detailed and accurate, that modernists and rationalists do not accept that the book could have been written by a Hebrew prophet in the sixth century BC. Instead they suppose that it is a "prophecy after the fact" – detailing past history as a commentary on current events in Judea around 167 to 165 BC when the Jews were struggling against foreign oppressors and hoping for a warrior king to restore the glory of David's kingdom.
There are some essential differences between apocalyptic literature and biblical prophecies such as the Book of Daniel. The most obvious difference is that biblical prophecy points to the true "apocalypse" or revelation that Jesus is the Christ, the promised Messiah, the Son of God. Although there are some shared characteristics of the later apocalyptic writings with biblical prophecy – such as the admonition to stay faithful in times of crisis and persecution – the message proclaiming the Lordship of Jesus Christ is the central and monumental difference.
The intertestamental apocalyptic writings also miss the mark in teaching Jewish chiliasm, or the idea that the millennium is an earthly kingdom that will be centered on the earthly city of Jerusalem ruled by a warrior king who will bring a full restoration of the glory of the Tabernacle of King David and the Golden Age of Israel. Chiliasm is a synonym for premillennialism and was a term used by the early Church Fathers as they eventually gravitated after the second century to what we now call the amillennial or postmillennial view.
The Apocalypse of John is rightly called the Book of Revelation. The Apostle John was writing a true revelation of the Lord Jesus Christ that rightly interpreted the prophecies of the Old Testament including Daniel and the words of Jesus in the Mount Olivet Discourse. John was no more influenced by the false Jewish apocalyptic writings of his era than Lois Lowry was influenced by Ayn Rand. However, he was using well-known cultural and biblical themes understood by his generation of readers.
Are politics redeemable?
The pagan looks for a strongman in the form of a human dictatorship to bring salvation. The chiliast looks forward an earthly kingdom with a heaven-sent warrior king sitting on an earthly throne at Jerusalem for a literal one thousand year reign someday in the near future, while at present politics are unredeemable because the kingdom of God is "not of this world." The postmillennialist sees the kingdom of God as having its authority from His throne room in heaven, yet working itself out progressively in the earth as Christians advance Christ's victorious kingdom in every area of society.
My friend and co-laborer, Jeff Ziegler, who unfortunately passed away in 2014, said in an interview we did for a video series called, God's Law and Society, that the mandate for Godly dominion as a present task is often missed by contemporary Christians.
The retort you often hear revolves around the time period when Christ is before Pilate's inquisition and says, "My kingdom is not of this world" (John 18:36). Christ was not saying that His kingdom was not manifest in the world. He was saying to Pilate, "My kingdom does not gain its authority from Rome or the Sanhedrin. My authority comes from on high." The irony is that the pagan tyrant Pilate understood this, but Christians today do not.

So the authority of Christ's kingdom is not of this world, but nonetheless, the kingdom has invaded this realm, "the earth is the Lord's and the fullness thereof" (Psalm 24:1; 1 Corinthians 10:26). Every aspect of society is touched by the kingdom of God.… The kingdom is manifest in the world and Christ's Lordship is manifest in the civil realm, in the family, in every aspect of society – economics, science, etc.… Christ's kingdom is comprehensive in scope and absolute in its authority (Jeff Ziegler, God's Law and Society).
Or as Howard Phillips, the founder of the Constitution Party, once noted:
Throughout history, there have been only three political parties. The first is every party that believes in the sovereignty of the state, that the state is a god walking on earth; the Democrats, Republicans and every European party is of that view. The second is a party that believes in the sovereignty of man and man's reason; the Libertarians are of that view. The third are those who believe in the sovereignty of God, and the rule of God's moral law (Howard Phillips, God's Law and Society).
Those who believe in the sovereignty of God over the whole universe are currently the vast minority, but this view was held by many of the Church Fathers, the Reformers, Puritans and is once again growing in popularity among Christians of every stripe.
The natural urge of every fallen human being is to assume autonomy – that we may rule ourselves without reference to God's authority. Modern paranoids who are fearful of the all-powerful state rightly seek to overthrow tyranny. Ironically, in seeking to defeat the "strongman," they substitute the rebellion of tyrants who rage against the Lordship of Jesus Christ for the autonomous rule of the individual who is no less rebellious against the rule of God.
Religious conspiracy theorists, on the other hand, have always looked for a cataclysm that will be ushered in by the Antichrist. The faithful will happily be rescued through a rapture or will persevere until the end. Jewish chiliasts of the intertestamental period committed the error of looking for a Jewish "strongman" to overthrow the oppressive reign of the Romans. Christian premillennialists of our day are looking for a strongman in the form of the Antichrist to arise out of the stormy sea of world dictatorships. They view human political systems as hopelessly corrupt and predestined for God's cataclysmic judgment. Chiliasm or premillennialism is based on a false worldview that presupposes that the present political systems are separate from the rule of God and God's law. They cannot be reformed unless they are crushed by God himself.
Biblical prophecy, on the other hand, teaches us that the earthly expression of David's kingdom, both the Temple and the city of Jerusalem, passed away forever in favor of a heavenly spiritual Temple made up of living stones and a kingdom that was not only preached to Jerusalem, Judea and Samaria, and to the ends of the earth (Acts 1:8). The nations of the world began to stream into the kingdom of God at the first preaching of the Gospel. This kingdom began in the first century and is gradually working itself out as God's people are covenantally faithful to preach the Gospel of salvation by grace through faith and to teach the nations to obey God's law. In time, the blessings of God will overflow and enrich the human personality as each and every ethnic culture becomes part of the kingdom of God.
The postmillennial and preterist view is that the kingdom of God appeared on the earth when Jesus first began to preach, "the kingdom of God is at hand" (Matthew 3:2; 4:17, Mark 1:15). Note that this view is that the "kingdom of God is at hand" in a literal sense. It is not for some future dispensation. However, the kingdom has its outworking in the whole world over a long period of time. We see the "millennium" as a long period of time, not literally 1000 years, when the Gospel is being preached and the kingdom is forcefully advancing against the gates of hell. We see Satan as a defeated foe, one that is alive but not well in the planet earth. Satan no longer has the power to "deceive the nations anymore" (Revelation 20:3). Jesus has provided the antithesis to Satan's deception – the Truth and Light of the Gospel.
Jesus said, "All authority has been given to Me in heaven and on earth." The people of God are not merely to work to save souls, but shall also "make disciples of all the nations … teaching them to observe all things that I have commanded you (Matthew 28:18-20). The kingdoms of this world are passing away – not in the sense that they will be annihilated – but they "have become the kingdoms of our God and of His Christ" (Revelation 11:15).
The natural inclination of our guileful hearts is to resist God's grace. We would rather look to human effort. In politics, we look for a strongman to vanquish evil. We see this in the comparison between the popularity of the early Jewish and Christian apocalyptic writings and modern dystopian fiction. That is, people see the nations being shaken and they fear that their world order is coming to an end.
And they are right!
The premillennialist can have some hope that Jesus will deliver them out of the awful mess that has been wrought by the vain rage of rebellious nations. However, the postmillennialist possesses the hope that the words of Psalm 2 are a present reality.
Why do the nations rage,
And the people plot a vain thing?

The kings of the earth set themselves,
And the rulers take counsel together,
Against the LORD and against His Anointed, saying,
"Let us break Their bonds in pieces
And cast away Their cords from us."

You shall break them with a rod of iron;
You shall dash them to pieces like a potter's vessel.

Now therefore, be wise, O kings;
Be instructed, you judges of the earth.
Serve the LORD with fear,
And rejoice with trembling.
Kiss the Son, lest He be angry,
And you perish in the way,
When His wrath is kindled but a little.
Blessed are all those who put their trust in Him (Psalms 2:1-3; 9-12)
Jesus Christ is pictured here as the present ruling King, the Son of God the Father, who has been given the nations for an inheritance, and the uttermost parts of the earth for His possession. It is important to realize that Jesus Christ is portrayed here as the present King ruling with a rod of iron over the kings of the earth and who – through His death, resurrection, ascension and glorification – is now the locus of all power and authority, both in heaven and on earth (Matthew 28:18).
The good news for the Christian is that although the nations of the earth are being shaken by the sovereign power of our God, what always remains is His kingdom. Recognizing and defending the "Crown Rights of King Jesus" in time and history is how biblical prophecy finds its fulfillment in the Great Commission.
And in the days of these kings shall the God of heaven set up a kingdom, which shall never be destroyed: and the kingdom shall not be left to other people, but it shall break in pieces and consume all these kingdoms, and it shall stand for ever (Daniel 2:44).
---
The Silent Scream (DVD) Eight Languages
"When the lives of the unborn are snuffed out, they often feel pain, pain that is long and agonizing." – President Ronald Reagan to National Religious Broadcasters Convention, January 1981
Ronald Reagan became convinced of this as a result of watching The Silent Scream – a movie he considered so powerful and convicting that he screened it at the White House.
The modern technology of real-time ultrasound now reveals the actual responses of a 12-week old fetus to being aborted. As the unborn child attempts to escape the abortionist's suction curette, her motions can be seen to become desperately agitated and her heart rate doubles. Her mouth opens – as if to scream – but no sound can come out. Her scream doesn't have to remain silent, however … not if you will become her voice. This newly re-mastered version features eight language tracks and two bonus videos.
"… a high technology "Uncle Tom's Cabin" arousing public opinion just as Harriet Beecher Stowe's 1852 antislavery novel ignited the abolitionist movement." – Sen. Gordon Humphrey, Time Magazine
Languages: English, Spanish, French, South Korean, Chinese, Russian, Portuguese, Japanese
Running Time: 28 minutes
$17.95 — ORDER NOW!
(We accept all major credit cards and PayPal.)
Click here for more information
---
Dr. Francis Schaeffer - How Should We Then Live? (DVD)
Special Two-Disc Set!
After 40 years of intense study and world-wide ministry, Dr. Francis Schaeffer completed his crowning work of scholarship – to present profound truths in simple film language. Dr. Schaeffer's brilliant analysis of the past and predictions for current trends have proven so uncannily accurate that this amazing series still feels contemporary almost three decades after its initial release. Ultimately, Schaeffer concludes that man's only hope is a return to God's Biblical absolute, the truth revealed in Christ through the Scriptures.
Available for the first time on DVD, this documentary spectacular also includes intimate in-depth conversations with Francis and Edith Schaeffer. With the on-disc study guide, this presentation forms a unique course of comprehensive study. While this series forms an innovative analysis of the past, this outstanding work is more than history. Each episode focuses on a significant era, yet speaks clearly to 21st-century man with answers for modern problems.
$49.95 — ORDER NOW!
(We accept all major credit cards and PayPal.)
Click here for more information
---
The Real Jesus: A Defense of the Historicity and Divinity of Christ (DVD)
Who is the Real Jesus?
Ever since the dawn of modern rationalism, skeptics have sought to use textual criticism, archeology and historical reconstructions to uncover the "historical Jesus" — a wise teacher who said many wonderful things, but fulfilled no prophecies, performed no miracles and certainly did not rise from the dead in triumph over sin.
Over the past 100 years, however, startling discoveries in biblical archeology and scholarship have all but vanquished the faulty assumptions of these doubting modernists. Regrettably, these discoveries have often been ignored by the skeptics as well as by the popular media. As a result, the liberal view still holds sway in universities and impacts the culture and even much of the church.
The Real Jesus explodes the myths of these critics and the movies, books and television programs that have popularized their views. Presented in ten parts — perfect for individual, family and classroom study — viewers will be challenged to go deeper in their knowledge of Christ in order to be able to defend their faith and present the truth to a skeptical modern world – that the Jesus of the Gospels is the Jesus of history — "the same yesterday, today and forever" (Hebrews 13:8). He is the real Jesus.
Speakers include: George Grant, Ted Baehr, Stephen Mansfield, Raymond Ortlund, Phil Kayser, David Lutzweiler, Jay Grimstead, J.P. Holding, and Eric Holmberg.
Ten parts, over two hours of instruction!
Running Time: 130 minutes
$19.95 — ORDER NOW!
(We accept all major credit cards and PayPal.)
Click here for more information
---
Dr. Francis Schaeffer - A Christian Manifesto (DVD)
That Swiss Hermit Strikes Again!
Dr. Schaeffer, who was one of the most influential Christian thinkers in the twentieth century, shows that secular humanism has displaced the Judeo-Christian consensus that once defined our nation's moral boundaries. Law, education, and medicine have all been reshaped for the worse as a consequence. America's dominant worldview changed, Schaeffer charges, when Christians weren't looking.
Schaeffer lists two reasons for evangelical indifference: a false concept of spirituality and fear. He calls on believers to stand against the tyranny and moral chaos that come when humanism reigns-and warns that believers may, at some point, be forced to make the hard choice between obeying God or Caesar. A Christian Manifesto is a thought-provoking and bracing Christian analysis of American culture and the obligation Christians have to engage the culture with the claims of Christ.
$19.95 — ORDER NOW!
(We accept all major credit cards and PayPal.)
Click here for more information
---
The United States of America 2.0: The Great Reset (Book)
High Quality Paperback — 40 pages of dynamite!
Revival, Resistance, Reformation, Revolution
An Introduction to the Doctrines of Interposition and Nullification
In 1776, a short time after the Declaration of Independence was adopted, Thomas Jefferson, John Adams and Benjamin Franklin were assigned to design an official seal for the United States of America. Their proposed motto was Rebellion to Tyrants is Obedience to God. America owes its existence to centuries of Christian political philosophy. Our nation provided a model for liberty copied by nations the world over.
By the 21st century, we need a "Puritan Storm" to sweep away the Hegelian notion that the state is "God walking on earth." We need revival and reformation in full force to vanquish the problems that plague us as a nation — from government controlled healthcare — to abortion on demand — to same sex "marriage." This booklet gives a primer on our founders' Christian idea of government and examines how the doctrine of nullification was woven into the Constitution as a safeguard against federal tyranny. It concludes with the history and theology of civil resistance. A Second American Revolution is coming with the Word of God growing mightily and prevailing! (Acts 19:20).
$7.95 — ORDER NOW!
(We accept all major credit cards and PayPal.)