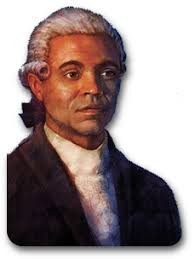 Prince Hall (1735–1807) was held as a slave by William Hall, in Boston until the age of 35, when he was freed. Hall used his freedom to become an advocate for African Americans. Hall made many petitions on behalf of free blacks and successfully petitioned for the release of three Boston African Americans who had been kidnapped into slavery.
While most Americans are familiar with the 18th century abolitionist movement, Abraham Lincoln and the Emancipation Proclamation, few know about the reasons for the abolition of slavery in the northern states in the 1770s. Prince Hall's Petition to the Massachusetts General Assembly (the state Supreme Court at the time) used the argument of the Declaration of Independence that all men are created equal with the right to Life, Liberty and the Pursuit of Happiness to argue for the abolition of slavery.
Prince Hall's Petition became the precedent for the abolition of slavery in Massachusetts and then all the northern states through state courts and state constitutional law.
Read more