Prince Hall's Petition to the Massachusetts General Assembly - January 13, 1777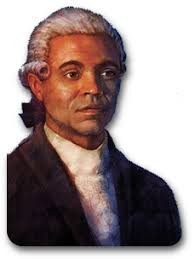 Prince Hall (1735–1807) was held as a slave by William Hall, in Boston until the age of 35, when he was freed. Hall used his freedom to become an advocate for African Americans. Hall made many petitions on behalf of free blacks and successfully petitioned for the release of three Boston African Americans who had been kidnapped into slavery.
While most Americans are familiar with the 18th century abolitionist movement, Abraham Lincoln and the Emancipation Proclamation, few know about the reasons for the abolition of slavery in the northern states in the 1770s. Prince Hall's Petition to the Massachusetts General Assembly (the state Supreme Court at the time) used the argument of the Declaration of Independence that all men are created equal with the right to Life, Liberty and the Pursuit of Happiness to argue for the abolition of slavery.
Prince Hall's Petition became the precedent for the abolition of slavery in Massachusetts and then all the northern states through state courts and state constitutional law.
January 13, 1777

The Petition of a great number of Negroes who are detained in a state of Slavery in the Bowels of a free & Christian Country Humbly Shewing:

That your Petitioners apprehend that they have, in common with all other Men, a natural & unalienable right to that freedom, which the great Parent of the Universe hath bestowed equally on all Mankind, & which they have never forfeited by any compact or agreement whatever—But they were unjustly dragged, by the cruel hand of Power, from their dearest friends, & some of them even torn from the embraces of their tender Parents, from a populous, pleasant and plentiful Country—& in Violation of the Laws of Nature & of Nation & in defiance of all the tender feelings of humanity, brought hither to be sold like Beasts of Burden, & like them condemned to slavery for Life—Among a People professing the mild Religion of Jesus—A People not insensible of the sweets of rational freedom—Nor without spirit to resent the unjust endeavours of others to reduce them to a State of Bondage & Subjection.

Your Honors need not to be informed that a Life of Slavery, like that of your petitioners, deprived of every social privilege, of every thing requisite to render Life even tolerable, is far worse than Non-Existence—In imitation of the laudable example of the good People of these States, your Petitioners have long & patiently waited the event of Petition after Petition by them presented to the legislative Body of this State, & can not but with grief reflect that their success has been but too similar.

They can not but express their astonishment, that it has never been considered, that every principle from which America has acted in the course of her unhappy difficulties with Great-Britain, pleads stronger than a thousand arguments in favor of your Petitioners.

They therefore humbly beseech your Honors, to give this Petition its due weight & consideration, & cause an Act of the Legislature to be passed, whereby they may be restored to the enjoyment of that freedom which is the natural right of all Men—& their Children (who were born in this Land of Liberty) may not be held as Slaves after they arrive at the age of twenty one years.

So may the Inhabitants of this State (no longer chargeable with the inconsistency of acting, themselves, the part which they condemn & oppose in others) be prospered in their present glorious struggles for Liberty; & have those blessings secured to them by Heaven, of which benevolent minds can not wish to deprive their fellow Men.

And your Petitioners, as in Duty Bound shall ever pray.

Lancaster Hill
Peter Bess
Brister Slenten
Prince Hall
Jack Purpont [his mark]
Nero Suneto [his mark]
Newport Symner [his mark]
Job Lock
Prince Hall continued his activism by protesting that African American children did not have public schools. Eventually he started a school of his own for them.
«-
Personhood Florida and Abortion Abolition
-»
Caesar Nero: The Sixth Head of the Beast
---
Related Articles
---
Your comments are welcome!
---
A Revival Account: Asbury 1970 (DVD)
What is true Revival and Spiritual Awakening?
Discover the answer in this eyewitness account by Dennis Kinlaw, President of Asbury College, Wilmore, Kentucky, who recounts the story of a visitation of the Holy Spirit in 1970. This is the presentation that has continued to spark the flames of Revival in the hearts of people around the world. Contains eyewitness footage from the Revival at Asbury College in 1970 in Wilmore, Kentucky.
Certain to challenge you to greater holiness and a deeper commitment to full-scale revival. Original news and private footage has been included. If you are a student who longs to see a spiritual awakening at your school, you must see this video!
"This simple video does a wonderful job of conveying something of God's heart and power, Everyone we have ever shown this to has received an immediate impartation of faith for revival and the power of prayer."
— Bob and Rose Weiner, Weiner Ministries Int'l
Running Time: 40 minutes
(We accept PayPal and all major credit cards.)
Click here for more information
---
The Four Keys to the Millennium (Book)
Foundations in Biblical Eschatology
By Jay Rogers, Larry Waugh, Rodney Stortz, Joseph Meiring. High quality paperback, 167 pages.
All Christians believe that their great God and Savior, Jesus Christ, will one day return. Although we cannot know the exact time of His return, what exactly did Jesus mean when he spoke of the signs of His coming (Mat. 24)? How are we to interpret the prophecies in Isaiah regarding the time when "the earth will be full of the knowledge of the LORD as the waters cover the sea" (Isa. 11:19)? Should we expect a time of great tribulation and apostasy or revival and reformation before the Lord returns? Is the devil bound now, and are the saints reigning with Christ? Did you know that there are four hermeneutical approaches to the book of Daniel and Revelation?
These and many more questions are dealt with by four authors as they present the four views on the millennium. Each view is then critiqued by the other three authors.
(We accept PayPal and all major credit cards.)
Click here for more information
---
The Beast of Revelation: Identified (DVD)
Who is the dreaded beast of Revelation?
Now at last, a plausible candidate for this personification of evil incarnate has been identified (or re-identified). Ken Gentry's insightful analysis of scripture and history is likely to revolutionize your understanding of the book of Revelation — and even more importantly — amplify and energize your entire Christian worldview!
Historical footage and other graphics are used to illustrate the lecture Dr. Gentry presented at the 1999 Ligonier Conference in Orlando, Florida. It is followed by a one-hour question and answer session addressing the key concerns and objections typically raised in response to his position. This presentation also features an introduction that touches on not only the confusion and controversy surrounding this issue — but just why it may well be one of the most significant issues facing the Church today.
Ideal for group meetings, personal Bible study — for anyone who wants to understand the historical context of John's famous letter "… to the seven churches which are in Asia." (Revelation 1:4)
Running Time: 145 minutes
(We accept PayPal and all major credit cards.)
Click here for more information
---
The Real Jesus: A Defense of the Historicity and Divinity of Christ (DVD)
Who is the Real Jesus?
Ever since the dawn of modern rationalism, skeptics have sought to use textual criticism, archeology and historical reconstructions to uncover the "historical Jesus" — a wise teacher who said many wonderful things, but fulfilled no prophecies, performed no miracles and certainly did not rise from the dead in triumph over sin.
Over the past 100 years, however, startling discoveries in biblical archeology and scholarship have all but vanquished the faulty assumptions of these doubting modernists. Regrettably, these discoveries have often been ignored by the skeptics as well as by the popular media. As a result, the liberal view still holds sway in universities and impacts the culture and even much of the church.
The Real Jesus explodes the myths of these critics and the movies, books and television programs that have popularized their views. Presented in ten parts — perfect for individual, family and classroom study — viewers will be challenged to go deeper in their knowledge of Christ in order to be able to defend their faith and present the truth to a skeptical modern world – that the Jesus of the Gospels is the Jesus of history — "the same yesterday, today and forever" (Hebrews 13:8). He is the real Jesus.
Speakers include: George Grant, Ted Baehr, Stephen Mansfield, Raymond Ortlund, Phil Kayser, David Lutzweiler, Jay Grimstead, J.P. Holding, and Eric Holmberg.
Ten parts, over two hours of instruction!
Running Time: 130 minutes
(We accept PayPal and all major credit cards.)
Click here for more information
---
Martin Luther: Digitally Remastered 1953 Classic (DVD)
"Here I stand … I can do no other!"
With these immortal words, an unknown German monk sparked a spiritual revolution that changed the world.
The dramatic classic film of Martin Luther's life was released in theaters worldwide in the 1950s and was nominated for two Oscars. A magnificent depiction of Luther and the forces at work in the surrounding society that resulted in his historic reform efforts, this film traces Luther's life from a guilt-burdened monk to his eventual break with the Roman Catholic Church.
Running time: 105 minutes
Special offer: Order 5 or more for $5 each; 10 or more for $4 each; and 100 or more for $2.50 each.
(We accept PayPal and all major credit cards.)