Killing Places:
Countryside Women's ObGyn Center
28960 US Highway 19 N #110
Clearwater, FL 33761
All Women's Health Center of Tampa
3330 West Kennedy Boulevard
Tampa, FL 33609
All Women's Health Center of North Tampa
14498 University Cove
Tampa, FL 33613
Women's Center of Hyde Park
502 South Magnolia Avenue
Tampa, FL 33606
Lakeland Women's Health Center
4444 South Florida Avenue
Lakeland, FL 33813-2159
Home: 3003 W Estrella St, Tampa, FL 33629

View Florida Abortionists in a larger map
DOB: July 31, 1951
This practitioner has indicated the following additional state licensure: Mississippi, Alabama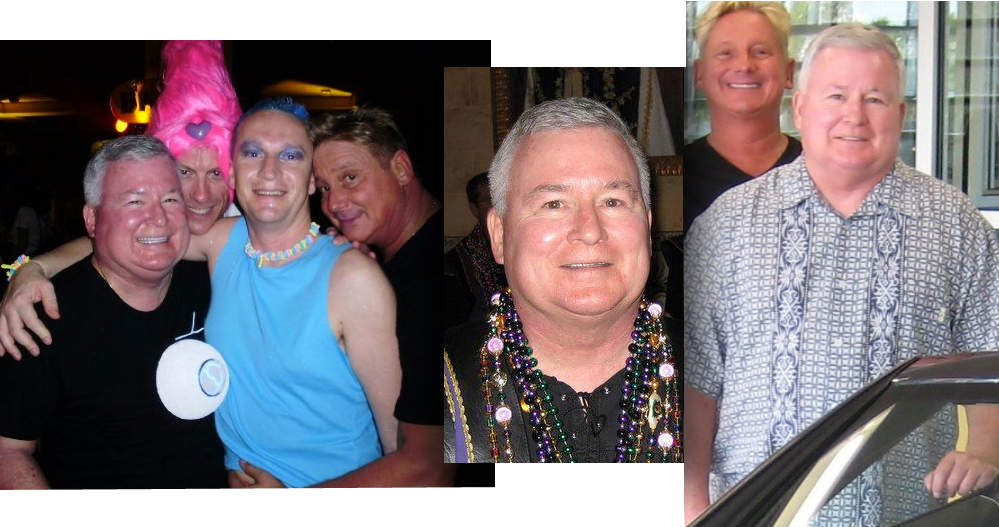 Malcolm Wells Jones works for the "Women's Health Center" abortion chain owned by Gary Dresden. He could be the subject of a fictional novel.
Cry for the Shadows by Phil Harris
Synopsis: Do you believe in the power of prayer? If thousands of believers from around the world asked God to change one man's heart, what do you think might happen? Rebecca Hallsey, the director of a crisis pregnancy center, meets Dr. Malcolm Jones, a long-time abortion provider. She senses there may be hope for him, and sets the prayer machinery in motion. Malcolm endures horrifying dreams and is haunted by odd children who are strangely familiar.
A teenage couple deals with the consequences of a single lapse in judgment. A college student is raped and then finds out that her worst nightmare has come true. A single, middle-aged career woman learns that a short-term solution can begin a lifetime of heartache and regret. Intense fear and uncertainty are replaced by peace and understanding. Feelings of hate and self-condemnation are transformed by the loving Grace of God. Sara, Jeff, Sheila, Martha, Malcolm, Rebecca, Father John, and Pastor Pete are all waiting inside, ready to take you on a short journey through one of life's most basic realities.
Now the really odd thing about this is that I emailed the author and he messaged me back saying that he researched the name very carefully to make sure it was not the name of any abortionist in order to avoid lawsuits. The interesting part about that answer is that it is a Christian novel that deals with prayer as a form of spiritual warfare in the conversion of an abortion doctor. The other odd coincidence is that the name of the fictional abortion clinic where "Malcolm P. Jones" works is "Women's Health Center." Malcolm W. Jones works at several abortion clinics named Women's Health Center. The abortionist in the novel drives a "silver Escalade." The real life Malcolm Jones drives a Silver Cadillac Escalade.
What are the chances?
Now pro-life evangelists in the Tampa Bay area have begun to pray that the real-life Malcolm will too have terrifying dreams.
Malcolm Jones' Biography
Malcolm Wells Jones was born in July 31, 1951. That makes him a Leo, which connects him astrologically with his partner Peter Paul Leonardo, whose birthday is August 1957.
Jones entered graduate school in January 1973. He studied in Jackson, Mississippi and then did his internship in Jacksonville, Florida from 1977 to 1978. He began practicing medicine in 1979. He did his residency as an Ob/Gyn in Jacksonville form 1979 to 1981.
He married Mary Margaret Wade, a graphic designer and cartoonist. They lived in the art district of St Petersburg. They lived at 115 7th Ave NE, Saint Petersburg, Florida 33701.

View Larger Map
From: Mary Margaret Wade's Obituary
Mary Wade was born in December 30th, 1948. She died in Durham North Carolina, Sunday, June 10, 2007. She worked in graphic design and cartooning in Washington, DC, Greensboro, N.C., St. Petersburg, Fla., and Atlanta, Ga., where she also taught art at The Atlanta School. She was known in the art world as a cartoonist.
A native of Winston-Salem, North Carolina, Mary Margaret Wade received a journalism degree from the University of Georgia and a Master of Education degree from Howard University. She taught art at the independent elementary school, the Atlanta School, and worked with artists' book press Nexus Press. Wade moved to Durham, North Carolina in 1996 and was program director for Arts for Life-Duke, a program for children suffering life-threatening illnesses at Duke University Hospital. Several of her political cartoons and drawings appeared in Southline and were published by Gordon Lish in the early 1990s. Her work was also featured in a solo show at the TULA Foundation Gallery in Atlanta, 1992. Wade served on the board of the Cape Lookout Environmental Camp and the Resource Center for Women and Ministry in the South, and was the Board President of Solterra.
Collection contains personal correspondence, photographs, writings and drawings, subject files, ephemera, and clippings. The photographs document Wade's personal life, her art exhibits, and trips to Cuba, Alaska, and Costa Rica. The drawings and writings primarily consist of published versions and drafts of cartoons, as well as some manuscripts of writings and drawings for texts, including the artwork for Have You Ever Seen an Ugly Bride?, an unpublished book by Wade and Elizabeth Lide. The subject files include a file for the Resource Center for Women and Ministry in the South, an abortion rights petition signed by Norma McCorvey, and typescripts documenting the Kilbuck family, who were ancestors of Wade's that were missionaries in Alaska. Acquired as part of the Sallie Bingham Center for Women's History and Culture.
Her papers are in the special collections department at Duke University, the Mary Margaret Wade papers. She appears to have been a liberal "Christian" — the daughter of missionaries, who was involved in legalizing abortion in the early 1970s. The collection contains several boxes.
Malcolm Jones and Mary Wade were divorced in 1987. The divorce records are in Hillsborough County (Tampa).
Then there appears a listing for Malcolm W Jones at 336 20th Ave NE, Saint Petersburg, FL 33704. This address is within a few blocks the home he shared with Mary Wade. He likely moved here in the early late 1980s after his divorce. This is the "art district" of St. Petersburg, the typical homosexual community with a strong spirit of witchcraft.
Malcolm then appears with his name on an apartment on Bayshore Boulevard in Tampa for 14 years. His parents and a daughter (or niece) lived there since 1997. Another man named Peter Paul Leonardo has also been listed at this address.
Malcolm Jones and Pete Leonardo own a 2,291 sq ft home at 3003 West Estrella Street Tampa, FL 33629. They have owned the home since 1999.
Malcolm Jones and Pete Leonardo also own a Madeira Beach condo, 12935 Gulf Lane, Apt 301, Saint Petersburg, FL 33708. They have owned this property since 2005.
Here are two recent photos of Malcolm Jones and Pete Leonardo at a Simon-Ticket Mercedes-Benz of Tampa in June of 2011.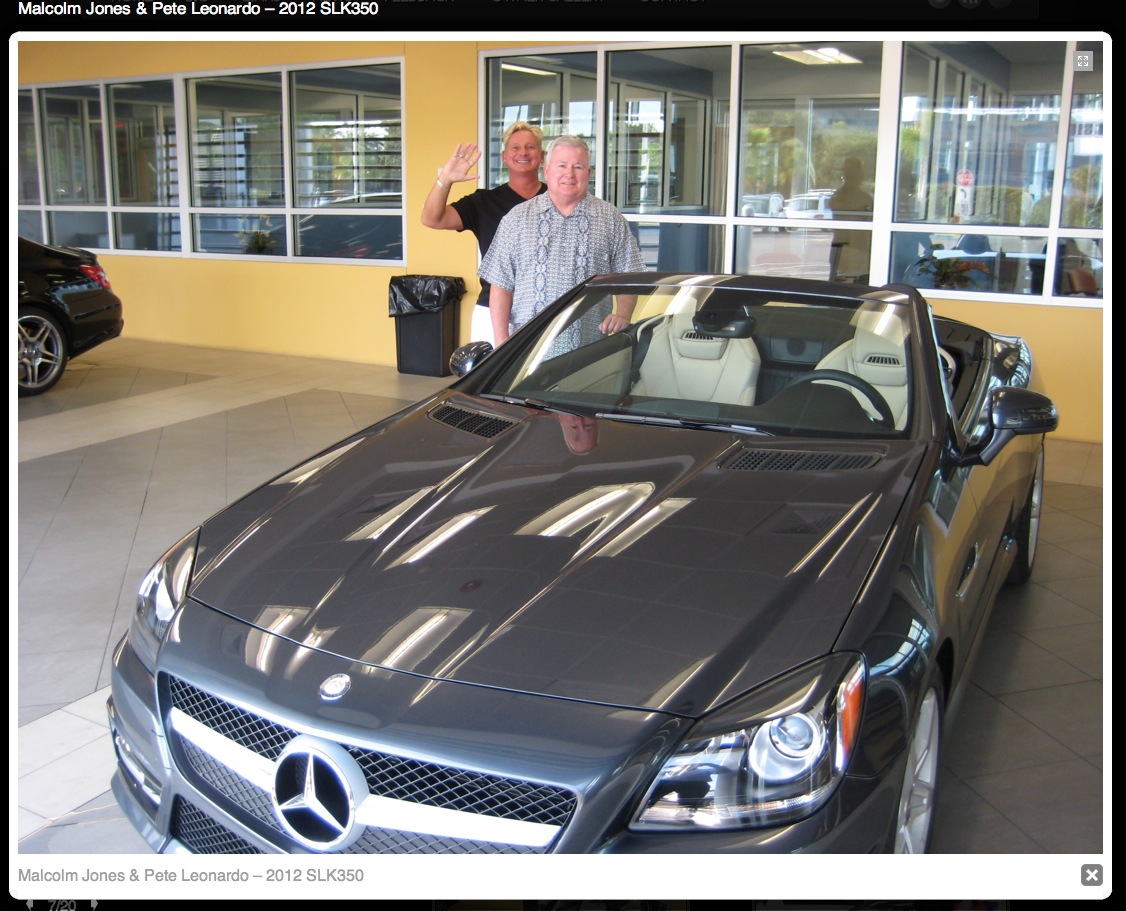 CAPTION: Congratulations to my good customers and great friends Pete & Malcolm. Malcolm took delivery of the first new body style 2012 SLK350 sold at Mercedes-Benz of Tampa. Delivery on June 4th, 2011.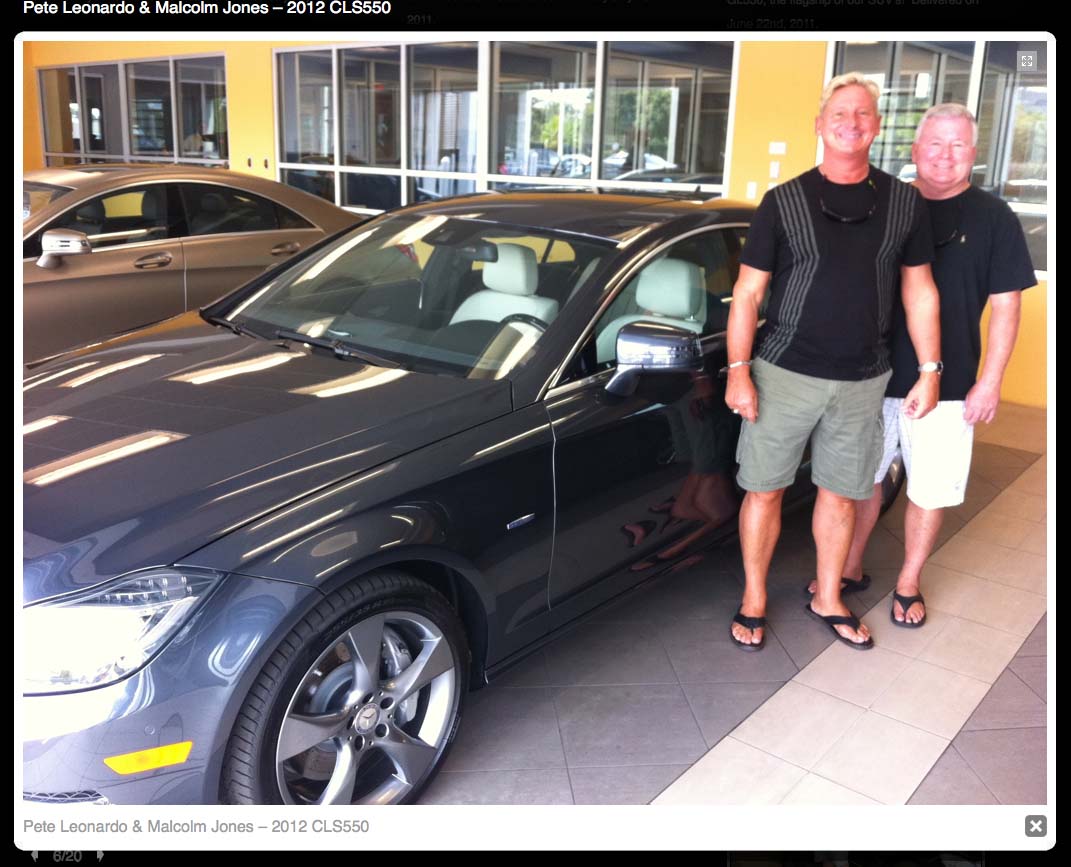 CAPTION: What's this? Back so soon? Not to be left out Pete took delivery of the first new bodystyle 2012 CLS550 sold at Mercedes-Benz of Tampa. Thanks again Pete and Malcolm – see you soon.