Killing Place:
Presidential Women's Center
100 North Pointe Parkway
West Palm Beach, FL 33407
Office:
560 Village Blvd, Suite 200
West Palm Beach, FL 33409-1963
Home:
1005 Bear Island Dr.
West Palm Beach, FL 33409

View Florida Abortionists in a larger map
This practitioner currently holds staff privileges at the following hospital/medical/health institutions:
St Mary's Hospital; Good Samaritan Hospital West Palm Beach
DOB: 11/26/1961
Misc.: Works part-time at Presidential Women's Center abortion clinic in West Palm Beach, FL. Drives a White Lexus/Single/No Children/Live-in girlfriend
Accomplices: Mona Reis, owner of Presidential Women's Center
Closed Malpractice Claims:
8/20/96 – Uterus perforation during an abortion at Presidential Women's Center – Settled for $100,000
8/20/95 – Same case as above also filed with the insurance company of Rodriguez for an additional $20,000
10/8/92 – Birth of a child with hydrocephalus meningeal myelocele who then died. Settled for $350,000
by Jill Stanek
Yesterday Susan e-mailed me:
My baby was aborted on this day years ago. I am unable to think of a better way to spend today other than attempting to end the slaughter.
Susan picketed the medical office of abortionist Frank Rodriguez in Palm Beach, FL with her friend Marilyn, below.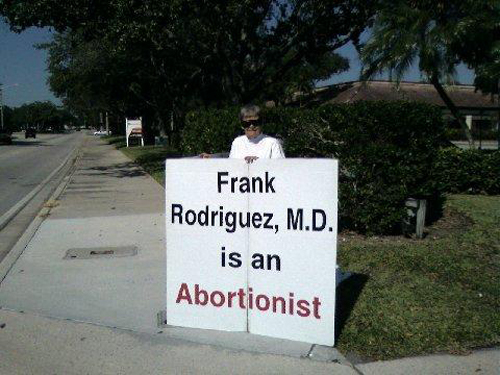 Many moms who have aborted feel getting involved in the abortion movement would be hypocritical. Susan demonstrates the opposite is true. She is now standing in the gap for babies, which is so helpful to the cause. How many people learned yesterday that Rodriguez is a baby killer thanks to Susan and Marilyn? Doing nothing, particularly when you personally know abortion hurts children and mothers, only helps the other side.
Police investigating but pro-lifers immediately suspected
July 07, 2005, WND
An abortion clinic that draws patients from all over Florida and beyond has closed after an Independence Day fire labeled by the group as an "act of terrorism."
The fire late Monday night at the Presidential Women's Center in West Palm Beach sent flames through the roof of the building. The incident was almost one year to the day after an arsonist set ablaze another women's center in Lake Worth, Fla., which remains closed, the Palm Beach Post reported.
Investigators said it's too early to comment on the cause of Monday's fire, though they have found evidence of a fire accelerant at the scene.
But the clinic has come to a quick conclusion.
"It was an act of terrorism, an act of arson that did a great deal of damage," said Lou Silber, the center's attorney. "This is not going to close us down. We are going to open up as soon as possible and provide women medical services."
The case has been turned over to the federal Bureau for Alcohol, Tobacco, Firearms and Explosives, he said.
The leader of a local pro-life group says abortion protesters undoubtedly will be blamed.
"It is tragic that it happened," said Frances Fitzgerald, president of the Palm Beach County Right to Life League. "You don't take care of violence with more violence."
Fitzgerald said the pro-life supports who regularly gather outside the clinic come to pray and "help women, not cause violence."
The Post noted the clinic's status as one of the few — and more recently the only — women's clinic where abortions are performed in the county has fueled constant protests.
Frank Rodriguez, an OB/GYN, said patients are referred to the clinic from far and wide. "People come from out of state and out of the country to that place because they provide a lot of decent care," he said.
The Palm Beach County Right to Life League and other groups, including local FACE Life, bring people Saturdays to counsel women on the sidewalks.
The Rev. Joe Papes, spiritual moderator for Respect Life, says the pro-lifers are not protesters.
"We don't endorse any kind of violence," he said. "There has never been any type of brouhaha or melee."
Susan Pine, president of FACE Life, told the Post she sometimes stands apart from the crowd to hand out fliers or offer advice.
Pine's group issued a news release June 23 reporting that a WomanCare abortion clinic in West Palm Beach was evicted from its building.
Pine said it was her understanding that WomanCare misrepresented itself to the property owner in order to secure the location.
"Although WomanCare is an abortion center, they made no statements to the fact that they perform abortions," Pine said.
In response to that closure, and to another WomanCare clinic shut down in Cocoa, Fla., Pine stated: "We are thrilled that there are two less facilities in our beautiful state that are focused on the destruction of innocent human life, that exploit women in dire and unusual circumstances, and that rob men of their fatherhood."