By Jay Rogers
Published December 29, 2018
I explain more fully the meaning of the term, preterism, in "Part II: Notes on Daniel." By way of disclaimer, I am not what is termed a "Hymenaean," "hyper-preterist" or a "full preterist." This doctrinal error holds that all prophecy in the Bible, including the Second Coming of Jesus, is a past event fulfilled by AD 70. This violates an important foundational tenet of the early Christian creeds – the resurrection of the body, and the life to come, Amen. With all orthodox Christians of all the ages, I believe and confess that Jesus Christ, the Son of God, the Second Person of the Trinity, will yet come again in glory to judge the living and the dead and His kingdom will have no end.
The word orthodox literally means, "right doctrine" or "correct thinking," not Eastern Orthodox. For more information on this, see my book, Why Creeds and Confessions?
Although I do not debate against hyper-preterists, I wrote an article, Epiphanius of Salamis on the Hymenaean Heresy, which shows the Church Fathers viewed this as a Docetic-Gnostic heresy. See also: Against Hymenaeanism – The Charity of Intolerance by Andrew Sandlin.
---
In the Days of These Kings (Book)
Perfect-bound Paperback — 740 pages
The Book of Daniel in Preterist Perspective
"And in the days of these kings shall the God of heaven set up a kingdom, which shall never be destroyed: and the kingdom shall not be left to other people, but it shall break in pieces and consume all these kingdoms, and it shall stand for ever" (Daniel 2:44).
The overarching message of Daniel is that Jesus the Messiah is even now ruling over the nations. He is the King of kings. Daniel tells us that Messiah's kingdom will advance in the whole world from "generation to generation" (Daniel 4:4,34). Christ's dominion is "given to the people of the saints of the most High" (Daniel 7:22). Our purpose then is to see "all people, nations, and languages … serve and obey him" (Daniel 7:14,27).
This comprehensive work offers a fascinating look at the book of Daniel in preterist perspective. Great attention is paid to the writings of ancient and modern historians and scholars to connect the dots and demonstrate the continuity of Daniel's prophecy with all of Scripture.
(We accept PayPal and all major credit cards.)
Click here for more information
---
As you will see in my treatment of 2 Thessalonians 2 and a few other portions of Scripture, I am less preterist even than some other orthodox commentators, such as David Chilton, Kenneth Gentry, Gary DeMar and James Jordan. I do not attempt to pigeonhole every biblical prophecy to fit a preterist hermeneutic. My approach is that Scripture should interpret Scripture. However, I do not use the term "partial preterist" any more than I would call myself a "partial Calvinist" just because of the existence of hyper-Calvinists who have turned Reformed doctrine into heresy. I am just a "preterist."
In 2004, at the time I finished the series of articles that became "Part I: Daniel Explained," I came across John Calvin's Commentary on the Book of Daniel. I was surprised and delighted to find that Calvin had come to many of the same conclusions as I had. Calvin is sometimes classified as a historicist, but he was a solid preterist on the Book of Daniel. I altered a few points of my own interpretation after I determined that Calvin's were superior. Obviously, Calvin was a preterist in respect to his commentary on Daniel. According to a preface by Calvin's translators:
Our readers will remember, that as an expositor of prophecy, Calvin is a Preterist, and that his general system of interpretation is as remote from the year-day theory of Birks, Faber, and others [historicist commentators], as from the futurist speculations of Maitland, Tyso, and Todd. Notwithstanding the disagreement between these Lectures and the writings of Birks, we strongly recommend their perusal by every student who would become thoroughly proficient in the prophecies of Daniel. The first step towards progress, is to surrender all our preconceived notions, and to prepare for the possibility of their vanishing away before the force of sanctified reason and all-pervading truth (Calvin, Commentary on Daniel, translator's preface, emphasis mine).
For many years, I hesitated to put this into a printed book form because I regarded my study of Daniel to be incomplete. However, I constantly came across readers who wanted to know of a book that presented the best argument for a preterist interpretation. There are a few good ones, but I was surprised to see how little was available in comparison to books that discuss Matthew 24 and Revelation from a preterist perspective. I have consulted the other preterist commentaries that are available, but for the most part, I drew these conclusions on my own by researching source materials written by ancient historians and the books of the Bible that also document the period of 700 BC to AD 70.
In this book, I did not want to "reinvent the wheel." Anyone who wants a good preterist commentary on Daniel need look no further than John Calvin. So I have not published a "commentary" on Daniel in the strictest sense as much as a compilation of the sources and resources I have used in my own study of the preterist view of Daniel.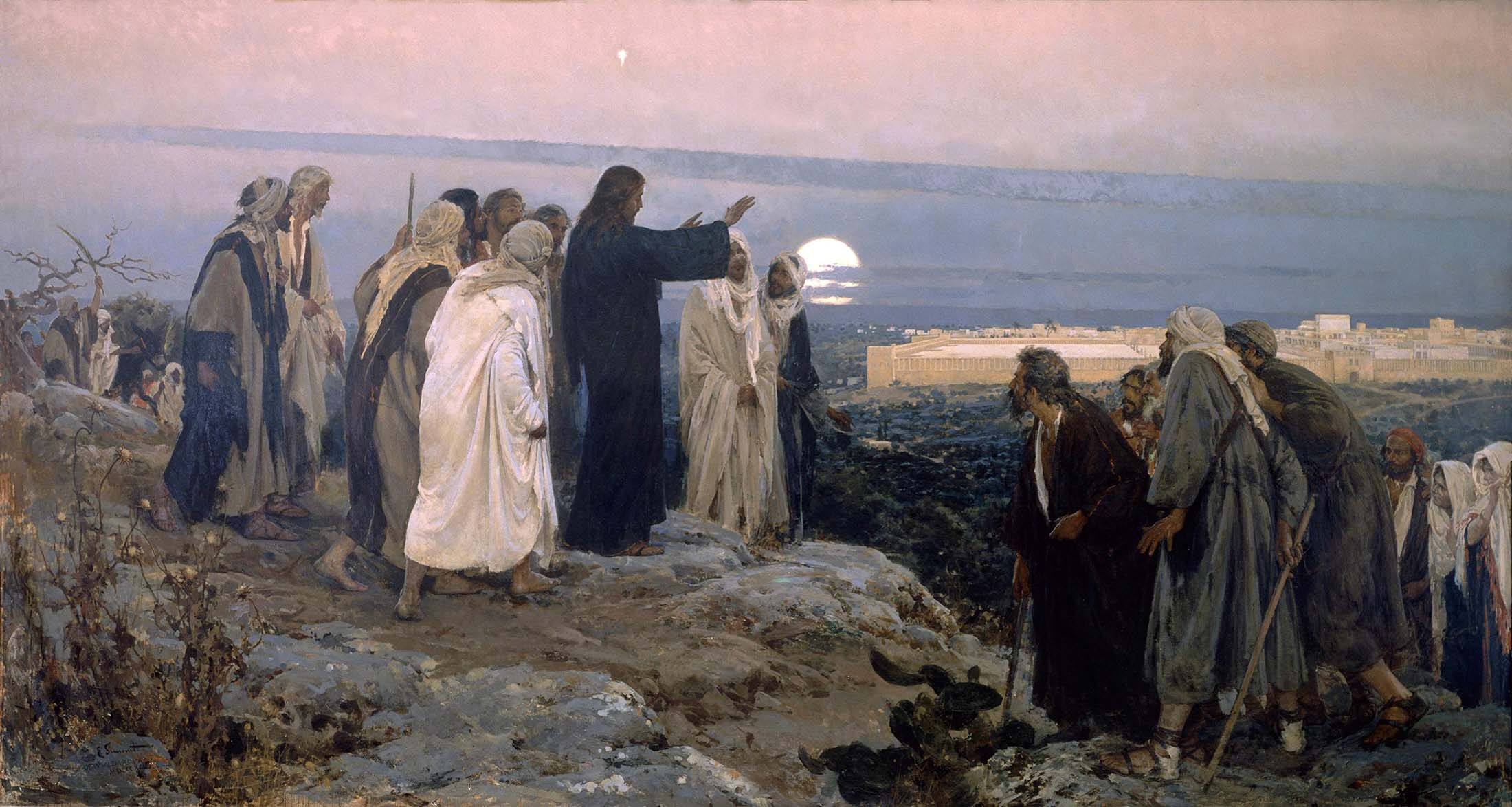 Painting by Enrique Simonet Lombardo — Flevit super illam (1892) — "He wept over it." Click to enlarge
---
»
Your comments are welcome!
---
Freedom: The Model of Christian Liberty (DVD)
"Give me liberty or give me death!"
Patrick Henry's famous declaration not only helped launch the War for Independence, it also perfectly summarized the mindset that gave birth to, and sustained, the unprecedented experiment in Christian liberty that was America.
The freedom our Founders envisioned was not freedom from suffering, want, or hard work. Nor was it freedom to indulge every appetite or whim without restraint—that would merely be servitude to a different master. No, the Founders' passion was to live free before God, unfettered by the chains of autocracy, shackles that slowly but inexorably bind men when the governments they fashion fail to recognize and uphold freedom's singular, foundational truth: that all men are created in the image of God, and are thereby co-equally endowed with the right to "life, liberty, and the pursuit of happiness."
This presentation is a similar call, not to one but many. By reintroducing the principles of freedom that gave birth to America, it is our prayer that Jesus, the true and only ruler over the nations, will once again be our acknowledged Sovereign, that we may again know and exult in the great truth that "where the Spirit of the LORD is, there is liberty" (2 Cor. 3:17).
Welcome to the Second American Revolution!
This DVD features "Liberty: The Model of Christian Liberty" along with "Dawn's Early Light: A Brief History of America's Christian Foundations." Bonus features include a humorous but instructive collection of campaign ads and Eric Holmberg's controversial YouTube challenge concerning Mitt Romney's campaign for president.
(We accept PayPal and all major credit cards.)
Click here for more information
---
The Silent Scream (DVD) Eight Languages
"When the lives of the unborn are snuffed out, they often feel pain, pain that is long and agonizing." – President Ronald Reagan to National Religious Broadcasters Convention, January 1981
Ronald Reagan became convinced of this as a result of watching The Silent Scream – a movie he considered so powerful and convicting that he screened it at the White House.
The modern technology of real-time ultrasound now reveals the actual responses of a 12-week old fetus to being aborted. As the unborn child attempts to escape the abortionist's suction curette, her motions can be seen to become desperately agitated and her heart rate doubles. Her mouth opens – as if to scream – but no sound can come out. Her scream doesn't have to remain silent, however … not if you will become her voice. This newly re-mastered version features eight language tracks and two bonus videos.
"… a high technology "Uncle Tom's Cabin" arousing public opinion just as Harriet Beecher Stowe's 1852 antislavery novel ignited the abolitionist movement." – Sen. Gordon Humphrey, Time Magazine
Languages: English, Spanish, French, South Korean, Chinese, Russian, Portuguese, Japanese
Running Time: 28 minutes
(We accept PayPal and all major credit cards.)
Click here for more information
---
Dr. Francis Schaeffer - A Christian Manifesto (DVD)
That Swiss Hermit Strikes Again!
Dr. Schaeffer, who was one of the most influential Christian thinkers in the twentieth century, shows that secular humanism has displaced the Judeo-Christian consensus that once defined our nation's moral boundaries. Law, education, and medicine have all been reshaped for the worse as a consequence. America's dominant worldview changed, Schaeffer charges, when Christians weren't looking.
Schaeffer lists two reasons for evangelical indifference: a false concept of spirituality and fear. He calls on believers to stand against the tyranny and moral chaos that come when humanism reigns-and warns that believers may, at some point, be forced to make the hard choice between obeying God or Caesar. A Christian Manifesto is a thought-provoking and bracing Christian analysis of American culture and the obligation Christians have to engage the culture with the claims of Christ.
(We accept PayPal and all major credit cards.)
Click here for more information
---
The United States of America 2.0: The Great Reset (Book)
High Quality Paperback — 40 pages of dynamite!
Revival, Resistance, Reformation, Revolution
An Introduction to the Doctrines of Interposition and Nullification
In 1776, a short time after the Declaration of Independence was adopted, Thomas Jefferson, John Adams and Benjamin Franklin were assigned to design an official seal for the United States of America. Their proposed motto was Rebellion to Tyrants is Obedience to God. America owes its existence to centuries of Christian political philosophy. Our nation provided a model for liberty copied by nations the world over.
By the 21st century, we need a "Puritan Storm" to sweep away the Hegelian notion that the state is "God walking on earth." We need revival and reformation in full force to vanquish the problems that plague us as a nation — from government controlled healthcare — to abortion on demand — to same sex "marriage." This booklet gives a primer on our founders' Christian idea of government and examines how the doctrine of nullification was woven into the Constitution as a safeguard against federal tyranny. It concludes with the history and theology of civil resistance. A Second American Revolution is coming with the Word of God growing mightily and prevailing! (Acts 19:20).
(We accept PayPal and all major credit cards.)
Click here for more information
---
Amazing Grace: The History and Theology of Calvinism (DVD)
Download the Free Study Guide!
Just what is Calvinism?
Does this teaching make man a deterministic robot and God the author of sin? What about free will? If the church accepts Calvinism, won't evangelism be stifled, perhaps even extinguished? How can we balance God's sovereignty and man's responsibility? What are the differences between historic Calvinism and hyper-Calvinism? Why did men like Augustine, Luther, Calvin, Spurgeon, Whitefield, Edwards and a host of renowned Protestant evangelists embrace the teaching of predestination and election and deny free will theology?
This is the first video documentary that answers these and other related questions. Hosted by Eric Holmberg, this fascinating three-part, four-hour presentation is detailed enough so as to not gloss over the controversy. At the same time, it is broken up into ten "Sunday-school-sized" sections to make the rich content manageable and accessible for the average viewer.
Running Time: 257 minutes
(We accept PayPal and all major credit cards.)