By Jay Rogers
Published December 29, 2018
I explain more fully the meaning of the term, preterism, in "Part II: Notes on Daniel." By way of disclaimer, I am not what is termed a "Hymenaean," "hyper-preterist" or a "full preterist." This doctrinal error holds that all prophecy in the Bible, including the Second Coming of Jesus, is a past event fulfilled by AD 70. This violates an important foundational tenet of the early Christian creeds – the resurrection of the body, and the life to come, Amen. With all orthodox Christians of all the ages, I believe and confess that Jesus Christ, the Son of God, the Second Person of the Trinity, will yet come again in glory to judge the living and the dead and His kingdom will have no end.
The word orthodox literally means, "right doctrine" or "correct thinking," not Eastern Orthodox. For more information on this, see my book, Why Creeds and Confessions?
Although I do not debate against hyper-preterists, I wrote an article, Epiphanius of Salamis on the Hymenaean Heresy, which shows the Church Fathers viewed this as a Docetic-Gnostic heresy. See also: Against Hymenaeanism – The Charity of Intolerance by Andrew Sandlin.
---
In the Days of These Kings (Book)
Perfect-bound Paperback — 740 pages
The Book of Daniel in Preterist Perspective
"And in the days of these kings shall the God of heaven set up a kingdom, which shall never be destroyed: and the kingdom shall not be left to other people, but it shall break in pieces and consume all these kingdoms, and it shall stand for ever" (Daniel 2:44).
The overarching message of Daniel is that Jesus the Messiah is even now ruling over the nations. He is the King of kings. Daniel tells us that Messiah's kingdom will advance in the whole world from "generation to generation" (Daniel 4:4,34). Christ's dominion is "given to the people of the saints of the most High" (Daniel 7:22). Our purpose then is to see "all people, nations, and languages … serve and obey him" (Daniel 7:14,27).
This comprehensive work offers a fascinating look at the book of Daniel in preterist perspective. Great attention is paid to the writings of ancient and modern historians and scholars to connect the dots and demonstrate the continuity of Daniel's prophecy with all of Scripture.
(We accept PayPal and all major credit cards.)
Click here for more information
---
As you will see in my treatment of 2 Thessalonians 2 and a few other portions of Scripture, I am less preterist even than some other orthodox commentators, such as David Chilton, Kenneth Gentry, Gary DeMar and James Jordan. I do not attempt to pigeonhole every biblical prophecy to fit a preterist hermeneutic. My approach is that Scripture should interpret Scripture. However, I do not use the term "partial preterist" any more than I would call myself a "partial Calvinist" just because of the existence of hyper-Calvinists who have turned Reformed doctrine into heresy. I am just a "preterist."
In 2004, at the time I finished the series of articles that became "Part I: Daniel Explained," I came across John Calvin's Commentary on the Book of Daniel. I was surprised and delighted to find that Calvin had come to many of the same conclusions as I had. Calvin is sometimes classified as a historicist, but he was a solid preterist on the Book of Daniel. I altered a few points of my own interpretation after I determined that Calvin's were superior. Obviously, Calvin was a preterist in respect to his commentary on Daniel. According to a preface by Calvin's translators:
Our readers will remember, that as an expositor of prophecy, Calvin is a Preterist, and that his general system of interpretation is as remote from the year-day theory of Birks, Faber, and others [historicist commentators], as from the futurist speculations of Maitland, Tyso, and Todd. Notwithstanding the disagreement between these Lectures and the writings of Birks, we strongly recommend their perusal by every student who would become thoroughly proficient in the prophecies of Daniel. The first step towards progress, is to surrender all our preconceived notions, and to prepare for the possibility of their vanishing away before the force of sanctified reason and all-pervading truth (Calvin, Commentary on Daniel, translator's preface, emphasis mine).
For many years, I hesitated to put this into a printed book form because I regarded my study of Daniel to be incomplete. However, I constantly came across readers who wanted to know of a book that presented the best argument for a preterist interpretation. There are a few good ones, but I was surprised to see how little was available in comparison to books that discuss Matthew 24 and Revelation from a preterist perspective. I have consulted the other preterist commentaries that are available, but for the most part, I drew these conclusions on my own by researching source materials written by ancient historians and the books of the Bible that also document the period of 700 BC to AD 70.
In this book, I did not want to "reinvent the wheel." Anyone who wants a good preterist commentary on Daniel need look no further than John Calvin. So I have not published a "commentary" on Daniel in the strictest sense as much as a compilation of the sources and resources I have used in my own study of the preterist view of Daniel.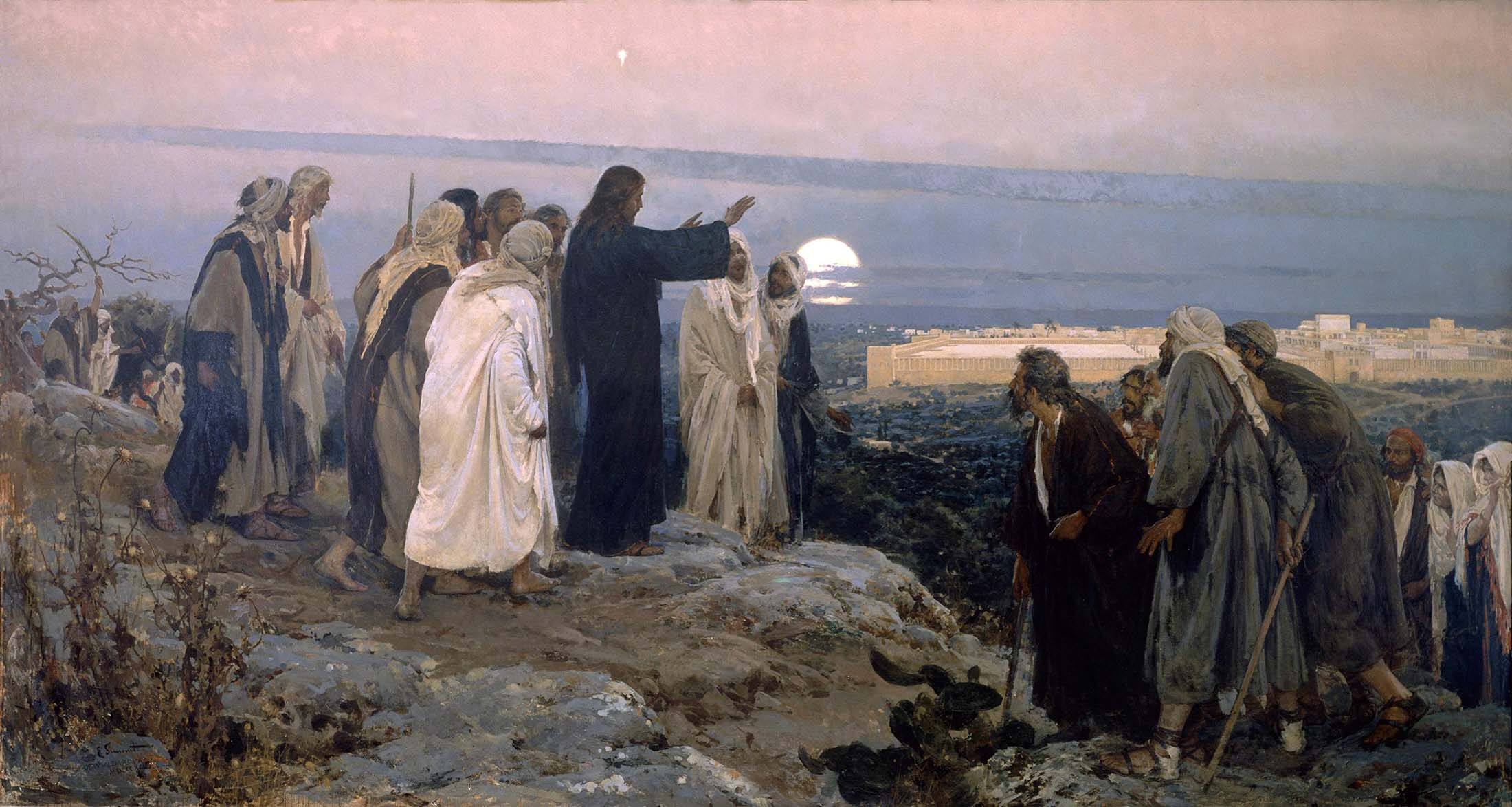 Painting by Enrique Simonet Lombardo — Flevit super illam (1892) — "He wept over it." Click to enlarge
---
»
Your comments are welcome!
---
Dr. Francis Schaeffer - A Christian Manifesto (DVD)
That Swiss Hermit Strikes Again!
Dr. Schaeffer, who was one of the most influential Christian thinkers in the twentieth century, shows that secular humanism has displaced the Judeo-Christian consensus that once defined our nation's moral boundaries. Law, education, and medicine have all been reshaped for the worse as a consequence. America's dominant worldview changed, Schaeffer charges, when Christians weren't looking.
Schaeffer lists two reasons for evangelical indifference: a false concept of spirituality and fear. He calls on believers to stand against the tyranny and moral chaos that come when humanism reigns-and warns that believers may, at some point, be forced to make the hard choice between obeying God or Caesar. A Christian Manifesto is a thought-provoking and bracing Christian analysis of American culture and the obligation Christians have to engage the culture with the claims of Christ.
(We accept PayPal and all major credit cards.)
Click here for more information
---
Go Stand Speak (DVD)
With "preaching to the lost" being such a basic foundation of Christianity, why do many in the church seem to be apathetic on this issue of preaching in highways and byways of towns and cities?
Is it biblical to stand in the public places of the world and proclaim the gospel, regardless if people want to hear it or not?
Does the Bible really call church pastors, leaders and evangelists to proclaim the gospel in the public square as part of obedience to the Great Commission, or is public preaching something that is outdated and not applicable for our day and age?
These any many other questions are answered in this documentary.
(We accept PayPal and all major credit cards.)
Click here for more information
---
Abortion Clinic 911 Calls (DVD)
Exposes the Dangers of Abortion to Women!
These shocking eyewitness accounts expose the dangers of abortion not only to unborn children, but to the health and lives women as well. An antidote to the smokescreens of the liberal media, these short clips show what really happens in and around abortion clinics.
Although the content is emotionally gut-wrenching, these videos have been used in church seminars and small groups to educate Christians on the abortion issue and to lead people toward a pro-life position. Contains 2 hours and 40 minutes of materials that can be shown separately.
Watch these pro-life videos on-line.
"These videos helped change my mind from pro-choice to pro-life. Your videos are what did it for me. I will be walking in next year's March For Life in San Francisco." — A. Jackson, California
"I was going to have an abortion until I saw your video. Praise Jesus!"
— M. Drew, YouTube Commenter
(We accept PayPal and all major credit cards.)
Click here for more information
---
Frank Schaeffer Will You Please Shut Up! (Book)
High Quality Paperback — 200 pages
A Reasonable Response to Christian Postmodernism
Includes a response to the book Christian Jihad by Colonel V. Doner
The title of this book is a misnomer. In reality, I am not trying to get anyone to shut up, but rather to provoke a discussion. This book is a warning about the philosophy of "Christian postmodernism" and the threat that it poses not only to Christian orthodoxy, but to the peace and prosperity our culture as well. The purpose is to equip the reader with some basic principles that can be used to refute their arguments.
Part 1 is a response to some of the recent writings by Frank Schaeffer, the son of the late Francis Schaeffer. This was originally written as a defense against Frank's attacks on pro-life street activism – a movement that his father helped bring into being through his books, A Christian Manifesto, How Should We Then Live? and Whatever Happened to the Human Race? These works have impacted literally hundreds of thousands of Christian activists.
Part 2 is a response to Colonel Doner and his book, Christian Jihad: Neo-Fundamentalists and the Polarization of America. Doner was one of the key architects of the Christian Right that emerged in the 1980s, who now represents the disillusionment and defection many Christian activists experienced in the 1990s and 2000s. There is still great hope for America to be reformed according to biblical principles. As a new generation is emerging, it is important to recognize the mistakes that Christian activists have made in the past even while holding to a vision for the future.
(We accept PayPal and all major credit cards.)
Click here for more information
---
Dr. Francis Schaeffer - How Should We Then Live? (DVD)
Special Two-Disc Set!
After 40 years of intense study and world-wide ministry, Dr. Francis Schaeffer completed his crowning work of scholarship – to present profound truths in simple film language. Dr. Schaeffer's brilliant analysis of the past and predictions for current trends have proven so uncannily accurate that this amazing series still feels contemporary almost three decades after its initial release. Ultimately, Schaeffer concludes that man's only hope is a return to God's Biblical absolute, the truth revealed in Christ through the Scriptures.
Available for the first time on DVD, this documentary spectacular also includes intimate in-depth conversations with Francis and Edith Schaeffer. With the on-disc study guide, this presentation forms a unique course of comprehensive study. While this series forms an innovative analysis of the past, this outstanding work is more than history. Each episode focuses on a significant era, yet speaks clearly to 21st-century man with answers for modern problems.
(We accept PayPal and all major credit cards.)