By Editorial Staff
Published August 13, 2001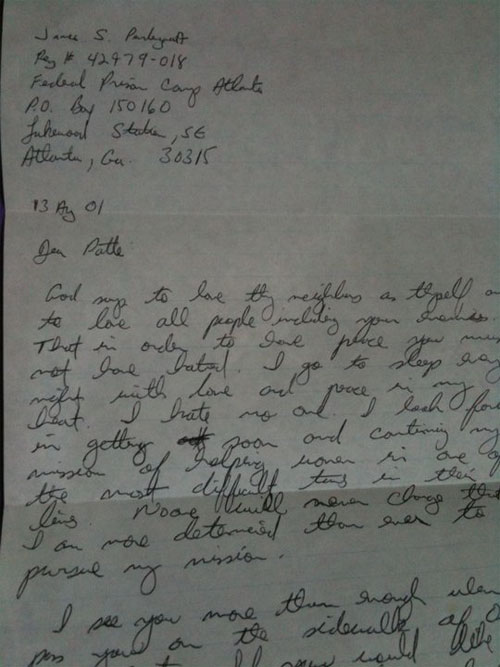 By Patte Smith
I stood on the sidewalk at 1103 Lucerne Terrace praying against the opening of the first late term in central Florida in 1996. James Scott Pendergraft had informed the city that he wanted to perform abortions through all three trimesters. When the Lord allowed Orlando Women's Center to open in 1996, I sensed that He wanted me to stay to reach out to the aborting moms, companions, clinic workers and yes, even the abortionists. I had already been ministering outside all of the other murder mills in Orlando for three years.
A few years later as a result of a frivolous lawsuit he filed against the city of Ocala, Pendergraft was found guilty of conspiracy to commit extortion, lying under oath and mail fraud and sent to a federal penitentiary. I wrote to ask the abortionist to allow me to visit him. I wanted to share the gospel with the man.
Here is what the serial baby-killer wrote in response to my letter to him:
James S. Pendergraft
Reg # 42979-018
Federal Prison Camp Atlanta
PO Oox 150160
Lukewood Station, SE
Atlanta, Ga. 30315

13 Aug 01

Dear Patte,

God says to love thy neighbors as thyself and to love all people including your enemies. That in order to love people you must not have hatred. I go to sleep every night with love and peace in my heart. I hate no one. I look forward to getting out soon and continuing my mission of helping women in one of the most difficult times in their lives. No one will ever change that. I am more determined than ever to pursue my mission.

I see you more than enough when I pass you on the sidewalk of Orlando Women's Center. If you would like to donate to my legal fees please talk with our security personnel. God bless you and take care.

Sincerely,
Dr Pendergraft
Perhaps this will help people to understand why I abhor the wishy-washy Christendom which makes everyone, including abortionists and aborting and post-abortive women, feels as if God loves them just the way they are … unrepentant, with no fear of God in their eyes. This is the devil's business.
Sin is a devil dressed as an angel. ~ RC Sproul
Let niceties and relativism and humanism be flung to the dogs. Let churchianity and comfort in sin be confessed and forsaken. Silence kills babies. Abortion is the devil's business and the church is complicit by her silence and her tolerance. We should be ashamed and repent.
… as for murderers … their portion will be in the lake that burns with fire and sulfur. ~ Revelation 21:8
---
Forerunner - Home
»
Florida's Murder Industry
»
Your comments are welcome!
---
Dr. Francis Schaeffer - A Christian Manifesto (DVD)
That Swiss Hermit Strikes Again!
Dr. Schaeffer, who was one of the most influential Christian thinkers in the twentieth century, shows that secular humanism has displaced the Judeo-Christian consensus that once defined our nation's moral boundaries. Law, education, and medicine have all been reshaped for the worse as a consequence. America's dominant worldview changed, Schaeffer charges, when Christians weren't looking.
Schaeffer lists two reasons for evangelical indifference: a false concept of spirituality and fear. He calls on believers to stand against the tyranny and moral chaos that come when humanism reigns-and warns that believers may, at some point, be forced to make the hard choice between obeying God or Caesar. A Christian Manifesto is a thought-provoking and bracing Christian analysis of American culture and the obligation Christians have to engage the culture with the claims of Christ.
$19.95 — ORDER NOW!
(We accept all major credit cards and PayPal.)
Click here for more information
---
Abortion Clinic 911 Calls (DVD)
Exposes the Dangers of Abortion to Women!
These shocking eyewitness accounts expose the dangers of abortion not only to unborn children, but to the health and lives women as well. An antidote to the smokescreens of the liberal media, these short clips show what really happens in and around abortion clinics.
Although the content is emotionally gut-wrenching, these videos have been used in church seminars and small groups to educate Christians on the abortion issue and to lead people toward a pro-life position. Contains 2 hours and 40 minutes of materials that can be shown separately.
Watch these pro-life videos on-line.
"These videos helped change my mind from pro-choice to pro-life. Your videos are what did it for me. I will be walking in next year's March For Life in San Francisco." — A. Jackson, California
"I was going to have an abortion until I saw your video. Praise Jesus!"
— M. Drew, YouTube Commenter
$4.95 — ORDER NOW!
(We accept all major credit cards and PayPal.)
Click here for more information
---
The Four Keys to the Millennium (Book)
Foundations in Biblical Eschatology
By Jay Rogers, Larry Waugh, Rodney Stortz, Joseph Meiring. High quality paperback, 167 pages.
All Christians believe that their great God and Savior, Jesus Christ, will one day return. Although we cannot know the exact time of His return, what exactly did Jesus mean when he spoke of the signs of His coming (Mat. 24)? How are we to interpret the prophecies in Isaiah regarding the time when "the earth will be full of the knowledge of the LORD as the waters cover the sea" (Isa. 11:19)? Should we expect a time of great tribulation and apostasy or revival and reformation before the Lord returns? Is the devil bound now, and are the saints reigning with Christ? Did you know that there are four hermeneutical approaches to the book of Daniel and Revelation?
These and many more questions are dealt with by four authors as they present the four views on the millennium. Each view is then critiqued by the other three authors.
$12.95 — ORDER NOW!
(We accept all major credit cards and PayPal.)
Click here for more information
---
Freedom: The Model of Christian Liberty (DVD)
"Give me liberty or give me death!"
Patrick Henry's famous declaration not only helped launch the War for Independence, it also perfectly summarized the mindset that gave birth to, and sustained, the unprecedented experiment in Christian liberty that was America.
The freedom our Founders envisioned was not freedom from suffering, want, or hard work. Nor was it freedom to indulge every appetite or whim without restraint—that would merely be servitude to a different master. No, the Founders' passion was to live free before God, unfettered by the chains of autocracy, shackles that slowly but inexorably bind men when the governments they fashion fail to recognize and uphold freedom's singular, foundational truth: that all men are created in the image of God, and are thereby co-equally endowed with the right to "life, liberty, and the pursuit of happiness."
This presentation is a similar call, not to one but many. By reintroducing the principles of freedom that gave birth to America, it is our prayer that Jesus, the true and only ruler over the nations, will once again be our acknowledged Sovereign, that we may again know and exult in the great truth that "where the Spirit of the LORD is, there is liberty" (2 Cor. 3:17).
Welcome to the Second American Revolution!
This DVD features "Liberty: The Model of Christian Liberty" along with "Dawn's Early Light: A Brief History of America's Christian Foundations." Bonus features include a humorous but instructive collection of campaign ads and Eric Holmberg's controversial YouTube challenge concerning Mitt Romney's campaign for president.
$14.95 — ORDER NOW!
(We accept all major credit cards and PayPal.)
Click here for more information
---
God's Law and Society (DVD)
Download the Free Study Guide!
God's Law and Society powerfully presents a comprehensive worldview based upon the ethical system found in the Law of God.
Speakers include: R.J. Rushdoony, George Grant, Howard Phillips, R.C. Sproul Jr., Ken Gentry, Gary DeMar, Jay Grimstead, Steven Schlissel, Andrew Sandlin, Eric Holmberg, and more!
Sixteen Christian leaders and scholars answer some of the most common questions and misconceptions related to this volatile issue:
1. Are we under Law or under Grace?
2. Does the Old Testament Law apply today?
3. Can we legislate morality?
4. What are the biblical foundations of government?
5. Was America founded as a Christian nation?
6. What about the separation of Church and State?
7. Is neutrality a myth?
8. What about non-Christians and the Law of God?
9. Would there be "freedom" in a Christian republic?
10. What would a "Christian America" look like?
Perfect for group instruction as well as personal Bible study.
Ten parts, over four hours of instruction!
Running Time: 240 minutes
Watch over 60 on-line video interviews from God's Law and Society.
$19.95 — ORDER NOW!
(We accept all major credit cards and PayPal.)