By Editorial Staff
Published August 13, 2001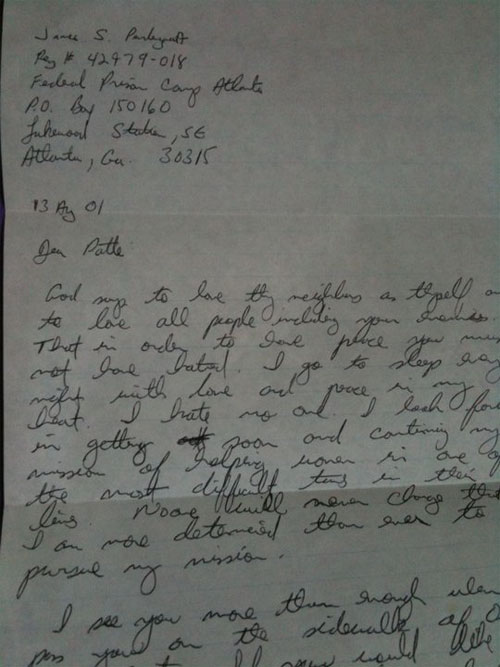 By Patte Smith
I stood on the sidewalk at 1103 Lucerne Terrace praying against the opening of the first late term in central Florida in 1996. James Scott Pendergraft had informed the city that he wanted to perform abortions through all three trimesters. When the Lord allowed Orlando Women's Center to open in 1996, I sensed that He wanted me to stay to reach out to the aborting moms, companions, clinic workers and yes, even the abortionists. I had already been ministering outside all of the other murder mills in Orlando for three years.
A few years later as a result of a frivolous lawsuit he filed against the city of Ocala, Pendergraft was found guilty of conspiracy to commit extortion, lying under oath and mail fraud and sent to a federal penitentiary. I wrote to ask the abortionist to allow me to visit him. I wanted to share the gospel with the man.
Here is what the serial baby-killer wrote in response to my letter to him:
James S. Pendergraft
Reg # 42979-018
Federal Prison Camp Atlanta
PO Oox 150160
Lukewood Station, SE
Atlanta, Ga. 30315

13 Aug 01

Dear Patte,

God says to love thy neighbors as thyself and to love all people including your enemies. That in order to love people you must not have hatred. I go to sleep every night with love and peace in my heart. I hate no one. I look forward to getting out soon and continuing my mission of helping women in one of the most difficult times in their lives. No one will ever change that. I am more determined than ever to pursue my mission.

I see you more than enough when I pass you on the sidewalk of Orlando Women's Center. If you would like to donate to my legal fees please talk with our security personnel. God bless you and take care.

Sincerely,
Dr Pendergraft
Perhaps this will help people to understand why I abhor the wishy-washy Christendom which makes everyone, including abortionists and aborting and post-abortive women, feels as if God loves them just the way they are … unrepentant, with no fear of God in their eyes. This is the devil's business.
Sin is a devil dressed as an angel. ~ RC Sproul
Let niceties and relativism and humanism be flung to the dogs. Let churchianity and comfort in sin be confessed and forsaken. Silence kills babies. Abortion is the devil's business and the church is complicit by her silence and her tolerance. We should be ashamed and repent.
… as for murderers … their portion will be in the lake that burns with fire and sulfur. ~ Revelation 21:8
---
» »
Duncan, Stephen Wiley (verified, owner) - Tallahassee
Your comments are welcome!
---
The Abortion Matrix: Defeating Child Sacrifice and the Culture of Death (DVD)
Download the free Study Guide!
Is there a connection between pagan religion and the abortion industry?
This powerful presentation traces the biblical roots of child sacrifice and then delves into the social, political and cultural fall-out that this sin against God and crime against humanity has produced in our beleaguered society.
Conceived as a sequel and update to the 1988 classic, The Massacre of Innocence, the new title, The Abortion Matrix, is entirely fitting. It not only references abortion's specific target – the sacred matrix where human beings are formed in the womb in the very image of God, but it also implies the existence of a conspiracy, a matrix of seemingly disparate forces that are driving this holocaust.
The occult activity surrounding the abortion industry is exposed with numerous examples. But are these just aberrations, bizarre yet anomalous examples of abortionists who just happen to have ties to modern day witchcraft? Or is this representative of something deeper, more sinister and even endemic to the entire abortion movement?
As the allusion to the film of over a decade ago suggests, the viewer may learn that things are not always as they appear to be. The Abortion Matrix reveals the reality of child-killing and strikes the proper moral chord to move hearts to fulfill the biblical responsibility to rescue those unjustly sentenced to death and to speak for those who cannot speak for themselves (Proverbs 24:11,12; 31:8,9).
Speakers include: George Grant, Peter Hammond, RC Sproul Jr., Paul Jehle, Lou Engle, Rusty Thomas, Flip Benham, Janet Porter and many more.
Ten parts, over three hours of instruction!
Running Time: 195 minutes
(We accept PayPal and all major credit cards.)
Click here for more information
---
Amazing Grace: The History and Theology of Calvinism (DVD)
Download the Free Study Guide!
Just what is Calvinism?
Does this teaching make man a deterministic robot and God the author of sin? What about free will? If the church accepts Calvinism, won't evangelism be stifled, perhaps even extinguished? How can we balance God's sovereignty and man's responsibility? What are the differences between historic Calvinism and hyper-Calvinism? Why did men like Augustine, Luther, Calvin, Spurgeon, Whitefield, Edwards and a host of renowned Protestant evangelists embrace the teaching of predestination and election and deny free will theology?
This is the first video documentary that answers these and other related questions. Hosted by Eric Holmberg, this fascinating three-part, four-hour presentation is detailed enough so as to not gloss over the controversy. At the same time, it is broken up into ten "Sunday-school-sized" sections to make the rich content manageable and accessible for the average viewer.
Running Time: 257 minutes
(We accept PayPal and all major credit cards.)
Click here for more information
---
In the Days of These Kings (Book)
Perfect-bound Paperback — 740 pages
The Book of Daniel in Preterist Perspective
"And in the days of these kings shall the God of heaven set up a kingdom, which shall never be destroyed: and the kingdom shall not be left to other people, but it shall break in pieces and consume all these kingdoms, and it shall stand for ever" (Daniel 2:44).
The overarching message of Daniel is that Jesus the Messiah is even now ruling over the nations. He is the King of kings. Daniel tells us that Messiah's kingdom will advance in the whole world from "generation to generation" (Daniel 4:4,34). Christ's dominion is "given to the people of the saints of the most High" (Daniel 7:22). Our purpose then is to see "all people, nations, and languages … serve and obey him" (Daniel 7:14,27).
This comprehensive work offers a fascinating look at the book of Daniel in preterist perspective. Great attention is paid to the writings of ancient and modern historians and scholars to connect the dots and demonstrate the continuity of Daniel's prophecy with all of Scripture.
(We accept PayPal and all major credit cards.)
Click here for more information
---
Why Creeds and Confessions? (Book)
High Quality Paperback — 219 pages
Foundations in Biblical Orthodoxy
Driving down a country road sometime, you might see a church with a sign proudly proclaiming: "No book but the Bible — No creed but Christ." The problem with this statement is that the word creed (from the Latin: credo) simply means "belief." All Christians have beliefs, regardless of whether they are written.
Yet a single book containing the actual texts of the most important creeds of the early Church will not often be found. Out of the multitude of works on the evangelical Christian book market today, those dealing with the creeds of the Church are scarce.
Why Creeds and Confessions? provides a foundation of biblical orthodoxy as a defense against the false and truly heretical doctrines advanced by the spirit of this age.
(We accept PayPal and all major credit cards.)
Click here for more information
---
The Four Keys to the Millennium (Book)
Foundations in Biblical Eschatology
By Jay Rogers, Larry Waugh, Rodney Stortz, Joseph Meiring. High quality paperback, 167 pages.
All Christians believe that their great God and Savior, Jesus Christ, will one day return. Although we cannot know the exact time of His return, what exactly did Jesus mean when he spoke of the signs of His coming (Mat. 24)? How are we to interpret the prophecies in Isaiah regarding the time when "the earth will be full of the knowledge of the LORD as the waters cover the sea" (Isa. 11:19)? Should we expect a time of great tribulation and apostasy or revival and reformation before the Lord returns? Is the devil bound now, and are the saints reigning with Christ? Did you know that there are four hermeneutical approaches to the book of Daniel and Revelation?
These and many more questions are dealt with by four authors as they present the four views on the millennium. Each view is then critiqued by the other three authors.
(We accept PayPal and all major credit cards.)