By Editorial Staff
Published August 13, 2001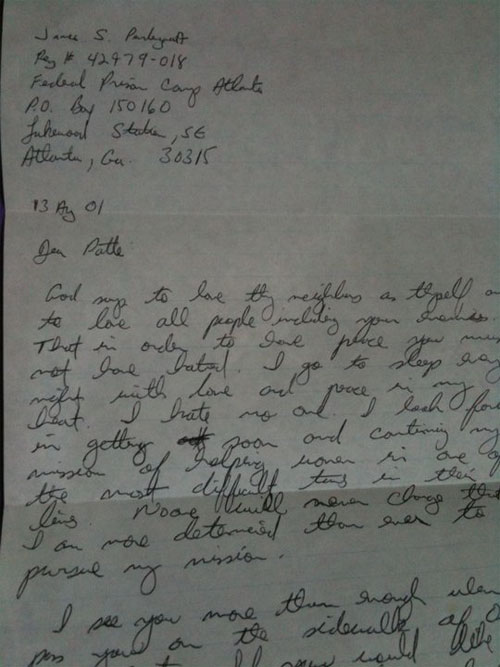 By Patte Smith
I stood on the sidewalk at 1103 Lucerne Terrace praying against the opening of the first late term in central Florida in 1996. James Scott Pendergraft had informed the city that he wanted to perform abortions through all three trimesters. When the Lord allowed Orlando Women's Center to open in 1996, I sensed that He wanted me to stay to reach out to the aborting moms, companions, clinic workers and yes, even the abortionists. I had already been ministering outside all of the other murder mills in Orlando for three years.
A few years later as a result of a frivolous lawsuit he filed against the city of Ocala, Pendergraft was found guilty of conspiracy to commit extortion, lying under oath and mail fraud and sent to a federal penitentiary. I wrote to ask the abortionist to allow me to visit him. I wanted to share the gospel with the man.
Here is what the serial baby-killer wrote in response to my letter to him:
James S. Pendergraft
Reg # 42979-018
Federal Prison Camp Atlanta
PO Oox 150160
Lukewood Station, SE
Atlanta, Ga. 30315

13 Aug 01

Dear Patte,

God says to love thy neighbors as thyself and to love all people including your enemies. That in order to love people you must not have hatred. I go to sleep every night with love and peace in my heart. I hate no one. I look forward to getting out soon and continuing my mission of helping women in one of the most difficult times in their lives. No one will ever change that. I am more determined than ever to pursue my mission.

I see you more than enough when I pass you on the sidewalk of Orlando Women's Center. If you would like to donate to my legal fees please talk with our security personnel. God bless you and take care.

Sincerely,
Dr Pendergraft
Perhaps this will help people to understand why I abhor the wishy-washy Christendom which makes everyone, including abortionists and aborting and post-abortive women, feels as if God loves them just the way they are … unrepentant, with no fear of God in their eyes. This is the devil's business.
Sin is a devil dressed as an angel. ~ RC Sproul
Let niceties and relativism and humanism be flung to the dogs. Let churchianity and comfort in sin be confessed and forsaken. Silence kills babies. Abortion is the devil's business and the church is complicit by her silence and her tolerance. We should be ashamed and repent.
… as for murderers … their portion will be in the lake that burns with fire and sulfur. ~ Revelation 21:8
---
Forerunner - Home
»
Florida's Murder Industry
»
Your comments are welcome!
---
A Revival Account: Asbury 1970 (DVD)
What is true Revival and Spiritual Awakening?
Discover the answer in this eyewitness account by Dennis Kinlaw, President of Asbury College, Wilmore, Kentucky, who recounts the story of a visitation of the Holy Spirit in 1970. This is the presentation that has continued to spark the flames of Revival in the hearts of people around the world. Contains eyewitness footage from the Revival at Asbury College in 1970 in Wilmore, Kentucky.
Certain to challenge you to greater holiness and a deeper commitment to full-scale revival. Original news and private footage has been included. If you are a student who longs to see a spiritual awakening at your school, you must see this video!
"This simple video does a wonderful job of conveying something of God's heart and power, Everyone we have ever shown this to has received an immediate impartation of faith for revival and the power of prayer."
— Bob and Rose Weiner, Weiner Ministries Int'l
Running Time: 40 minutes
$19.95 — ORDER NOW!
(We accept all major credit cards and PayPal.)
Click here for more information
---
Dr. Francis Schaeffer - A Christian Manifesto (DVD)
That Swiss Hermit Strikes Again!
Dr. Schaeffer, who was one of the most influential Christian thinkers in the twentieth century, shows that secular humanism has displaced the Judeo-Christian consensus that once defined our nation's moral boundaries. Law, education, and medicine have all been reshaped for the worse as a consequence. America's dominant worldview changed, Schaeffer charges, when Christians weren't looking.
Schaeffer lists two reasons for evangelical indifference: a false concept of spirituality and fear. He calls on believers to stand against the tyranny and moral chaos that come when humanism reigns-and warns that believers may, at some point, be forced to make the hard choice between obeying God or Caesar. A Christian Manifesto is a thought-provoking and bracing Christian analysis of American culture and the obligation Christians have to engage the culture with the claims of Christ.
$19.95 — ORDER NOW!
(We accept all major credit cards and PayPal.)
Click here for more information
---
Dr. Francis Schaeffer - How Should We Then Live? (DVD)
Special Two-Disc Set!
After 40 years of intense study and world-wide ministry, Dr. Francis Schaeffer completed his crowning work of scholarship – to present profound truths in simple film language. Dr. Schaeffer's brilliant analysis of the past and predictions for current trends have proven so uncannily accurate that this amazing series still feels contemporary almost three decades after its initial release. Ultimately, Schaeffer concludes that man's only hope is a return to God's Biblical absolute, the truth revealed in Christ through the Scriptures.
Available for the first time on DVD, this documentary spectacular also includes intimate in-depth conversations with Francis and Edith Schaeffer. With the on-disc study guide, this presentation forms a unique course of comprehensive study. While this series forms an innovative analysis of the past, this outstanding work is more than history. Each episode focuses on a significant era, yet speaks clearly to 21st-century man with answers for modern problems.
$49.95 — ORDER NOW!
(We accept all major credit cards and PayPal.)
Click here for more information
---
Go Stand Speak (DVD)
With "preaching to the lost" being such a basic foundation of Christianity, why do many in the church seem to be apathetic on this issue of preaching in highways and byways of towns and cities?
Is it biblical to stand in the public places of the world and proclaim the gospel, regardless if people want to hear it or not?
Does the Bible really call church pastors, leaders and evangelists to proclaim the gospel in the public square as part of obedience to the Great Commission, or is public preaching something that is outdated and not applicable for our day and age?
These any many other questions are answered in this documentary.
$19.95 — ORDER NOW!
(We accept all major credit cards and PayPal.)
Click here for more information
---
Martin Luther: Digitally Remastered 1953 Classic (DVD)
"Here I stand … I can do no other!"
With these immortal words, an unknown German monk sparked a spiritual revolution that changed the world.
The dramatic classic film of Martin Luther's life was released in theaters worldwide in the 1950s and was nominated for two Oscars. A magnificent depiction of Luther and the forces at work in the surrounding society that resulted in his historic reform efforts, this film traces Luther's life from a guilt-burdened monk to his eventual break with the Roman Catholic Church.
Running time: 105 minutes
Special offer: Order 5 or more for $5 each.
Watch a clip from Martin Luther.
$9.95 — ORDER NOW!
(We accept all major credit cards and PayPal.)