I woke up with my nose stuffed up. I felt really exhausted. I decided to spend the morning sleeping and reading. I had not really had a day of rest on the whole trip. In the afternoon, we got a ride to Misha's house and had lunch – mostly vegetables grown in their garden. We talked about Hope to People and what I could do for them.
Basically, they are looking for relationships with Americans who will devote their time to helping with their outreaches. Hopefully, these blog entries will serve to explain to missions minded Christians the great opportunity that is there. You can contact me for more details.
I heard about at least 20 ministries related to Hope to People including three churches, an orphanage, various summer youth camps, a Christian ethics department and the ministry to Christian teachers in the public schools which includes a new magazine. They asked me to write one article base on my experiences as an American at the youth camp. That article I published on my blog last August, Teaching Christian Ethics in the Public Schools of Ukraine.
We then went back to the Hope to People center and I spent some time in Alyona's office checking 10 days of email until we both got a ride home from John Whittemore. I read and wrote some more in my journal and went to sleep early. I spent some more time in the Word today and I felt better.
Again, I didn't take any video, but here is a biography of Pastor Misha Dubovik.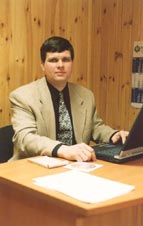 Mikhail Dubovik was born in 1967 in Ukraine (Kharkov). He was brought up in a Christian family. Mikhail has been a member of Evangelical church since 1982. In 1992, he graduated from the missionary department of the Donetsk Bible College, after which he was a missionary in Elista, Kalmykiya, for two years. He was head of the missionary department of the "Hope to People" ministry since 1995 and since 2000, he has been a director of the mission. M. Dubovik is a missionary pastor of the church "Community of the Good Shepherd, Rovno. He graduated from the Ukrainian Bible Seminary, master of theology. Mikhail has a wife Inna and three children.