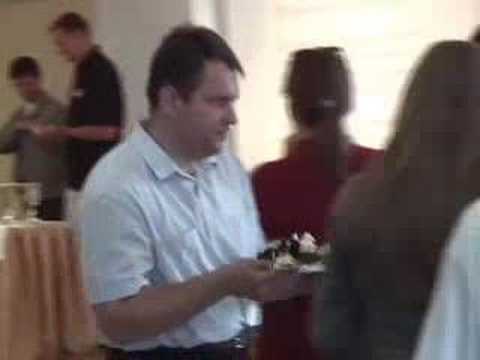 We drove all the way back to Rivne in Roma's father's Lada. It was the same route I had been on before coming from Mukacheve and I started to recognize some towns. It was a good trip.
I went back to Hope to People and met Slavik who is the director of the Bible Seminary. He told me that in the early 1990s there were very few books for seminary students and a high interest in ministerial training. Now with a little economic prosperity, there are many more books each year and waning interest. I left him with a few copies of my book and all of the DVDs I produced with Eric Holmberg, including the rough version of The Real Jesus. Since that time, we have sent them about 100 copies of Why Creeds and Confessions? From what I understand, it is well received.
There was also a Thursday night church service going on in one of the sanctuary rooms of the Hope to People center. The service was or some of the students who had just returned from a youth camp. They were sharing testimonies about what God had done among them at the camp. Here you will see part of the worship service and communion.