By Michele Herzog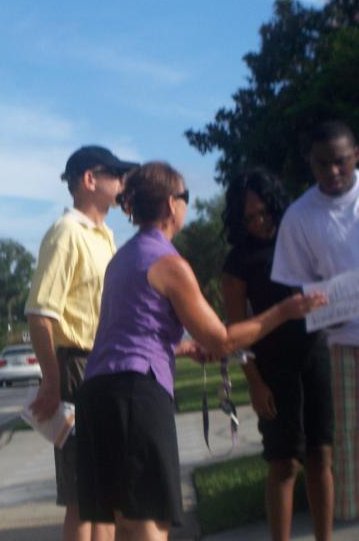 Sidewalk counseling is exactly what it sounds like – standing on the sidewalk outside of an abortion center counseling women and anyone that might accompany them inside the abortuary.
This is most often the last chance effort to offer real help to the woman, and the very last chance to cry out for the little child in the womb who is being drawn to the slaughter. Scripture commands us:
"Speak up for those who cannot speak for themselves, for the rights of all who are destitute" (Proverbs 31:8).
"If you falter in a time of trouble; how small is your strength! Rescue those being led away to death; hold back those staggering toward slaughter. If you say, 'But we knew nothing about this,' does not he who weighs the heart perceive it? Does not he who guards your life know it? Will he not repay everyone according to what they have done?" (Proverbs 24:10-12).
Join us and learn how you can rescue those being led away to death. Learn how you can be a true lifesaver to the woman and the child.
"When Jesus saw this, he was indignant. He said to them, 'Let the little children come to me, and do not hinder them, for the kingdom of God belongs to such as these'" (Mark 10:14).
Please RSVP to let us know you will be attending!
Email or call Winnie at 407-929-1108 or Michele at 407-230-2557
Victorious Living Fellowship
250 N. Ivy Lane
Orlando, FL 32811
March 5, 2011 – 9:30 am
Comments
Your comments are welcome!
---
Frank Schaeffer Will You Please Shut Up! (Book)
High Quality Paperback — 200 pages
A Reasonable Response to Christian Postmodernism
Includes a response to the book Christian Jihad by Colonel V. Doner
The title of this book is a misnomer. In reality, I am not trying to get anyone to shut up, but rather to provoke a discussion. This book is a warning about the philosophy of "Christian postmodernism" and the threat that it poses not only to Christian orthodoxy, but to the peace and prosperity our culture as well. The purpose is to equip the reader with some basic principles that can be used to refute their arguments.
Part 1 is a response to some of the recent writings by Frank Schaeffer, the son of the late Francis Schaeffer. This was originally written as a defense against Frank's attacks on pro-life street activism – a movement that his father helped bring into being through his books, A Christian Manifesto, How Should We Then Live? and Whatever Happened to the Human Race? These works have impacted literally hundreds of thousands of Christian activists.
Part 2 is a response to Colonel Doner and his book, Christian Jihad: Neo-Fundamentalists and the Polarization of America. Doner was one of the key architects of the Christian Right that emerged in the 1980s, who now represents the disillusionment and defection many Christian activists experienced in the 1990s and 2000s. There is still great hope for America to be reformed according to biblical principles. As a new generation is emerging, it is important to recognize the mistakes that Christian activists have made in the past even while holding to a vision for the future.
$14.95 — ORDER NOW!
(We accept all major credit cards and PayPal.)
Click here for more information
---
Dr. Francis Schaeffer - A Christian Manifesto (DVD)
That Swiss Hermit Strikes Again!
Dr. Schaeffer, who was one of the most influential Christian thinkers in the twentieth century, shows that secular humanism has displaced the Judeo-Christian consensus that once defined our nation's moral boundaries. Law, education, and medicine have all been reshaped for the worse as a consequence. America's dominant worldview changed, Schaeffer charges, when Christians weren't looking.
Schaeffer lists two reasons for evangelical indifference: a false concept of spirituality and fear. He calls on believers to stand against the tyranny and moral chaos that come when humanism reigns-and warns that believers may, at some point, be forced to make the hard choice between obeying God or Caesar. A Christian Manifesto is a thought-provoking and bracing Christian analysis of American culture and the obligation Christians have to engage the culture with the claims of Christ.
$19.95 — ORDER NOW!
(We accept all major credit cards and PayPal.)
Click here for more information
---
Freedom: The Model of Christian Liberty (DVD)
"Give me liberty or give me death!"
Patrick Henry's famous declaration not only helped launch the War for Independence, it also perfectly summarized the mindset that gave birth to, and sustained, the unprecedented experiment in Christian liberty that was America.
The freedom our Founders envisioned was not freedom from suffering, want, or hard work. Nor was it freedom to indulge every appetite or whim without restraint—that would merely be servitude to a different master. No, the Founders' passion was to live free before God, unfettered by the chains of autocracy, shackles that slowly but inexorably bind men when the governments they fashion fail to recognize and uphold freedom's singular, foundational truth: that all men are created in the image of God, and are thereby co-equally endowed with the right to "life, liberty, and the pursuit of happiness."
This presentation is a similar call, not to one but many. By reintroducing the principles of freedom that gave birth to America, it is our prayer that Jesus, the true and only ruler over the nations, will once again be our acknowledged Sovereign, that we may again know and exult in the great truth that "where the Spirit of the LORD is, there is liberty" (2 Cor. 3:17).
Welcome to the Second American Revolution!
This DVD features "Liberty: The Model of Christian Liberty" along with "Dawn's Early Light: A Brief History of America's Christian Foundations." Bonus features include a humorous but instructive collection of campaign ads and Eric Holmberg's controversial YouTube challenge concerning Mitt Romney's campaign for president.
$14.95 — ORDER NOW!
(We accept all major credit cards and PayPal.)
Click here for more information
---
In The Days of These Kings (Book)
Perfect-bound Paperback — 740 pages
The Book of Daniel in Preterist Perspective
"And in the days of these kings shall the God of heaven set up a kingdom, which shall never be destroyed: and the kingdom shall not be left to other people, but it shall break in pieces and consume all these kingdoms, and it shall stand for ever" (Daniel 2:44).
The overarching message of Daniel is that Jesus the Messiah is even now ruling over the nations. He is the King of kings. Daniel tells us that Messiah's kingdom will advance in the whole world from "generation to generation" (Daniel 4:4,34). Christ's dominion is "given to the people of the saints of the most High" (Daniel 7:22). Our purpose then is to see "all people, nations, and languages … serve and obey him" (Daniel 7:14,27).
This comprehensive work offers a fascinating look at the book of Daniel in preterist perspective. Great attention is paid to the writings of ancient and modern historians and scholars to connect the dots and demonstrate the continuity of Daniel's prophecy with all of Scripture.
$19.95 — ORDER NOW!
(We accept all major credit cards and PayPal.)
Click here for more information
---
Why Creeds and Confessions? (Book)
High Quality Paperback — 219 pages
Foundations in Biblical Orthodoxy
Driving down a country road sometime, you might see a church with a sign proudly proclaiming: "No book but the Bible — No creed but Christ." The problem with this statement is that the word creed (from the Latin: credo) simply means "belief." All Christians have beliefs, regardless of whether they are written.
Yet a single book containing the actual texts of the most important creeds of the early Church will not often be found. Out of the multitude of works on the evangelical Christian book market today, those dealing with the creeds of the Church are scarce.
Why Creeds and Confessions? provides a foundation of biblical orthodoxy as a defense against the false and truly heretical doctrines advanced by the spirit of this age.
$14.95 — ORDER NOW!
(We accept all major credit cards and PayPal.)