Killing Place:
A Gyn Diagnostic Center
267 East 49th Street
Hialeah, FL 33013-1854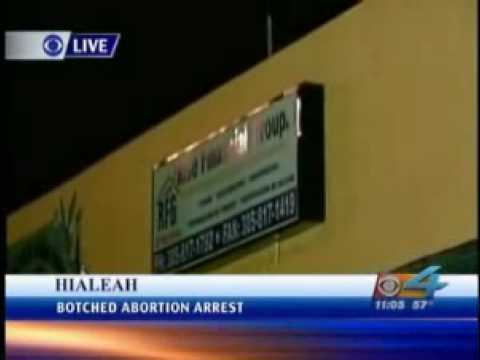 Belkis Gonzalez is the owner of an abortion clinic in Hialeah who pled guilty to performing abortions without a medical license. She is on probation, but cannot work in the medical field. Her daughter, Natali Vergara, now runs her chain of clinics.
One of the mug shots from Belkis Gonzalez' several arrests.
MIAMI – A Hialeah abortion clinic owner's lawyer this afternoon said his client will plead not guilty to accusations she delivered a live baby during a botched procedure and then threw the infant away.
"We will vigorously fight these charges," said Alberto Milian, a Coral Gables lawyer representing Belkis Gonzalez, 43, of Miramar.
Gonzalez was arrested Tuesday and charged with practicing medicine without a license and tampering with evidence, both felonies, said Ed Griffith, a spokesman for the Miami-Dade State Attorney's office. If found guilty, Gonzalez would face at least a year in prison and up to 15 years. The teenage mother, Sycloria Williams, has filed a lawsuit alleging that Gonzalez knocked the infant off the chair where she had given birth, and then scooped the baby, placenta and afterbirth into a red plastic biohazard bag, and threw it out.
The clinic's doctor, Dr. Pierre Jean-Jacque Renelique, had been scheduled to perform the procedure, but Williams went into labor after being given drugs to dilate her cervix and waiting for hours for Renelique to arrive, the suit said. The doctor has said he had been on his way to the Hialeah clinic when he was called to treat another patient who was bleeding. Last month, the Board of Medicine revoked Renelique's license for committing medical malpractice, delegating responsibility to unlicensed personnel and failing to keep an accurate medical record. Williams was 23 weeks pregnant when the incident happened in 2006.
The Department of Health account continues as follows: Just before noon she began to feel ill. The clinic contacted Renelique. Two hours later, he still hadn't shown up. Williams went into labor and delivered the baby.
"She came face to face with a human being," Pennekamp said. "And that changed everything."
At 23 weeks, an otherwise healthy fetus would have a slim but legitimate chance of survival. Quadruplets born at 23 weeks last year at The Nebraska Medical Center survived. An autopsy determined Williams' baby — she named her Shanice — had filled her lungs with air, meaning she had been born alive, according to the Department of Health. The cause of death was listed as extreme prematurity. The case has riled the anti-abortion community, which contends the clinic's actions constitute murder.
"The baby was just treated as a piece of garbage," said Tom Brejcha, president of The Thomas More Society, a law firm that is also representing Williams. "People all over the country are just aghast."
Even those who support abortion rights are concerned about the allegations.