By Jay Rogers
Published February 19, 2021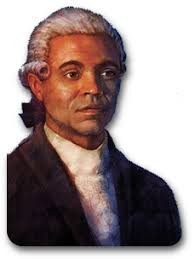 Prince Hall (1735–1807) was held as a slave by William Hall, in Boston until the age of 35, when he was freed. Hall used his freedom to become an advocate for African Americans. Hall made many petitions on behalf of free blacks and successfully petitioned for the release of three Boston African Americans who had been kidnapped into slavery.
While most Americans are familiar with the 18th century abolitionist movement, Abraham Lincoln and the Emancipation Proclamation, few know about the reasons for the abolition of slavery in the northern states in the 1770s. Prince Hall's Petition to the Massachusetts General Assembly (the state Supreme Court at the time) used the argument of the Declaration of Independence that all men are created equal with the right to Life, Liberty and the Pursuit of Happiness to argue for the abolition of slavery.
Prince Hall's Petition became the precedent for the abolition of slavery in Massachusetts and then all the northern states through state courts and state constitutional law.
January 13, 1777

The Petition of a great number of Negroes who are detained in a state of Slavery in the Bowels of a free & Christian Country Humbly Shewing:

That your Petitioners apprehend that they have, in common with all other Men, a natural & unalienable right to that freedom, which the great Parent of the Universe hath bestowed equally on all Mankind, & which they have never forfeited by any compact or agreement whatever—But they were unjustly dragged, by the cruel hand of Power, from their dearest friends, & some of them even torn from the embraces of their tender Parents, from a populous, pleasant and plentiful Country—& in Violation of the Laws of Nature & of Nation & in defiance of all the tender feelings of humanity, brought hither to be sold like Beasts of Burden, & like them condemned to slavery for Life—Among a People professing the mild Religion of Jesus—A People not insensible of the sweets of rational freedom—Nor without spirit to resent the unjust endeavours of others to reduce them to a State of Bondage & Subjection.

Your Honors need not to be informed that a Life of Slavery, like that of your petitioners, deprived of every social privilege, of every thing requisite to render Life even tolerable, is far worse than Non-Existence—In imitation of the laudable example of the good People of these States, your Petitioners have long & patiently waited the event of Petition after Petition by them presented to the legislative Body of this State, & can not but with grief reflect that their success has been but too similar.

They can not but express their astonishment, that it has never been considered, that every principle from which America has acted in the course of her unhappy difficulties with Great-Britain, pleads stronger than a thousand arguments in favor of your Petitioners.

They therefore humbly beseech your Honors, to give this Petition its due weight & consideration, & cause an Act of the Legislature to be passed, whereby they may be restored to the enjoyment of that freedom which is the natural right of all Men—& their Children (who were born in this Land of Liberty) may not be held as Slaves after they arrive at the age of twenty one years.

So may the Inhabitants of this State (no longer chargeable with the inconsistency of acting, themselves, the part which they condemn & oppose in others) be prospered in their present glorious struggles for Liberty; & have those blessings secured to them by Heaven, of which benevolent minds can not wish to deprive their fellow Men.

And your Petitioners, as in Duty Bound shall ever pray.

Lancaster Hill
Peter Bess
Brister Slenten
Prince Hall
Jack Purpont [his mark]
Nero Suneto [his mark]
Newport Symner [his mark]
Job Lock
Prince Hall continued his activism by protesting that African American children did not have public schools. Eventually he started a school of his own for them.
Publications
Books
DVDs & Online Videos
Pro-Life Ministry
Civil Government
The Hall of Church History
---
Dr. Francis Schaeffer - How Should We Then Live? (DVD)
Special Two-Disc Set!
After 40 years of intense study and world-wide ministry, Dr. Francis Schaeffer completed his crowning work of scholarship – to present profound truths in simple film language. Dr. Schaeffer's brilliant analysis of the past and predictions for current trends have proven so uncannily accurate that this amazing series still feels contemporary almost three decades after its initial release. Ultimately, Schaeffer concludes that man's only hope is a return to God's Biblical absolute, the truth revealed in Christ through the Scriptures.
Available for the first time on DVD, this documentary spectacular also includes intimate in-depth conversations with Francis and Edith Schaeffer. With the on-disc study guide, this presentation forms a unique course of comprehensive study. While this series forms an innovative analysis of the past, this outstanding work is more than history. Each episode focuses on a significant era, yet speaks clearly to 21st-century man with answers for modern problems.
(We accept PayPal and all major credit cards.)
Click here for more information
---
Dr. Francis Schaeffer - A Christian Manifesto (DVD)
That Swiss Hermit Strikes Again!
Dr. Schaeffer, who was one of the most influential Christian thinkers in the twentieth century, shows that secular humanism has displaced the Judeo-Christian consensus that once defined our nation's moral boundaries. Law, education, and medicine have all been reshaped for the worse as a consequence. America's dominant worldview changed, Schaeffer charges, when Christians weren't looking.
Schaeffer lists two reasons for evangelical indifference: a false concept of spirituality and fear. He calls on believers to stand against the tyranny and moral chaos that come when humanism reigns-and warns that believers may, at some point, be forced to make the hard choice between obeying God or Caesar. A Christian Manifesto is a thought-provoking and bracing Christian analysis of American culture and the obligation Christians have to engage the culture with the claims of Christ.
(We accept PayPal and all major credit cards.)
Click here for more information
---
In the Days of These Kings (Book)
Perfect-bound Paperback — 740 pages
The Book of Daniel in Preterist Perspective
"And in the days of these kings shall the God of heaven set up a kingdom, which shall never be destroyed: and the kingdom shall not be left to other people, but it shall break in pieces and consume all these kingdoms, and it shall stand for ever" (Daniel 2:44).
The overarching message of Daniel is that Jesus the Messiah is even now ruling over the nations. He is the King of kings. Daniel tells us that Messiah's kingdom will advance in the whole world from "generation to generation" (Daniel 4:4,34). Christ's dominion is "given to the people of the saints of the most High" (Daniel 7:22). Our purpose then is to see "all people, nations, and languages … serve and obey him" (Daniel 7:14,27).
This comprehensive work offers a fascinating look at the book of Daniel in preterist perspective. Great attention is paid to the writings of ancient and modern historians and scholars to connect the dots and demonstrate the continuity of Daniel's prophecy with all of Scripture.
(We accept PayPal and all major credit cards.)
Click here for more information
---
Frank Schaeffer Will You Please Shut Up! (Book)
High Quality Paperback — 200 pages
A Reasonable Response to Christian Postmodernism
Includes a response to the book Christian Jihad by Colonel V. Doner
The title of this book is a misnomer. In reality, I am not trying to get anyone to shut up, but rather to provoke a discussion. This book is a warning about the philosophy of "Christian postmodernism" and the threat that it poses not only to Christian orthodoxy, but to the peace and prosperity our culture as well. The purpose is to equip the reader with some basic principles that can be used to refute their arguments.
Part 1 is a response to some of the recent writings by Frank Schaeffer, the son of the late Francis Schaeffer. This was originally written as a defense against Frank's attacks on pro-life street activism – a movement that his father helped bring into being through his books, A Christian Manifesto, How Should We Then Live? and Whatever Happened to the Human Race? These works have impacted literally hundreds of thousands of Christian activists.
Part 2 is a response to Colonel Doner and his book, Christian Jihad: Neo-Fundamentalists and the Polarization of America. Doner was one of the key architects of the Christian Right that emerged in the 1980s, who now represents the disillusionment and defection many Christian activists experienced in the 1990s and 2000s. There is still great hope for America to be reformed according to biblical principles. As a new generation is emerging, it is important to recognize the mistakes that Christian activists have made in the past even while holding to a vision for the future.
(We accept PayPal and all major credit cards.)