By Jay Rogers
Published February 19, 2021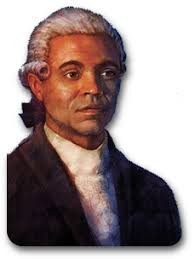 Prince Hall (1735–1807) was held as a slave by William Hall, in Boston until the age of 35, when he was freed. Hall used his freedom to become an advocate for African Americans. Hall made many petitions on behalf of free blacks and successfully petitioned for the release of three Boston African Americans who had been kidnapped into slavery.
While most Americans are familiar with the 18th century abolitionist movement, Abraham Lincoln and the Emancipation Proclamation, few know about the reasons for the abolition of slavery in the northern states in the 1770s. Prince Hall's Petition to the Massachusetts General Assembly (the state Supreme Court at the time) used the argument of the Declaration of Independence that all men are created equal with the right to Life, Liberty and the Pursuit of Happiness to argue for the abolition of slavery.
Prince Hall's Petition became the precedent for the abolition of slavery in Massachusetts and then all the northern states through state courts and state constitutional law.
January 13, 1777

The Petition of a great number of Negroes who are detained in a state of Slavery in the Bowels of a free & Christian Country Humbly Shewing:

That your Petitioners apprehend that they have, in common with all other Men, a natural & unalienable right to that freedom, which the great Parent of the Universe hath bestowed equally on all Mankind, & which they have never forfeited by any compact or agreement whatever—But they were unjustly dragged, by the cruel hand of Power, from their dearest friends, & some of them even torn from the embraces of their tender Parents, from a populous, pleasant and plentiful Country—& in Violation of the Laws of Nature & of Nation & in defiance of all the tender feelings of humanity, brought hither to be sold like Beasts of Burden, & like them condemned to slavery for Life—Among a People professing the mild Religion of Jesus—A People not insensible of the sweets of rational freedom—Nor without spirit to resent the unjust endeavours of others to reduce them to a State of Bondage & Subjection.

Your Honors need not to be informed that a Life of Slavery, like that of your petitioners, deprived of every social privilege, of every thing requisite to render Life even tolerable, is far worse than Non-Existence—In imitation of the laudable example of the good People of these States, your Petitioners have long & patiently waited the event of Petition after Petition by them presented to the legislative Body of this State, & can not but with grief reflect that their success has been but too similar.

They can not but express their astonishment, that it has never been considered, that every principle from which America has acted in the course of her unhappy difficulties with Great-Britain, pleads stronger than a thousand arguments in favor of your Petitioners.

They therefore humbly beseech your Honors, to give this Petition its due weight & consideration, & cause an Act of the Legislature to be passed, whereby they may be restored to the enjoyment of that freedom which is the natural right of all Men—& their Children (who were born in this Land of Liberty) may not be held as Slaves after they arrive at the age of twenty one years.

So may the Inhabitants of this State (no longer chargeable with the inconsistency of acting, themselves, the part which they condemn & oppose in others) be prospered in their present glorious struggles for Liberty; & have those blessings secured to them by Heaven, of which benevolent minds can not wish to deprive their fellow Men.

And your Petitioners, as in Duty Bound shall ever pray.

Lancaster Hill
Peter Bess
Brister Slenten
Prince Hall
Jack Purpont [his mark]
Nero Suneto [his mark]
Newport Symner [his mark]
Job Lock
Prince Hall continued his activism by protesting that African American children did not have public schools. Eventually he started a school of his own for them.
Publications
Books
DVDs & Online Videos
Pro-Life Ministry
Civil Government
The Hall of Church History
---
The Abortion Matrix: Defeating Child Sacrifice and the Culture of Death (DVD)
Download the free Study Guide!
Is there a connection between pagan religion and the abortion industry?
This powerful presentation traces the biblical roots of child sacrifice and then delves into the social, political and cultural fall-out that this sin against God and crime against humanity has produced in our beleaguered society.
Conceived as a sequel and update to the 1988 classic, The Massacre of Innocence, the new title, The Abortion Matrix, is entirely fitting. It not only references abortion's specific target – the sacred matrix where human beings are formed in the womb in the very image of God, but it also implies the existence of a conspiracy, a matrix of seemingly disparate forces that are driving this holocaust.
The occult activity surrounding the abortion industry is exposed with numerous examples. But are these just aberrations, bizarre yet anomalous examples of abortionists who just happen to have ties to modern day witchcraft? Or is this representative of something deeper, more sinister and even endemic to the entire abortion movement?
As the allusion to the film of over a decade ago suggests, the viewer may learn that things are not always as they appear to be. The Abortion Matrix reveals the reality of child-killing and strikes the proper moral chord to move hearts to fulfill the biblical responsibility to rescue those unjustly sentenced to death and to speak for those who cannot speak for themselves (Proverbs 24:11,12; 31:8,9).
Speakers include: George Grant, Peter Hammond, RC Sproul Jr., Paul Jehle, Lou Engle, Rusty Thomas, Flip Benham, Janet Porter and many more.
Ten parts, over three hours of instruction!
Running Time: 195 minutes
(We accept PayPal and all major credit cards.)
Click here for more information
---
The Beast of Revelation: Identified (DVD)
Who is the dreaded beast of Revelation?
Now at last, a plausible candidate for this personification of evil incarnate has been identified (or re-identified). Ken Gentry's insightful analysis of scripture and history is likely to revolutionize your understanding of the book of Revelation — and even more importantly — amplify and energize your entire Christian worldview!
Historical footage and other graphics are used to illustrate the lecture Dr. Gentry presented at the 1999 Ligonier Conference in Orlando, Florida. It is followed by a one-hour question and answer session addressing the key concerns and objections typically raised in response to his position. This presentation also features an introduction that touches on not only the confusion and controversy surrounding this issue — but just why it may well be one of the most significant issues facing the Church today.
Ideal for group meetings, personal Bible study — for anyone who wants to understand the historical context of John's famous letter "… to the seven churches which are in Asia." (Revelation 1:4)
Running Time: 145 minutes
(We accept PayPal and all major credit cards.)
Click here for more information
---
God's Law and Society (DVD)
Download the Free Study Guide!
God's Law and Society powerfully presents a comprehensive worldview based upon the ethical system found in the Law of God.
Speakers include: R.J. Rushdoony, George Grant, Howard Phillips, R.C. Sproul Jr., Ken Gentry, Gary DeMar, Jay Grimstead, Steven Schlissel, Andrew Sandlin, Eric Holmberg, and more!
Sixteen Christian leaders and scholars answer some of the most common questions and misconceptions related to this volatile issue:
1. Are we under Law or under Grace?
2. Does the Old Testament Law apply today?
3. Can we legislate morality?
4. What are the biblical foundations of government?
5. Was America founded as a Christian nation?
6. What about the separation of Church and State?
7. Is neutrality a myth?
8. What about non-Christians and the Law of God?
9. Would there be "freedom" in a Christian republic?
10. What would a "Christian America" look like?
Perfect for group instruction as well as personal Bible study.
Ten parts, over four hours of instruction!
Running Time: 240 minutes
Watch over 60 on-line video interviews from God's Law and Society.
(We accept PayPal and all major credit cards.)
Click here for more information
---
The Real Jesus: A Defense of the Historicity and Divinity of Christ (DVD)
Who is the Real Jesus?
Ever since the dawn of modern rationalism, skeptics have sought to use textual criticism, archeology and historical reconstructions to uncover the "historical Jesus" — a wise teacher who said many wonderful things, but fulfilled no prophecies, performed no miracles and certainly did not rise from the dead in triumph over sin.
Over the past 100 years, however, startling discoveries in biblical archeology and scholarship have all but vanquished the faulty assumptions of these doubting modernists. Regrettably, these discoveries have often been ignored by the skeptics as well as by the popular media. As a result, the liberal view still holds sway in universities and impacts the culture and even much of the church.
The Real Jesus explodes the myths of these critics and the movies, books and television programs that have popularized their views. Presented in ten parts — perfect for individual, family and classroom study — viewers will be challenged to go deeper in their knowledge of Christ in order to be able to defend their faith and present the truth to a skeptical modern world – that the Jesus of the Gospels is the Jesus of history — "the same yesterday, today and forever" (Hebrews 13:8). He is the real Jesus.
Speakers include: George Grant, Ted Baehr, Stephen Mansfield, Raymond Ortlund, Phil Kayser, David Lutzweiler, Jay Grimstead, J.P. Holding, and Eric Holmberg.
Ten parts, over two hours of instruction!
Running Time: 130 minutes
(We accept PayPal and all major credit cards.)