It's shocking.
Nearly all my conservative friends who I respect voted for Bill McCollum, the Republican Party, Bush-machine-backed candidate for governor in the state of Florida. The polls right before the primary election showed McCollum surging and Rick Scott trailing by nine points.
So much for polls.
My Republican friends were convinced that Bill McCollum was the "true conservative" in the race. I find such rhetoric telling. If one has to insert the adjective "true" in front of "conservative," immediately a red flag is raised in my mind. I am neither a "conservative" nor a "true conservative." I am a Constitutionalist. I am looking for a Constitutionalist to support with my vote.
Rick Scott positioned himself as the "outsider" and tried to portray himself (to the tune of almost 50 million in advertising dollars) that he was more conservative than McCollum ("More liberal than you think!") by using the Florida Attorney General and former U.S. Representative's record on spending, flip-flopping on embryonic stem cell research and illegal immigration laws as evidence.
While I am hopeful to see what Rick Scott will do if he is elected governor, I am not convinced I will back him in the general election. If there is an independent candidate that emerges who is uncompromising on the issues that matter, then that person will get my vote.
As a registered Republican, I vote for whoever I think is the best candidate in the primaries just to hedge my bets. I know that in most cases a moderate will win the nomination. This is the party that is sure to give the presidential nomination to either the former vice presidential candidate or the last runner-up. This is the party of Bush, Bush, Dole, Bush, Bush, McCain and next probably Romney.
We see much the same in Florida gubernatorial politics. My gut instinct kept telling me Rick Scott was the more conservative of the two candidates (a third, McCalister, was the most liberal) and would therefore probably lose. Then on the day of the election, I almost did an about face. The "non-partisan" Christian Coalition voter guide went out of its way to question Scott's "pro-life" stance by noting that some abortions might have been performed at some of the 343 Columbia/HCA hospitals he controlled in the 1990s.
My dilemma was that apparently neither candidate's record on the sanctity of life is stellar. McCollum said prior to 2004 that he supported the expansion of embryonic stem cell research. The question became, "Who to believe?" Scott's campaign insisted that the allegations toward him were blown out of proportion.
HCA abided by all conscience clauses including with hospitals that had Catholic, Baptist and other religious affiliations. HCA even lost a $43 million judgment when our doctors successfully fought to save the life of a special needs child even though the parents wanted the child to die. When a company is willing to lose that amount of money to save human life its position on life issues is clear and self-evident.
I had to note that although both candidates were at the last minute trying to "out-pro-life" each other, neither one talked at all about the Personhood Amendment initiative that would protect all human beings as "persons" from their biological beginnings with no exceptions.
Regardless of who wins in November, I have no regrets that McCollum's political career is over. It's about time. My view on most Republican candidates is that we will hear platitudes meant to placate fiscal conservatives and pro-life Christians during the campaign, but then they will act more and more like socialists the longer they remain in office. Republican career politicians become more liberal as time goes on. As John McCain admitted candidly, "We were elected to change Washington, and we let Washington change us." The sooner they leave office the better. Good riddance.
The fact of the matter is that there are only three political parties in America. The first is the party that believes in the sovereignty of God. The second is a party that believes in the sovereignty of man and man's reason. The third is every other party that believes in the sovereignty of the state, and that the state is God walking on earth.1
I am a registered Republican, but I will vote Constitution Party any time a candidate is fielded in the general election. The Constitution Party represents my worldview. It's the only party in American history that states in its platform that America's Constitution was rooted in "Biblical Law."
The Constitution Party gratefully acknowledges the blessing of our Lord and Savior Jesus Christ as Creator, Preserver and Ruler of the Universe and of these United States. We hereby appeal to Him for mercy, aid, comfort, guidance and the protection of His Providence as we work to restore and preserve these United States. This great nation was founded, not by religionists, but by Christians; not on religions, but on the Gospel of Jesus Christ. For this very reason peoples of other faiths have been and are afforded asylum, prosperity, and freedom of worship here. The goal of the Constitution Party is to restore American jurisprudence to its Biblical foundations and to limit the federal government to its Constitutional boundaries.
For those who think the Republican Party is the only viable option, I encourage them to look at the fact that this is the party that every four years promises to cut spending, cut taxes and balance the budget. This is the party that whenever elected has done more to increase spending and the national debt than even the Democrats. With the Democrats what you see is what you get. We already know they are socialists. Then we have to consider that although the Republican Party has a "pro-life" plank in its platform, when they controlled Washington from 2001 to 2007, Bush and the Republican Senate and Congress admitted that the sanctity of life would not be a priority. The Republicans can always be trusted to do the opposite of what they say.
If you are sure that the coming Republican resurgence in November is our salvation, I encourage you to study the graph below.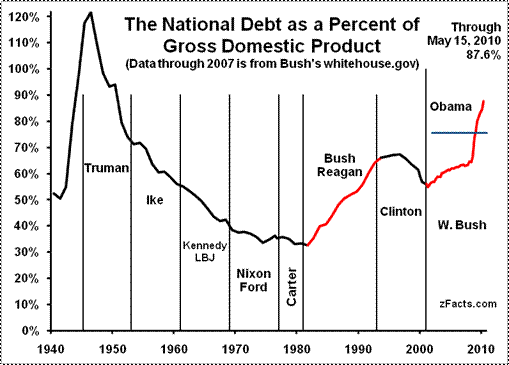 We don't simply need "neo-conservative" Republicans in office. Simply put, the neo-cons will cut taxes and then outspend the Democrats every time. What we need are Constitutionalists who will drastically shrink the size of federal and state government. I am not convinced there are very many like this that can make it to a general election as a Republican candidate. But unless the incumbent career politician has a stellar record of cutting taxes, spending and government entitlements, then they should be voted out of office. It's not enough to have an "R" next to your name. Constitutionalists would be better off supporting a third party and in effect "throwing" the election to the Democrats. Yes, they are wolves, but at least they are not wolves in sheep's clothing. With a Republican dominated House, Senate and President, reform is far from certain. What is certain is that conservative Christians will go to sleep until the next election cycle. It's in our nature as sheep to be docile and easily led.
It is shocking therefore that McCollum, the evangelical Christian candidate who had the backing of every conservative group, who got the endorsement of Jeb Bush, Mike Huckabee, Mitt Romney, Michael Reagan, and who was surging in the polls the week before the election, was so soundly defeated by the "outsider" Scott who simply outspent his opponent four to one in ads that effectively convinced most of us that McCollum was the more liberal of the two statist Republican frontrunners.
On the other hand, Mike McCalister, the most liberal of the three Republican candidates spent less than $8,000, yet got 10 percent of the vote in the primary. McCalister had no TV presence and was barred from the debates. Logically, this tells us that the liberal McCalister was able to siphon votes that normally would have gone to McCollum, hence the lopsided poll numbers just prior to election day.
Likewise, Jeff Greene lost the Democratic Senate nomination to Kendrick Meek by 25 percentage points after outspending Meek by tens of millions of dollars.
This tells us that this year almost nothing is certain.
What is certain is that if Rick Scott was willing to spend this much in a primary, then money is no object to him in November. He can also fund "get out the vote" campaigns in every district that will bring Republicans to the polls in November like no mid-term election in Florida history. There is supposedly a "Contract with America" style agenda coming from the GOP in the next month. The last of the planks needs to be, "If we do the opposite, then vote us out in the 2012 primaries!"
But since nothing is certain, the best strategy might be to support the "impossible dream" Constitution Party candidate wherever there is one.
In my next article in this series, I will write about the four-way race for U.S. Senate between the three statists: Rubio, Crist and Meeks and the lone candidate whose party recognizes Jesus Christ as Lord over America.
1 The three parties are (1) the Constitution Party, (2) the Libertarian Party, and (3) every other party.
Your comments are welcome!
---
The Beast of Revelation: Identified (DVD)
Who is the dreaded beast of Revelation?
Now at last, a plausible candidate for this personification of evil incarnate has been identified (or re-identified). Ken Gentry's insightful analysis of scripture and history is likely to revolutionize your understanding of the book of Revelation — and even more importantly — amplify and energize your entire Christian worldview!
Historical footage and other graphics are used to illustrate the lecture Dr. Gentry presented at the 1999 Ligonier Conference in Orlando, Florida. It is followed by a one-hour question and answer session addressing the key concerns and objections typically raised in response to his position. This presentation also features an introduction that touches on not only the confusion and controversy surrounding this issue — but just why it may well be one of the most significant issues facing the Church today.
Ideal for group meetings, personal Bible study — for anyone who wants to understand the historical context of John's famous letter "… to the seven churches which are in Asia." (Revelation 1:4)
Running Time: 145 minutes
$17.95 — ORDER NOW!
(We accept all major credit cards and PayPal.)
Click here for more information
---
The Real Jesus: A Defense of the Historicity and Divinity of Christ (DVD)
Who is the Real Jesus?
Ever since the dawn of modern rationalism, skeptics have sought to use textual criticism, archeology and historical reconstructions to uncover the "historical Jesus" — a wise teacher who said many wonderful things, but fulfilled no prophecies, performed no miracles and certainly did not rise from the dead in triumph over sin.
Over the past 100 years, however, startling discoveries in biblical archeology and scholarship have all but vanquished the faulty assumptions of these doubting modernists. Regrettably, these discoveries have often been ignored by the skeptics as well as by the popular media. As a result, the liberal view still holds sway in universities and impacts the culture and even much of the church.
The Real Jesus explodes the myths of these critics and the movies, books and television programs that have popularized their views. Presented in ten parts — perfect for individual, family and classroom study — viewers will be challenged to go deeper in their knowledge of Christ in order to be able to defend their faith and present the truth to a skeptical modern world – that the Jesus of the Gospels is the Jesus of history — "the same yesterday, today and forever" (Hebrews 13:8). He is the real Jesus.
Speakers include: George Grant, Ted Baehr, Stephen Mansfield, Raymond Ortlund, Phil Kayser, David Lutzweiler, Jay Grimstead, J.P. Holding, and Eric Holmberg.
Ten parts, over two hours of instruction!
Running Time: 130 minutes
$19.95 — ORDER NOW!
(We accept all major credit cards and PayPal.)
Click here for more information
---
Martin Luther: Digitally Remastered 1953 Classic (DVD)
"Here I stand … I can do no other!"
With these immortal words, an unknown German monk sparked a spiritual revolution that changed the world.
The dramatic classic film of Martin Luther's life was released in theaters worldwide in the 1950s and was nominated for two Oscars. A magnificent depiction of Luther and the forces at work in the surrounding society that resulted in his historic reform efforts, this film traces Luther's life from a guilt-burdened monk to his eventual break with the Roman Catholic Church.
Running time: 105 minutes
Special offer: Order 5 or more for $5 each.
Watch a clip from Martin Luther.
$9.95 — ORDER NOW!
(We accept all major credit cards and PayPal.)
Click here for more information
---
Go Stand Speak (DVD)
With "preaching to the lost" being such a basic foundation of Christianity, why do many in the church seem to be apathetic on this issue of preaching in highways and byways of towns and cities?
Is it biblical to stand in the public places of the world and proclaim the gospel, regardless if people want to hear it or not?
Does the Bible really call church pastors, leaders and evangelists to proclaim the gospel in the public square as part of obedience to the Great Commission, or is public preaching something that is outdated and not applicable for our day and age?
These any many other questions are answered in this documentary.
$19.95 — ORDER NOW!
(We accept all major credit cards and PayPal.)
Click here for more information
---
Dr. Francis Schaeffer - A Christian Manifesto (DVD)
That Swiss Hermit Strikes Again!
Dr. Schaeffer, who was one of the most influential Christian thinkers in the twentieth century, shows that secular humanism has displaced the Judeo-Christian consensus that once defined our nation's moral boundaries. Law, education, and medicine have all been reshaped for the worse as a consequence. America's dominant worldview changed, Schaeffer charges, when Christians weren't looking.
Schaeffer lists two reasons for evangelical indifference: a false concept of spirituality and fear. He calls on believers to stand against the tyranny and moral chaos that come when humanism reigns-and warns that believers may, at some point, be forced to make the hard choice between obeying God or Caesar. A Christian Manifesto is a thought-provoking and bracing Christian analysis of American culture and the obligation Christians have to engage the culture with the claims of Christ.
$19.95 — ORDER NOW!
(We accept all major credit cards and PayPal.)