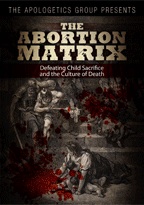 For years, I have dreamed of producing an update to the renowned video, The Massacre of Innocence. This pro-life classic was produced in 1988 by Eric Holmberg and Reel to Real Ministries (now The Apologetics Group). This 85-minute presentation was a vital influence in launching many Christians, including myself, into the pro-life activist movement in the 1980s and 1990s.
The new title is The Abortion Matrix: Defeating Child Sacrifice and the Culture of Death.
The expanded 195-minute presentation traces the biblical roots of child sacrifice and then delves into the social, political and cultural fall-out that this sin against God and crime against humanity has produced in our beleaguered society. You can order this ten chapter series on DVD, read the complete script and view clips on-line.
UPDATE: As of January 2011, DVDs are available to order.
The following are some testimonies we have gathered about the impact of the original version of the video.
---
From: Rusty Lee Thomas, Elijah Ministries
The Lord richly bless you! The following is my testimony on how God used the video Massacre of Innocence to radically change my life and ministry.
It was the fall of 1988 when the Lord began to convict me about the sick state of the church, the corruption of our culture, and the demise of America. At that time, I was a pastor in St. Petersburg, FL. Though I was a preacher of righteousness and spoke out against the burning issues of the day, I still was not personally involved in the cultural battle for the soul of America.
That all changed on a fateful day when a good pastor friend of mine, Franco Gennaro, from Tampa, Florida handed me a video tape and encouraged me to watch it. The name of the tape was called The Massacre Of Innocence by Eric Holmberg. A few nights later, I found myself all alone and decided to view this controversial tape. I was impressed with its format. Initially, Eric takes the time to trace the roots of abortion and child-sacrifice Biblically. He then commences to delve into the social, political, and cultural fallout that this sin against God and this crime against humanity has produced in our beleaguered nation.
It was the second part of the tape that would dramatically impact my life and change our service to God forever. There were times as a pastor I had spoken out against abortion from the Church pulpit, but up until the time I witnessed this tape, abortion was still just a word to debate. Even though I was saying with my lips, "Abortion is murder," I had never acted like someone was truly dying. Somehow the reality of child-killing never struck the proper moral chord that would move me to fulfill my Biblical responsibility to rescue those unjustly sentenced to death and to speak for those who cannot speak for themselves (Proverbs 24:11,12; 31:8,9).
As the tape continued, the conviction of God upon my soul increased. Suddenly, a song came on that was performed by the female rock star Pat Benatar. It is called, "Hell is for Children." As the song sounded forth, images of aborted babies were flashed on the screen. It was overwhelming. My soul, heart, and conscience could hardly absorb the evil I was witnessing before my very eyes. Again, abortion to this point was a word that we argued about, but now the hellish reality was impressed upon my mind and I couldn't erase it.
The impact upon me was so great, I had to turn off the tape. I then ran to my bedroom and fell prostrate before the Lord. I'm not talking crying and weeping before God, but a wailing so intense that my physical chest hurt. I just could not for the life of me come to grips with how the nation I loved had descended into this wicked condition that was drowning us in a sea of blood and perversion.
Like Isaiah of old, I was undone (Isaiah 6:1-5). I had seen the Lord and His mind concerning this abomination and have spent the last several years fighting for the souls of men, the lives of children, and for the future of America. Right after the viewing of this video, I helped organize nine "rescues" in Florida. I then moved on to join the national rescue movement. By God's grace, I now serve as Assistant Director to Rev. Flip Benham of Operation Save America.
I highly recommend the pursuing of remaking this powerful video called The Massacre Of Innocence. Any investment in this project will prayerfully multiply the effect that it had upon me and many others who are now engaged in the battle against the culture of death that abortion has spawned. I'm convinced that the law and government that allows for the murder of the preborn is simply a reflection of the heart of Americans. There is only one institution that God has ordained to change the heart of men and that is His word and Spirit operating through the Church of the living God. Child-killing and the gates of hell will always prevail against the Democratic and Republican parties. They will prevail against the President, Congress, Supreme Court, and every other government agency. They will not and cannot prevail against the Church of Jesus Christ (Matthew 16:18).
The Church must be brought to repentance and then bring forth the fruits of repentance by fulfilling our Biblical responsibilities to our preborn neighbors. This was very thing was accomplished in my life by this powerful video. May it spread to others and as the Church wins the battle on the streets and in our culture, one day we will see that victory reflected in the change of our laws and governmental policies. May God hasten the day.
IN KING JESUS' SERVICE,
Rev. Rusty Lee Thomas
Founder and Director, Elijah Ministries
Assistant Director, Operation Rescue/Operation Save America
---
From: Tim Palmquist, LifeSavers Ministries
During Holy Week this year, we hosted a short-term mission opportunity to introduce people to pro-life street ministry. Because a key aspect of the training involved the spiritual dimensions of abortion, we chose to include the video "Massacre of Innocence." We found the video—particularly the second half—to be a compelling treatment of how the Bible compels us to target abortion with spiritual warfare. I was somewhat reluctant to use the video at first, because some aspects of it were a bit dated. However, I could find no better alternative.
An updated version of this video is greatly needed and I'm sure that we would make much use of it. We have been hoping to get some of our intercessors to watch it, and having it on DVD format would help facilitate that. May God grant you speedy success in your venture to update this key video.
In Christ's service for those who cannot speak for themselves,
Tim Palmquist, LifeSavers Ministries
---
From: Marian Rushford
When I received the news that you were considering remaking Massacre of Innocence, I was overcome with remembrance as I recall the great impact it had on me. I had had an abortion in 1978 supposedly for medical reasons and lived in denial for several years, even stood up for "choice" as a N.O.W. member (past-president of Polk County N.O.W.) because I had an illness that wasn't diagnosed yet (two months after the abortion I was diagnosed with SLE-Lupus). It wasn't until 1981 when I was pregnant with my daughter that I became a Christian. My son was born in January '81 and died in March from SIDS. When I became pregnant a few months later, the doctors insisted that I have an abortion. I remember vividly grabbing hold of the side of the exam table and said, "I'll trust God this time." But in actuality it took two more years before I became wholeheartedly pro-life. I was introduced to WEBA and got the post-abortion healing that I was needing. During that time I became actively involved with sidewalk counseling in Gainesville. It was a great time of Spiritual growth and a sense of purpose to my life. You see, I'm adopted also. My daughter had been born 2-1/2 months premature, 28 weeks, a time when many babies are still being aborted.
The Massacre of Innocence video helped many in my town to come to grips with the truth about abortion and they could no longer say "that's your ministry, not mine." Many did get involved and some in the "rescue movement." Showing the video at my church and then getting up to share my testimony was probably the hardest thing I'd ever done up to that point, but I knew that was what the Lord wanted me to do. I'd do it again if even one person's mind would be changed. Currently, I'm a member of a United Methodist Church and long to have an impact to change their hearts and minds about this holocaust. Thank you for all you are doing "for life." May the Lord add His blessing to have an abundance of fruit for His honor and glory by the saving of His children.
Your comments are welcome!
---
Amazing Grace: The History and Theology of Calvinism (DVD)
Download the Free Study Guide!
Just what is Calvinism?
Does this teaching make man a deterministic robot and God the author of sin? What about free will? If the church accepts Calvinism, won't evangelism be stifled, perhaps even extinguished? How can we balance God's sovereignty and man's responsibility? What are the differences between historic Calvinism and hyper-Calvinism? Why did men like Augustine, Luther, Calvin, Spurgeon, Whitefield, Edwards and a host of renowned Protestant evangelists embrace the teaching of predestination and election and deny free will theology?
This is the first video documentary that answers these and other related questions. Hosted by Eric Holmberg, this fascinating three-part, four-hour presentation is detailed enough so as to not gloss over the controversy. At the same time, it is broken up into ten "Sunday-school-sized" sections to make the rich content manageable and accessible for the average viewer.
Running Time: 257 minutes
$19.95 — ORDER NOW!
(We accept all major credit cards and PayPal.)
Click here for more information
---
The Four Keys to the Millennium (Book)
Foundations in Biblical Eschatology
By Jay Rogers, Larry Waugh, Rodney Stortz, Joseph Meiring. High quality paperback, 167 pages.
All Christians believe that their great God and Savior, Jesus Christ, will one day return. Although we cannot know the exact time of His return, what exactly did Jesus mean when he spoke of the signs of His coming (Mat. 24)? How are we to interpret the prophecies in Isaiah regarding the time when "the earth will be full of the knowledge of the LORD as the waters cover the sea" (Isa. 11:19)? Should we expect a time of great tribulation and apostasy or revival and reformation before the Lord returns? Is the devil bound now, and are the saints reigning with Christ? Did you know that there are four hermeneutical approaches to the book of Daniel and Revelation?
These and many more questions are dealt with by four authors as they present the four views on the millennium. Each view is then critiqued by the other three authors.
$12.95 — ORDER NOW!
(We accept all major credit cards and PayPal.)
Click here for more information
---
God's Law and Society (DVD)
Download the Free Study Guide!
God's Law and Society powerfully presents a comprehensive worldview based upon the ethical system found in the Law of God.
Speakers include: R.J. Rushdoony, George Grant, Howard Phillips, R.C. Sproul Jr., Ken Gentry, Gary DeMar, Jay Grimstead, Steven Schlissel, Andrew Sandlin, Eric Holmberg, and more!
Sixteen Christian leaders and scholars answer some of the most common questions and misconceptions related to this volatile issue:
1. Are we under Law or under Grace?
2. Does the Old Testament Law apply today?
3. Can we legislate morality?
4. What are the biblical foundations of government?
5. Was America founded as a Christian nation?
6. What about the separation of Church and State?
7. Is neutrality a myth?
8. What about non-Christians and the Law of God?
9. Would there be "freedom" in a Christian republic?
10. What would a "Christian America" look like?
Perfect for group instruction as well as personal Bible study.
Ten parts, over four hours of instruction!
Running Time: 240 minutes
Watch over 60 on-line video interviews from God's Law and Society.
$19.95 — ORDER NOW!
(We accept all major credit cards and PayPal.)
Click here for more information
---
Why Creeds and Confessions? (Book)
High Quality Paperback — 219 pages
Foundations in Biblical Orthodoxy
Driving down a country road sometime, you might see a church with a sign proudly proclaiming: "No book but the Bible — No creed but Christ." The problem with this statement is that the word creed (from the Latin: credo) simply means "belief." All Christians have beliefs, regardless of whether they are written.
Yet a single book containing the actual texts of the most important creeds of the early Church will not often be found. Out of the multitude of works on the evangelical Christian book market today, those dealing with the creeds of the Church are scarce.
Why Creeds and Confessions? provides a foundation of biblical orthodoxy as a defense against the false and truly heretical doctrines advanced by the spirit of this age.
$14.95 — ORDER NOW!
(We accept all major credit cards and PayPal.)
Click here for more information
---
Martin Luther: Digitally Remastered 1953 Classic (DVD)
"Here I stand … I can do no other!"
With these immortal words, an unknown German monk sparked a spiritual revolution that changed the world.
The dramatic classic film of Martin Luther's life was released in theaters worldwide in the 1950s and was nominated for two Oscars. A magnificent depiction of Luther and the forces at work in the surrounding society that resulted in his historic reform efforts, this film traces Luther's life from a guilt-burdened monk to his eventual break with the Roman Catholic Church.
Running time: 105 minutes
Special offer: Order 5 or more for $5 each.
Watch a clip from Martin Luther.
$9.95 — ORDER NOW!
(We accept all major credit cards and PayPal.)