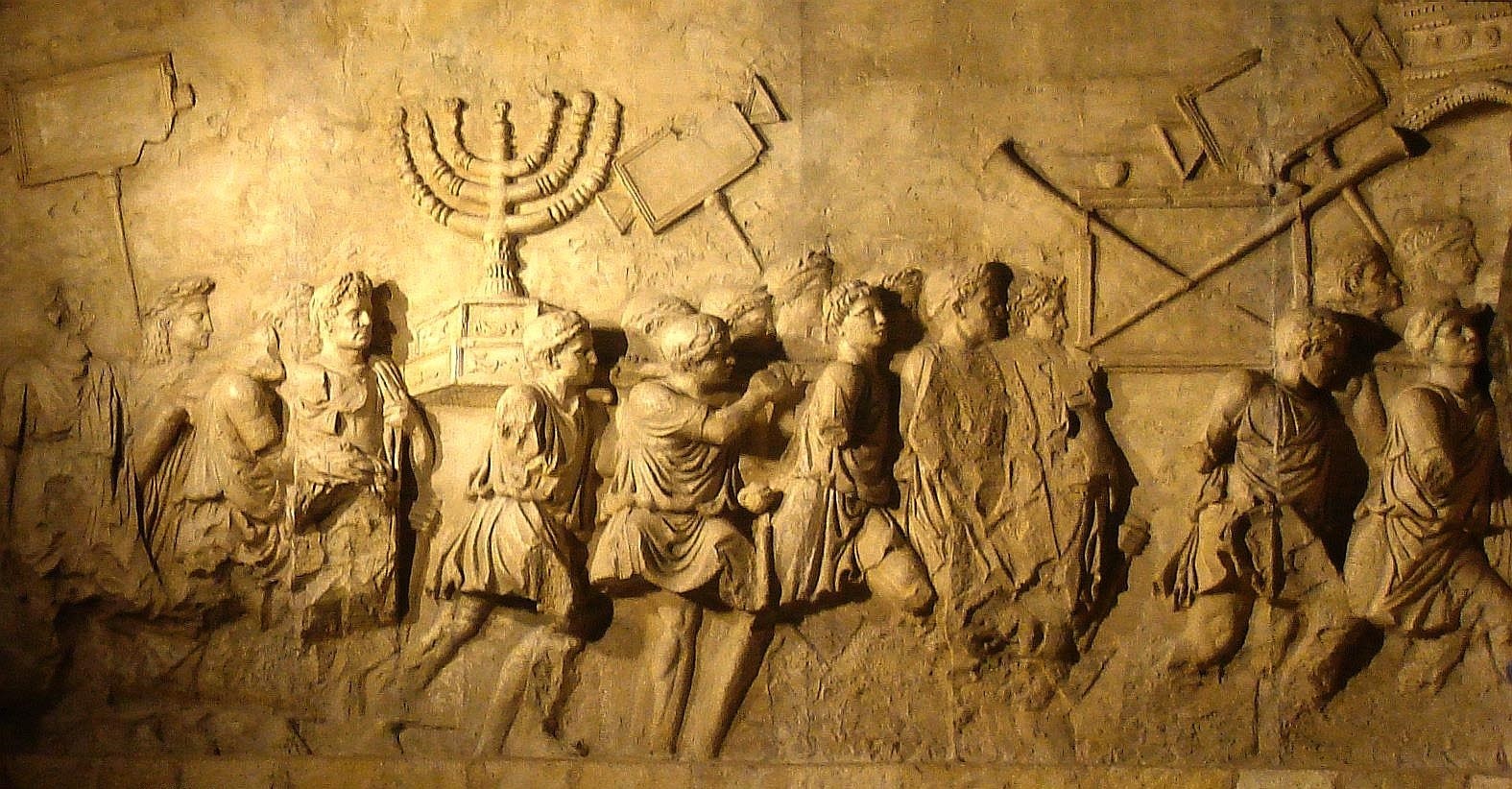 A contemporary Roman image of Revelation 19 in the Arch of Titus. Click to enlarge.
The following is part 2 of an excerpt from my soon-to-be-published book, In the Days of These Kings: The Prophecy of Daniel in Preterist Perspective. In the book I discuss the prophecy of Zechariah as "bridge" material between Daniel and the New Testament.
Zechariah 14:1-7 closely mirrors the language of Matthew 23:34-38 and Revelation 19:1-2,6-7,11,14; 21:9-10. Zechariah 14:1-7 seems to specifically refer to the Roman-Jewish War from AD 67 to 70. The preterist argument for Zechariah 14 and portions of Revelation 19 is that both were fulfilled in the destruction of the Temple in AD 70.
Here we ought to let Scripture interpret Scripture. If Matthew 23:34-39 and Revelation 19:1-2,6-7,11,14 are about the siege of Jerusalem in 70 AD, then this portion of Zechariah is also about the same events.
"Assuredly, I say to you, all these things will come upon this generation. O Jerusalem, Jerusalem, the one who kills the prophets and stones those who are sent to her! How often I wanted to gather your children together, as a hen gathers her chicks under her wings, but you were not willing! See! Your house is left to you desolate; for I say to you, you shall see Me no more till you say, 'Blessed is He who comes in the name of the LORD!'" (Matthew 23:36-38, emphasis mine).
Here Jesus is saying that the curse of blood-guiltiness due to the murders of God's prophets, culminating in the martyrdom of Zechariah (which may or may not be the Zechariah of 520 BC – although it would be fitting here) would come on Jerusalem in "this generation," that is, those alive in Jesus' day would see it.
Theodoret of Cyrus, writing in AD 460, believed that Zechariah 14:2 had an application to the Mount Olivet Discourse.
"When you see Jerusalem surrounded by armies, know that its end is nigh; then let those in Judea flee to the mountains, and the one on the roof not go down to get something from the house" (Luke 21:22; Matthew 24:16,17). He forecast this also in blessed Zechariah, "that the remainder will not perish" (Zechariah 14:2).
The Flight to Pella (AD 66)
A likely historical fulfillment that can be drawn from Zechariah 14:3-7 and Matthew 24:15-22 is the Christians' flight to Pella in AD 66. Christian historian Taylor Marshall explains.
Hegesippus records that Saint James of Jerusalem had been cast down from the pinnacle of the Temple because he had claimed (in about AD 63) that the "Son of Man was coming on the clouds." Apparently, the authorities dramatically pushed Saint James off the top of the Temple in mockery of the descent of the "Son of Man."

However, James was not wrong. Things were about to get bad in Jerusalem. Really bad.

The Church historian Eusebius recounts that the Jerusalem Christians were warned in a vision to depart Jerusalem because its destruction was near. According to the Jewish historian Josephus, writing in about AD 75, "many of the most eminent of the Jews swam away from the city" in AD 64 (Jewish War II.20.1). In other words, this "exodus" from Jerusalem occurred three-and-a-half years before the destruction of Jerusalem in AD 70.

Eusebius describes it like this:

"The whole body, however, of the Church at Jerusalem, having been commanded by a divine revelation, given to men of approved piety there before the war, removed from the city, and dwelt at a certain town beyond the Jordan, called Pella. Here those that believed in Christ, having removed from Jerusalem, as if holy men had entirely abandoned the royal city itself, and the whole land of Judea; the divine justice, for their crimes against Christ and his Apostles finally overtook them, totally destroying the whole generation of these evildoers form the earth" (Eusebius, Ecclesiastical History 3,5).

And thus was fulfilled the words of Christ: "Truly, I say to you, this generation will not pass away till all these things take place" (Matthew 24:34) (Taylor Marshall, Eusebius on the Flight from Jerusalem in AD 64).
I disagree with Taylor Marshall here only on the date of the Flight to Pella. AD 70 is not three-and-a-half years from AD 64. Instead, since the Roman armies did not appear until AD 66, the Flight to Pella most likely took place in the spring of AD 66 after the Jews had won a short-lived victory and had driven the Roman troops back to Caesarea. There the Roman general Cestius Gallus sent word to Nero of the defeat and promptly committed suicide. At this point, the early Christians fled the city, but the Jews rejoiced thinking God was favoring them in victory over the Romans. This peace lasted until the following year until the spring of AD 67, when Roman legions under Vespasian and Titus invaded Judea from the north and south. This campaign began in April of AD 67 and lasted another three-and-a-half years until the destruction of Jerusalem in September of AD 70. Despite Marshall's mathematical slip-up, his eloquent and insightful analysis is correct.
Likewise, Revelation 17,18 is about the destruction of the "Great City" – Jerusalem and the false system of Temple worship. In fact, the Temple furnishings are described so vividly in these passages that I find it amazing that so many have ignored this interpretation. The details of these chapters may be interpreted by Old Testament descriptions of the Temple.
Revelation 19 and Zechariah 14
In Revelation 19, John prophesies about what will happen "after these things," that is, after the destruction of the city of Jerusalem and the idolatrous system of Temple worship.
After these things, I heard a loud voice of a great multitude in heaven, saying, "Alleluia! Salvation and glory and honor and power belong to the Lord our God! For true and righteous are His judgments, because He has judged the great harlot who corrupted the earth with her fornication; and He has avenged on her the blood of His servants shed by her." … And I heard, as it were, the voice of a great multitude, as the sound on many waters and as the sound of mighty thunderings, saying "Alleluia! For the Lord God Omnipotent reigns! Let us be glad and rejoice and give Him glory, for the marriage of the Lamb has come and His wife has made herself ready" … Now I saw heaven opened, and behold, a white horse. And He who sat on him was Faithful and True, and in righteousness He judges and makes war … And the armies in heaven, clothed in fine linen, white and clean followed Him on white horses" (Revelation 19:1-2,6-7,11,14).
In summary, we see a close parallel of Revelation 19 to Zechariah 14:1,2 – the destruction of physical Jerusalem. And we see a close parallel of Revelation 19 to Zechariah 14:3-7 – the armies of the Lord making spiritual warfare for spiritual Jerusalem. These passages can be seen as a more elaborate recapitulation of what is also described in Daniel 12:1-3.
And at that time shall Michael stand up, the great prince which standeth for the children of thy people: and there shall be a time of trouble, such as never was since there was a nation even to that same time: and at that time thy people shall be delivered, every one that shall be found written in the book. And many of them that sleep in the dust of the earth shall awake, some to everlasting life, and some to shame and everlasting contempt. And they that be wise shall shine as the brightness of the firmament; and they that turn many to righteousness as the stars for ever and ever.
Your comments are welcome!
---
Dr. Francis Schaeffer - A Christian Manifesto (DVD)
That Swiss Hermit Strikes Again!
Dr. Schaeffer, who was one of the most influential Christian thinkers in the twentieth century, shows that secular humanism has displaced the Judeo-Christian consensus that once defined our nation's moral boundaries. Law, education, and medicine have all been reshaped for the worse as a consequence. America's dominant worldview changed, Schaeffer charges, when Christians weren't looking.
Schaeffer lists two reasons for evangelical indifference: a false concept of spirituality and fear. He calls on believers to stand against the tyranny and moral chaos that come when humanism reigns-and warns that believers may, at some point, be forced to make the hard choice between obeying God or Caesar. A Christian Manifesto is a thought-provoking and bracing Christian analysis of American culture and the obligation Christians have to engage the culture with the claims of Christ.
$19.95 — ORDER NOW!
(We accept all major credit cards and PayPal.)
Click here for more information
---
Freedom: The Model of Christian Liberty (DVD)
"Give me liberty or give me death!"
Patrick Henry's famous declaration not only helped launch the War for Independence, it also perfectly summarized the mindset that gave birth to, and sustained, the unprecedented experiment in Christian liberty that was America.
The freedom our Founders envisioned was not freedom from suffering, want, or hard work. Nor was it freedom to indulge every appetite or whim without restraint—that would merely be servitude to a different master. No, the Founders' passion was to live free before God, unfettered by the chains of autocracy, shackles that slowly but inexorably bind men when the governments they fashion fail to recognize and uphold freedom's singular, foundational truth: that all men are created in the image of God, and are thereby co-equally endowed with the right to "life, liberty, and the pursuit of happiness."
This presentation is a similar call, not to one but many. By reintroducing the principles of freedom that gave birth to America, it is our prayer that Jesus, the true and only ruler over the nations, will once again be our acknowledged Sovereign, that we may again know and exult in the great truth that "where the Spirit of the LORD is, there is liberty" (2 Cor. 3:17).
Welcome to the Second American Revolution!
This DVD features "Liberty: The Model of Christian Liberty" along with "Dawn's Early Light: A Brief History of America's Christian Foundations." Bonus features include a humorous but instructive collection of campaign ads and Eric Holmberg's controversial YouTube challenge concerning Mitt Romney's campaign for president.
$14.95 — ORDER NOW!
(We accept all major credit cards and PayPal.)
Click here for more information
---
The United States of America 2.0: The Great Reset (Book)
High Quality Paperback — 40 pages of dynamite!
Revival, Resistance, Reformation, Revolution
An Introduction to the Doctrines of Interposition and Nullification
In 1776, a short time after the Declaration of Independence was adopted, Thomas Jefferson, John Adams and Benjamin Franklin were assigned to design an official seal for the United States of America. Their proposed motto was Rebellion to Tyrants is Obedience to God. America owes its existence to centuries of Christian political philosophy. Our nation provided a model for liberty copied by nations the world over.
By the 21st century, we need a "Puritan Storm" to sweep away the Hegelian notion that the state is "God walking on earth." We need revival and reformation in full force to vanquish the problems that plague us as a nation — from government controlled healthcare — to abortion on demand — to same sex "marriage." This booklet gives a primer on our founders' Christian idea of government and examines how the doctrine of nullification was woven into the Constitution as a safeguard against federal tyranny. It concludes with the history and theology of civil resistance. A Second American Revolution is coming with the Word of God growing mightily and prevailing! (Acts 19:20).
$7.95 — ORDER NOW!
(We accept all major credit cards and PayPal.)
Click here for more information
---
Massacre of Innocence (DVD)
Exposing The Occult Roots of Abortion
This presentation looks at the spiritual roots of abortion and exposes the myths surrounding child killing. Little known historical facts about abortion and how they relate to modern feminism are presented logically and accurately. Has been effective in converting many to a pro-life position.
Massacre of Innocence goes where no pro-life presentation has gone before in "tearing the lid off abortion" to reveal the spiritual realities we must battle if we will bring an end to this crime. The presentation is absorbing, fast-paced, informative and incredibly devastating to any attempt to justify abortion.
"… an extraordinary statement … a powerfully articulate presentation about what abortion really means, and why a great and moral nation like the United States must not allow the slaughter to continue."
— Congressman Robert K. Dornan
Running time: 85 minutes
$19.95 — ORDER NOW!
(We accept all major credit cards and PayPal.)
Click here for more information
---
The Real Jesus: A Defense of the Historicity and Divinity of Christ (DVD)
Who is the Real Jesus?
Ever since the dawn of modern rationalism, skeptics have sought to use textual criticism, archeology and historical reconstructions to uncover the "historical Jesus" — a wise teacher who said many wonderful things, but fulfilled no prophecies, performed no miracles and certainly did not rise from the dead in triumph over sin.
Over the past 100 years, however, startling discoveries in biblical archeology and scholarship have all but vanquished the faulty assumptions of these doubting modernists. Regrettably, these discoveries have often been ignored by the skeptics as well as by the popular media. As a result, the liberal view still holds sway in universities and impacts the culture and even much of the church.
The Real Jesus explodes the myths of these critics and the movies, books and television programs that have popularized their views. Presented in ten parts — perfect for individual, family and classroom study — viewers will be challenged to go deeper in their knowledge of Christ in order to be able to defend their faith and present the truth to a skeptical modern world – that the Jesus of the Gospels is the Jesus of history — "the same yesterday, today and forever" (Hebrews 13:8). He is the real Jesus.
Speakers include: George Grant, Ted Baehr, Stephen Mansfield, Raymond Ortlund, Phil Kayser, David Lutzweiler, Jay Grimstead, J.P. Holding, and Eric Holmberg.
Ten parts, over two hours of instruction!
Running Time: 130 minutes
$19.95 — ORDER NOW!
(We accept all major credit cards and PayPal.)