The following information is from Florida Family Policy Council.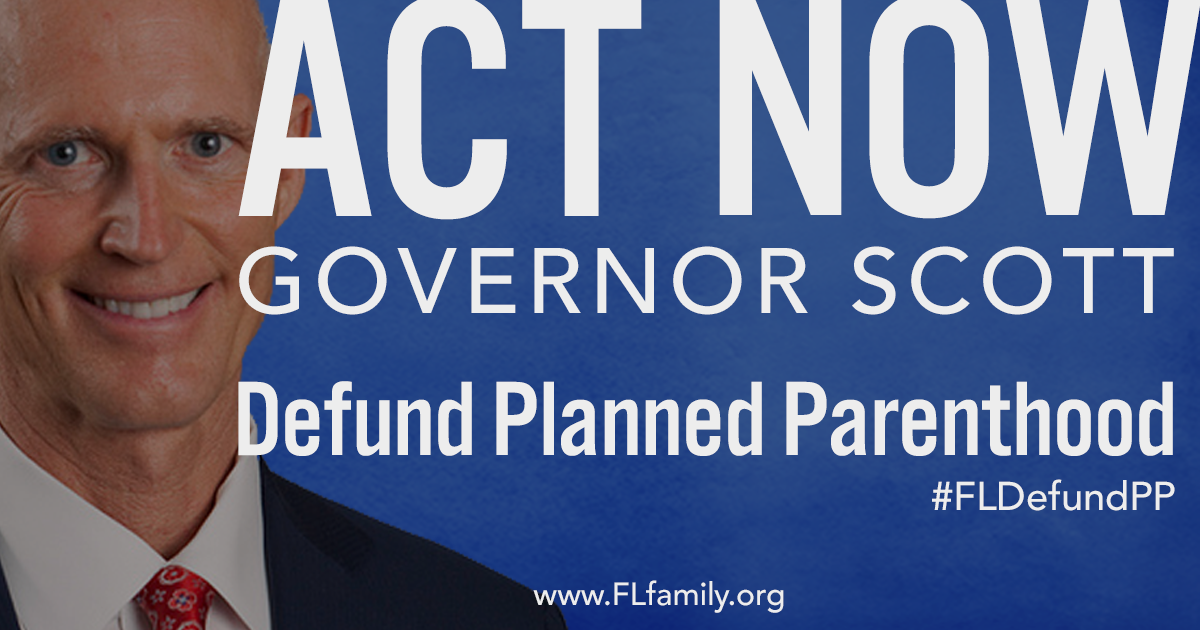 FFPC Press release | Tallahassee, FL
The Florida Family Policy Council (FFPC), led by President and General Counsel John Stemberger, held a press conference to herald the launch of a statewide campaign — on behalf of thousands of pro-life Floridians — calling on Gov. Rick Scott to fully defund Planned Parenthood in the state, and redirect those funds to the more than 600 community health clinics in Florida.
Read the press release.
Planned Parenthood wants you to believe that they provide essential services women can't receive anywhere else. We say they're wrong. Watch this short video clip from Alliance Defending Freedom​ explaining why.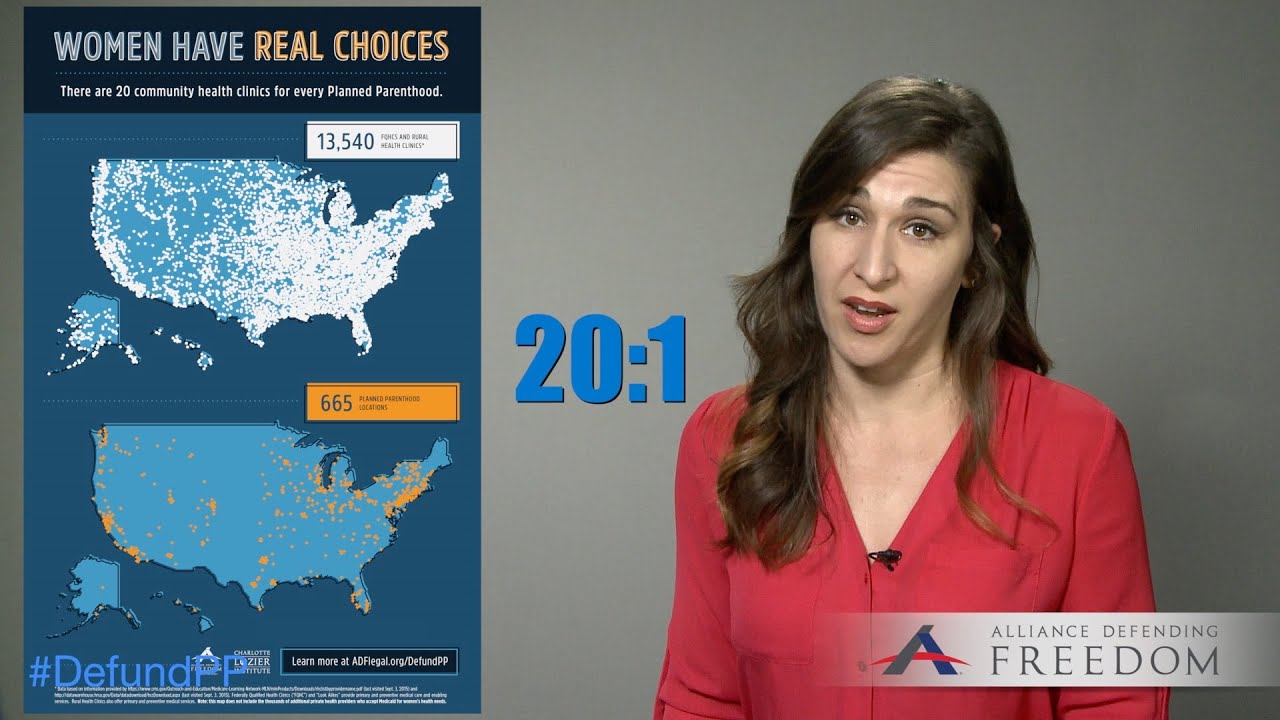 Additional videos debunking Planned Parenthood deceptions can be found here.
This resource includes stats on the number of procedures Planned Parenthood performs every year, including the number of abortions they provide, breast exams, Pap tests and cancer screenings. This resource also compares the services provided by Planned Parenthood Clinics to other Community Health Centers. This resource addresses the history of Planned Parenthood's failures to report sexual abuse and sex trafficking, its involvement in sex-selective abortion, race-targeted abortions, and baby body part harvesting.
This fact sheet from Liveaction.org provides by year the number of abortions Planned Parenthood performs annually, clearly showing a vast increase in abortions performed by the organization in the last 20 years. This resource also provides a brief overview of Planned Parenthood's funding sources; leadership; controversial statements; and past/ongoing investigations into the organization for fraud, failure to report sexual abuse, questionable medical processes, and failure to follow parent-consent laws. A brief history of Planned Parenthood and its founders can also be found here.
ADF's Annual Report on Publicly Available Audits of Planned Parenthood Affiliates and State Family Planning Programs
Alliance Defending Freedom's (ADF) research strongly suggests that Planned Parenthood and its affiliates are engaged in a pattern of practices designed to maximize their bottom‐line revenues through billings to complex, well‐funded federal and state programs that are understaffed and rely on the integrity of the provider for program compliance.
Planned Parenthood Federation of America (PPFA) and its affiliates have been subjected to heightened scrutiny in the wake of a congressional investigation into its apparent fraud, waste, and abuse of taxpayer funding, and the release of undercover videotapes that appear to show Planned Parenthood officers discussing illegal means of circumventing fetal tissue procurement laws. As a result of these developments, Alliance Defending Freedom and its allies have received inquiries regarding whether, and under what circumstances, states possess the legal authority to disqualify Planned Parenthood affiliates from participation in state Medicaid programs. This white paper provides a brief overview of state authority for terminating a Medicaid provider, as well as the process involved in doing so and the constitutional ramifications of such an action.
9.22.2015 — Letter to Governor Scott: Florida Family Policy Council
Letter provided to Governor Scott outlining a list of current investigations of Planned Parenthood, a list of known abuses by Planned Parenthood in Florida, Planned Parenthood's current taxpayer funding sources in Florida through Medicaid and Title X, a list of other states who have discontinued their Medicaid contracts with Planned Parenthood, and a request urging the Governor to discontinue these contracts.
10.02.2015 — Press Release: FFPC Launches Campaign to Defund Planned Parenthood in Florida, Demands Gov. Rick Scott Utilize Executive Action Immediately
FFPC is asking Governor Scott to take immediate executive action on the following two things:
Terminate Florida's Medicaid contract with Planned Parenthood.
Terminate the subcontracts of Title X funds with Broward and Collier County.
FFPC is releasing a series of fact checks on Governor Scott's response to our demand that he defund Planned Parenthood.
CLAIM: It would violate Federal Law if Governor Scott terminated Planned Parenthood's Medicaid contract.
"In a rare moment of agreement, Scott and Planned Parenthood questioned the governor's authority to do that. 'If the state were to take action to exclude Florida Planned Parenthood affiliates from Medicaid this would be in clear violation of federal law,' Planned Parenthood Spokesperson Goodhue wrote. 'Only around $45,000 in state match goes through the federal Medicaid program to Planned Parenthood offices in our state, and that is guided through the federal Medicaid formula in compliance with federal law,' Scott spokeswoman Jackie Schutz wrote in an email." – Margie Menzel, Oct 1, 2015 CBS / News Service of Florida
Reality
States not only have the obligation, but the legal right to terminate the Medicaid contracts of those healthcare providers who are no longer deemed qualified. In fact, the powers of a state Medicaid program to exclude a provider are broader than those of the federal government. A state Medicaid program may exclude a health care provider from participation "for any reason for which the Secretary could exclude the [provider] from participation" (i.e., the grounds for discretionary exclusion enumerated above) "[i]n addition to any other authority." 42 U.S.C. § 1396a(p)(1) (emphasis added).
Moreover, exclusion of Medicaid providers for a variety of reasons is relatively common and rarely challenged. According to the HHS Office of the Inspector General, over 9,000 providers have been excluded as Medicaid providers over the last two decades. In Florida, executive action has terminated hundreds over the past two decades. Exclusion of a Medicaid provider is thus nothing new. It is a common experience for states to suspend or terminate a Medicaid provider's participation in the program. Planned Parenthood is no exception.
Finally, it should be noted that the disqualification of Planned Parenthood from any state Medicaid program would not deny anyone a meaningful choice of providers. Planned Parenthood represents a very small part of the Medicaid-eligible providers in every state. Governor Scott clearly has the authority to disqualify Planned Parenthood, and he should not give Planned Parenthood a free pass. Were they any other Medicaid provider, they would have already been disqualified.