Killing Place:
AMS of Pensacola
6115 Village Oaks Drive
Pensacola, FL 32504-698
YOB: January 1943
WEAR ABC 3 in Pensacola, Florida reported on August 22 2011:
A Pensacola women's clinic has closed. AMS off of Village Oaks Drive abruptly closed its doors and left some of their clients without any notice. We've received a lot of calls from people who have seen this eviction notice on the front of AMS' door. It states that the property had to be vacated immediately. The letter was served by the Escambia Sheriff's Office on August 18th. Part of it reads "the ECSO Civil Division has taken immediate possession of the property."

It lists AMS of Pensacola as the defendant and a Dione Pro Inc. as the plaintiff. A check of Escambia County Clerk of Court records shows Dione Pro Inc. filed an eviction notice back in July against AMS. We don't know the reasons behind why the eviction notice was filed, but Dr. Philip Keene is the doctor who performed abortions at AMS is also listed as the president and secretary for Dione Pro Inc.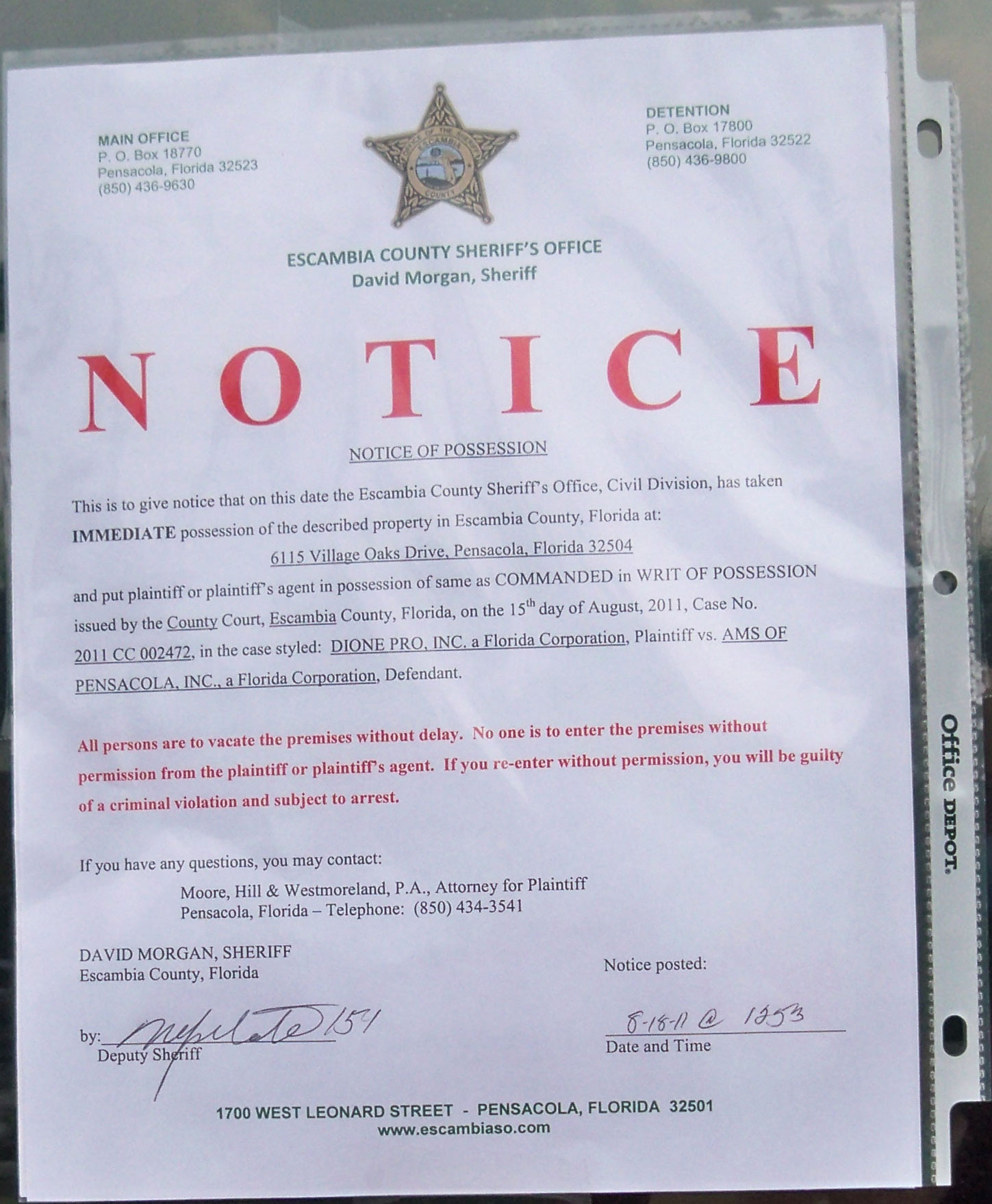 Escambia County Sheriff's Office Notice of Possession
---
The WEAR 3 news report mentions William Keene constantly throughout the report and ends by suggesting the abortion mill closed due to "safety concerns."
We don't know if safety concerns were a factor in the shutdown. One woman told us that Dr. Keene would actually come to work in a police car and get dropped off in the back wearing a ski mask so no one could identify him.
So let's get this straight. An abortionist wearing a ski mask issued himself an eviction notice and shut down the clinic that he owned and where he worked for not paying his own rent? Something is fishy if you ask me.
See the docket for this lawsuit of abortionist Keene vs. himself
Check out William Philip Keene's Florida corporations:
Business connections for William P Keene include Lana Wagner and William J McGurk.
More light on the story from Pensacola
The first time I saw this, I thought it was the same incident as a similar two-year-old story even though it had a recent date. I was at first thinking of Community Healthcare Center of Pensacola from a story two years ago, the last time a Pensacola abortion mill closed.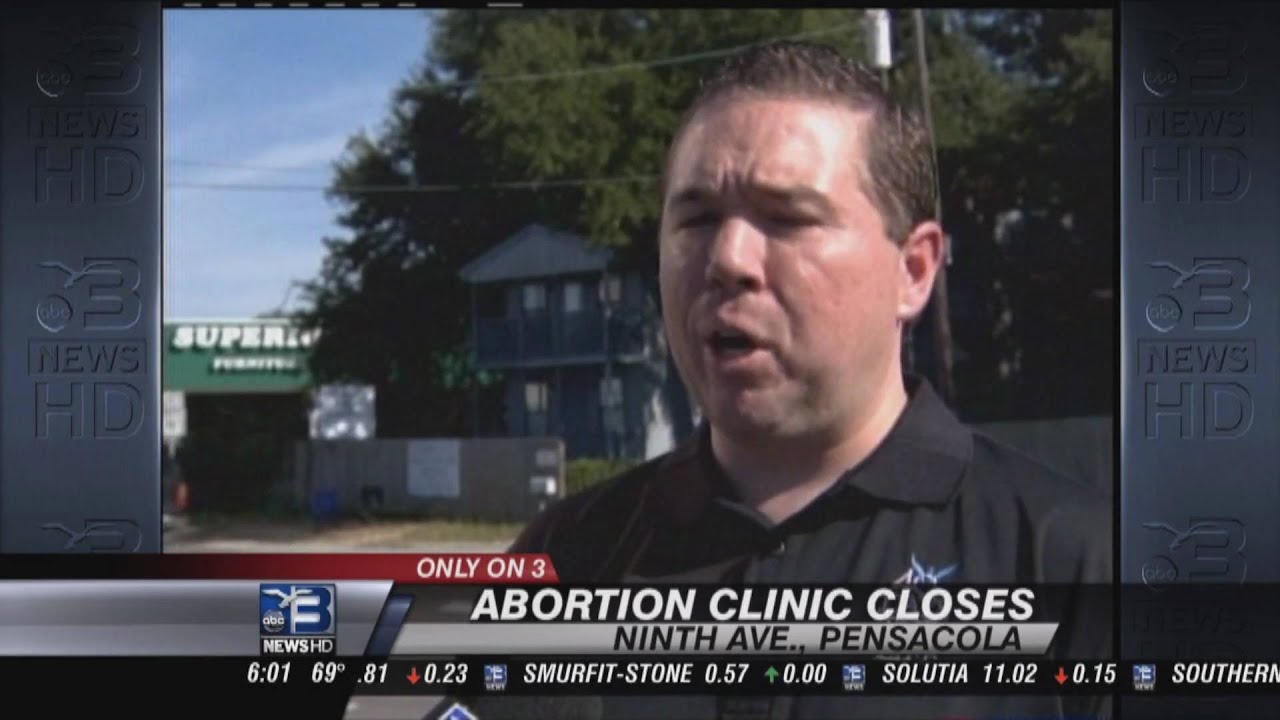 See the November 4, 2009 WEAR 3 news report.
However, Community Healthcare Center of Pensacola reincorporated and opened a short time later in the same place under a new name, American Family Planning Pensacola
I talked to the 40 Days for Life coordinator in Pensacola, Ernie Cyr, seen in the video above. He said that Keene showed up in a hockey mask (like Jason in Friday the 13th) and not a ski mask. He also pointed out that the Sunbiz.org site shows that earlier this year Dione Pro, Inc. dropped Keene from its corporation papers. Keene was listed as president on March 3rd, 2011, but as of April 13th, 2011, it's now just William McGurk and Lana Wagner.
So much for media accuracy.
As the segment below will show, the weak link in the chain is not the abortion clinic, which may come and go, but rather the abortionist.
Victims of Choice
Victim: Pamela Colson
Date of Death: June 26, 1994.
Place of Death: Pensacola Women's Medical Services, Pensacola, Florida.
Abortionist: William Keene.
Sources: Panama City News Herald, June 19 and June 29, 1994; Pensacola News Journal, June 29, 1994; St. Petersburg Times, June 30, 1994; USA Today, June 30, 1994; District I, Florida, case #MLA94-266.
Source: http://abortionviolence.com/DEATHS.HTM
Anniversary: Pamela Colson's death
Pamela Colson, age 31, was 12 weeks pregnant when friends drive her to Women's Medical Services in Pensacola, Florida, for an abortion June 26, 1994. Pamela bled heavily during the drive home. According to her friends, Pamela became unresponsive, so they stopped at a motel. Two passers-by did CPR while Pamela's friends called for an ambulance. Pamela was taken to a hospital where she died after an emergency hysterectomy.
Her autopsy showed: bloodstained fluid in chest and peritoneal space, and "extensive hematoma formation in the pelvic area with the peritoneum denuded from the left gutter area caudually." The surgeon who performed an emergency hysterectomy, trying to save Pamela's life, had removed her uterus at the site of the laceration "so that the laceration was a portion of the incision made to remove the uterus." Her uterus showed extensive hemorrhage and blood clots. Her uterine artery was also injured. Several of Pamela's ribs were fractured, apparently during attempts to resuscitate her; this is common in even properly performed CPR.
The cause of death was given as "'irreversible shock from blood loss due to a perforated uterus occurring at the time of an elective abortion." William Keene was tentatively identified as having performed the abortion. Pamela's fatal abortion was performed at the clinic where abortionist David Gunn was shot dead. While Gunn's death is much lamented by abortion advocates, Pamela's death is not. In fact, the clinic had two women arrested for using the tacky gum designed to hang posters safely on walls to hang a black crepe wreath on the clinic door on the anniversary of Pamela's death.
For more abortion deaths, visit the Cemetery of Choice.