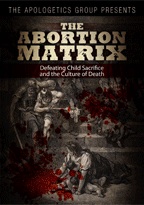 The Abortion Matrix DVD (2011) is the long-awaited update to Massacre of Innocence (1988), a video that spurred countless Christians toward direct action in the pro-life movement in the late 1980s and 1990s. At a quick-paced 195 minutes, the new presentation contains many times the amount of material as the 1988 documentary.
I watched Massacre of Innocence when it was first released and it convinced me of the need to take action against a modern holocaust. For the first time, I understood that abortion is not only mass murder, but also state-sanctioned idolatry that brought the sin of blood-guilt on our entire nation. By 1998, I began to talk to the writer, host and producer of Massacre, Eric Holmberg, about a remake that would include more information on the relationship between the abortion industry and the occult.
I had written a series of articles on Witchcraft and Abortion for a special edition of The Forerunner in 1994. The issue was distributed in select neighborhoods in Melbourne, Florida related to a local witch coven and the Aware Woman abortion clinic. This caused such a sensation that several newspapers, including the Orlando Sentinel, took notice. We were also interviewed for Freedom Speaks, a 1990s PBS program that debated the limits of First Amendment rights.
When we launched Forerunner.com less than two years later, these articles became the most read and debated pages. For a brief period, I would receive up to 30 emails a day, mostly from the Wiccan and Pagan community, who began a campaign against the website. Ironically, the controversy and numerous incoming links helped our new website to quickly grow to over a million visitors and three million page accesses per year.
Since that time, the Witchcraft and Abortion series has taken on a life of its own. Eric Holmberg agreed that the new material should be incorporated into a Massacre of Innocence 2 script and produced as a new video. As I began to do more research, I discovered that Carole Novielli of Life Dynamics, Kendra Wilcox Thomas of Operation Rescue and others had compiled similar articles and books. These pieces detailing the relationship between witchcraft and abortion have since gone viral on the Internet. They have been selected as the topic of various sermons, translated into foreign language websites and cited in numerous books. For instance, former Human Life International president, Father Thomas Euteneuer heavily references both Massacre of Innocence and The Forerunner in his new book, Demonic Abortion.
With the help of our panel of experts, the script was rewritten a few times and has finally become The Abortion Matrix.
I'll be unveiling each of the ten chapters here in the coming weeks. You may subscribe to our feed or get The Forerunner by email, if you want to keep updated. In the meantime, people are now able to preorder the DVD due out on January 1st.
$19.95 — ORDER NOW!
(We accept all major credit cards and PayPal.)
Comments
Your comments are welcome!
---
The Abortion Matrix: Defeating Child Sacrifice and the Culture of Death (DVD)
Download the free Study Guide!
Is there a connection between pagan religion and the abortion industry?
This powerful presentation traces the biblical roots of child sacrifice and then delves into the social, political and cultural fall-out that this sin against God and crime against humanity has produced in our beleaguered society.
Conceived as a sequel and update to the 1988 classic, The Massacre of Innocence, the new title, The Abortion Matrix, is entirely fitting. It not only references abortion's specific target – the sacred matrix where human beings are formed in the womb in the very image of God, but it also implies the existence of a conspiracy, a matrix of seemingly disparate forces that are driving this holocaust.
The occult activity surrounding the abortion industry is exposed with numerous examples. But are these just aberrations, bizarre yet anomalous examples of abortionists who just happen to have ties to modern day witchcraft? Or is this representative of something deeper, more sinister and even endemic to the entire abortion movement?
As the allusion to the film of over a decade ago suggests, the viewer may learn that things are not always as they appear to be. The Abortion Matrix reveals the reality of child-killing and strikes the proper moral chord to move hearts to fulfill the biblical responsibility to rescue those unjustly sentenced to death and to speak for those who cannot speak for themselves (Proverbs 24:11,12; 31:8,9).
Speakers include: George Grant, Peter Hammond, RC Sproul Jr., Paul Jehle, Lou Engle, Rusty Thomas, Flip Benham, Janet Porter and many more.
Ten parts, over three hours of instruction!
Running Time: 195 minutes
$19.95 — ORDER NOW!
(We accept all major credit cards and PayPal.)
Click here for more information
---
Dr. Francis Schaeffer - A Christian Manifesto (DVD)
That Swiss Hermit Strikes Again!
Dr. Schaeffer, who was one of the most influential Christian thinkers in the twentieth century, shows that secular humanism has displaced the Judeo-Christian consensus that once defined our nation's moral boundaries. Law, education, and medicine have all been reshaped for the worse as a consequence. America's dominant worldview changed, Schaeffer charges, when Christians weren't looking.
Schaeffer lists two reasons for evangelical indifference: a false concept of spirituality and fear. He calls on believers to stand against the tyranny and moral chaos that come when humanism reigns-and warns that believers may, at some point, be forced to make the hard choice between obeying God or Caesar. A Christian Manifesto is a thought-provoking and bracing Christian analysis of American culture and the obligation Christians have to engage the culture with the claims of Christ.
$19.95 — ORDER NOW!
(We accept all major credit cards and PayPal.)
Click here for more information
---
Massacre of Innocence (DVD)
Exposing The Occult Roots of Abortion
This presentation looks at the spiritual roots of abortion and exposes the myths surrounding child killing. Little known historical facts about abortion and how they relate to modern feminism are presented logically and accurately. Has been effective in converting many to a pro-life position.
Massacre of Innocence goes where no pro-life presentation has gone before in "tearing the lid off abortion" to reveal the spiritual realities we must battle if we will bring an end to this crime. The presentation is absorbing, fast-paced, informative and incredibly devastating to any attempt to justify abortion.
"… an extraordinary statement … a powerfully articulate presentation about what abortion really means, and why a great and moral nation like the United States must not allow the slaughter to continue."
— Congressman Robert K. Dornan
Running time: 85 minutes
$19.95 — ORDER NOW!
(We accept all major credit cards and PayPal.)
Click here for more information
---
The Beast of Revelation: Identified (DVD)
Who is the dreaded beast of Revelation?
Now at last, a plausible candidate for this personification of evil incarnate has been identified (or re-identified). Ken Gentry's insightful analysis of scripture and history is likely to revolutionize your understanding of the book of Revelation — and even more importantly — amplify and energize your entire Christian worldview!
Historical footage and other graphics are used to illustrate the lecture Dr. Gentry presented at the 1999 Ligonier Conference in Orlando, Florida. It is followed by a one-hour question and answer session addressing the key concerns and objections typically raised in response to his position. This presentation also features an introduction that touches on not only the confusion and controversy surrounding this issue — but just why it may well be one of the most significant issues facing the Church today.
Ideal for group meetings, personal Bible study — for anyone who wants to understand the historical context of John's famous letter "… to the seven churches which are in Asia." (Revelation 1:4)
Running Time: 145 minutes
$17.95 — ORDER NOW!
(We accept all major credit cards and PayPal.)
Click here for more information
---
Abortion Clinic 911 Calls (DVD)
Exposes the Dangers of Abortion to Women!
These shocking eyewitness accounts expose the dangers of abortion not only to unborn children, but to the health and lives women as well. An antidote to the smokescreens of the liberal media, these short clips show what really happens in and around abortion clinics.
Although the content is emotionally gut-wrenching, these videos have been used in church seminars and small groups to educate Christians on the abortion issue and to lead people toward a pro-life position. Contains 2 hours and 40 minutes of materials that can be shown separately.
Watch these pro-life videos on-line.
"These videos helped change my mind from pro-choice to pro-life. Your videos are what did it for me. I will be walking in next year's March For Life in San Francisco." — A. Jackson, California
"I was going to have an abortion until I saw your video. Praise Jesus!"
— M. Drew, YouTube Commenter
$4.95 — ORDER NOW!
(We accept all major credit cards and PayPal.)