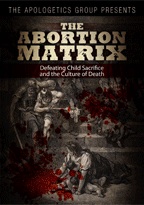 The Abortion Matrix DVD (2011) is the long-awaited update to Massacre of Innocence (1988), a video that spurred countless Christians toward direct action in the pro-life movement in the late 1980s and 1990s. At a quick-paced 195 minutes, the new presentation contains many times the amount of material as the 1988 documentary.
I watched Massacre of Innocence when it was first released and it convinced me of the need to take action against a modern holocaust. For the first time, I understood that abortion is not only mass murder, but also state-sanctioned idolatry that brought the sin of blood-guilt on our entire nation. By 1998, I began to talk to the writer, host and producer of Massacre, Eric Holmberg, about a remake that would include more information on the relationship between the abortion industry and the occult.
I had written a series of articles on Witchcraft and Abortion for a special edition of The Forerunner in 1994. The issue was distributed in select neighborhoods in Melbourne, Florida related to a local witch coven and the Aware Woman abortion clinic. This caused such a sensation that several newspapers, including the Orlando Sentinel, took notice. We were also interviewed for Freedom Speaks, a 1990s PBS program that debated the limits of First Amendment rights.
When we launched Forerunner.com less than two years later, these articles became the most read and debated pages. For a brief period, I would receive up to 30 emails a day, mostly from the Wiccan and Pagan community, who began a campaign against the website. Ironically, the controversy and numerous incoming links helped our new website to quickly grow to over a million visitors and three million page accesses per year.
Since that time, the Witchcraft and Abortion series has taken on a life of its own. Eric Holmberg agreed that the new material should be incorporated into a Massacre of Innocence 2 script and produced as a new video. As I began to do more research, I discovered that Carole Novielli of Life Dynamics, Kendra Wilcox Thomas of Operation Rescue and others had compiled similar articles and books. These pieces detailing the relationship between witchcraft and abortion have since gone viral on the Internet. They have been selected as the topic of various sermons, translated into foreign language websites and cited in numerous books. For instance, former Human Life International president, Father Thomas Euteneuer heavily references both Massacre of Innocence and The Forerunner in his new book, Demonic Abortion.
With the help of our panel of experts, the script was rewritten a few times and has finally become The Abortion Matrix.
I'll be unveiling each of the ten chapters here in the coming weeks. You may subscribe to our feed or get The Forerunner by email, if you want to keep updated. In the meantime, people are now able to preorder the DVD due out on January 1st.
$19.95 — ORDER NOW!
(We accept all major credit cards and PayPal.)
Comments
Your comments are welcome!
---
Abortion Clinic 911 Calls (DVD)
Exposes the Dangers of Abortion to Women!
These shocking eyewitness accounts expose the dangers of abortion not only to unborn children, but to the health and lives women as well. An antidote to the smokescreens of the liberal media, these short clips show what really happens in and around abortion clinics.
Although the content is emotionally gut-wrenching, these videos have been used in church seminars and small groups to educate Christians on the abortion issue and to lead people toward a pro-life position. Contains 2 hours and 40 minutes of materials that can be shown separately.
Watch these pro-life videos on-line.
"These videos helped change my mind from pro-choice to pro-life. Your videos are what did it for me. I will be walking in next year's March For Life in San Francisco." — A. Jackson, California
"I was going to have an abortion until I saw your video. Praise Jesus!"
— M. Drew, YouTube Commenter
$4.95 — ORDER NOW!
(We accept all major credit cards and PayPal.)
Click here for more information
---
Frank Schaeffer Will You Please Shut Up! (Book)
High Quality Paperback — 200 pages
A Reasonable Response to Christian Postmodernism
Includes a response to the book Christian Jihad by Colonel V. Doner
The title of this book is a misnomer. In reality, I am not trying to get anyone to shut up, but rather to provoke a discussion. This book is a warning about the philosophy of "Christian postmodernism" and the threat that it poses not only to Christian orthodoxy, but to the peace and prosperity our culture as well. The purpose is to equip the reader with some basic principles that can be used to refute their arguments.
Part 1 is a response to some of the recent writings by Frank Schaeffer, the son of the late Francis Schaeffer. This was originally written as a defense against Frank's attacks on pro-life street activism – a movement that his father helped bring into being through his books, A Christian Manifesto, How Should We Then Live? and Whatever Happened to the Human Race? These works have impacted literally hundreds of thousands of Christian activists.
Part 2 is a response to Colonel Doner and his book, Christian Jihad: Neo-Fundamentalists and the Polarization of America. Doner was one of the key architects of the Christian Right that emerged in the 1980s, who now represents the disillusionment and defection many Christian activists experienced in the 1990s and 2000s. There is still great hope for America to be reformed according to biblical principles. As a new generation is emerging, it is important to recognize the mistakes that Christian activists have made in the past even while holding to a vision for the future.
$14.95 — ORDER NOW!
(We accept all major credit cards and PayPal.)
Click here for more information
---
The Four Keys to the Millennium (Book)
Foundations in Biblical Eschatology
By Jay Rogers, Larry Waugh, Rodney Stortz, Joseph Meiring. High quality paperback, 167 pages.
All Christians believe that their great God and Savior, Jesus Christ, will one day return. Although we cannot know the exact time of His return, what exactly did Jesus mean when he spoke of the signs of His coming (Mat. 24)? How are we to interpret the prophecies in Isaiah regarding the time when "the earth will be full of the knowledge of the LORD as the waters cover the sea" (Isa. 11:19)? Should we expect a time of great tribulation and apostasy or revival and reformation before the Lord returns? Is the devil bound now, and are the saints reigning with Christ? Did you know that there are four hermeneutical approaches to the book of Daniel and Revelation?
These and many more questions are dealt with by four authors as they present the four views on the millennium. Each view is then critiqued by the other three authors.
$12.95 — ORDER NOW!
(We accept all major credit cards and PayPal.)
Click here for more information
---
A Revival Account: Asbury 1970 (DVD)
What is true Revival and Spiritual Awakening?
Discover the answer in this eyewitness account by Dennis Kinlaw, President of Asbury College, Wilmore, Kentucky, who recounts the story of a visitation of the Holy Spirit in 1970. This is the presentation that has continued to spark the flames of Revival in the hearts of people around the world. Contains eyewitness footage from the Revival at Asbury College in 1970 in Wilmore, Kentucky.
Certain to challenge you to greater holiness and a deeper commitment to full-scale revival. Original news and private footage has been included. If you are a student who longs to see a spiritual awakening at your school, you must see this video!
"This simple video does a wonderful job of conveying something of God's heart and power, Everyone we have ever shown this to has received an immediate impartation of faith for revival and the power of prayer."
— Bob and Rose Weiner, Weiner Ministries Int'l
Running Time: 40 minutes
$19.95 — ORDER NOW!
(We accept all major credit cards and PayPal.)
Click here for more information
---
Martin Luther: Digitally Remastered 1953 Classic (DVD)
"Here I stand … I can do no other!"
With these immortal words, an unknown German monk sparked a spiritual revolution that changed the world.
The dramatic classic film of Martin Luther's life was released in theaters worldwide in the 1950s and was nominated for two Oscars. A magnificent depiction of Luther and the forces at work in the surrounding society that resulted in his historic reform efforts, this film traces Luther's life from a guilt-burdened monk to his eventual break with the Roman Catholic Church.
Running time: 105 minutes
Special offer: Order 5 or more for $5 each.
Watch a clip from Martin Luther.
$9.95 — ORDER NOW!
(We accept all major credit cards and PayPal.)