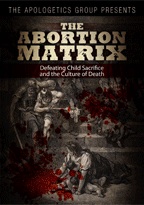 The Abortion Matrix DVD (2011) is the long-awaited update to Massacre of Innocence (1988), a video that spurred countless Christians toward direct action in the pro-life movement in the late 1980s and 1990s. At a quick-paced 195 minutes, the new presentation contains many times the amount of material as the 1988 documentary.
I watched Massacre of Innocence when it was first released and it convinced me of the need to take action against a modern holocaust. For the first time, I understood that abortion is not only mass murder, but also state-sanctioned idolatry that brought the sin of blood-guilt on our entire nation. By 1998, I began to talk to the writer, host and producer of Massacre, Eric Holmberg, about a remake that would include more information on the relationship between the abortion industry and the occult.
I had written a series of articles on Witchcraft and Abortion for a special edition of The Forerunner in 1994. The issue was distributed in select neighborhoods in Melbourne, Florida related to a local witch coven and the Aware Woman abortion clinic. This caused such a sensation that several newspapers, including the Orlando Sentinel, took notice. We were also interviewed for Freedom Speaks, a 1990s PBS program that debated the limits of First Amendment rights.
When we launched Forerunner.com less than two years later, these articles became the most read and debated pages. For a brief period, I would receive up to 30 emails a day, mostly from the Wiccan and Pagan community, who began a campaign against the website. Ironically, the controversy and numerous incoming links helped our new website to quickly grow to over a million visitors and three million page accesses per year.
Since that time, the Witchcraft and Abortion series has taken on a life of its own. Eric Holmberg agreed that the new material should be incorporated into a Massacre of Innocence 2 script and produced as a new video. As I began to do more research, I discovered that Carole Novielli of Life Dynamics, Kendra Wilcox Thomas of Operation Rescue and others had compiled similar articles and books. These pieces detailing the relationship between witchcraft and abortion have since gone viral on the Internet. They have been selected as the topic of various sermons, translated into foreign language websites and cited in numerous books. For instance, former Human Life International president, Father Thomas Euteneuer heavily references both Massacre of Innocence and The Forerunner in his new book, Demonic Abortion.
With the help of our panel of experts, the script was rewritten a few times and has finally become The Abortion Matrix.
I'll be unveiling each of the ten chapters here in the coming weeks. You may subscribe to our feed or get The Forerunner by email, if you want to keep updated. In the meantime, people are now able to preorder the DVD due out on January 1st.
$19.95 — ORDER NOW!
(We accept all major credit cards and PayPal.)
Comments
Your comments are welcome!
---
The Real Jesus: A Defense of the Historicity and Divinity of Christ (DVD)
Who is the Real Jesus?
Ever since the dawn of modern rationalism, skeptics have sought to use textual criticism, archeology and historical reconstructions to uncover the "historical Jesus" — a wise teacher who said many wonderful things, but fulfilled no prophecies, performed no miracles and certainly did not rise from the dead in triumph over sin.
Over the past 100 years, however, startling discoveries in biblical archeology and scholarship have all but vanquished the faulty assumptions of these doubting modernists. Regrettably, these discoveries have often been ignored by the skeptics as well as by the popular media. As a result, the liberal view still holds sway in universities and impacts the culture and even much of the church.
The Real Jesus explodes the myths of these critics and the movies, books and television programs that have popularized their views. Presented in ten parts — perfect for individual, family and classroom study — viewers will be challenged to go deeper in their knowledge of Christ in order to be able to defend their faith and present the truth to a skeptical modern world – that the Jesus of the Gospels is the Jesus of history — "the same yesterday, today and forever" (Hebrews 13:8). He is the real Jesus.
Speakers include: George Grant, Ted Baehr, Stephen Mansfield, Raymond Ortlund, Phil Kayser, David Lutzweiler, Jay Grimstead, J.P. Holding, and Eric Holmberg.
Ten parts, over two hours of instruction!
Running Time: 130 minutes
$19.95 — ORDER NOW!
(We accept all major credit cards and PayPal.)
Click here for more information
---
Amazing Grace: The History and Theology of Calvinism (DVD)
Download the Free Study Guide!
Just what is Calvinism?
Does this teaching make man a deterministic robot and God the author of sin? What about free will? If the church accepts Calvinism, won't evangelism be stifled, perhaps even extinguished? How can we balance God's sovereignty and man's responsibility? What are the differences between historic Calvinism and hyper-Calvinism? Why did men like Augustine, Luther, Calvin, Spurgeon, Whitefield, Edwards and a host of renowned Protestant evangelists embrace the teaching of predestination and election and deny free will theology?
This is the first video documentary that answers these and other related questions. Hosted by Eric Holmberg, this fascinating three-part, four-hour presentation is detailed enough so as to not gloss over the controversy. At the same time, it is broken up into ten "Sunday-school-sized" sections to make the rich content manageable and accessible for the average viewer.
Running Time: 257 minutes
$19.95 — ORDER NOW!
(We accept all major credit cards and PayPal.)
Click here for more information
---
Dr. Francis Schaeffer - How Should We Then Live? (DVD)
Special Two-Disc Set!
After 40 years of intense study and world-wide ministry, Dr. Francis Schaeffer completed his crowning work of scholarship – to present profound truths in simple film language. Dr. Schaeffer's brilliant analysis of the past and predictions for current trends have proven so uncannily accurate that this amazing series still feels contemporary almost three decades after its initial release. Ultimately, Schaeffer concludes that man's only hope is a return to God's Biblical absolute, the truth revealed in Christ through the Scriptures.
Available for the first time on DVD, this documentary spectacular also includes intimate in-depth conversations with Francis and Edith Schaeffer. With the on-disc study guide, this presentation forms a unique course of comprehensive study. While this series forms an innovative analysis of the past, this outstanding work is more than history. Each episode focuses on a significant era, yet speaks clearly to 21st-century man with answers for modern problems.
$49.95 — ORDER NOW!
(We accept all major credit cards and PayPal.)
Click here for more information
---
Martin Luther: Digitally Remastered 1953 Classic (DVD)
"Here I stand … I can do no other!"
With these immortal words, an unknown German monk sparked a spiritual revolution that changed the world.
The dramatic classic film of Martin Luther's life was released in theaters worldwide in the 1950s and was nominated for two Oscars. A magnificent depiction of Luther and the forces at work in the surrounding society that resulted in his historic reform efforts, this film traces Luther's life from a guilt-burdened monk to his eventual break with the Roman Catholic Church.
Running time: 105 minutes
Special offer: Order 5 or more for $5 each.
Watch a clip from Martin Luther.
$9.95 — ORDER NOW!
(We accept all major credit cards and PayPal.)
Click here for more information
---
Dr. Francis Schaeffer - A Christian Manifesto (DVD)
That Swiss Hermit Strikes Again!
Dr. Schaeffer, who was one of the most influential Christian thinkers in the twentieth century, shows that secular humanism has displaced the Judeo-Christian consensus that once defined our nation's moral boundaries. Law, education, and medicine have all been reshaped for the worse as a consequence. America's dominant worldview changed, Schaeffer charges, when Christians weren't looking.
Schaeffer lists two reasons for evangelical indifference: a false concept of spirituality and fear. He calls on believers to stand against the tyranny and moral chaos that come when humanism reigns-and warns that believers may, at some point, be forced to make the hard choice between obeying God or Caesar. A Christian Manifesto is a thought-provoking and bracing Christian analysis of American culture and the obligation Christians have to engage the culture with the claims of Christ.
$19.95 — ORDER NOW!
(We accept all major credit cards and PayPal.)