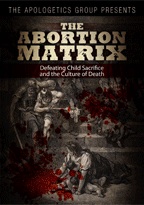 The Abortion Matrix DVD (2011) is the long-awaited update to Massacre of Innocence (1988), a video that spurred countless Christians toward direct action in the pro-life movement in the late 1980s and 1990s. At a quick-paced 195 minutes, the new presentation contains many times the amount of material as the 1988 documentary.
I watched Massacre of Innocence when it was first released and it convinced me of the need to take action against a modern holocaust. For the first time, I understood that abortion is not only mass murder, but also state-sanctioned idolatry that brought the sin of blood-guilt on our entire nation. By 1998, I began to talk to the writer, host and producer of Massacre, Eric Holmberg, about a remake that would include more information on the relationship between the abortion industry and the occult.
I had written a series of articles on Witchcraft and Abortion for a special edition of The Forerunner in 1994. The issue was distributed in select neighborhoods in Melbourne, Florida related to a local witch coven and the Aware Woman abortion clinic. This caused such a sensation that several newspapers, including the Orlando Sentinel, took notice. We were also interviewed for Freedom Speaks, a 1990s PBS program that debated the limits of First Amendment rights.
When we launched Forerunner.com less than two years later, these articles became the most read and debated pages. For a brief period, I would receive up to 30 emails a day, mostly from the Wiccan and Pagan community, who began a campaign against the website. Ironically, the controversy and numerous incoming links helped our new website to quickly grow to over a million visitors and three million page accesses per year.
Since that time, the Witchcraft and Abortion series has taken on a life of its own. Eric Holmberg agreed that the new material should be incorporated into a Massacre of Innocence 2 script and produced as a new video. As I began to do more research, I discovered that Carole Novielli of Life Dynamics, Kendra Wilcox Thomas of Operation Rescue and others had compiled similar articles and books. These pieces detailing the relationship between witchcraft and abortion have since gone viral on the Internet. They have been selected as the topic of various sermons, translated into foreign language websites and cited in numerous books. For instance, former Human Life International president, Father Thomas Euteneuer heavily references both Massacre of Innocence and The Forerunner in his new book, Demonic Abortion.
With the help of our panel of experts, the script was rewritten a few times and has finally become The Abortion Matrix.
I'll be unveiling each of the ten chapters here in the coming weeks. You may subscribe to our feed or get The Forerunner by email, if you want to keep updated. In the meantime, people are now able to preorder the DVD due out on January 1st.
$19.95 — ORDER NOW!
(We accept all major credit cards and PayPal.)
Comments
Your comments are welcome!
---
Dr. Francis Schaeffer - A Christian Manifesto (DVD)
That Swiss Hermit Strikes Again!
Dr. Schaeffer, who was one of the most influential Christian thinkers in the twentieth century, shows that secular humanism has displaced the Judeo-Christian consensus that once defined our nation's moral boundaries. Law, education, and medicine have all been reshaped for the worse as a consequence. America's dominant worldview changed, Schaeffer charges, when Christians weren't looking.
Schaeffer lists two reasons for evangelical indifference: a false concept of spirituality and fear. He calls on believers to stand against the tyranny and moral chaos that come when humanism reigns-and warns that believers may, at some point, be forced to make the hard choice between obeying God or Caesar. A Christian Manifesto is a thought-provoking and bracing Christian analysis of American culture and the obligation Christians have to engage the culture with the claims of Christ.
$19.95 — ORDER NOW!
(We accept all major credit cards and PayPal.)
Click here for more information
---
The Beast of Revelation: Identified (DVD)
Who is the dreaded beast of Revelation?
Now at last, a plausible candidate for this personification of evil incarnate has been identified (or re-identified). Ken Gentry's insightful analysis of scripture and history is likely to revolutionize your understanding of the book of Revelation — and even more importantly — amplify and energize your entire Christian worldview!
Historical footage and other graphics are used to illustrate the lecture Dr. Gentry presented at the 1999 Ligonier Conference in Orlando, Florida. It is followed by a one-hour question and answer session addressing the key concerns and objections typically raised in response to his position. This presentation also features an introduction that touches on not only the confusion and controversy surrounding this issue — but just why it may well be one of the most significant issues facing the Church today.
Ideal for group meetings, personal Bible study — for anyone who wants to understand the historical context of John's famous letter "… to the seven churches which are in Asia." (Revelation 1:4)
Running Time: 145 minutes
$17.95 — ORDER NOW!
(We accept all major credit cards and PayPal.)
Click here for more information
---
The Silent Scream (DVD) Eight Languages
"When the lives of the unborn are snuffed out, they often feel pain, pain that is long and agonizing." – President Ronald Reagan to National Religious Broadcasters Convention, January 1981
Ronald Reagan became convinced of this as a result of watching The Silent Scream – a movie he considered so powerful and convicting that he screened it at the White House.
The modern technology of real-time ultrasound now reveals the actual responses of a 12-week old fetus to being aborted. As the unborn child attempts to escape the abortionist's suction curette, her motions can be seen to become desperately agitated and her heart rate doubles. Her mouth opens – as if to scream – but no sound can come out. Her scream doesn't have to remain silent, however … not if you will become her voice. This newly re-mastered version features eight language tracks and two bonus videos.
"… a high technology "Uncle Tom's Cabin" arousing public opinion just as Harriet Beecher Stowe's 1852 antislavery novel ignited the abolitionist movement." – Sen. Gordon Humphrey, Time Magazine
Languages: English, Spanish, French, South Korean, Chinese, Russian, Portuguese, Japanese
Running Time: 28 minutes
$17.95 — ORDER NOW!
(We accept all major credit cards and PayPal.)
Click here for more information
---
Go Stand Speak (DVD)
With "preaching to the lost" being such a basic foundation of Christianity, why do many in the church seem to be apathetic on this issue of preaching in highways and byways of towns and cities?
Is it biblical to stand in the public places of the world and proclaim the gospel, regardless if people want to hear it or not?
Does the Bible really call church pastors, leaders and evangelists to proclaim the gospel in the public square as part of obedience to the Great Commission, or is public preaching something that is outdated and not applicable for our day and age?
These any many other questions are answered in this documentary.
$19.95 — ORDER NOW!
(We accept all major credit cards and PayPal.)
Click here for more information
---
A Revival Account: Asbury 1970 (DVD)
What is true Revival and Spiritual Awakening?
Discover the answer in this eyewitness account by Dennis Kinlaw, President of Asbury College, Wilmore, Kentucky, who recounts the story of a visitation of the Holy Spirit in 1970. This is the presentation that has continued to spark the flames of Revival in the hearts of people around the world. Contains eyewitness footage from the Revival at Asbury College in 1970 in Wilmore, Kentucky.
Certain to challenge you to greater holiness and a deeper commitment to full-scale revival. Original news and private footage has been included. If you are a student who longs to see a spiritual awakening at your school, you must see this video!
"This simple video does a wonderful job of conveying something of God's heart and power, Everyone we have ever shown this to has received an immediate impartation of faith for revival and the power of prayer."
— Bob and Rose Weiner, Weiner Ministries Int'l
Running Time: 40 minutes
$19.95 — ORDER NOW!
(We accept all major credit cards and PayPal.)