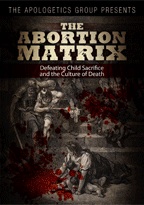 The Abortion Matrix DVD (2011) is the long-awaited update to Massacre of Innocence (1988), a video that spurred countless Christians toward direct action in the pro-life movement in the late 1980s and 1990s. At a quick-paced 195 minutes, the new presentation contains many times the amount of material as the 1988 documentary.
I watched Massacre of Innocence when it was first released and it convinced me of the need to take action against a modern holocaust. For the first time, I understood that abortion is not only mass murder, but also state-sanctioned idolatry that brought the sin of blood-guilt on our entire nation. By 1998, I began to talk to the writer, host and producer of Massacre, Eric Holmberg, about a remake that would include more information on the relationship between the abortion industry and the occult.
I had written a series of articles on Witchcraft and Abortion for a special edition of The Forerunner in 1994. The issue was distributed in select neighborhoods in Melbourne, Florida related to a local witch coven and the Aware Woman abortion clinic. This caused such a sensation that several newspapers, including the Orlando Sentinel, took notice. We were also interviewed for Freedom Speaks, a 1990s PBS program that debated the limits of First Amendment rights.
When we launched Forerunner.com less than two years later, these articles became the most read and debated pages. For a brief period, I would receive up to 30 emails a day, mostly from the Wiccan and Pagan community, who began a campaign against the website. Ironically, the controversy and numerous incoming links helped our new website to quickly grow to over a million visitors and three million page accesses per year.
Since that time, the Witchcraft and Abortion series has taken on a life of its own. Eric Holmberg agreed that the new material should be incorporated into a Massacre of Innocence 2 script and produced as a new video. As I began to do more research, I discovered that Carole Novielli of Life Dynamics, Kendra Wilcox Thomas of Operation Rescue and others had compiled similar articles and books. These pieces detailing the relationship between witchcraft and abortion have since gone viral on the Internet. They have been selected as the topic of various sermons, translated into foreign language websites and cited in numerous books. For instance, former Human Life International president, Father Thomas Euteneuer heavily references both Massacre of Innocence and The Forerunner in his new book, Demonic Abortion.
With the help of our panel of experts, the script was rewritten a few times and has finally become The Abortion Matrix.
I'll be unveiling each of the ten chapters here in the coming weeks. You may subscribe to our feed or get The Forerunner by email, if you want to keep updated. In the meantime, people are now able to preorder the DVD due out on January 1st.
$19.95 — ORDER NOW!
(We accept all major credit cards and PayPal.)
Comments
Your comments are welcome!
---
Why Creeds and Confessions? (Book)
High Quality Paperback — 219 pages
Foundations in Biblical Orthodoxy
Driving down a country road sometime, you might see a church with a sign proudly proclaiming: "No book but the Bible — No creed but Christ." The problem with this statement is that the word creed (from the Latin: credo) simply means "belief." All Christians have beliefs, regardless of whether they are written.
Yet a single book containing the actual texts of the most important creeds of the early Church will not often be found. Out of the multitude of works on the evangelical Christian book market today, those dealing with the creeds of the Church are scarce.
Why Creeds and Confessions? provides a foundation of biblical orthodoxy as a defense against the false and truly heretical doctrines advanced by the spirit of this age.
$14.95 — ORDER NOW!
(We accept all major credit cards and PayPal.)
Click here for more information
---
Frank Schaeffer Will You Please Shut Up! (Book)
High Quality Paperback — 200 pages
A Reasonable Response to Christian Postmodernism
Includes a response to the book Christian Jihad by Colonel V. Doner
The title of this book is a misnomer. In reality, I am not trying to get anyone to shut up, but rather to provoke a discussion. This book is a warning about the philosophy of "Christian postmodernism" and the threat that it poses not only to Christian orthodoxy, but to the peace and prosperity our culture as well. The purpose is to equip the reader with some basic principles that can be used to refute their arguments.
Part 1 is a response to some of the recent writings by Frank Schaeffer, the son of the late Francis Schaeffer. This was originally written as a defense against Frank's attacks on pro-life street activism – a movement that his father helped bring into being through his books, A Christian Manifesto, How Should We Then Live? and Whatever Happened to the Human Race? These works have impacted literally hundreds of thousands of Christian activists.
Part 2 is a response to Colonel Doner and his book, Christian Jihad: Neo-Fundamentalists and the Polarization of America. Doner was one of the key architects of the Christian Right that emerged in the 1980s, who now represents the disillusionment and defection many Christian activists experienced in the 1990s and 2000s. There is still great hope for America to be reformed according to biblical principles. As a new generation is emerging, it is important to recognize the mistakes that Christian activists have made in the past even while holding to a vision for the future.
$14.95 — ORDER NOW!
(We accept all major credit cards and PayPal.)
Click here for more information
---
The United States of America 2.0: The Great Reset (Book)
High Quality Paperback — 40 pages of dynamite!
Revival, Resistance, Reformation, Revolution
An Introduction to the Doctrines of Interposition and Nullification
In 1776, a short time after the Declaration of Independence was adopted, Thomas Jefferson, John Adams and Benjamin Franklin were assigned to design an official seal for the United States of America. Their proposed motto was Rebellion to Tyrants is Obedience to God. America owes its existence to centuries of Christian political philosophy. Our nation provided a model for liberty copied by nations the world over.
By the 21st century, we need a "Puritan Storm" to sweep away the Hegelian notion that the state is "God walking on earth." We need revival and reformation in full force to vanquish the problems that plague us as a nation — from government controlled healthcare — to abortion on demand — to same sex "marriage." This booklet gives a primer on our founders' Christian idea of government and examines how the doctrine of nullification was woven into the Constitution as a safeguard against federal tyranny. It concludes with the history and theology of civil resistance. A Second American Revolution is coming with the Word of God growing mightily and prevailing! (Acts 19:20).
$7.95 — ORDER NOW!
(We accept all major credit cards and PayPal.)
Click here for more information
---
Amazing Grace: The History and Theology of Calvinism (DVD)
Download the Free Study Guide!
Just what is Calvinism?
Does this teaching make man a deterministic robot and God the author of sin? What about free will? If the church accepts Calvinism, won't evangelism be stifled, perhaps even extinguished? How can we balance God's sovereignty and man's responsibility? What are the differences between historic Calvinism and hyper-Calvinism? Why did men like Augustine, Luther, Calvin, Spurgeon, Whitefield, Edwards and a host of renowned Protestant evangelists embrace the teaching of predestination and election and deny free will theology?
This is the first video documentary that answers these and other related questions. Hosted by Eric Holmberg, this fascinating three-part, four-hour presentation is detailed enough so as to not gloss over the controversy. At the same time, it is broken up into ten "Sunday-school-sized" sections to make the rich content manageable and accessible for the average viewer.
Running Time: 257 minutes
$19.95 — ORDER NOW!
(We accept all major credit cards and PayPal.)
Click here for more information
---
God's Law and Society (DVD)
Download the Free Study Guide!
God's Law and Society powerfully presents a comprehensive worldview based upon the ethical system found in the Law of God.
Speakers include: R.J. Rushdoony, George Grant, Howard Phillips, R.C. Sproul Jr., Ken Gentry, Gary DeMar, Jay Grimstead, Steven Schlissel, Andrew Sandlin, Eric Holmberg, and more!
Sixteen Christian leaders and scholars answer some of the most common questions and misconceptions related to this volatile issue:
1. Are we under Law or under Grace?
2. Does the Old Testament Law apply today?
3. Can we legislate morality?
4. What are the biblical foundations of government?
5. Was America founded as a Christian nation?
6. What about the separation of Church and State?
7. Is neutrality a myth?
8. What about non-Christians and the Law of God?
9. Would there be "freedom" in a Christian republic?
10. What would a "Christian America" look like?
Perfect for group instruction as well as personal Bible study.
Ten parts, over four hours of instruction!
Running Time: 240 minutes
Watch over 60 on-line video interviews from God's Law and Society.
$19.95 — ORDER NOW!
(We accept all major credit cards and PayPal.)