The following is part of a series of short recaps of events that occurred during the Operation Save America outreach in Orlando from July 16-23, 2011. God orchestrated an amazing series of events in a short period of time. We take credit for none of it, but we were blessed to have been witnesses of this move of God. Lots of conversions occurred during the week, and a few of them are recounted in the following testimony. During the annual OSA national event, we usually see babies saved, but the large number of salvations of people who ran into one of the pro-life evangelists in town was unusual.
I have collected dozens of testimonies and lots of photos and videos. I am in still in the process of sorting it all out and putting it together. See this blog in the next week or so for more updates. The following is a "first timer" report from an evangelist who came to town for the week a bit skeptical about what he would see due to the way the media often portrays pro-life "activists" and yet was challenged deeply by what he saw.
Funeral Procession for Baby Esther
By Clint Decker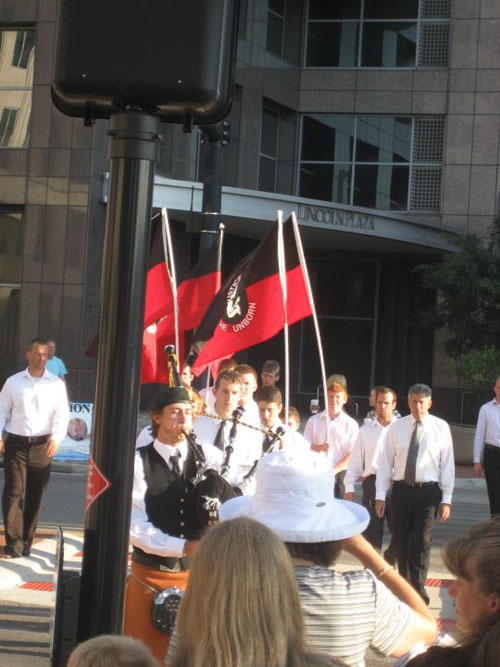 The procession for "Baby Esther" at City Hall in downtown Orlando
---
Greetings in Christ! Just a few days ago I got back home from a jam-packed-six-day-ministry-trip to Orlando, Florida. It was the annual National Event for Operation Save America (OSA). I was invited to attend by some friends. The trip left ministry stretch marks all over me. Most of the things I did, I have never done before.
During my time I participated in several outreaches, including two abortion clinics, the neighborhoods of two abortion doctors, an Islamic mosque and two memorial services for aborted babies. We also attended the jury trial of a local abortion doctor in Orange County district court. All I can say is, "Wow!"
As I saw it, OSA sees themselves primarily as biblical evangelists. They preach the gospel in the open air at the places were sin is tolerated and growing like a noxious weed. They passionately, courageously and steadfastly call men and women to Christ through exposing the sins of abortion, homosexuality, the false religion of Islam and other sins plaguing our nation. I agree with their main message of repentance. It is the same as the Old Testament prophets, John the Baptist, Jesus and the early church. The Apostle Peter declared in the open air, "Repent therefore, and turn again, that your sins may be blotted out, that times of refreshing may come from the presence of the Lord" (Acts 3:19-20).
I had the opportunity to preach the good news from a sidewalk to some National Organization for Women (NOW) volunteers that were in support of the local abortion clinic. What a joy! When women walked into the clinics I joined with others in urging them to choose a better way for their unborn baby. I prayed the Scriptures to myself interceding on behalf of the people and the unborn babies going in and out of the clinics. When a Muslim outside the local mosque told me, "I am drawn to Islam because Allah gives me peace," I lifted up Jesus and urged Him to turn from Allah and to Christ who offers true and lasting peace.
I visited with a woman who walked by an abortion clinic holding her three-week-old grandbaby. She said her daughter nearly followed through on an abortion at the clinic. Praise God she didn't. Praise God that she listened as we shared the gospel. She along with her cousin yielded their lives to Jesus.
While eating lunch at a park with our group one day, God led me to visit with a local gentleman sitting by himself, Phillip. He was a Haitian man who spoke broken English. As we visited I turned the corner and God opened the doors to share the gospel. A while later we kneeled at the picnic bench with two other believers that came over and Phillip prayed to surrender his life to Jesus. Amen!
I went with my opinions about this type of ministry based on what I have heard from mainstream secular and Christian media over the years. Neither media group seemed to encourage this type of ministry based on their history of reporting. However, I'm sold on it! Yes, I didn't agree with everything I saw and heard, but most of it I did. I can't deny the fruit of their labors. It is a fact that God has used them to save thousands of babies and thousands of lost souls. They weep over them and the sins of our nation. They are passionate to be holy as God is holy. They are some model biblical preachers, mining the Word for its deep truths and sharing it with others. They love in word and deed giving themselves in countless ways and they identify with the sufferings of Christ. Yet, they continue on because of their love for Jesus and others. What an inspiration they were to me to set my face like flint toward the cross of Christ and press on in faith, boldness and holy love.
A Slave of Christ,