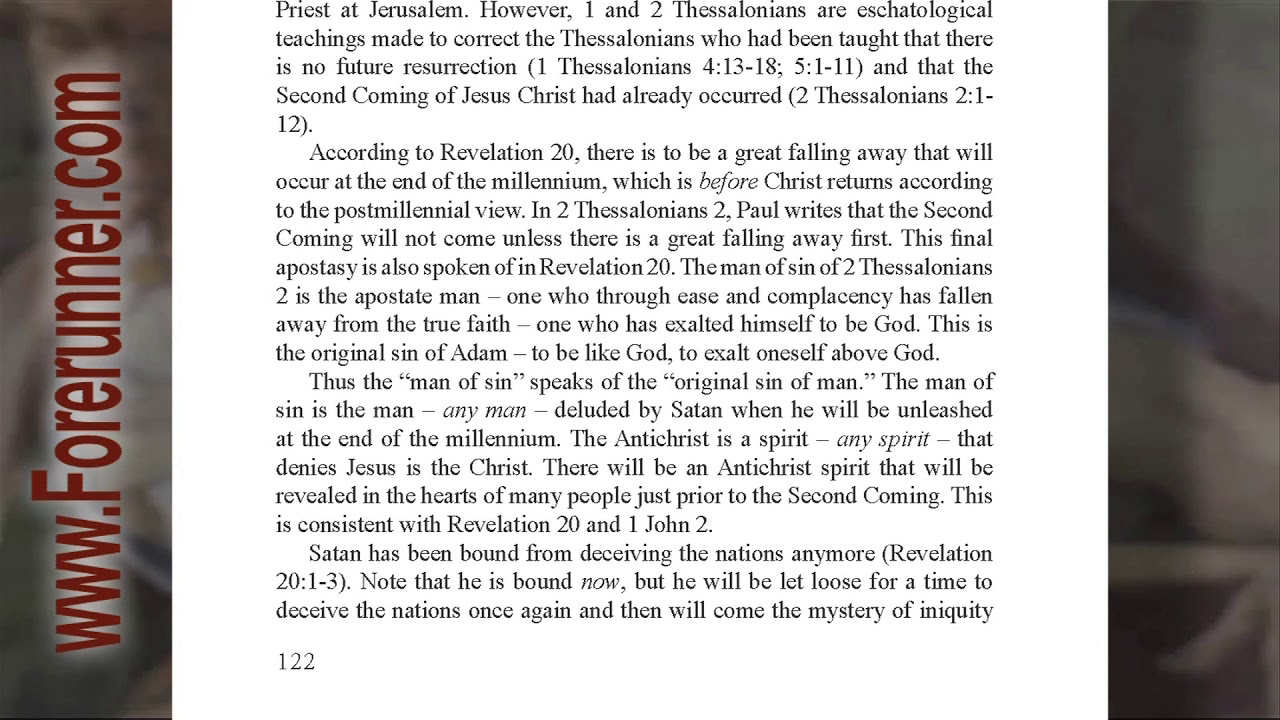 Let no man deceive you by any means: for that day shall not come, except there come a falling away first, and that man of sin be revealed, the son of perdition; Who opposeth and exalteth himself above all that is called God, or that is worshipped; so that as God sitteth in the temple of God, showing himself that he is God (2 Thessalonians 2:3,4).
This is supposedly a difficult chapter for postmillennialists and especially preterists who put the Great Tribulation in the first century. Admittedly, 2 Thessalonians 2 seems at first glance to be difficult from a postmillennial perspective, but when compared to Revelation 20, it is very consistent with a postmillennial view.
---
I would interpret the Man of Sin as a type of apostate man here, not the Antichrist, not a single person, although many interpreters have seen a single Antichrist here. If you doubt that the "Man of Sin … who sits in the Temple of God" can be figurative, compare the language with Isaiah 14.
For thou hast said in thine heart, I will ascend into heaven. I will exalt my throne above the stars of God: I will sit also upon the mount of the congregation, in the sides of the north. I will ascend above the heights of the clouds; I will be like the most High (Isaiah 14:13,14).
In 2 Thessalonians 2:4, Paul is alluding to Isaiah where the king of Babylon is compared to Lucifer. Admittedly, Isaiah 14 is primarily about a king or the kings of Babylon, but the Man of Sin is neither the king of Babylon, Lucifer, nor a contemporary king of Paul's day. The man of sin plainly interpreted are those controlled by the original sin of man. The end-times apostasy will not be contained nor epitomized in one man, but in men in general whose love will grow cold.
The whole context of 1 and 2 Thessalonians, depicts the end times not as a time of wars, tumults, pestilence, plagues and famine (which were first century judgments on Judea) but a time of "peace and safety" (1 Thessalonians 5:3) when men will grow cold because they are not expecting the Lord to come.
Kenneth Gentry, David Chilton and other preterists interpret this passage as a first century event, the man of sin being either Nero Caesar or the High Priest at Jerusalem. However, 1 and 2 Thessalonians are eschatological teachings made to correct the Thessalonians who had been taught that there is no future resurrection (1 Thessalonians 4:13-18; 5:1-11) and that the Second Coming of Jesus Christ had already occurred (2 Thessalonians 2:1-12).
According to Revelation 20, there is to be a great falling away that will occur at the end of the millennium, which is before Christ returns according to the postmillennial view. In 2 Thessalonians 2, Paul writes that the Second Coming will not come unless there is a great falling away first. This final apostasy is also spoken of in Revelation 20. The man of sin of 2 Thessalonians 2 is the apostate man – one who through ease and complacency has fallen away from the true faith – one who has exalted himself to be God. This is the original sin of Adam – to be like God, to exalt oneself above God.
Thus the "man of sin" speaks of the "original sin of man." The man of sin is the man – any man – deluded by Satan when he will be unleashed at the end of the millennium. The Antichrist is a spirit – any spirit – that denies Jesus is the Christ. There will be an Antichrist spirit that will be revealed in the hearts of many people just prior to the Second Coming. This is consistent with Revelation 20 and 1 John 2.
Satan has been bound from deceiving the nations anymore (Revelation 20:1-3). Note that he is bound now, but he will be let loose for a time to deceive the nations once again and then will come the mystery of iniquity that will be revealed in the hearts of men (2 Thessalonians 2:7).
I do not see anywhere in Scripture a future Antichrist figure in the person of one man who is a world ruler. The Beast of Revelation is not a future Antichrist. Nowhere do John or Paul in their epistles explicitly say that the "antichrist" or the "man of sin" is anything more than a spirit or a man deluded by a spirit.
That sums up my position on 2 Thessalonians 2. I realize that many preterist writers disagree with me on this topic. However, the context of 1 and 2 Thessalonians is to correct eschatological errors in the church at Thessalonica, not to predict events of the first century. Paul was warning against a proto-Gnostic teaching that said that the Lord had already come "spiritually" and that the carnal who were looking for a bodily return of Christ had missed Him. Instead Paul explains in these two epistles the correct order of eschatological events. To interpret this to have a first century fulfillment is to turn the whole context of 1 and 2 Thessalonians on its head.