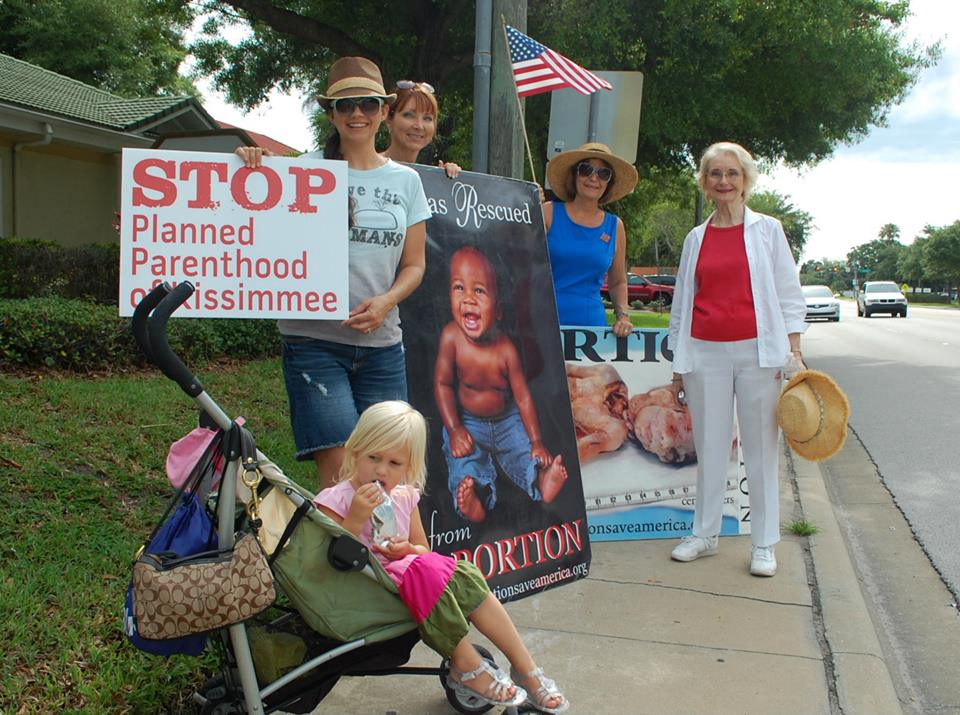 Planned Parenthood's Kissimmee abortion mega-center has been the target of public outcry since their plans to open across the street from Osceola Regional Medical Center were uncovered in March 2014. (Photo credit: Amber Carroll.)
KISSIMMEE, Florida (www.forerunner.com) — Dr. John Littell, a local pro-life physician who together with hundreds of doctors, lawyers and community leaders, has been working to Stop Planned Parenthood of Kissimmee. On Friday, May 22, 2015, Littell sent out the following email.
Dear Jay and Friends for Life: Yes! The courts upheld the ban on abortion and other surgical procedures at 610 Oak Commons Blvd in Kissimmee effective today! Let's celebrate LIFE tomorrow Saturday, May 22nd, 2015 at 1st Christian Church in Kissimmee from noon to 1 PM! Bring all you can – this will be an amazing time to rejoice and news media will be there as well. Back to my patients and God bless all the children and us as well! – Doc/John
Last July, a court issued a temporary injunction that ordered the Planned Parenthood abortion mega-center to cease doing surgical procedures, which were in violation of an agreement between physicians in Oak Commons and Osceola Regional Medical Center. Throughout 2014, The Forerunner covered the battle with the abortion giant. Here is a synopsis of events from the beginning.
See also numerous videos from The Forerunner and various news sources on this story.
In the fall, Planned Parenthood of Greater Orlando won a "stay" of the temporary injunction on the abortion center. That was immediately appealed by the doctors in Oak Commons who brought the original lawsuit. Today, a court has ruled that the ban on surgical abortion procedures at the Kissimmee Oak Commons address is back in effect.
According to the Orlando Sentinel :
The 2-1 ruling by the 5th District Court of Appeal focused on a restrictive covenant in the medical park that bars the property from being used for an outpatient surgical center.

Another property owner in the park, MMB Properties, sought the temporary injunction, which was approved by an Osceola County circuit judge.

The appeals court last year issued a stay of the injunction while the appeal moved forward. Friday's majority opinion backed findings of the circuit judge.

"The trial court's findings were that abortions are outpatient surgical procedures; that Planned Parenthood's facility is not a physician's practice of medicine; and, that even if the facility is operated as a physician's practice of medicine, its performance of abortions was not ancillary or incidental to that practice,'' said the opinion, written by Judge C. Alan Lawson and joined by Judge William Palmer.

"Accepting these findings, we affirm the trial court's ultimate finding that MMB had a substantial likelihood of success in proving that Planned Parenthood's performance of abortions at the facility would violate the restrictive covenant."
This has been a roller coaster ride and it is not over yet. There is still to come a hearing for the permanent injunction to ban surgical abortions in Oak Commons. The injunction also does not affect chemical abortion procedures.
We will band together to give thanks and pray. Forward this to anyone else you know who has been involved in opposing child sacrifice in our city.
Come celebrate with us at First Christian Church, 415 N Main St, Kissimmee, FL. Noon – 1 pm, Saturday, May 23rd, 2015.