KISSIMMEE, Florida (www.forerunner.com) – Sanctity of human life advocates were joyful to hear the news last week that a circuit judge had granted a temporary injunction to prohibit all surgical abortions and diagnostic testing at 610 Oak Commons, the site of a brand new $2 million Planned Parenthood center.
This week, Jenna Tosh and Planned Parenthood of Greater Orlando (PPGO) filed for a counter-injunction to keep their abortion mega center in business.
In a supplemental affidavit, PPGO CEO Jenna Tosh has cited "irreparable harm" to their business reputation "as well as to the reputation of other Planned Parenthood affiliates generally."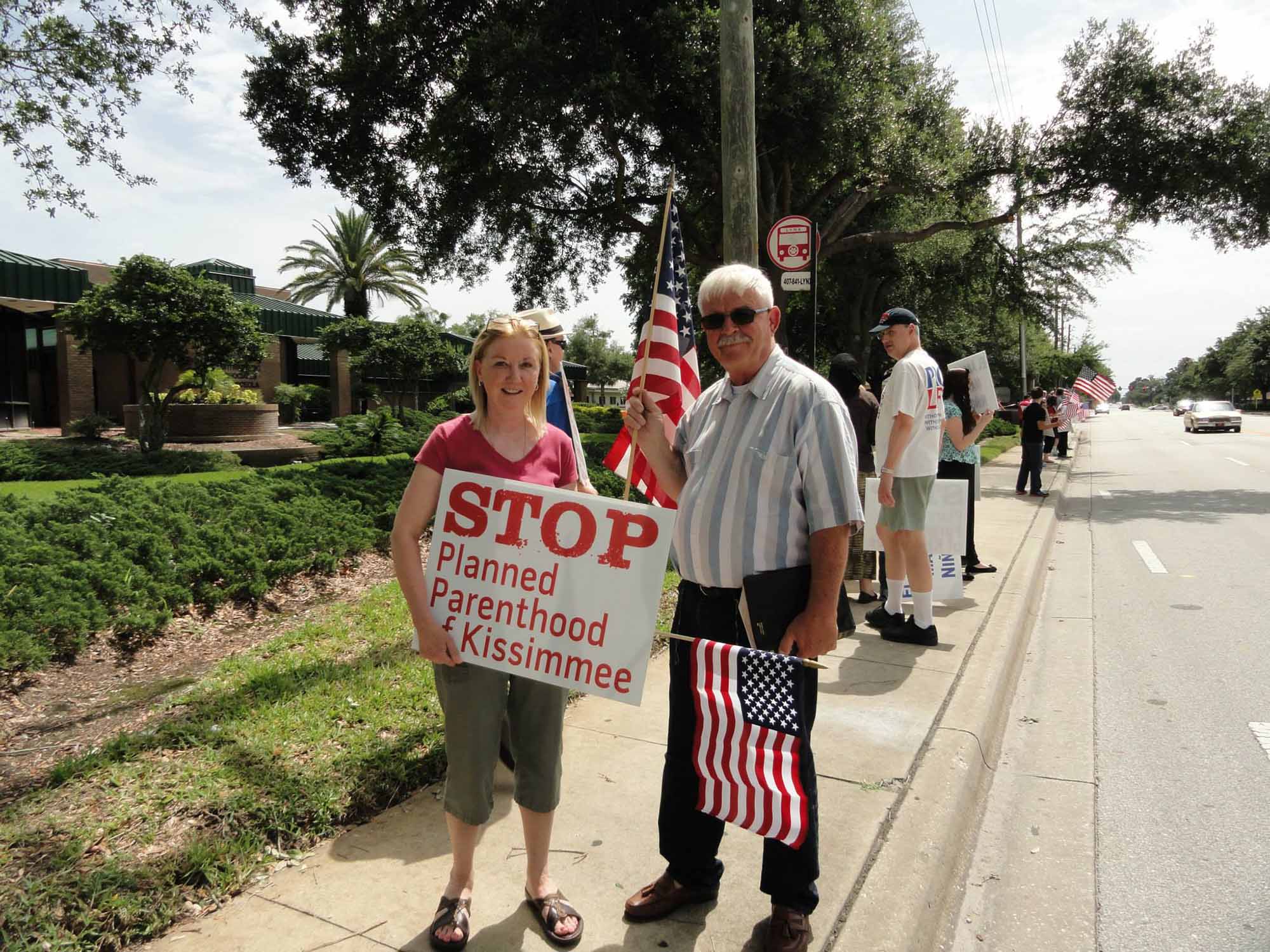 June 14, 2014 – Retired police officer, Chet Gallagher with Dr. Helen, a plastic surgeon who works at the hospital across the street, joined in opposing and exposing Planned Parenthood's murderous plot to infest Kissimmee, Florida with their culture of death.
The Kissimmee Abortion Mega-Center Timeline
As early as 2012 and 2013, two Florida State House Democrats, Senator Darren Soto and Representative Ricardo Rangel, invited Planned Parenthood to come to Osceola County.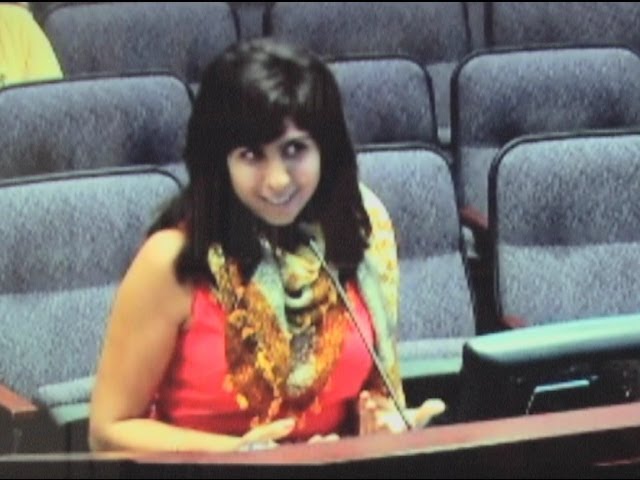 On December 20, 2012, Senator Soto praised PPGO for their school programs.
On November 1, 2013, Senator Soto again praised PPGO for their sex education in his wife's classroom in Orange County and sad he would like to see it in Osceola County. Soto said he hopes to get Osceola County teen pregnancy rate down too. (Both Orange County and Osceola County's teen birth rates are equivalently down the same percentage since 2006 despite PPGO's absence in Osceola.)
Planned Parenthood external affairs director, Anna Eskamani, stated that although the state law requires abstinence education, states students are instructed that they can text their sexual questions and get real time responses from one of Planned Parenthood's sexperts.
Rep. Rangel said he toured Planned Parenthood, saying, "It was a great tour," and knew that Planned Parenthood was planning on "doing something like that here in Osceola County."
The shocking part is how warm and friendly these two Roman Catholic representatives are to having an abortion center representative at their meeting. They even commended Planned Parenthood's sex education programs in Orange County schools and spoke of their entry in Osceola schools as though it were a done deal.
I first got wind of a proposed Planned Parenthood mega-center by hearing Florida Right to Life's executive director, Rachel Burgin talk about PPGO's plans to expand into Osceola and Brevard counties.
"Planned Parenthood is recruiting young girls into their abortion business with money — your money," Burgin said.
She mentioned that federal grant money would also enable PPGO to expand into Osceola and Brevard counties.
In August, I was given the address of a proposed center near a future SunRail station at 231 Ruby Avenue in downtown Kissimmee.
In September, I was told by a realtor that the building was off the market and in the closing process. They would not give me the name of the buyer. Several months later, there was still no movement and as of this date, the building has not closed.
In November of 2013, Florida Hospital and the Orthopaedic Associates of Osceola, led by Michael Karr and Marcus Kornberg conspired to remove a deed restriction on "pregnancy terminations" at a former OB-GYN clinic at 610 Oak Commons. This was done to pave the way to open the building for use for an abortion center run by Planned Parenthood.
City zoning also wrote a letter to Planned Parenthood saying that the building was zoned for a medical office, but did not specifically reference a surgical center. We later discovered that no surgical center exists in Kissimmee under this specific zoning code. It is important to not here that Tosh specifically inquired whether an "outpatient surgical center" would be permitted in this zoning district.
In December 2013, $310,000 was paid as a down payment for the Kissimmee mega-center in the Oak Commons medical park. The rest of the $1,090,000 million is mortgaged. Additional improvements were made to the $1.4 million building to bring the grand total to $2 million according to PPGO.
According to Tosh's affidavit, PPGO spent ten months in 2013 finding the current site for the abortion mega center. In doing so, they were also aware of two Declarations of Covenants with Osceola Regional Medical Center (ORMC) directly across the street that prohibit surgical centers and all diagnostic testing in Oak Commons.
The Tallahassee Connection
In January, 2014, I worked with Noles for Life (the FSU Students for Life "Seminoles" group) and Tallahassee Abortion Abolitionist, Matt Ferro, in exposing Jacksonville abortionist, Todd Rasner. This OB-GYN practitioner had been traveling to Tallahassee twice a month to perform abortions. Evidently, he did not perform abortions at any of the Jacksonville abortion centers or in his office on a regular basis. We used this knowledge as an opportunity to expose his practice of child killing to his pro-life patients during an Awareness Campaign at several sites in Jacksonville.
Matt Ferro then had the opportunity to dialog with Rasner for over an hour in his office in Jacksonville. Rasner explained he would be quitting doing abortions in Tallahassee center. He assured us it had nothing to do with our presence there, but had been a long time coming. He claimed that he was in Tallahassee only to help the abortion center through a transition because they had had some "problems."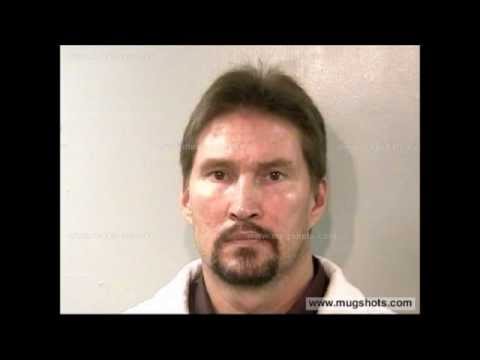 The owner-to-be of the North Florida Women's Services Center was Stephen Wiley Duncan, an abortionist who was indicted on nine felony counts of drug prescription fraud in 2009. Duncan ran an illegal chain of pill mills throughout the Florida panhandle. According to legal documents, Duncan prescribed weight loss drugs to patients over the phone without consultation. After he was enjoined by law to close these mills, he decided to take over the North Florida Women's Health Center and change the name to North Florida Women's Services Center. While Duncan is on active probation status, Rasner is serving as the medical director of the new abortion center on paper, although he lives in Jacksonville and the abortion center is not required to have a medical director by Florida law since it is a first trimester only abortion clinic.
The Kissimmee Timeline Continued …
In March, the abortion center in Tallahassee announced it was closing, but we found out a few days later it was simply changing hands. I wrote to the Agency of Health Care Administration to obtain a copy of the new license. While doing so I asked for any abortion clinic applications in process for Osceola. I was sent an application from PPGO listing 610 Oak Commons in Kissimmee as the location. The application was received by the Agency for Health Care Administration on February 7th, 2014.
I then found that PPGO had bought an 8,800 square foot building. This was confirmed by a property deed and mortgage filed in the Osceola clerk's office under the name of Planned Parenthood of Greater Orlando.
This made no sense on a number of levels.
First, the center is directly across the street from a major hospital, ORMC. The presence of abortion opponents and pro-life evangelists who often preach, chant, sing and hold signs along Oak Street would certainly not enhance the reputation of Planned Parenthood in the medical park where it had setup its "chop shop."
Second, the business that sold the property to Planned Parenthood was the Orthopedic Association of Osceola (OAO), under the corporation called K&K Land Holdings-Kissimmee Inc. It simply makes no sense that OAO would want their patients to be subject to the daily spectacle of pro-life activism. Nor does it make sense that they run the risk of losing the business of their pro-life patients when they discover that they helped to bring the largest abortion provider in America into Kissimmee.
I immediately seized on this second non-sequitur my first volley against PPGO. We created a Facebook page called Stop Planned Parenthood of Kissimmee, which exposed OAO's complicity in creating a blight on our largely conservative Roman Catholic and evangelical Christian community. I thought it ironic that an organization with the initials "KKK" would sell an abortion center to Planned Parenthood, the greatest oppressors of minorities in America. The Tampa Avenue Planned Parenthood center in Orlando is located in the heart of the African American community. This new center is in an area that is at least 80 percent Hispanic and black minorities of various nationalities.
Third, PPGO ran into a vociferous and organized group of pro-life activists who have been well-organized through a group of Catholic medical doctors – some of whom have businesses in Oak Commons. None of these medical offices are allowed to perform surgery or diagnostic procedures due to a covenant with ORMC.
Within two weeks an organized resistance of hundreds of prominent Osceola and Orange County pro-life leaders emerged to stop Planned Parenthood. A group of 70 physicians signed An Open Letter to the Citizens of Osceola County which appeared as a full-page ad on page two of the Osceola News Gazette to encourage Kissimmee, Florida, citizens to join them in attempting to stop Planned Parenthood of Greater Orlando from opening an abortion mill in their community.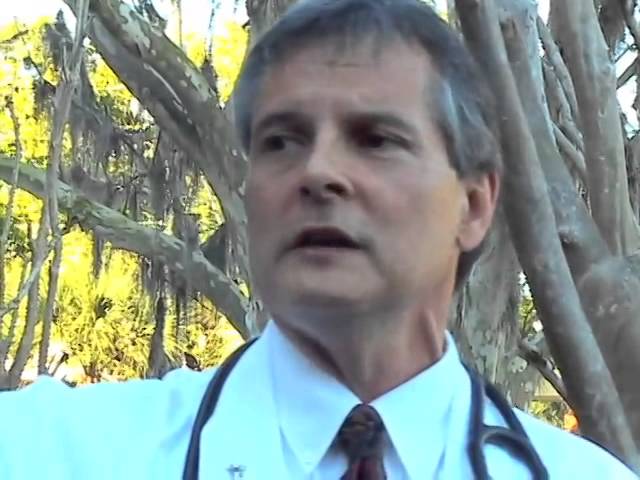 In April and May, hundreds of pro-lifers filled the Kissimmee City Commission meetings. On one occasion the public comments went on for over two hours. On the second occasion, Dr. John Littell gave an impassioned one-hour presentation on the numerous organizations in Osceola that offer alternatives to abortion and implored the city to enforce zoning laws or the deed restrictions.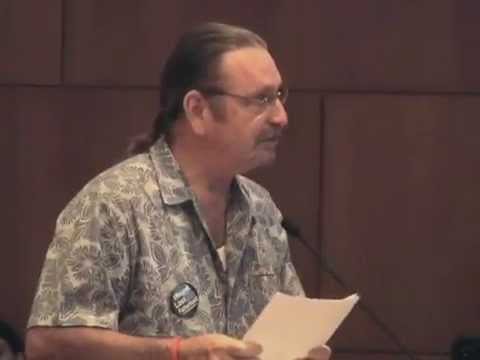 "There is no service offered by Planned Parenthood, other than abortion, that is not offered at a lower price or for free elsewhere in Kissimmee," Dr. Littell frequently stated.
Drs. Littell, Jose Fernandez and John Hartman filed a petition with the city to enforce the zoning code. The only city commissioner who tried to investigate the zoning and deed restrictions was Wanda Rentas, who met with Jenna Tosh and later moved to look into the zoning issue. No other City Commissioner seconded her motion.
During the public comments Mayor Jim Swan and City Attorney Don Smallwood made frequent reference to the fact that they could not risk a lawsuit from Planned Parenthood.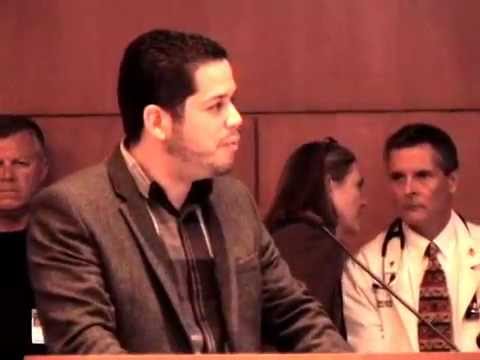 During this time, Robert Krieger, the CEO of ORMC, met personally with Jenna Tosh. She claimed during the meeting that they would not be doing any surgery in violation of the covenant. Despite the fact that abortion is Level II surgery, Krieger did nothing to preclude PPGO from doing abortions at its center.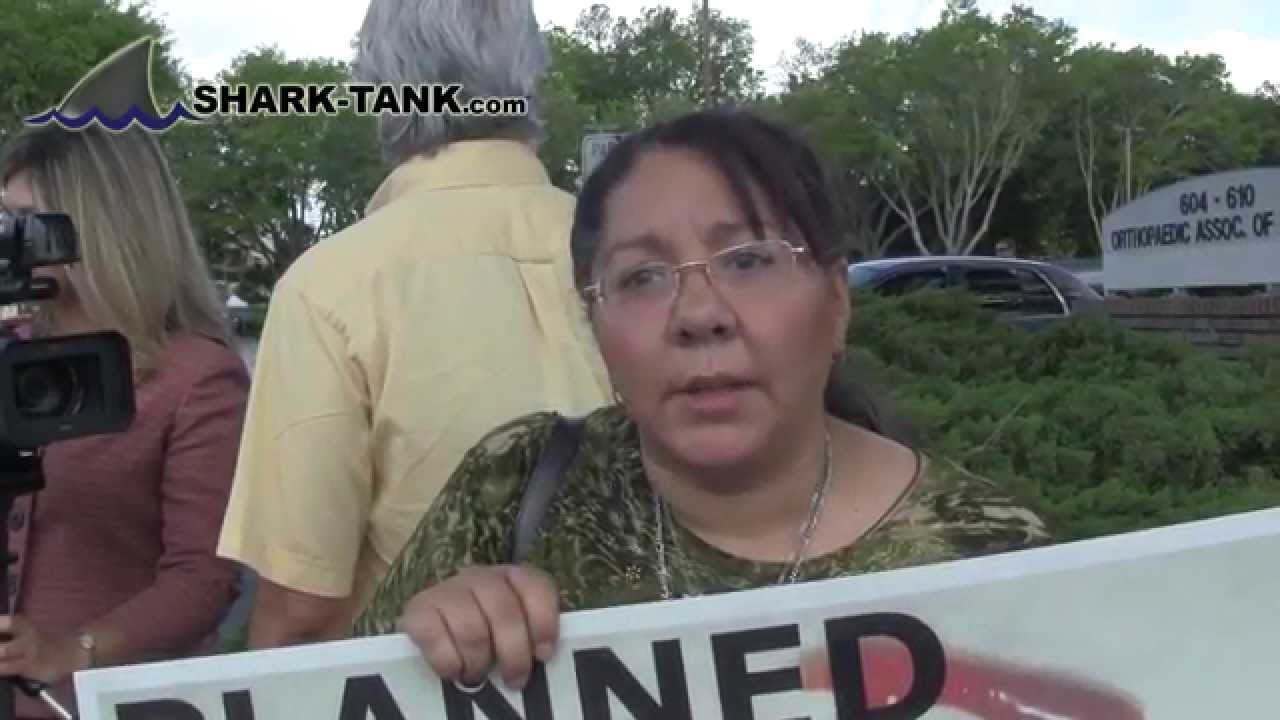 The Kissimmee abortion center did a ceremonial opening with leftist congressman Alan Grayson doing a "ribbon cutting" in May. Over 200 pro-life activists showed up in opposition and the media day was overshadowed by the overwhelming opposition to abortion by the community.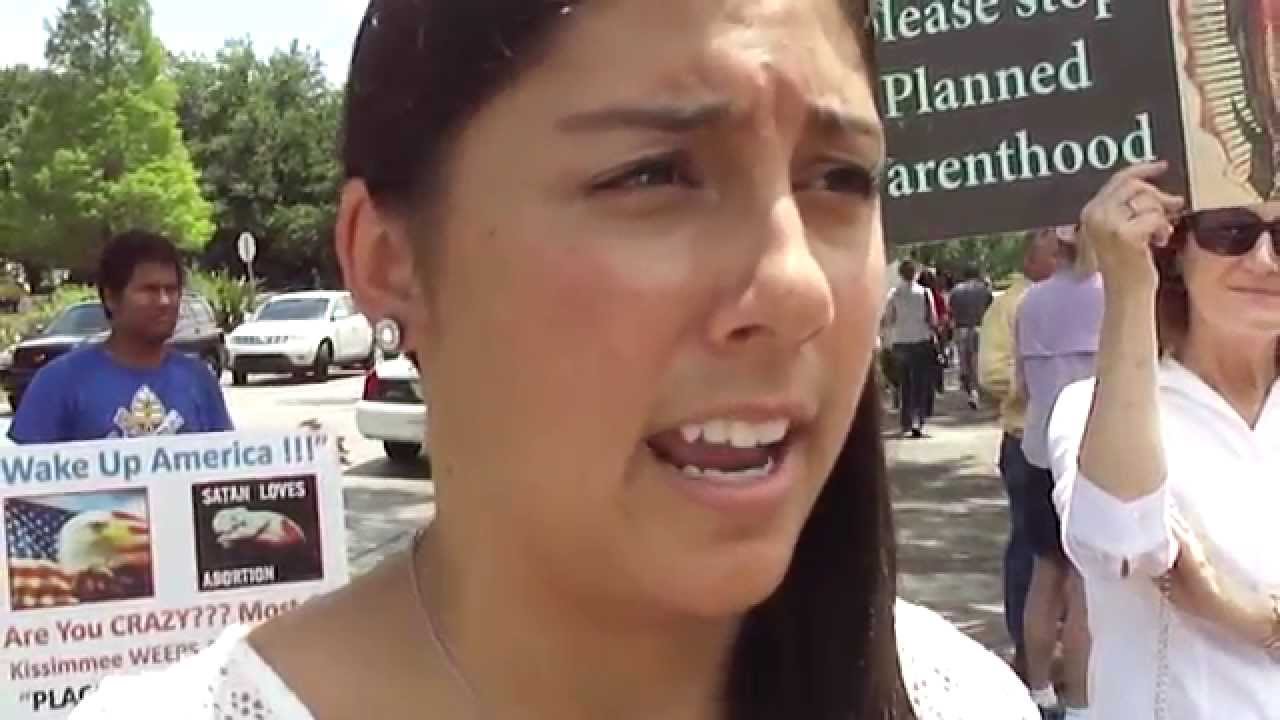 At the Stop Planned Parenthood of Kissimmee Facebook page, we began promoting various events, including a large regional event held by Operation Save America (OSA) in early June. We had about 40 out-of-town missionaries to the preborn spend four days in Kissimmee with an equal number of local activists joining us at Planned Parenthood site. We also held Awareness Campaigns in the neighborhood streets of the OAO group members who sold the property to Planned Parenthood.
I personally invited OSA to Kissimmee, because over the past 21 years I have observed that OSA's national and regional events often serve as a "spiritual catalyst" to set the providence of God in motion to end abortion in cities where these events are held.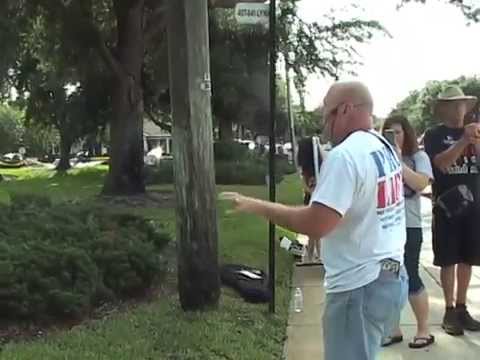 "We don't take credit for it, but we have found that when we mobilize the local church to simply show up at the gates of hell, God answers our prayers," said OSA director Flip Benham.
During the week the OSA was in town, a partnership of doctors, MMB Properties, represented by Dr. Johnston Massey, filed a lawsuit against PPGO seeking a temporary and permanent injection.
On June 30, 2014, PPGO's license for a first trimester abortion clinic was approved.
The Kissimmee abortion mega center then opened on Thursday, July 10, 2014.
Two weeks later a temporary injunction was granted.
In furtherance of these intentions, PLANNED inquired of the local zoning authority whether zoning was proper for both a medical clinic and outpatient surgical services. In fact, the application specifically states that PLANNED intends to operate an "Out Patient Surgical Center," which is the identical language used prohibitively in the Declarations.
It appears that Jenna Tosh has sunk herself. Although the national news media has not covered this important story, many pro-life websites, such as Live Action, took notice that the injunction itself along with Jenna Tosh's affidavit expose many of Planned Parenthood's lies.
In what appears to be an erroneous report, media have stated that the [covenant] restrictions in place block Planned Parenthood from performing mammograms. Planned Parenthood does not perform mammograms. The procedure is not in their financial interest. Abortion is. But that has not stopped their president from lying, saying that they do, in fact, perform them.
On July 28th, 2014, a counter injunction was filed along with affidavits from PPGO officers, employees and contractors.
How Fungible Federal Grants Benefit Planned Parenthood
Since all money raised by a non-profit organization is fungible. It is possible with creative accounting to leverage funds toward other purposes. Although Planned Parenthood cannot pay for abortions directly with tax money, it has been argued that they subsidize abortion by funneling this money into the broad category of "education."
In 2011, for instance, PPGO spent exactly $1 million on "education" according to their 990 forms. These funds then enable PPGO to offer surgical abortion, which provided 37 percent of their income ($1.4 million of $3.8 million) in 2011. Tosh even explains how this is done in her affidavit by explaining what will happen if PPGO is not able to operate as an abortion center in Kissimmee:
If PLANNED PARENTHOOD's Kissimmee health center is unable to offer surgical abortion or do ultrasounds (which will necessarily preclude us from providing other services as well), then PLANNED PARENTHOOD will lose quite a significant amount of revenue. Although the particular services at issue may comprise a small percentage of the total services typically provided by our health centers, PLANNED PARENTHOOD's inability to provide these services will result in the Kissimmee health center losing many patients who will not come to us in the first place if we no longer can provide these services. Revenue from all of the other associated or subsequent services we would likely provide for those patients will thus also be lost.

For example, Planned Parenthood health centers discuss contraception with their patients and often prescribe it to women who have come to the health center for abortions. Many of these women will then continue coming to the health center afterwards for contraception as well as a variety of other health services. Thus, although surgical abortion services may constitute a small portion of the total services to be provided at the Kissimmee health center, our physicians' inability to provide surgical abortions will result in the loss of future patients who would then return to us multiple times for other services the health center can provide.
Rather than admit that abortion is their cash cow, Tosh makes the argument that patients won't come through their doors for condoms or birth control pills unless they receive abortion services first. Of course, this business model also works in reverse. The more teenagers and young adults that PPGO can lure in through their education and contraception programs, the more abortion services they can provide. Then those who receive abortion will return "multiple times" for birth control pills.
So while PPGO claims that federal grant money does not pay for abortion, the $1 million they spent on education in 2011, most of which was provided through federal funds, isn't nearly enough to keep their doors open.
This is tantamount to making the argument that PPGO needs to serve the community and the federal grant money designated for this purpose isn't enough to keep them going. In order to serve the community, they need money that is provided through abortion. These abortion services are needed to provide more abortion related services, which in turn enables them to provide more contraception and education, for which they receive funding.
It's a clever ruse, I'll give them that.
The rest of Tosh's affidavit reads like the testimony of a child caught with her hand in a cookie jar. Tosh goes on to claim that they will be forced to relocate if the temporary injunction remains in effect for even three months.
… if the Kissimmee health center is unable to provide surgical abortion and cannot make use of diagnostic imaging services for more than three months, then PLANNED PARENTHOOD will be constrained to seek another site for its Kissimmee health center. To be viable, PLANNED PARENTHOOD's Kissimmee center must be able to provide all the basic services necessary to attract and keep enough patients.
Despite the fact that it is important for Defendant PLANNED PARENTHOOD to be able to offer surgical abortions to those women who need and request them, the provision of abortions is not "a central component of PLANNED PARENTHOOD's corporate activity."
She is content to "double down" on the impossible lie that although Planned Parenthood's $1.3 million annual income from surgical services is central to their survival, that abortion is not central to PPGO's services. If this makes no sense to you whatsoever, don't worry. Little else of PPGO's argument makes sense either.
To prove that PPGO does not provide abortions, Tosh invokes the legacy of Margaret Sanger, which seems also irrelevant to her argument.
In fact it was in Brooklyn, New York back in 1916 that Margaret Sanger established a birth control clinic that was the predecessor to Planned Parenthood. That was over a half century before the U.S. Supreme Court's decision in Roe v. Wade effectively legalized abortion throughout the United States. The national organization adopted its present name of Planned Parenthood Federation of America in 1942, which was over thirty years before the Roe decision. At that time it sponsored over 200 centers across the country. None performed abortions.
In addition to the unfortunate mention of the avowed racist and eugenicist, Margaret Sanger, Tosh also lays the blame on pro-life activists who have unfairly focused on the fact that PPGO, by their own account, take the lives of over 2,400 preborn children each year.
The $1.3 million they received for in surgical services in 2011 can easily be aligned with an average abortion cost of $542, which is fairly lose to the national average. My own estimates derived from conversations and "surgical services" listed on their tax forms with sidewalk counselors ranged between 2,800 to 3,000 little ones killed each year. But for the sake of argument, I will use their own numbers. Why would they lie after all?
The fact that PLANNED PARENTHOOD does offer abortions has brought considerable attention to the organization as a result of abortion opponents. Those opponents consistently fail however to focus upon the vast number of other services which PLANNED PARENTHOOD provides and the many activities in which it is involved that are unrelated to abortion.
Those vast number of "other services," outnumber abortion by about 100 to 1, according to Jenna Tosh. Let's analyze for a minute how that could work. If the 2,400 abortions provided by PPGO each year are "one percent" of their services, then are we to believe that they provide 240,000 non-abortion related service? That would be 657 "services" per day at all three of their locations. What are counted as services? Is each birth control pill and each condom distributed counted as a separate "service"? Only that would seem to make sense. Why not just take her word for it?
Sink, sank, sunk
But wait, it gets worse. In her affidavit, Jenna Tosh laments about all the time and money that PPGO has "sunk" into an abortion mega center that may never kill a single unborn person by high priced surgical means.
If the injunction is allowed to remain effect, unstayed, then PLANNED PARENTHOOD will be significantly harmed. PLANNED PARENTHOOD stands to lose all the time and the over one million dollars it has already sunk into acquiring and opening the Kissimmee health center. It took us approximately ten months to find the current site for the Kissimmee health center. Another eight months were necessary to improve the facility and open the site. PLANNED PARENTHOOD had to expend costly resources to ensure that the walls, ceiling, and floors in the building were all replaced. A full rewiring and computer server installation was necessary, and an adequate security system had to be properly installed.
I believe that it will take us at least ten months to find another suitable property for this health center and another eight months to fully prepare that site. The result will be no small loss of revenue. PLANNED PARENTHOOD will not be providing health care services in the Kissimmee area throughout this time. The move will require us to divert significant resources away from all of our other services and programs.
I have to applaud the use of the word, "sunk." Hopefully, it describes their situation. It's more than likely that Tosh is over her head at this point. She was hired in 2011 as a young and competent replacement to PPGO's long-standing CEO Susan Idtensohn. Tosh, a PhD candidate with the University of Central Florida in Public Affairs-Governance and Policy Research, seemed to be a bright, young alternative to the "old guard." Idtensohn was an outspoken baby boomer born in 1946. She often shot from the hip and was more than forthcoming in her comments about Planned Parenthood's negative public image. Idtensohn even agreed to engage in debates with local pro-life activists, on topics such as, "Is Abortion Black Genocide?"
Jenna Tosh instead is content to read from canned propaganda talking points and seems out of her league when confronted with PPGO's contradictions. I hope and pray for the sake of her eternal soul that such a career change is accompanied by sincere repentance. However, given her incompetence as an abortion giant's CEO, it would be good for the preborn babies of Central Florida if she drags down PPGO on her way out.