Local abortionist plans to open new clinic
TALLAHASSEE, Florida (www.forerunner.com) – A few days after a legal notice appeared announcing the closure of an abortion center that has operated in Tallahassee since 1981, clinic workers announced that Stephen Wiley Duncan, the primary abortionist at North Florida Women's Health & Counseling Services, plans to open a new abortion center "sometime in April."
The abortion mill posted that they will close by March 31, 2014 in a legal notice in the Tallahassee Democrat.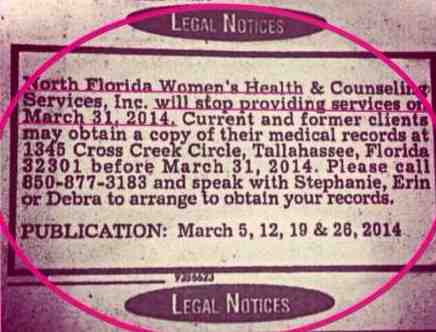 North Florida Women's Health & Counseling Services, Inc. will stop providing services on March 31, 2014. Current and former clients may obtain a copy of their medical records at 1345 Cross Creek Circle, Tallahassee, Florida 32301 before March 31, 2014. Please call 850-877-3183 and speak with Stephanie, Erin or Debra to arrange to obtain your records. PUBLICATION: March 5, 12, 19 & 26, 2014
Further announcements stated that the abortion center's last day would be Monday, March 17th. The announcements spurred a flurry of celebration on the pro-life blogosphere with some posting that the abortion center would be closing "permanently."
Todd Rasner, a Jacksonville OB/GYN who also kills babies at the Tallahassee clinic, stated, "I wouldn't consider it closing, more relocating." Rasner stated that Duncan has plans to open up his own abortion center.
An application for an abortion clinic license being processed with the Florida Agency for Health Care Administration lists the same address with a slightly different name, North Florida Women's Services, 1345 Cross Creek Circle, Tallahassee, Florida 32301. It will be owned by an LLC formed in August 2013 that lists Stephen Duncan as the manager.
An abortion center worker, posted on her public Facebook page that she wasn't at liberty to tell the reason for the closure. She expressed hope that she would make the transition.
"There will be another clinic opening in Tallahassee and I will most likely be working there."
When asked if reason for the closure was "misogyny related," she wrote, "No, no, it's just legally I shouldn't talk about it because I don't even know what I'm talking about. I don't even know the whole story. So I wanna refrain from slander."
A pending medical malpractice lawsuit on record names both the abortion center and Stephen Duncan. The lawsuit, Jackson v. Duncan, was filed on October 30, 2013.
Matt Ferro, president of Florida State University's Noles For Life, explained the need for pro-life evangelists to stay vigilant. "I think it's vitally important to tell that one is closing for good, but Stephen Duncan and folks from the clinic plan on opening another. We need to nip it in the bud now. I don't want pro-lifers to celebrate ignorantly."
According to the Florida Association for Health Care Administration (AHCA) website, the application for an abortion clinic license takes 60 days to process. Pro-life ministries throughout Florida meanwhile expressed hope that the AHCA application would be denied based on Stephen Duncan's past record.
"Dr. Duncan's continued, unrestricted practice as a physician constitutes an immediate serious danger to the health, safety or welfare of the public."
– Florida Department of Health, 2009
As seen in the mugshot below, Stephen Wiley Duncan was arrested in 2009 on nine felony counts of prescription fraud.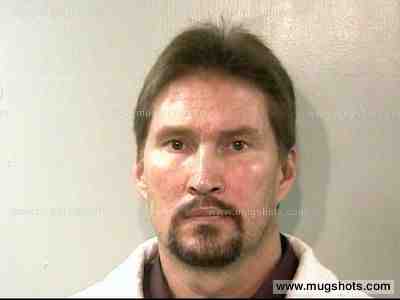 Name: DUNCAN, STEPHEN W
SPN: 208456
Race: WHITE
Gender: Male
Eye Color: BRO
Hair Color: BRO
Height: 6′ 4″ (1.93 m)
Weight: 200 lb (91 kg)
Birth date: 12/01/1962
Duncan was offered a deferred prosecution deal in February 2011. Under this agreement, the charges will be dropped if he fulfills his obligations.
An investigation by the Florida Board of Medicine resulted in Duncan's license being placed on "active/probation" status by the Florida Department of Health (DOH). The Florida DOH also imposed a permanent restriction on Duncan's license:
Respondent license shall be permanently restricted as follows: Respondent is permanently restricted from practicing weight loss outside of his customary OB/GYN practice.
The order from the Florida DOH says Duncan violated the law while working at both First Impressions Weight Loss Clinic and his own Resolution Weight Loss Centers in Tallahassee, Jacksonville and Panama City.
The Florida DOH also fined Duncan $50,000 for 36 counts of violations of state statute involving the illegal dispensing of controlled substances.
A WCTV local news program in Tallahassee reported in 2009:
The order says employees at those clinics would routinely fax prescriptions to Alphameds Pharmacy on Tennessee Street … which would then fill them and mail them back before the patient ever even arrived for his or her first visit. It also cites patients who say they were given prescriptions during their first visit and four of them said they never met nor talked to Duncan while they were clients of the weight loss clinic. The order says, "Dr. Duncan's continued, unrestricted practice as a physician constitutes an immediate serious danger to the health, safety or welfare of the public."
Matt Ferro in Tallahassee contributed to this article.
UPDATE

:

This article was edited on March 12th, 2014.

In preparing this article, we wanted it to be timely, but didn't want to simply repeat what nearly everyone else in the pro-life blogosphere has reported. A legal notice simply read that the current corporation would "stop providing services" on March 31st, 2014. The "lack of doctors" story is what the abortion mill told people who phoned into their office, but then they changed their story a short time later. According to the same staff members, abortionist Stephen Duncan is not quitting and plans to continue by locating some of the same staff in his own clinic. He has run medical offices in other locations in Tallahassee.

Abortionist Todd Rasner said in a December 23rd interview with Matt Ferro that he'd be quitting Tallahassee's only abortion clinic soon. He also said that this was one of the reasons he wanted to talk. Rasner then said that he would not agree to stop doing abortions, but that he was working in Tallahassee only for a short time to help them through a transition because they had been having problems. He has now told Matt in an email that this abortion center was run by a corporate board for over 30 years. Now most of the past board members have died or have quit. Duncan wanted to continue and is now taking ownership – most likely through his own company or corporation. Now we believe that the reason Rasner quit was because the transition has been accomplished. That is what he told Matt in an email.

(We are thankful that Rasner has agreed to keep open lines of communication, even though in every exchange, Matt implores him to repent for the sin of child murder.)

There were a few factual errors in my initial story. I wrote earlier that a Daytona-based abortionist, Randall Whitney, had worked for North Florida Women's Health, when it was actually The Feminist Women's Health Center of Tallahassee. This was another abortion center that operated until 2002. The Tallahassee Feminist Women's Health Center had to recruit out-of-town doctors to perform abortions because the center's founder had given a newspaper interview criticizing the local medical community, thereby causing their staff physicians to quit. They had a reputation for antagonizing other area doctors as well as their own abortionists, according to Randall Whitney.

Randall Whitney, an 80-year-old abortionist based out of the Daytona Beach area, outlined several of the abortion clinics he had been involved with in a 2011 lawsuit testimony against the Orlando Woman's Center abortion mill. The plaintiff in the case was eventually awarded $36.7 million. Whitney explained why he stopped working for The Feminist Women's Health Center.
Well, they were also largely lesbian and man-haters. And, you know, I tried to work with them and after a while, it became impossible. They would train women to fight physicians. Actually, do everything they could to subordinate physicians. So it was not a pleasant environment. It was a radical feminist center. That's what it was, the Tallahassee Feminist Health Center.
The Feminist Women's Health Center dissolved their corporation on April 3rd, 2002.
Commentary: An Open Letter to the Pro-life Community in Tallahassee
By Jay Rogers
What is needed to open an abortion clinic in the state of Florida is a license through AHCA. See also a listing of licensed Florida abortion clinics.
Depending on the locale, there will also be zoning issues and business licenses to obtain. However, if a city tries to block an abortion clinic from opening by denying a license, they will go to court and likely win. Orlando tried that in the 1990s with James Pendergraft. The abortion mill went to district court in Jacksonville and won. Then Pendergraft turned around and sued the city for "lost income" during the time he could not open. The city eventually settled for $350,000. (This was tax money at work to open an abortion mill!)
One strategy might be to contact the AHCA office in Tallahassee and implore them not grant Stephen Duncan a license to open an abortion mill. He was charged with multiple counts of prescription fraud. He is permanently restricted from prescribing diet pills to patients. He also has his license on active/probation status. While under probation, he has to practice medicine under the supervision of another doctor. This is likely why Dr. Todd Rasner of Jacksonville is working with him.
Agency for Health Care Administration
2727 Mahan Drive
Tallahassee, FL 32308
(888) 419-3456
Bear in mind, this will not keep an abortion mill from opening under a license with the name of another administrator and owner. The business or corporation that "owns" the abortion mill in reality can be a related second entity. Then Duncan could be an executive board member of that corporation (according to their bylaws) not named on the official state corporation papers. That is how most of the abortion mills in Florida operate.
We have to do a better job at policing the quack doctors who kill unborn babies for a living. Prayer is of utmost importance, but God always uses a physical instrument in His hands as a secondary cause to effect justice. We will each be held accountable to God for what we do. The pro-life movement was birthed out of a deep measure of repentance because we realized we acted too late. That attitude of repentance with vigilance is needed again today. We shouldn't be celebrating prematurely until we see what happens.
Last month, we did an awareness campaign at an abortionist's neighborhood in North Tampa named José Quintana. He lives (literally) right across the street from a Catholic church, is presumably a member of the parish, and sent his son to a Catholic school. People in the church were providentially letting out for a funeral. We handed out 50 flyers to people letting out from the funeral. The many Catholics who value the sanctity of life were shocked by this revelation and a few came to express their grief over that fact that an abortionist lived right across the street from the church without the knowledge of anyone in the parish.
You will see a similar pattern with Stephen Duncan. He has been hiding in plain sight. Many of his friends and neighbors don't know he is an abortionist. Know your enemy. Conduct awareness campaigns. Evangelize with the message of the Gospel of Life. Support those who are called to this ministry of pro-life education and awareness. Matt Ferro and Noles for Life are doing a great job in taking the lead on this. They need volunteers for awareness campaign and financial support for flyers, displays for the FSU campus, etc.
Matt Ferro is at: mattferro95@hotmail.com
"Know ye not that we shall judge angels? How much more things that pertain to this life?" (1 Cor. 6:3).