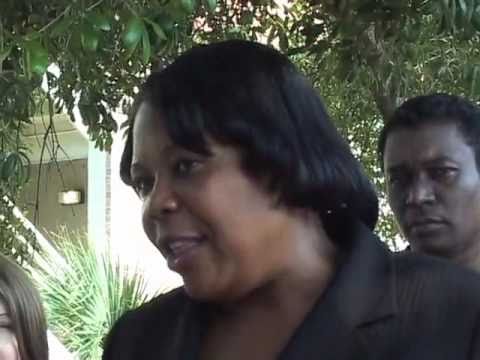 State Rep Daphne Campbell (D-Miami) asks Scott Randolph (D-Orlando) to apologize for his bullying tactics on the Florida State House floor.
Floor Speech on April 27, 2011 by Florida State Rep. Daphne Campbell
I support this bill because it rightly allows the people of Florida to decide whether or not they want to have their hard-earned taxpayer dollars used to pay for abortions. If abortion is truly a private matter between a woman and her doctor and the government should not be involved as pro-choice legislators say, then the government should not be involved in paying for abortions, either. Regardless of your position on abortion, the Pew Research Center states that approximately 70% of ALL Americans, pro-choice and pro-life, are opposed to having their hard-earned taxpayer dollars used to pay for abortions. This is a matter of fairness and democracy.
THEREFORE, I MUST TAKE A STAND TO SPEAK AGAINST ABORTION AND WITHSTAND MY VALUES WHICH ARE IN LINE WITH 80 PERCENT of Americans in the United States and the citizens of my district.
Deuteronomy 30:19, states, "This day I call heaven and earth as witnesses against you that I have set before you life and death, blessings and curses, now choose life that you and your children may live."
Why would anyone want to destroy an innocent baby? Many of you who are here today, would not be here, if your parents chose to abort you. We need to use wisdom my friends and Proverb 8:38 acclaims, "All who hate Me [meaning Wisdom] love death."
Also a warning is found in Ezekiel 18:32, "… 'for I take no pleasure in the death of anyone,' declares the Lord, 'Repent and live!'"
Members do the right thing. Think wisely. This is not a Republican or Democratic bill. This is simply Bible Principles. This is, members, Bible Principles. Exodus 20:13 states, "Thou Shall Not Kill." So members do the right thing and vote for this good bill.