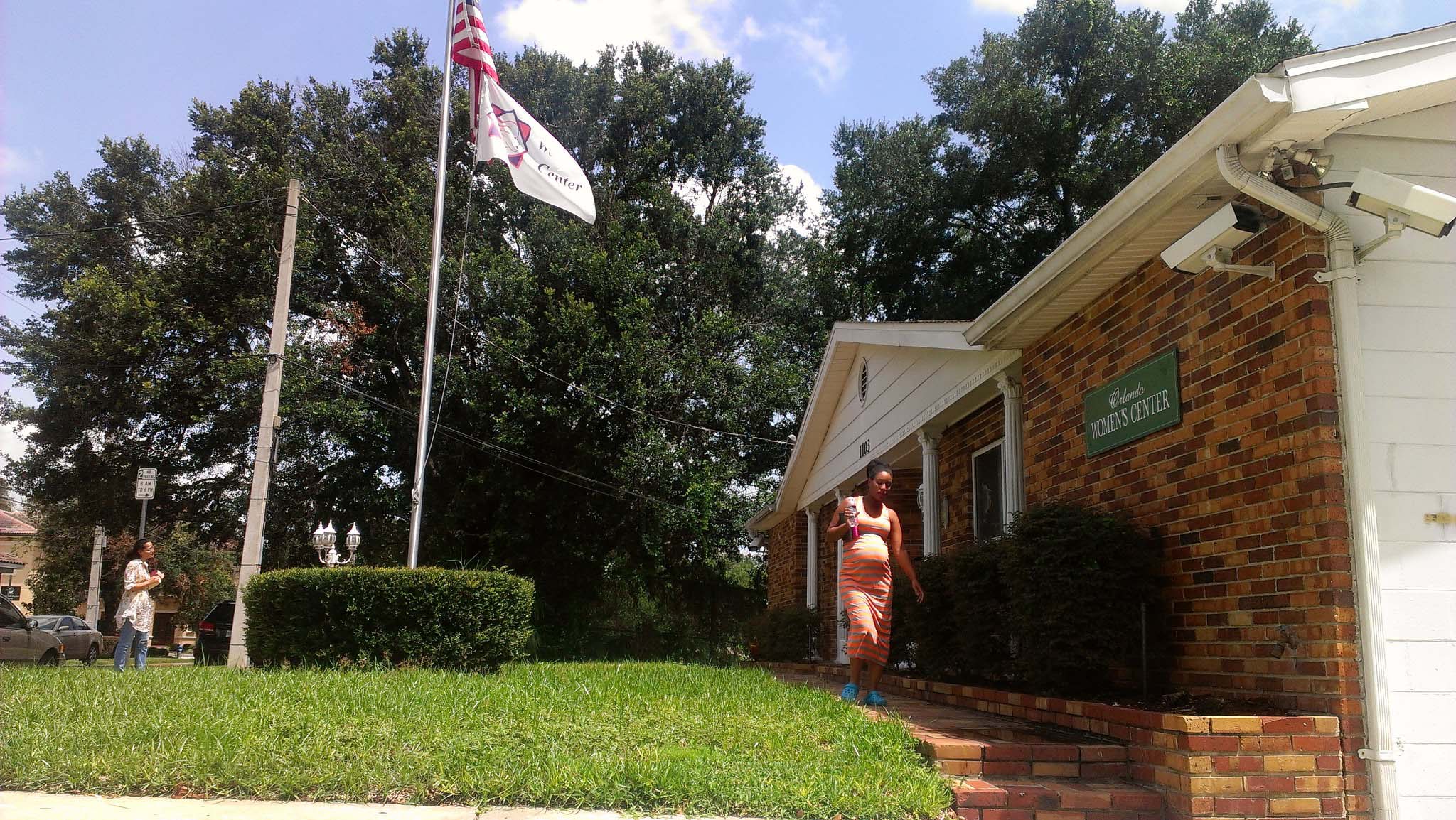 A "20-plus" week pregnant woman leaves Orlando Women's Center. The woman in the photo on the right (below) was actually posing for a photo to be posted on Facebook.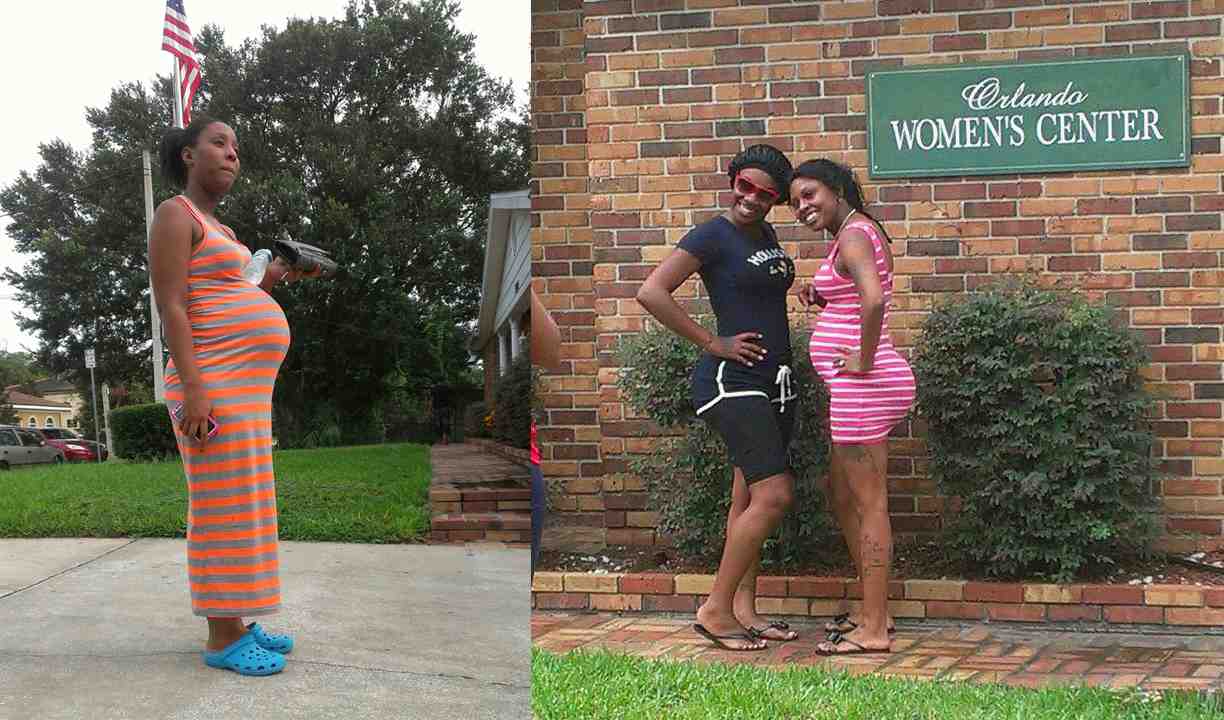 ORLANDO, Florida (www.forerunner.com) – These photos were taken at Orlando Women's Center by John Barros, a full-time pro-life evangelist. The woman in the photo on the right was actually posing for a photo to be posted on Facebook. She wanted all her friends to know she was having an abortion. The woman on the left claimed to be "20-plus weeks" pregnant. Her reason for aborting is that she was pregnant with twins. She said that she already had a daughter and didn't want another girl. John pleaded with her and other people offered to adopt her children and offered her money. Sadly, she went through with the late term abortion with no qualms.
When these photos were first posted, they went viral appearing on pro-life news sites and blogs in many places. Many people thought these photos had to be "fake." I know John and others who minister at Orlando Women's Center fairly well. So I looked into it. I am sorry to say that this is all true.
Still we need to ask, "How can this be legal? Can someone this far along in pregnancy whose life is not in danger get an abortion that easily?" These children in late term pregnancy are viable and can often live outside the womb with medical care when delivered by Caesarian section. We may rightly ask, "So why abort them?"
James Pendergraft, the abortion clinic owner, has had his medical license suspended four times. He has been the target of multiple lawsuits, including a recent judgment of $36.7 million. He stays in business by employing a cadre of abortionists at five abortion mills through Florida who are willing to do late term abortions at a cost of $2000 and up. It's important to note that although this is a common occurrence at Pendergraft's abortion mills, only a few instances have been cited in his four suspensions. Further, these late term abortions continue to take place even while he is under suspension.
Roe and Doe
To understand how this can be legal, we have to first look at how elective abortion on demand became legal in America in the first place. Two Supreme Court decisions were handed down on January 22, 1973. Roe v. Wade and a companion decision, Doe v. Bolton, were issued on the same day. Abortion was illegal in most states except in cases when the doctor had to operate to save the life of the mother. About 15 states had legalized abortion with varying restrictions. While many people know that Roe legalized abortion in the first trimester and in cases of rape, incest and danger to the life and health of the mother, they do not understand that Doe made any abortion legal for any reason through all nine months of pregnancy.
Doe v. Bolton essentially grants that in any abortion – even late-term abortion up until the day of birth – the decision is between "the woman and her physician."
… [The] right of privacy, whether it be founded in the Fourteenth Amendment's concept of personal liberty and restrictions upon state action, as we feel it is, or, as the district court determined, in the Ninth Amendment's reservation of rights to the people, is broad enough to encompass a woman's decision whether or not to terminate her pregnancy.
With Doe v. Bolton, the access to abortion on demand was extended to all 50 states at any time during the pregnancy for any reason whatsoever. With any "state restriction," the exception clause "danger to the life and health of the mother" is always required. In the state of Florida, third-trimester abortions are legal when "the termination of pregnancy is necessary to save the life or preserve the health of the pregnant woman." The law also requires that the procedure be done in a hospital unless two physicians "certify in writing" that an urgent operation is needed to save the pregnant woman's life.
However, this can be done on the day of the procedure. The key phrase here is "health of the mother." All a mother in the third trimester of pregnancy has to do is tell her doctor she is thinking about suicide or that she is having mental health problems and it automatically becomes legally justified. In fact, many late term abortionists simply tell their patients say this. They then sign an affidavit stating this is so.
Essentially, Doe took the first trimester "right of privacy" argument in Roe v. Wade and applied it right up to the last day of pregnancy. Subsequent court decisions have established that a state can pass some restrictions and additional requirements for abortion. States can make an abortion doctor jump through hoops and suspend his license if he violates the state medical code.
James Pendergraft knows that he is protected under Doe when he does third trimester abortions in an outpatient facility, which is in violation of Florida law. He might have his license suspended or even revoked, but there is no way he is going to jail for performing abortions as long as another physician is involved in doing the procedure. To date, he has had his license suspended four times and spent a few months in federal prison after being convicted on an extortion charge. He still operates five abortion mills in Florida by managing the business and employing a cadre of doctors willing to do late term abortions.
Medical boards always act on behalf of the state. Criminal courts usually don't get involved in these medical matters unless criminal law is violated. Doctors don't go to jail for malpractice. The board issues reprimands, suspends or revokes licenses. They may also be sued in civil court. Abortion is never prosecuted as murder even when the restrictions are ignored because our laws do not recognize the Personhood of the unborn child even in the ninth month of pregnancy. Neither do the parents who wantonly kill a late term baby suffer any legal ramifications even if the abortion is done in violation of the law. So in reality, restrictions on abortion are meaningless under Roe and Doe.
But how can this be legal?!
I've been following the history of James Pendergraft since the 1990s when he first came to Florida. In fact, I was one of the defendants in two of three lawsuits filed by his lawyer, Roy Lucas, back in 1998. Pendergraft's mode of operation has been to flagrantly challenge the law and then fight tooth and nail in court with the most outlandish lies and unbelievably arrogant comments. The most common reactions I get when I tell local people about this are those of shock, horror and disbelief.
People ask, "How can he still be practicing? Didn't he lose his license? Didn't the state of Florida shut his abortion clinics down?" There was even a recent debate on abortion between local Planned Parenthood CEO, Susan Idtensohn and Florida Family Policy Council president, John Stemberger. When John brought up the legal record of Pendergraft and several of his abortionists, Susan Idtensohn deflected the charge by misrepresenting the facts, "That's why they are no longer practicing."
Although I am encouraged at the number of pro-life media outlets and websites that have covered Pendergraft's numerous legal troubles, one of the common misperceptions is that his career will soon come to an end. As one of my friends recently put it, "I am praying that this will be the thing that brings down the empire of death that Pendergraft has built." This is our hope. However, I also realize that although James Pendergraft has been involved in some legal dispute in every year since he first came to Orlando in 1995, it has not caused him to lose much business. To paraphrase Mark Twain, "The rumors of Pendergraft's demise have been greatly exaggerated."
There is legal ground for shutting down Pendergraft's abortion mills. He can be prosecuted under several criminal statutes and even under the federal Born Alive Infant Protection Act. There is enough evidence to do this – as occurred with Kermit Gosnell in early 2011. However, chances are this will not happen before the financial strain of the civil judgments might bankrupt him.
If he does not repent, his downfall is going to be horrible and pathetic. In the meantime, we just need to remain faithful by shining the light and exposing the darkness.