Killing Places:
Orlando Women's Center
1103 Lucerne Terrace
Orlando, FL 32806-1016
EPOC Clinic
609 Virginia Drive
Orlando, FL 32803
Women's Center of Hyde Park
502 South Magnolia Avenue
Tampa, FL 33606
Ocala Women's Center
108 NW Pine Ave
Ocala, FL 34475-6619
Fort Lauderdale Women's Center
2001 West Oakland Park Boulevard
Oakland Park, FL 33311-1521
Home:
77 Interlaken Rd
Orlando, FL 32804
(Lives at girlfriend's home owned by Sangeeta Pati.)

View Florida Abortionists in a larger map
Home:
James Pendergraft
Denise Williams
President
at
LateTermAbortion.net

LLC
7904 Anne Ct




Clinton

,

MD

20735

View Florida Abortionists in a larger map
DOB: 07/04/1957
This practitioner has indicated the following additional state licensure: Georgia, North Carolina, Virginia.
James Scott Pendergraft IV
Abortionist Pendergraft worked at Aware Woman abortion clinic in the early 1990s when he lived in the Tampa area.
In 1996, residents of Orlando awoke to the news that a new "doctor" was coming to town. This abortionist proudly proclaimed that he was going to fill a niche left open by other facilities in the area. His specialty would be late-term abortions.
Although a violation of state law, Pendergraft has advertised that he performs abortions up to 28 weeks in five abortion clinics in Florida. In a television interview, Pendergraft openly admitted performing late-term abortions on babies as old as 24 weeks or older if he deems it "necessary." And the late-term abortion business is lucrative. Pendergraft makes no qualms about bragging that he makes "$2000 an hour."
His plan is simple. Set up late-term abortion clinics in areas of the state that are easily accessible to women in Georgia and Alabama where late-term abortion is practically illegal.
See: The Tangled Legal History of James Pendergraft — A time-line of the troubled abortionist's court cases.
After a string of criminal and civil cases, Pendergraft was finally sued for $36.7 million in July 2011. One of the jurors in Pendergraft's lawsuit trial revealed that Pendergraft's baby momma, Denise Williams, is hiding 64 percent of the assets generated by his late term abortion empire. The anonymous juror wrote:
Pendergraft in fact has upwards of 8 LLC's he funnels money thru. The umbrella company for his 5 clinics, Wilson Management, he put 64% controlling interest in his girlfriend's name and the other 36% is in his. He & his girlfriend refused to divulge the umbrella company's finances as authorized by discovery rules, chosing to instead be charged with contempt. All of the jurors' greatest hope is the plaintiff can recover the money awarded. Unfortunately, we all realize it most likely will be a long hard road fraught with appeals. But that is out of our hands. My disgust with the whole scheme got to me emotionally and I was pushing for $50m, $100m whatever I thought could crush him (in my outrage obviously I wanted this guy bankrupt & his clinics closed).
James Scott Pendergraft – 7/17/2011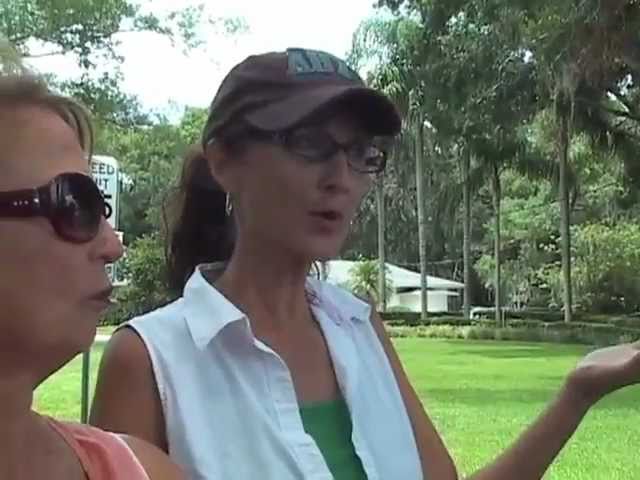 ORLANDO, FL – This was our first residential picket of abortionist James Scott Pendergraft's neighborhood on Sunday, July 17th 2011. We found out providentially Sunday night that a lawsuit trial against Pendergraft was commencing the very next morning. Pendergraft was sued for $36.7 million by a woman whose baby was born alive after a botched abortion. The child is now 10-years-old and has massive birth defects.
Scott Pendergraft lives in a beautiful home located on a long, lazy, winding road with a well-shaded park directly across from his driveway. It provided a perfect place for us to live out the Gospel in the streets. As we proclaimed the truth about abortion and about the Gospel, neighbors of Mr. Pendergraft stopped by and spoke with us.
Our intent in visiting Pendergraft's neighborhood was to bring the gospel of Jesus Christ to his doorstep. Upon knocking at the door, hoping to talk to the abortionist, Dr. Sangeeta Pati answered and claimed that Pendergraft no longer lived at that address. That was news to her neighbors who shared with us that he does indeed live there. Sangeeta Pati and abortionist Pendergraft have had a long time relationship. The neighbors told us that on some days he parks blocks away and rides his motorcycle to the house so people will not know that he is there. One of the families in the neighborhood had been praying for a solid Christian family to move into that house. When they found out who moved in, they were extremely distressed.
Gentle Christians distributed information throughout the area informing the neighbors of Pendergraft's presence in their community. The intent of the leaflets was to ask the neighbors of Pendergraft to adopt him in prayer. We are very encouraged that abortionist Scott Pendergraft is surrounded by Christians who are praying for him to repent and trust in Christ as Lord.
Related Articles