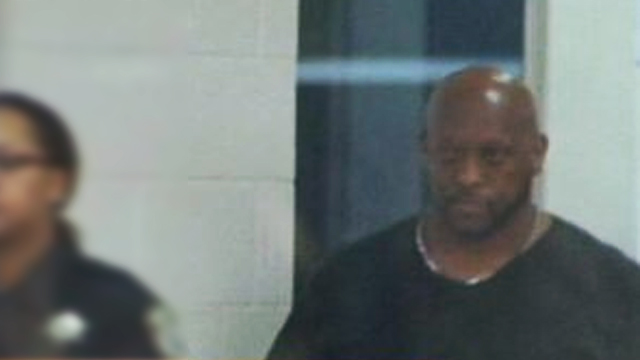 A WESH News video clip shows Orlando police office Rod Johnson being escorted out of jail after making bail.
ORLANDO, Florida (www.forerunner.com) Roderick D. Johnson, a long-time security officer at Orlando Women's Center, has been charged with sexual battery.
A WESH News video clip shows the Orlando police officer being escorted out of jail after making bail. Johnson can be seen covering his head with a towel once he becomes aware that he is on camera.
The Orlando police officer worked part-time security at the Orlando Women's Center for several years according to John Barros, a full-time sidewalk evangelist at the abortion clinic.
Johnson is yet another worker at one of James Pendergraft's chain of five late-term abortion clinics in Florida who has been charged with a felony. The list now includes:
Abortionist James Pendergraft (extortion)
Abortionist Walker Whaley (conspiracy to manufacture synthetic cocaine)
Abortionist Zvi Harry Perper (racketeering, drug trafficking)
Abortionist Randall Whitney (aggravated battery; reduced to misdemeanor on "no contest" plea)
Security officer Roderick Johnson (sexual battery)
According to an Orlando Sentinel report on December 3, 2012:
A veteran Orlando police officer was arrested today after he was accused of raping a woman before taking her to jail, Orlando Police Chief Paul Rooney said at a news conference.

Officer Roderick D. Johnson was booked at the Orange County Jail around 2:30 p.m. on two counts of sexual battery by a law-enforcement officer, jail records show. He is being held on $10,500 bail.

The investigation into Johnson began weeks ago after the alleged victim notified jail staff. She told jail officials that Johnson took her to an undisclosed location after she had been arrested and they had sexual relations. The officer then took the woman to the jail, where she was booked for an undisclosed crime.

Citing the advice of the department's attorneys, Rooney declined to release details of the investigation, including the location where the alleged rape took place. He wouldn't disclose the charges the woman faced at the time of her arrest.

Pro-life evangelists at Orlando Women's Center in the 1990s.