Orlando Abortionist Pendergraft suspended for fifth time
Owes state of Florida more than $120,000 in unpaid fines
James Pendergraft arrives at Orlando Women's Center in the summer of 2011. Pendergraft owns a chain of five abortion centers in Florida that specialize in late-term abortions. (Click to enlarge.)
See also: The Tangled Legal History of James Pendergraft.
---
ORLANDO, Florida (forerunner.com) – Abortionist James Scott Pendergraft has been at the center of controversy and court cases ever since he came to Orlando in 1995. He has served multiple medical license suspensions and spent time in federal prison after being convicted of extortion charges.
The most recent suspension stems from unpaid fines going back to 2006. A Florida Department of Health suspension order filed on Friday, April 19, 2013 reads in part:
Suspension Language – Respondent's Florida medical license shall be indefinitely suspended until such time as Respondent complies with the following outstanding terms in the Final Order (DOH-10-0208-FF-MQA) issued in Case Number 2006-05930:

A. Respondent must pay the outstanding a fine in the amount of nineteen thousand ($19,000.00) dollars;

B. Respondent must pay costs in the amount of one-hundred two thousand three hundred and twenty-one cents ($102,303.22)….

Addresses – Respondent must keep current residence and practice addresses on file with the Board. Respondent shall notify the Board within ten (10) days of any changes of said addresses.
The decision was made on Feb 15th, but was not filed until Friday, April 19th. Pendergraft's first three suspensions were the result of evidence that he did illegal third trimester abortions in 2004 and 2005. These suspensions were imposed in 2006, 2007 and 2009. The fourth suspension was imposed in 2010 on evidence that Pendergraft
Allowed a woman employee to administer narcotics to patients although she had no license to do so;
Knew she abused drugs but gave her "free reign" to order drugs under his name;
Prescribed steroids for the woman without medical justification.
Pendergraft's license then came up for review on April 24th, 2012. The complaint stated that Pendergraft still owed a fine of $121,303.22 from the time of the previous suspension of his license in 2010. As a result of a pledge to pay his fines, James Pendergraft's medical license status was changed from "suspended" to "probation." This meant he could operate under the supervision of another doctor. Then in February 2013, the state board suspended Pendergraft one more time, this time "indefinitely" for failure to pay.
With the recent media coverage of Pennsylvania abortionist Kermit Gosnell — who is being tried on one count third degree murder, resulting from the death of a woman patient, and seven counts of first degree murder, from documented cases of babies who were born alive and then euthanized with scissors — it is time to further expose the many cases of late term abortion and drug trafficking that are rampant in the death industry.
As far back as 1999, a Florida Agency for Health Care Administration report noted the following incidents of babies that had been born alive at several of Pendergraft's abortion clinics:
Interview with the physician revealed there was an incident … where a patient allegedly went out to get some lunch after starting the procedure, got lost, delivered a viable fetus in the car, and patient and fetus were sent immediately to the hospital. Baby lived 2 days. Policy changed, patients no longer leave after getting medication…. Physician also stated that sometimes an 18 week old fetus may twitter but this is not considered "viable."
While some are expecting his abortion empire to crumble at any moment, Pendergraft knows he is protected under the twin Supreme Court decisions Roe v. Wade and Doe v. Bolton. When he was caught doing illegal late term abortions in an outpatient facility, which is in violation of Florida law, he had his license suspended. This time it may be suspended indefinitely or even revoked. In the meantime, he still operates five abortion mills in Florida by managing the business and employing a cadre of doctors willing to do late term abortions.
Not only have illegal third-trimester abortions taken place routinely at Pendergraft's five abortion mills, but some of these children were born alive and left to die in violation of the federal Born Alive Infant Protection Act.
On April 2nd, 2006, 911 Emergency received a frantic call from a woman claiming her friend had given birth to a live baby at Pendergraft's EPOC clinic in Orlando. Harry Perper was the abortionist on duty. When the mother alerted medical staff that her baby was born alive, the staff told her to leave the baby in the toilet. An autopsy report and photos revealed a perfectly formed baby boy who died from premature birth, confirming part of the mother's story.
In July 2011, a Florida jury awarded $36,766,000 in damages to Carol Howard to provide funding for lifetime care of "JH," who was severely harmed as a result of being born alive after a botched abortion that occurred at Orlando Women's Center in 2001.
During the trial, Pendergraft testified to instances of infants born alive in abortuaries.
… you can allow a patient to just deliver vaginally by just using Cytotec alone… Anyone over 23 weeks we use digoxin….
Either the medical assistant does it or a physician does it. In a lot of situations, the patient delivers into the toilet by herself. So even though a physician or medical assistant may be present, it actually delivers into the toilet without any help….
Well, usually you don't have to worry about fetal demise, because, again, when you're dealing with a zero possibility of viability [between 17 and 21 weeks], then you don't have to worry about that. But, again even at 22 weeks now, there are – a certain amount of those fetuses may live…. But between 17 and 21 weeks there's not even an issue.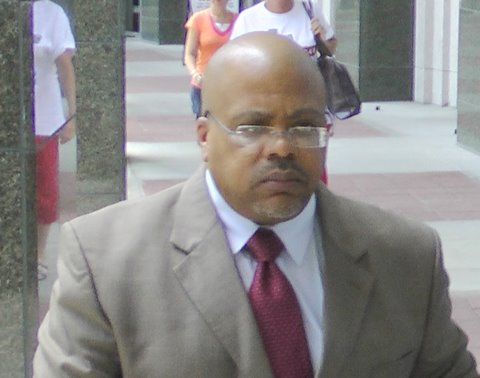 James Scott Pendergraft appears at the Orange County, Florida courthouse in July 2011 awaiting the jury verdict that awarded a plaintiff $36.7 million. The lawsuit stemmed from a 2001 botched abortion in which a baby girl was born alive and has suffered lifelong handicaps. (Photo credit: Ken Scott)
Perhaps the most shocking part of the trial testimony was when Randall Whitney, the abortionist on duty at the time, spoke cavalierly and without being prodded about babies being born alive into the toilet.
Question: Has there ever been a circumstance where you have been contacted by the medical staff that there has been a delivery of a live fetus?

Randall Whitney: They would not have contacted me because of that.

Question: What was the procedure to be followed in that circumstance?

Randall Whitney: Well, usually the fetus was into the toilet. I mean, nearly always they made it to the toilet. It was precipitated into the toilet so …

Question: Okay. Explain to me what you mean by that, I'm kind of confused. Is that how it was disposed of?

Randall Whitney: No…. No. That's how it happened, though, at the time of the expulsion. It was just more convenient to be in the toilet, okay? So I assume that at times there might be some movement, which would suggest life…. But there was no attempt at resuscitation.

Question: Were there any protocols or procedures in place that there should be resuscitation attempts where there was fetal movement?

Randall Whitney: I don't know of any.

Question: And I take from your response when you say "usually it was in the toilet," that had occurred before that you were aware of? The woman has delivered a fetus, there had been movement, and the movement ceased thereafter?

Randall Whitney: Where? In the toilet?

Question: Yeah.

Randall Whitney: I think so.

Question: Was that at the Orlando Women's Center?

Randall Whitney: Yes.

Question: So just that I'm clear, the instances where there may have been signs of a live birth; i.e., movement by the fetus, were instances where the woman was experiencing symptoms within the restroom and delivered the fetus into the toilet – that is what you're saying?

Randall Whitney: Yes.
Medical boards always act on behalf of the state with the intention of keeping abortion clinics running smoothly. Criminal courts usually don't get involved in these medical matters unless a criminal law is concerned. Doctors don't go to jail for malpractice. The board issues reprimands, suspends or revokes licenses, etc. They may also be sued in a civil court as in the Howard case. Abortion is never prosecuted as murder even when the restrictions are ignored because our laws do not recognize the Personhood of the unborn child. Neither do the parents who wantonly murder a late term baby suffer any legal ramifications even if the abortion is done in violation of the law. So in reality, "restrictions" on abortion are meaningless. We must define the unborn child as a "Person" under constitutional law.
Next: Pendergraft's Felon Killers.
«-
Tosh 2.0: Retaking Winter Park's "No-Free-Speech" Buffer Zone
-»
Is Kermit Gosnell an outlier?
---
Related Articles
---
Your comments are welcome!
---
Dr. Francis Schaeffer - How Should We Then Live? (DVD)
Special Two-Disc Set!
After 40 years of intense study and world-wide ministry, Dr. Francis Schaeffer completed his crowning work of scholarship – to present profound truths in simple film language. Dr. Schaeffer's brilliant analysis of the past and predictions for current trends have proven so uncannily accurate that this amazing series still feels contemporary almost three decades after its initial release. Ultimately, Schaeffer concludes that man's only hope is a return to God's Biblical absolute, the truth revealed in Christ through the Scriptures.
Available for the first time on DVD, this documentary spectacular also includes intimate in-depth conversations with Francis and Edith Schaeffer. With the on-disc study guide, this presentation forms a unique course of comprehensive study. While this series forms an innovative analysis of the past, this outstanding work is more than history. Each episode focuses on a significant era, yet speaks clearly to 21st-century man with answers for modern problems.
(We accept PayPal and all major credit cards.)
Click here for more information
---
Massacre of Innocence (DVD)
Exposing The Occult Roots of Abortion
This presentation looks at the spiritual roots of abortion and exposes the myths surrounding child killing. Little known historical facts about abortion and how they relate to modern feminism are presented logically and accurately. Has been effective in converting many to a pro-life position.
Massacre of Innocence goes where no pro-life presentation has gone before in "tearing the lid off abortion" to reveal the spiritual realities we must battle if we will bring an end to this crime. The presentation is absorbing, fast-paced, informative and incredibly devastating to any attempt to justify abortion.
"… an extraordinary statement … a powerfully articulate presentation about what abortion really means, and why a great and moral nation like the United States must not allow the slaughter to continue."
— Congressman Robert K. Dornan
Running time: 85 minutes
Packaged in a double DVD case with the updated The Abortion Matrix DVD.
(We accept PayPal and all major credit cards.)
Click here for more information
---
Freedom: The Model of Christian Liberty (DVD)
"Give me liberty or give me death!"
Patrick Henry's famous declaration not only helped launch the War for Independence, it also perfectly summarized the mindset that gave birth to, and sustained, the unprecedented experiment in Christian liberty that was America.
The freedom our Founders envisioned was not freedom from suffering, want, or hard work. Nor was it freedom to indulge every appetite or whim without restraint—that would merely be servitude to a different master. No, the Founders' passion was to live free before God, unfettered by the chains of autocracy, shackles that slowly but inexorably bind men when the governments they fashion fail to recognize and uphold freedom's singular, foundational truth: that all men are created in the image of God, and are thereby co-equally endowed with the right to "life, liberty, and the pursuit of happiness."
This presentation is a similar call, not to one but many. By reintroducing the principles of freedom that gave birth to America, it is our prayer that Jesus, the true and only ruler over the nations, will once again be our acknowledged Sovereign, that we may again know and exult in the great truth that "where the Spirit of the LORD is, there is liberty" (2 Cor. 3:17).
Welcome to the Second American Revolution!
This DVD features "Liberty: The Model of Christian Liberty" along with "Dawn's Early Light: A Brief History of America's Christian Foundations." Bonus features include a humorous but instructive collection of campaign ads and Eric Holmberg's controversial YouTube challenge concerning Mitt Romney's campaign for president.
(We accept PayPal and all major credit cards.)
Click here for more information
---
Frank Schaeffer Will You Please Shut Up! (Book)
High Quality Paperback — 200 pages
A Reasonable Response to Christian Postmodernism
Includes a response to the book Christian Jihad by Colonel V. Doner
The title of this book is a misnomer. In reality, I am not trying to get anyone to shut up, but rather to provoke a discussion. This book is a warning about the philosophy of "Christian postmodernism" and the threat that it poses not only to Christian orthodoxy, but to the peace and prosperity our culture as well. The purpose is to equip the reader with some basic principles that can be used to refute their arguments.
Part 1 is a response to some of the recent writings by Frank Schaeffer, the son of the late Francis Schaeffer. This was originally written as a defense against Frank's attacks on pro-life street activism – a movement that his father helped bring into being through his books, A Christian Manifesto, How Should We Then Live? and Whatever Happened to the Human Race? These works have impacted literally hundreds of thousands of Christian activists.
Part 2 is a response to Colonel Doner and his book, Christian Jihad: Neo-Fundamentalists and the Polarization of America. Doner was one of the key architects of the Christian Right that emerged in the 1980s, who now represents the disillusionment and defection many Christian activists experienced in the 1990s and 2000s. There is still great hope for America to be reformed according to biblical principles. As a new generation is emerging, it is important to recognize the mistakes that Christian activists have made in the past even while holding to a vision for the future.
(We accept PayPal and all major credit cards.)
Click here for more information
---
The Silent Scream (DVD) Eight Languages
"When the lives of the unborn are snuffed out, they often feel pain, pain that is long and agonizing." – President Ronald Reagan to National Religious Broadcasters Convention, January 1981
Ronald Reagan became convinced of this as a result of watching The Silent Scream – a movie he considered so powerful and convicting that he screened it at the White House.
The modern technology of real-time ultrasound now reveals the actual responses of a 12-week old fetus to being aborted. As the unborn child attempts to escape the abortionist's suction curette, her motions can be seen to become desperately agitated and her heart rate doubles. Her mouth opens – as if to scream – but no sound can come out. Her scream doesn't have to remain silent, however … not if you will become her voice. This newly re-mastered version features eight language tracks and two bonus videos.
"… a high technology "Uncle Tom's Cabin" arousing public opinion just as Harriet Beecher Stowe's 1852 antislavery novel ignited the abolitionist movement." – Sen. Gordon Humphrey, Time Magazine
Languages: English, Spanish, French, South Korean, Chinese, Russian, Portuguese, Japanese
Running Time: 28 minutes
(We accept PayPal and all major credit cards.)