An Update on the July 2011 Malpractice Lawsuit

Pro-life evangelists preach the Gospel outside James Pendergraft's Orlando Women's Center abortion clinic. (Click to enlarge.)
ORLANDO, Florida (www.forerunner.com) – James Scott Pendergraft, owner of five late term abortion clinics in Florida, has had his medical license suspended five times. He has been the target of multiple lawsuits, including a July 2011 judgment of $36.7 million. He stays in business by employing a cadre of abortionists throughout the state of Florida who are willing to do late term abortions at a cost of $2000 and up. These late term abortions continue to take place even while he is under suspension.
Since July 2011, lawyers representing the plaintiff in the Howard v. Pendergraft case have been trying to collect a $36.7 million judgment. Writs of garnishments and motions to effect collection go back to 2011 as well.
Another step in the process began last January when the plaintiff's lawyer wrote the judge explaining that the process of another hearing would only give Pendergraft the unfair advantage of advance warning. An order was then issued on February 14, 2013. At that time, third party garnishees (all of Pendergraft's corporations and business associates) were given the opportunity to appear in court explaining why their assets should not be applied toward the satisfaction of the judgment.
On April 8, 2013, there was an order directing garnishment of a Wells Fargo Bank Account for the amount of $50,000 and the entry into a safety deposit box at the same bank. Also on that date, was an order directing Bank of America to pay an amount of over $30,000 that was not paid after a previous writ of garnishment.
None of this means that anything has actually been collected. Only the plaintiff's lawyers would know that. This only shows that Pendergraft has been trying every means to avoid paying the $36.7 million judgment even when directed to do so by the court.
On Wednesday, April 29th, the court granted the plaintiff's request for several writs of garnishment. Here is an explanation of what a "writ of garnishment" is:
The writ of garnishment enables a creditor to seize money owed to the debtor by third parties. Debts owed to the debtor include, for example, wages and salary owed by an employer, checking and savings accounts, rental income, and money held in the trust account of the debtor's attorney. Checking accounts are 'debts' because they are demand accounts which means that the financial institution owes money on deposit to the debtor upon demand.

Florida Statutes include very detailed garnishment procedures…. Garnishment procedures are strictly construed. The debtor may file a motion to dissolve a garnishment for any of several reasons including an assertion of an exemption or procedural defects in the administration of the Writ.
See more of the definition at alperlaw.com.
These writs of garnishment give the attorneys the ability to seize Pendergraft's property. They can also seize money and assets from a long list of corporations Pendergraft has created over the years.
Interestingly, one of the first writs filed included Sangeeta Pati, Pendergraft's girlfriend. Operation Save America picketed Pati's neighborhood during its 2011 national event in Orlando. Pendergraft often drives a car registered to Pati (see photo below) and has stayed at her home when he is in Orlando. Apparently, the plaintiff's lawyers must believe she is hiding some of his assets.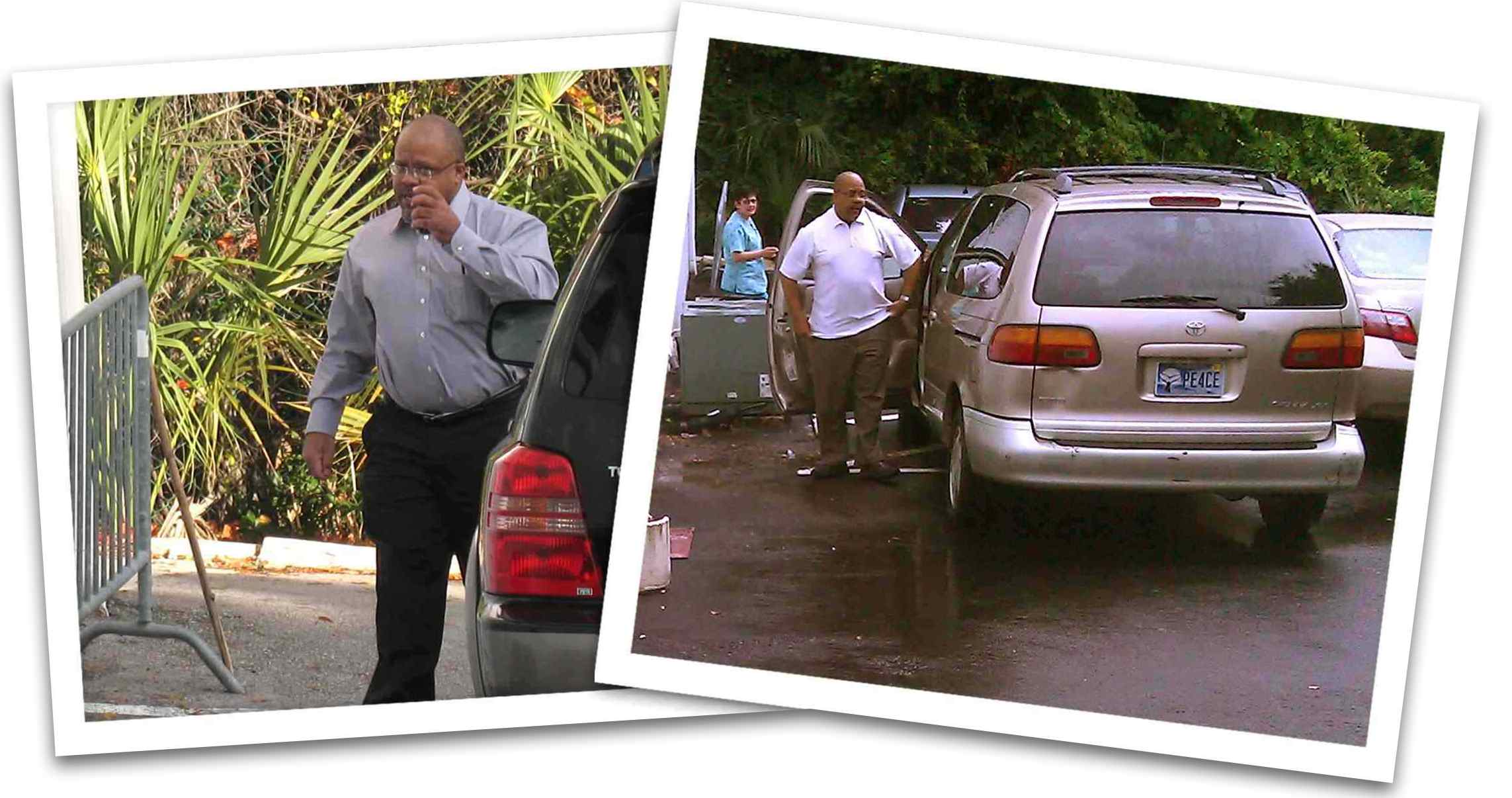 Abortionist James Pendergraft arrives at Orlando Women's Center in the summer of 2011. Pendergraft owns a chain of five abortion centers in Florida that specialize in late-term abortions. The vehicle on the left with the "PE4CE" license plate belongs to Pendergraft's girlfriend and local physician, Sangeeta Pati. (Click to enlarge.)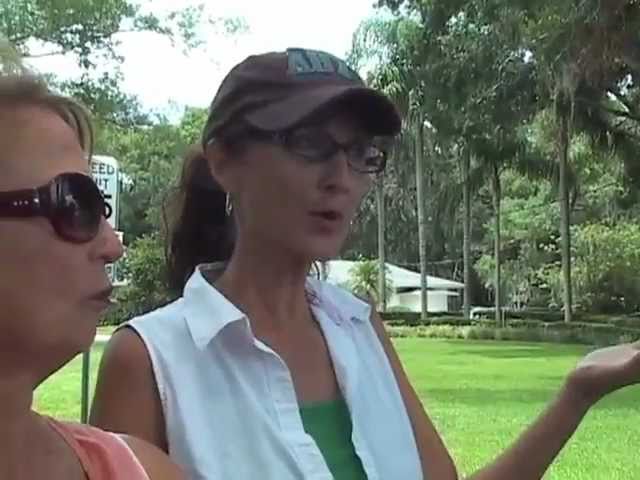 Above is a video of one of our Awareness Campaigns at Sangeeta Pati's (and sometimes Pendergraft's) neighborhood. Providentially, this campaign occurred on the first day of Pendergraft's 2011 trial. Local pro-life activists did not know at that time that the lawsuit was being heard, but were tipped off by Randall Whitney, the abortionist on duty at the time the malpractice incident occurred. Whitney had to be in court that day and told a local pro-life sidewalk counselor who often ministers at Pendergraft's Orlando abortion mills. Local activists put two and two together and realized it was the Carol Howard case.
Of course, the plaintiff's lawyers have to prove that these assets belong to Pendergraft, but if they have legal grounds, they can begin seizing his property. This probably would not include include Pati's home or vehicle. Florida's tort laws usually exempt vehicles and homestead properties.
This does not mean Pendergraft is going out of business tomorrow, as has been reported numerous times since last Thursday. It does mean that the plaintiffs have legal grounds to keep seizing his assets until he has nothing left.
John Barros is a local pro-life who is at Pendergraft's Orlando Women's Center (OWC) abortion clinic five days a week. John has a Facebook page that he uses to blog about daily events at OWC. Some of his reports and activities have been picked up buy the national Christian and secular media. A few days ago, one of the plaintiff's lawyers showed up at the abortion mill and told John in effect that he would be able to "take a vacation" because they were seizing Pendergraft's assets and closing down the abortion mill.
The information got garbled and went viral. Blogs and websites repeated the story that Pendergraft's abortion mills were being shut down immediately.
I always warn local pro-life activists not to send off such stories to "national" pro-life media. Of course, most pro-life bloggers are well-intentioned and are just repeating what they have been told. The lesson in this is that local activists ought to do our own research, write our own reports and make sure the information is accurate before we send out press releases. Once these stories go viral, the false information is out there forever because it gets copied.
I spoke with John about this on Friday. John and I agree that if Pendergraft is going out of business due to this lawsuit, then it has nothing to do with us. Even the lawyers suing Pendergraft are "pro-choice" advocates. They are likely motivated by the money and perhaps the particularly horrific nature of Pendergraft's business.
No pro-lifer needs to be congratulated for this turn of events. Only our Sovereign God has all the glory and honor.
List of Garnishees
That being said, here are the writs that were filed on Thursday and Friday. So far these include:
Garnishee EPOC CLINIC LLC
Garnishee EVALON INC
Garnishee INSTITUTE OF WOMEN'S HEALTH OF NORTH AMERICA, INC
Garnishee SANGEETA PATI
Garnishee BANK OF AMERICA NA
There will likely be a longer list of writs filed that will be in the records by next week. John Barros and I will follow up on the activity in the case and keep people posted. I want to believe Pendergraft is going out of business just as much as anyone, but I won't assume anything just yet.
Anyone can see information on Pendergraft's Florida corporations on Sunbiz.org. For a detailed tutorial on how to do corporation searches, see: Behind the Scenes: Corporation Searches.
Here is the coming garnishee list:
Garnishee COLONIAL LIFE AND ACCIDENT
Garnishee EPOC CLINIC LLC
Garnishee EVALON INC
Garnishee FIDELITY INVESTMENTS
Garnishee GUARDIAN LIFE INSURANCE
Garnishee INSTITUTE OF WOMEN'S HEALTH OF NORTH AMERICA, INC
Garnishee ORLANDO WOMEN'S CENTER, INC
Garnishee SANGEETA PATI
Garnishee WELLS FARGO BANK Formerly known as WACHOVIA BANK
Garnishee WILSON MEDICAL MANAGEMENT
Third Party Defendant 108 NW PINE AVENUE CORPORATION
Third Party Defendant 108 NW PINE AVENUE LLC
Third Party Defendant 1103 LUCERNE TERRACE CORPORATION
Third Party Defendant 1103 LUCERNE TERRACE LLC
Third Party Defendant 2001 WEST OAKLAND PARK BOULEVARD CORPORATION
Third Party Defendant 2001 WEST OAKLAND PARK BOULEVARD LLC
Third Party Defendant 502 SOUTH MAGNOLIA AVENUE CORPORATION
Third Party Defendant 502 SOUTH MAGNOLIA AVENUE LLC
Third Party Defendant 609 VIRGINIA DRIVE CORPORATION
Third Party Defendant 609 VIRGINIA DRIVE LLC
Third Party Defendant ABORTION BY PILL INC
Third Party Defendant CENTER OF ORLANDO FOR WOMEN LLC
Third Party Defendant EPOC CLINIC INC
Third Party Defendant EPOC CLINIC LLC
Third Party Defendant FORT LAUDERDALE WOMENS CENTER INC
Third Party Defendant FORT LAUDERDALE WOMENS CENTER LLC
Third Party Defendant GORILLA REALTY MANAGEMENT CORPORATION
Third Party Defendant GORILLA REALTY MANAGEMENT LLC
Third Party Defendant INSTITUTE OF WOMENS HEALTH OF NORTH AMERICA INC
Third Party Defendant OCALA WOMENS CENTER INC
Third Party Defendant OCALA WOMENS CENTER LLC
Third Party Defendant ORLANDO WOMENS CENTER LLC
Third Party Defendant PENDERGRAFT INVESTMENT LLC
Third Party Defendant SUMMIT MEDICAL & SURGICAL SUPPLY INC
Third Party Defendant THE JAMES S PENDERGRAFT IV IRREVOCABLE TRUST
Third Party Defendant WILLIAMS, DENISE
Third Party Defendant WILSON MEDICAL MANAGEMENT CORPORATION
Third Party Defendant WILSON MEDICAL MANAGEMENT LLC
Third Party Defendant WOMENS CENTER OF HYDE PARK INC
Third Party Defendant WOMENS CENTER OF HYDE PARK LLC