Monday was my busiest day in Rivne. Unfortunately, this was the only day I decided to leave my video camera behind. We walked a few blocks from Sasha's flat to the Hope to People center. I toured the facility with Sasha and then had lunch with his brother Misha, who is a pastor of another church, and Olyona our interpreter. Three churches working together in various outreaches run Hope to People. The center is a huge Soviet era three-story building with three wings. Most of it is gutted and they are slowly working on renovating all of it. They have added a new wing that is going to serve as a larger sanctuary. About 20 ministries, including three church sanctuaries and a Bible Seminary are housed there.
We then drove out to see John Whittemore at the house of Sasha (my roommate at the camp and a church administrator). He runs an orphanage out of their house. He has a beautiful garden surrounding all sides of the house and the boys who live at the orphanage have done most of the work on the house. They did a beautiful job on the house with lots of nice tile and plaster work. He brought me into to a cellar where they had hundreds of cans of pickles. I asked him if they would ever eat them all and he said that in just one church summer youth camp they ate this many.
Then we went to see another building project in a village on the outskirts of Rivne. They had bought an old Soviet-era insane asylum campus and are planning on turning it into a youth camp. There were lots of cherry trees on the land and there was a large fellowship hall that is being restored. Misha was saying that American missionaries come over in the summer and work on the buildings.
Then we went to see one of the sister churches of Hope to People. They had a three-story building project going in one of the districts of the region. This was a church with a lot of young people. This pastor – also named Sasha – impressed me the most. He was the one who was most outspoken about being an ardent Calvinist. We went to his home group at his flat. This was the typical Ukrainian home church with people crammed into a small living room with a table in the middle for snacks and tea afterward. I gave my testimony again and answered questions for about an hour. Some of the members of this church have been together since the early 1990s. This went until about 10 pm.
I don't have video of this day, but here is some information about Pastor Taras Prystupa.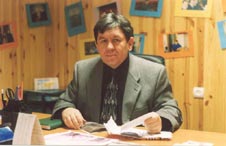 Taras Pristupa was born in 1959 in Ukraine (Zdolbitsa, Rovno region). He was brought up in a Christian family. Taras has been a member of the evangelical church since 1976. In 1992, he was ordained for pastoral ministry. Today, he is pastor of the church "Community of the Good Shepherd," Rivne, and a chairman of the board of directors of the International Public Charitable Christian Organization "Hope to People." He graduated from the Ukrainian Bible Seminary, master of theology. Taras has a wife Nadezhda and six children.