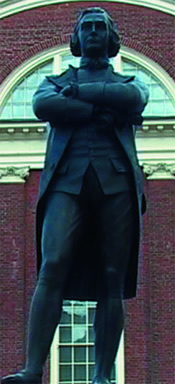 The Society of Friends, or the Quakers, are a pietist Christian movement who oppose all war. Many of the Quakers at the time of the American Revolution opposed the War for Independence from Great Britain. The Quakers issued a paper in opposition to the war entitled: "To the People in General." The Quakers protested that "the setting up, and putting down kings and governments, is God's peculiar prerogative; for causes best known to himself: and that it is not our business, to have any hand or contrivance therein; nor to be busybodies above our station, much less to plot and contrive the ruin, or overturn of any of them." But more importantly, they encouraged others not to fight either.
Samuel Adams, the architect of the American Revolution, issued the counterpoint. Nineteenth century writer, Rev. Edward J. Giddings, recorded an excerpt from Adams' paper.
A convention of Quakers, representing New Jersey and Pennsylvania, assembled at Philadelphia, January 20, 1776, and issued a paper directed "To the People in General." Mr. Adams gave a reply directing as did the Quakers, "To the People in General," and signing himself, "A Religious Politician."
In his reply he says: "He who sets up and pulls down, confines or extends empires at his pleasure, generally, if not always, carries on his great work with instruments apparently unfit for the great purpose, but which in his hands are always effectual…. God does the work, but not without instruments, and they who are employed are denominated his servants; no king, nor kingdom was ever destroyed by a miracle which effectually excluded the agency of second causes…. We may affect humility in refusing to be made the instruments of Divine vengeance, but the good servant will execute the will of his master. Samuel will slay Agag; Moses, Aaron, and Hur, will pray in the mountain, and Joshua will defeat the Canaanites."
---
From: American Christian Rulers, by Rev. Edward J. Giddings (New York: Bromfield & Company, 1889) p 4.