An Eyewitness Account by Dr. Pat McEwen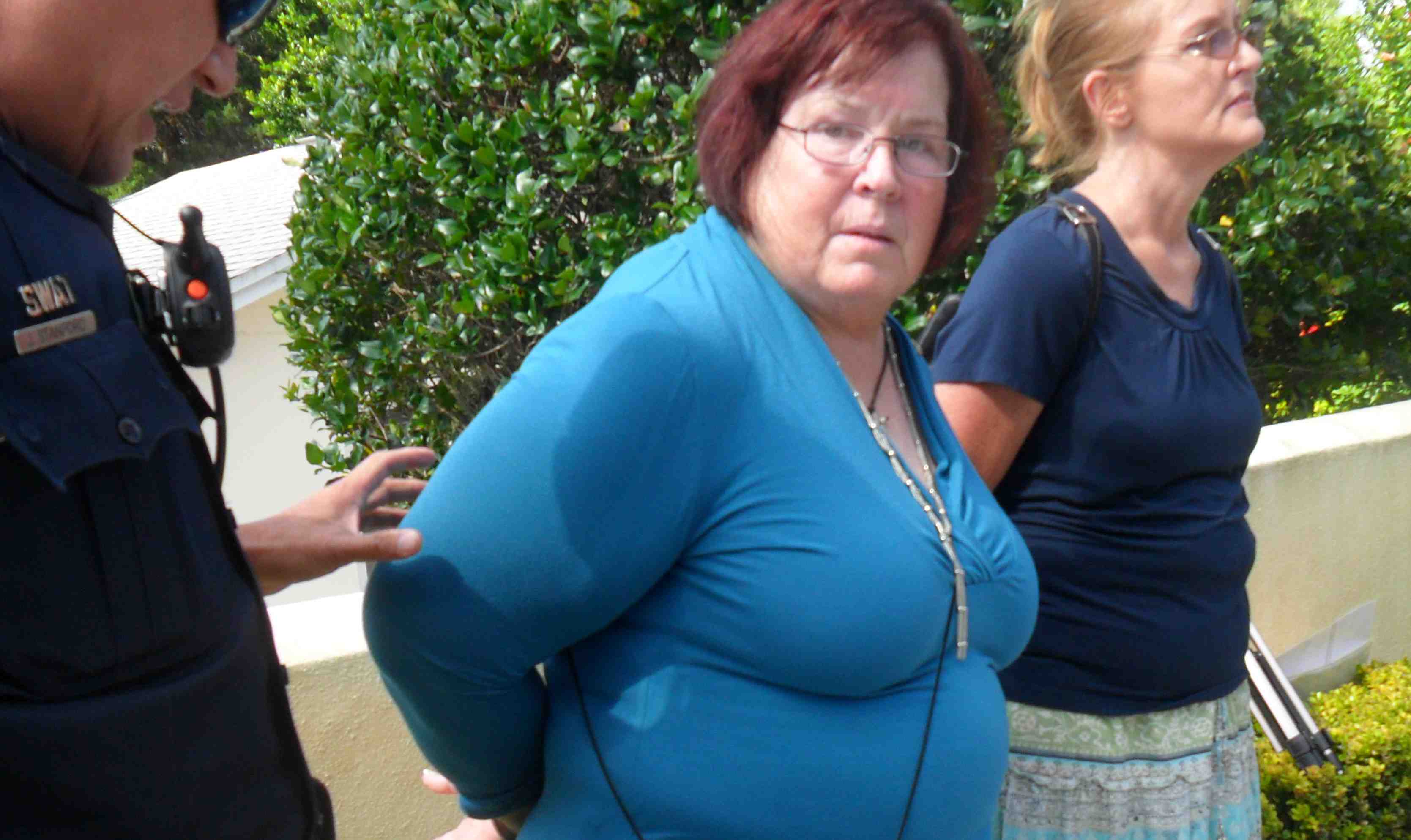 Jay Rogers, Cheryl Bischoff and I were arrested Saturday, May 18th, 2013 on the public sidewalk of Winter Park, Florida, outside residence of the CEO of Planned Parenthood of Greater Orlando, Jenna Tosh. Cheryl was holding a small sign with a picture of a beautiful baby and the words "Celebrate Life!" I was reading silently from my Bible and praying. Jay was filming. Without warning all three of us were arrested. The charge was "picketing where prohibited." Yes, in the United States of America this happened to gentle Christians on the public sidewalk.
We were not picketing. We were not targeting anyone, but that meant little to whoever had ordered the arrest. The arresting police were the SWAT Team (not geared up, but with the SWAT insignia on their uniforms and all the paraphernalia in the trunk). They treated us very kindly. They seemed to not like what they were ordered to do. We were transported in separate cars (Jay in one, Cheryl and I in the other).
Our arresting officer was interested in "who" we were and "why" we were there. When Cheryl said she was "just" a professional housewife, he replied, "Don't ever say just! That is the highest calling for a woman. I could never do all my wife does as a mom. She amazes me."
After we were booked at Winter Park police station, we were transported to the Orange County Correctional Facility (where we held a memorial for Caylee Anthony during our national event). There we had the opportunity to witness to Orange County correctional officers and inmates.
At one time, Jay had a big crowd of the intake officers around him asking questions about why we do these things. He looked like a teacher holding class. Cheryl and I were "working the crowd" of inmates in the holding area until we were bonded out.
Cheryl and Jay were released about three hours before me. I was arrested at 10:23 AM and was out by 11:20 PM. At first, I fretted a bit wondering what the "mix–up" was when I was left in the holding area while Cheryl and Jay were released (we had all already paid bond). I did not want to pay bond and still stay in jail all night. Then I had an epiphany. Realizing that God does not make mistakes, I started to look around for the reason I was left behind.
The holding area began to fill up with Saturday night drunks. Then they brought in eight new people from a transport from New Jersey. I saw a woman crying and looking so lost. She was one of the transport people. She had been for four days in shackles sitting up in a transport van with only restroom breaks. Her paperwork said "no bond" and she just lost it. I walked over saying it was lonely where I was sitting and did she mind if I sat near her. We talked in the holding cell and then we were both taken "upstairs" and given our bed rolls for the night.
I finally spoke to her about her bond problem. I told her I had an lawyer who paid my bond for my whole life. That caught her interest and after a bit she surrendered her life to the Lord. Then about half an hour later I was released. I called her mother-in-law (who is taking care of her two children) as I was out and told her when she would go to trial. I will keep contact with her.
When God says, "Go …" and we obey, then He will do wonders.
The three of us are not heroes. We were just doing what all Christians are expected to do, "Go therefore and make disciples …" (Matthew 28:19).
"But be doers of the word and not hearers only" and practice "pure and undefiled religion … to visit orphans and widows in their trouble" (James 1:22,27).
So come on Church, let's take the battle right to the source of the evil! See you at the gates of hell!