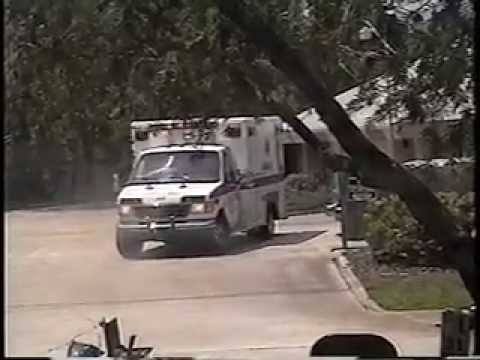 Here's a video that has been on The Forerunner pro-life videos web page since 1999. Just this week I re-edited it from scratch and rendered it as a medium band-width streaming video.
It consists of 8mm video I made when I owned a house across the street from an abortion clinic in Melbourne, Florida. I was able to video-tape several emergency calls when abortion doctor William Egherman injured several women.
See video of the fire engines, police cars and ambulances and listen to the 911 calls responding to Aware Woman five times in a 17 month period. Also hear a heart breaking telephone message left on our answering machine from a sorrowful mother who has come face to face with what abortion really is — the killing of her baby.
Some might wonder why this man has not been prosecuted and has not lost his medical license. Amazingly, the State of Florida says that "perforation of the uterus is a known and common complication of abortion" and not malpractice.
This video speaks for itself. If you want to read the transcript of the 911 calls, go to the pro-life videos web page. Since posting this on YouTube yesterday, I've had several people tell me that they plan to embed the video on their own web pages. You are invited to do that too. Let's get the word out.
This is already becoming my most viewed YouTube video due to the shocking revelation of how common are abortion related injuries — a supposedly "safe and legal" procedure.